It's been 14 years of thorough research and development for the team at Alpinestars but now they have finally released the first fully self-contained airbag system for everyday motorcycling in Europe, the Tech-Air vest.
The project started in 2001 but really took off in 2003 when they introduced a data-logging project into MotoGP to understand the forces and crash dynamics of racers. As it is now hitting the European market, we're looking back at how the Tech-Air came to be.
The project's philosophy was simple; if an airbag system can be made to deploy before the rider suffers the first hit after a crash or fall, the technology can be made to do the same for all riders.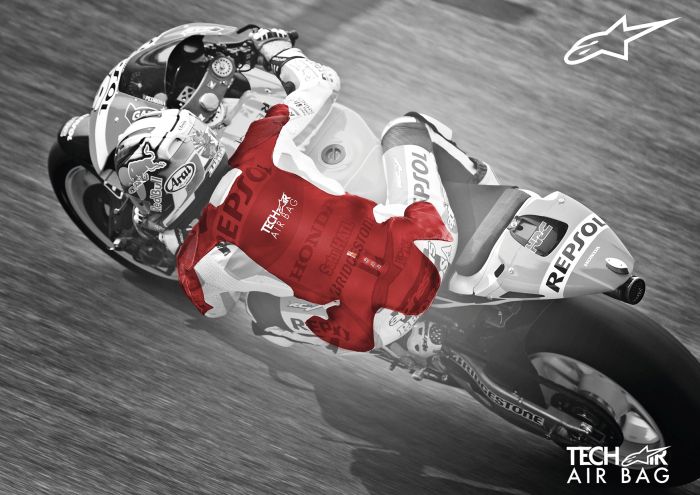 Development in MotoGP reached the 12-year mark at the 2015 German Grand Prix after starting out with just an electronic data-logging system used by John Hopkins in 2003. The result however is the project's objective becoming reality.
Since that first test, Alpinestars' Tech-Air has seen hundreds of thousands of laps of testing on the race track while the Tech-Air has also covered roughly 300,000 miles on public roads. Full scale crash tests have been utilised to ensure a product that is ready to use every day both on and off-road.
Alpinestars now claim to have the world's first and only self-contained airbag system that functions independently of the need for sensors to be installed on the bike and connected to the rider.
How the technology works specifically is being kept under wraps by the brand, but what we do know is that it uses a sophisticated algorithm specifically developed for street riding which detects imminent danger.
Detection times are between 30-60 milliseconds depending on the accident type and once impact is made, the Tech-Air fully inflates within 25 milliseconds. The software has been optimised to detect impacts from loss of control as well as collisions and covers off-road riding too.
The system is battery powered and is said to offer over 25 hours of continuous use. Alpinestars say recharging by microUSB takes up to six hours.
Tech-Air is bought as part of a vest (SRP £999.99) which can be used in combination with both the Valparaiso Jacket (SRP £599.99) and the Viper Jacket (£299.99). Yeah, they don't come cheap…