Honda is the latest manufacturer to showcase a couple of new offerings to the motorcycling world, as it revealed a new look for the Africa Twin and Africa Twin Adventure Sports ahead of 2022, alongside a number of smaller changes that tweak what are already supremely-capable adventure bikes.
With summer in the rear view mirror, it's the time of the year when manufacturers start showcasing their new bikes, and the Japanese manufacturer has joined the party by giving the two models a lick of paint, as well as a few new features to attract would-be buyers.
So, what's there to know about the new Africa Twins?
What's new for 2022 on the Africa Twin?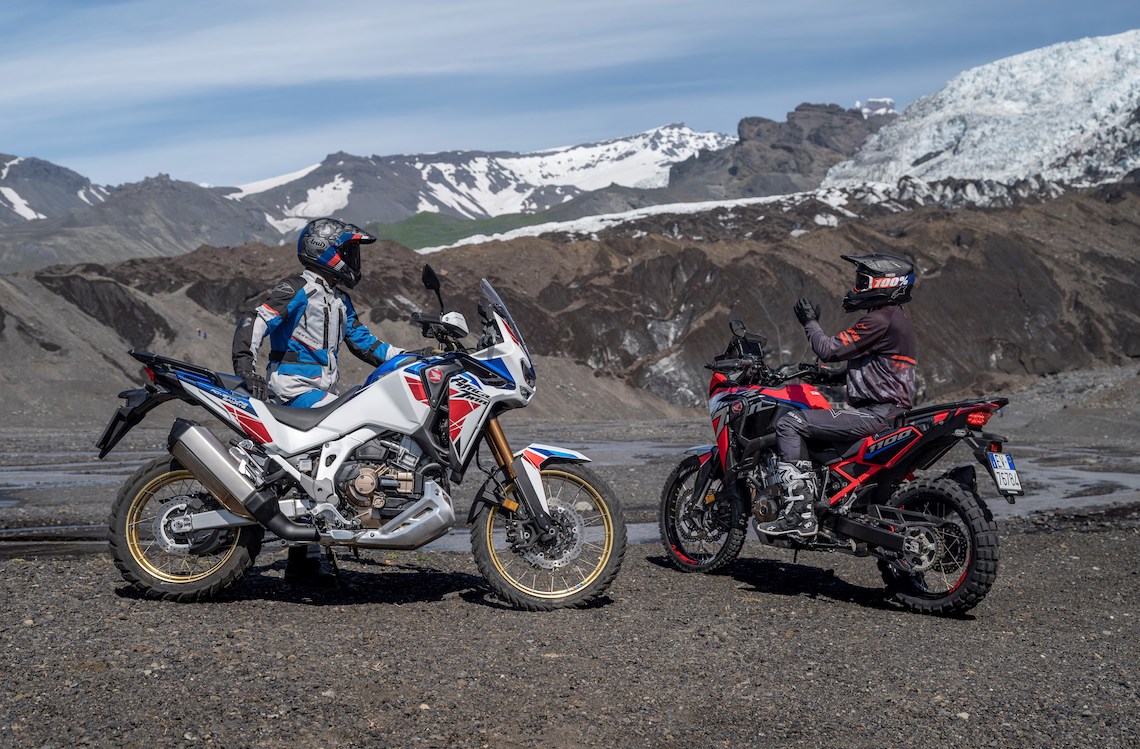 First up are those looks. Both the off-road leaning CRF1100L Africa Twin and the tour-ready Adventure Sports models have received a new lick of paint.
The Adventure Sports comes with what Honda is calling a 'Cracked Terrain' colour scheme with black aluminium details in place of silver from the previous model, although it still does look quite similar. However, the standard Africa Twin looks pretty different with a bold, colourful 'Africa Twin' logo that has won me over and looks pretty damn cool.
The new looks aren't all that's on offer either. The standard Africa Twin now comes with an aluminium rear carrier as standard, ideal for strapping roll bags and luggage to your bike on tour, while the Adventure Sports has received a new shorter screen. It's 110mm lower than the previous model, but still offers five stages of adjustment and Honda claims it won't affect weather-proofing in the saddle (we'll reserve judgement until we ride it).
This change shows the Japanese manufacturer has been listening to riders. For taller riders, like myself at six foot, the previous screen on the Adventure Sports isn't a problem, but I did hear shorter riders complain that it obstructed their view of the road ahead, particularly when it got dirty or rain was falling. However, it's a shame to see the stubby screen still remains on the standard Africa Twin, which could have done with a bit more height for better weather protection while touring on the tarmac.
Finally, there have also been some changes to Honda's Dual Clutch Transmission (DCT) gear box. Honda says tweaks to first and second gear have been designed to offer a more refined ride at lower speeds and from standing starts.
We expect to see the new(ish) bikes hitting dealerships around Christmas time, and we can't wait to check out the new look in the flesh.
For now, check out more images of the new Africa Twin below, or read why we've enjoyed riding both models of Honda's big adventure bike here.