This July, I managed to prise the big Harley Davidson Ultra Limited from the loving grips of ABR publisher, Alun, for long enough to take it on a weekend tour of Snowdonia (which you can read about here).
I'd never ridden one before, and after hearing glowing references from both rider and pillion for its comfort, I was strangely looking forward to the blast along the motorway to Shrewsbury. I wasn't however, feeling overly confident at the prospect of man handling the 415kg of metal around the narrow and windy single-track roads that I was to be riding once I had reached the national park.
Sure enough, long, straight roads are where the Harley Davidson Ultra Limited seems to excel, with a set up that makes extended hours in the saddle at consistent speeds a delight. Bring it up to speed, whack on the cruise control, turn up the music and, thanks to the amount of wind protection afforded from the bulbous fairing, unfold your newspaper and relax.
If there's one complaint I have in this area, it's that the volume of the music doesn't alter automatically depending on the speed you're travelling at. I rolled through Henley in Arden at a crawl with Girls Just Wanna Have Fun pumping out of the speakers at full volume due to this very reason.
Upon reaching Snowdonia, my route consisted mainly of small mountain roads, the type that would be a delight on an adventure bike. From the off it's clear that the Harley Davidson Ultra Limited wasn't made for this type of riding, with the suspension painfully bottoming out as I hit unavoidable potholes, and a flash of fear coming across me when I met cars head on on a single-track lane.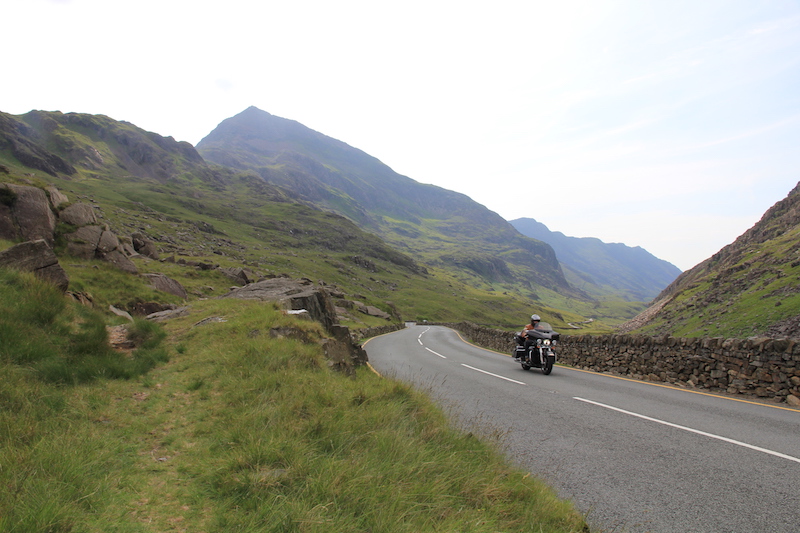 I also had a few hairy moments as I tried to paddle the bike around to perform U turns on mountain roads, but then again, I should have known better. Even with these taken in to consideration, I still found myself enjoying the ride.
Harleys are known for their massive amounts of torque, and it seems as though you rarely have to change gear, with the machine being able to pull away from almost a standstill in third, and maybe even fourth. But inexperience led to me riding it like I would any other bike, and it's fair to say I revved the bollocks off it. This exposed the fact that, even though the new Milwaukee-Eight was designed with the intention of running cooler than previous engines, the Harley still gets searingly hot.
All things considered, I had a blast on the Harley Davidson Ultra Limited. I loved cruising along in the sun, listening to music and doing it all in comfort, and so did my partner on the back. She's been with me on the Ducati Multistrada Enduro, the KTM 1190 Adventure R, V-Strom 650, Triumph Explorer, and a few other machines, and I've no doubt that, given the choice, she'd pick the Harley every time for comfort's sake.
And one last thing. Harley riders are bikers too. For the two days that I was in the saddle, I could count the number of other riders who returned the customary head nod or wave on one hand. Share the love, guys!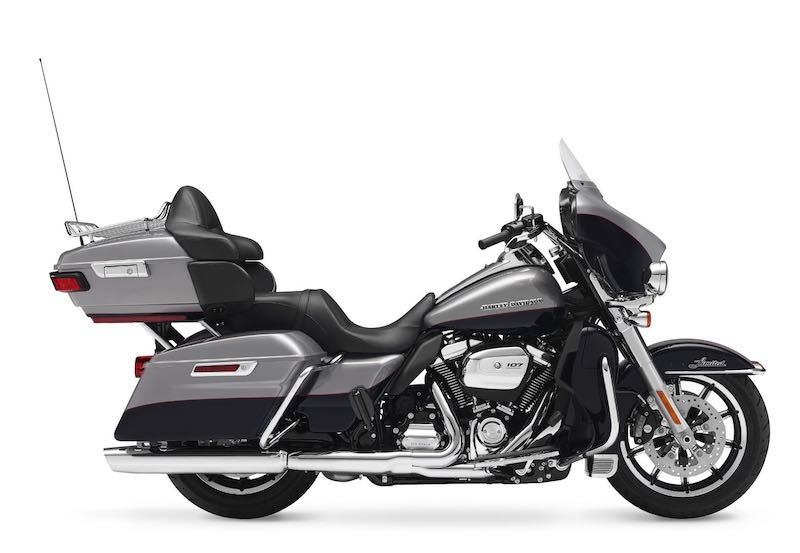 Harley Davidson Ultra Limited Specs at a glance
Price: £23,245
Engine: 1745cc V-Twin
Torque: 112.1ftlb@3,250rpm
Gearbox: Six-speed
Brakes: 32mm, four piston calliper front and rear
Tyres: Front; 130/80 17. Rear; 180/65 16
Weight: 413kg (wet)
Fuel capacity: 22.7-litres
Seat Height: 740mm
More of our thoughts on the Harley Davidson Ultra Limited: