It was big news back in 2018 when Harley-Davidson announced plans to enter the fiercely competitive adventure bike market with its own offering, the Pan America.
Would the big cruiser manufacturer be able to lock horns and compete with the likes of KTM, Honda and BMW in this segment, all of which have proud and successful heritages of building globe-trotting adventure bikes?
At the time, Harley didn't give us much information about the new bike other than a polished photo of a rugged-looking prototype and the news its beating heart would be a 1250cc engine.
Fast-forward more than a year and Harley remains tight-lipped about its new adventure bike, which is why a video that has appeared online showing a 'styling prototype' of a Pan America has stirred so much interest.
Published on the Harley-Davidson Novosibirsk YouTube channel, the video appears to have been filmed during a show at the Wisconsin Centre, located in Milwaukee, the home of Harley-Davidson.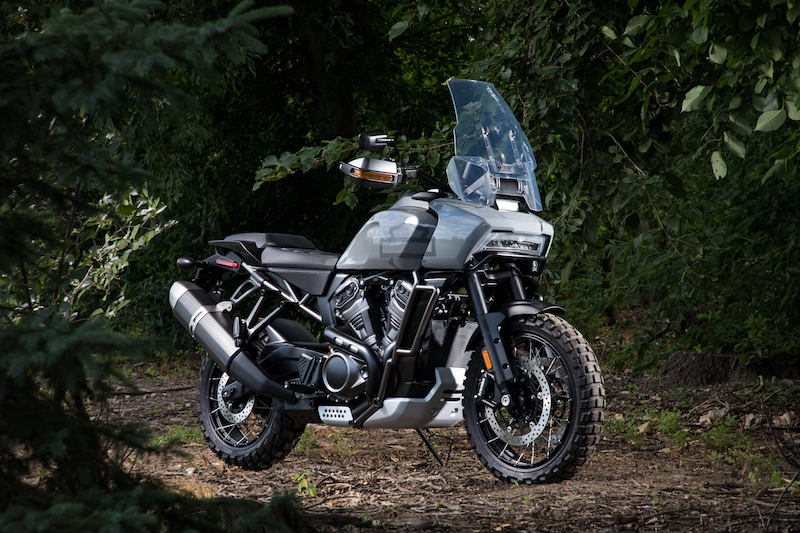 The photo of a prototype Pan America released in 2018.
And while the bike on show was labelled a prototype, from the outside at least it looks to be a rideable machine which closely resembles the initial publicity photos released a year ago.
Harley describes the bike as an adventure tourer and boy is it a tough-looking beast. From the video, we can see it features front double-disc Brembo brakes, upside down forks, a chain drive, spoked wheels with tubeless tyres, a substantial bash plate, hand guards and what looks like an adjustable screen.
There's no mistaking this is a big bike. It seems that Harley is aiming it squarely at the likes of the Ducati Multistrada 1260 Enduro, the KTM Super Adventure and the mighty BMW R 1250 GS. With this in mind we expect it be priced around the £15,000 mark, although that's pure speculation at the moment.
The Pan America is scheduled for release in 2020. If Harley-Davidson sticks to this date, it means we'll likely see the Pan America revealed to the world before the end of the year.
Anyway, take a look at the video for yourself and let us know what you think in the comments section below.