Hold on to your helmets, one of the the UK's premier adventure riding event is just around the corner…
Between midday Friday 5 – Sunday 7 May, thousands of bikers from all corners of the globe will flock to Ystradgynlais (try saying that), in South Wales, UK. The event is free for everyone to attend (which also includes free camping), and is a fantastic place for both new and seasoned riders to expand on their motorcycling knowledge and experience, in a relaxed and jolly atmosphere.
Over the course of the weekend there will be a series of varied and exciting talks and workshops, on topics such as travelling, rough camping and motorcycling kit. There will also be plenty of opportunity to chat to like-minded riders, exchange your best (and laugh at your worst) stories, and grab top-notch inspiration for your next motorcycling adventure.
Over 30 exhibitors will be showing off their latest kt, and all of your favourite adventure motorcycle manufacturers will be there, including BMW, Ducati, Triumph, Honda, KTM, Yamaha, and Suzuki, and most of them will be bringing along their current models for you to have a nose at – you could even take one out for a spin!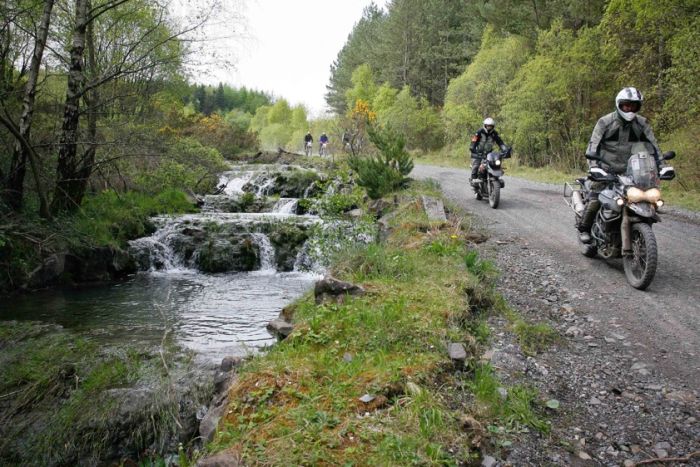 There will also be a whole load of riding activities available across the weekend, from tours and training sessions to ride-outs of all different ability levels, so you definitely won't be short on exciting things to take part in. There will also be a range of off-road tracks, where newbies looking to gain new experience can give it a go with guidance, and seasoned pros can look to improve their skills.
All this action will be sure to work up a hearty appetite, and there's also on-site catering, so you'll be able to grab yourself a bite to eat and a brew. There will also be showers, a chill-out zone with a campfire, and WiFi – so you can send your best action photos to us here at ABR!
This event has something for every rider, but as you can imagine spaces are limited – so you'll want to bag yourself a space as soon as possible. For more information, and to register your interest for a place head to the Touratech travel event page.