Faroe Islands
Day 6 - Tue, 12 Sep 17:
Map of Day 6: Today we took it easy on the mules and spent most of the day enjoying a hike out to Sørvágsvatn Lake.
Just some of the art that made the hostel feel homie.
This very content cat, named Felix, seemed to enjoy the company of the hostel guests.
The hostel even has an aquarium. Is it cat proof?
After a relaxing morning we casually packed our hiking gear and saddled up the mules for the short trip to the traillhead.
The only dirt roads we rode on during our Faroe Island adventure.
There's always a black sheep in every family.
Sørvágsvatn Lake rests just above sea level by about 40 meters.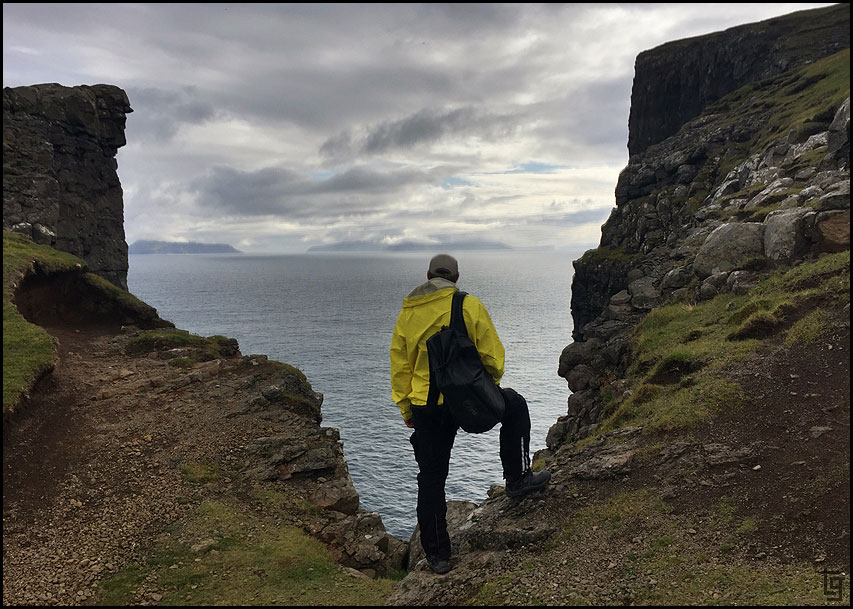 Overlooking the cliffs that drop hundreds of kilometers to the ocean.
Sørvágsvatn Lake flows to the Atlantic Ocean via a small falls.
Earth and Water. Yin and Yang.
We came across these rock bricks. Previous hikers had moved a lot of them to make their initials.
We moved some bricks around to spell "FO17" - Feroe Islands 2017.
On our way back we found a nice spot on the grass and had a snack. I enjoyed taking pictures and then eating these Skittle candies. Afterwards, I wondered if the sheep were using this same patch of grass recently? Yuck.
After the hike, we rode the short 20 km to Gásadalur to find a late lunch at the cafe.
Passing through the small village of Bøur.
Traditional homes in Gásadalur. Unfortunately the cafe there was closed for the rest of the year - I guess we visited the Faroes a bit late for the tourist season.
On our way back from Gásadalur, in the town of Sørvágur, my clutch cable (the one we replaced in Iceland with a bicycle cable) broke.
Fortunately I had a spare! The spot we broke down was a large parking area with the warming afternoon sun and the sounds of kids playing soccer nearby. We replaced the cable, strengthened the jury-rigged clutch lever, and were riding again after about 30 minutes.
Before long we were picking up groceries for our dinner and heading back to the hostel to relax for the rest of the night.
Tomorrow we plan on returning to the capital of the Faroe Islands - Tórshavn. We'll sight-see the capital before we board the ferry on Thursday to Denmark...