https://expeditionportal.com/2018-crf10 ... adventure/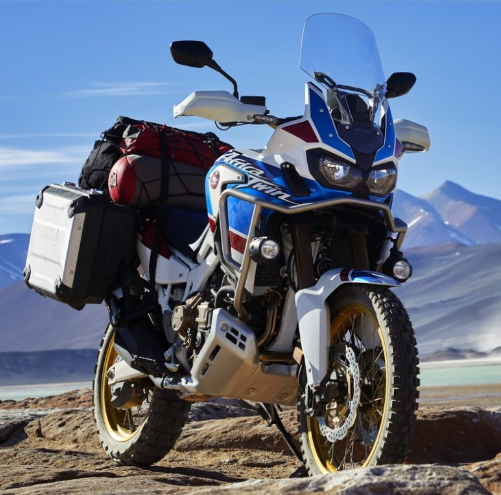 KEY FEATURES
•Africa Twin Adventure Sports has a larger fairing matched with an 80-millimeter taller screen to offer greater wind protection, and comes standard with heated grips and a 12-volt accessory socket, facilitating longer tours in wide-ranging conditions.
•The Adventure Sports model comes standard with larger sump guard and front light bars, as well as brushed aluminum cowling panels, rear mudguard, and easily removable steel rack.
•The Adventure Sports model has a larger, 6.37-gallon fuel tank (compared to 4.97 gallons on the standard model), extending range.
•Both the CRF1000L Africa Twin models now have auto-canceling turn indicators.
•The seat in the Adventure Sports model features a flatter profile and a 1.2-inch-taller height than the standard model. The seat adjusts .8 inches, for a seat height of either 35.4 inches or 36.2 inches (compared to 33.5 inches and 34.3 inches). Handlebar position is 1.3 inches higher and .2 inches rearward compared to the standard version.
•Adventure Sports model has a storage pocket on rear right.
•On both models, the rider's foot pegs are now wider and affixed via stouter steel mounting plates, whereas the passenger foot-peg hangers have been redesigned to allow more room for the rider's feet when standing.
•On both models, instruments are positioned at a shallower angle to allow the rider to see them more easily from a standing position.
•Adventure Sports model has an updated, longer-travel Showa suspension, resulting in 10.6 inches of ground clearance (compared to 9.8 inches). On both models, shock preload, rebound damping, and compression damping are fully adjustable.
•Both models have compact two-piece, radial-mount, four-piston front-brake calipers and "wave" floating rotors front and rear. The lightweight two-channel ABS can be turned off at the rear.
•Both models feature front and rear wheels in size 21 and 18 inches, respectively, with stainless-steel spokes for improved durability.
•On both models, the 998cc SOHC eight-valve parallel-twin engine is updated with a new airbox, now featuring a 20-millimeter longer funnel length and matched to redesigned exhaust internals that significantly improve midrange response and sound quality.
•On both models, the engine's balancer-shaft weights have been lightened by 10.6 ounces for added character and feel in power delivery.
•The water pump is housed within the clutch casing, with a thermostat integrated into the cylinder head, while water and oil pumps are driven by the engine's balancer shafts, contributing to a compact engine and optimum ground clearance.
•New for 2018, a lithium-ion battery is 5.1 pounds lighter than the previous lead-acid unit.
•Both versions available with Honda's advanced automatic Dual Clutch Transmission (DCT), delivering consistent, quick, seamless gear changes on-
road or off. Rider can select from three different shifting modes, and a G switch enhances off-road functionality by reducing the amount of clutch slip during gear changes.
•New for 2018, both Africa Twin models have a Throttle-By-Wire system (TBW), opening the door to four individual riding modes and an expanded Honda Selectable Torque Control (HSTC) system.
•HSTC now features seven levels (up from three), to adapt to a wide variety of conditions. HSTC can also be completely switched off, and three levels of power and engine braking are available.