Hi last night my son callum attended , Celtic vs a team from Israel , a qualifying game for champions league , the game would be watched by millions on tv , Celtic fans chose to demonstrate ,against Israel,s treatment of the Palestinians , should this be allowed at a sports event , I have mixed feelings .over to you chaps .Al
moto al
---
Posts: 7366
Joined: Fri Apr 08, 2011 12:02 pm
Has thanked: 44 times
Been thanked: 112 times
Nothing new then - except that the
legal case
made by the Spanish so.called government* against Barcelona fans flying the Catalan flag at matches fell apart and they did indeed show at the Cup Final - you'll also like to know that their 'Plan B' would have been to fly the Scottish flag instead if the ban had been enforced.
Regs
Simon
I say 'so-called' because there actually isn't a government here, hasn't been since December, but the same ols B***-***t comes out of Madrid ...
Be sure to visit
www.thespanishbiker.com
the invaluable guide to motorcycling in Spain - plus guided rides, HISS Events* and off road touring support service
*Highly Informal Sojourns in Spain
---
Posts: 11701
Joined: Thu Oct 28, 2010 6:44 pm
Has thanked: 308 times
Been thanked: 147 times
nothing new for Scottish teams to be political or sectarian :whistle:
But must confess to liking the sentiment of showing support for Palestine (thumbs)
cheers Spud

Life... it's not a dress rehearsal



You don't waste time... you waste yourself
---
---
I love the fact that they are doing it at the same moment the advertising hoardings say "respect" (thumbs)

Don't have a problem with it - in the main because I agree with the sentiment, the occupation of Palestine and the treatment of Palestinians by the Israel govt is appalling.

But I'd hate to be in a crowd that unfurled a racist banner, in a crowd situation how do you opt out of such a display?. I feel queasy when the national anthem is sung - I don't believe in God or the Queen, so singing 'god save the queen' seems daft to me - I usually sit down when it's being played, but often get abuse or dirty looks from fans around me.

Dave
---
hi dave i always stand for the athem, but if you chose to site that is your right and i am ok with that, but a lot of others dont just stop and think for a minute that he may have a point he is making or its not his belief and again thats ok with me

i hate it when people just jump straight down yer throat without just giving a little thought

but top marks for your comments

steve
---
Posts: 1999
Joined: Wed Mar 21, 2012 12:47 pm
Has thanked: 2 times
Been thanked: 74 times
There is no place for that type of thing in sport and let's be honest in this case they were probably just doing it to get under the skin of the Israelis rather than a genuine support of the Palestinians :whistle:

And, singing the National Anthem should be made compulsory, in my opinion (thumbs) .
Yamaha Tracer 900...the KTM 450 EXC-R has gone
---
Bullshit, pure sectarian bullshit. Most celtic supporters wouldent be able to tell you the first thing about Palastine or its history let alone find it on a map. Likewise would the Rangers supporters on Israel. Any that do are mostly a silent minority who know better than to say anything. My reasoning drawing this conclusion is coming from Northern Ireland where both teams are followed with an almost/actual religious zeal. Go into any repulican area over here and you will see Palastinian flags flying from lamposts along with Irish Tri colours and other republician flags, likewise in Loyalists areas where you will see the Israel flag on display. I work along side young men from both communitys and often amuse myself asking them the meaning of these flags presence and their ignorance is beyond belief not only about the middle east but on their own country. To coin a phrase ive heard used here " Pub historians". Most have never read anything more indepth than the Sun newpaper since leaveing school. In conclusion no sport shouldent be used this way.... Sry for the rant but it boils my shit !
---
Scott_rider wrote:
And, singing the National Anthem should be made compulsory, in my opinion (thumbs) .
I think Sir Wiggo has the right approach myself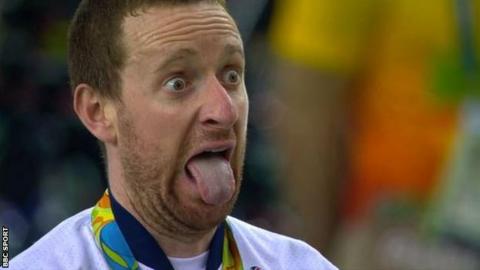 Dave
---
Well done shame them.
Israel has got no right to exist. jewish rabbis would agree that jews dont have the right to set up any jewish homeland they are ordered to live within other nations.
While we are having this discussion.
BOYCOTT GOODS FROM ISRAEL
CHECK WHERE THE FRUIT GOODS U BUY COMES FROM.
---