If this is article is read with Firefox or Chrome browser and you have an installed extension to ' allow to see Photobucket Images ' or some such keywords.......... then all images will be seen.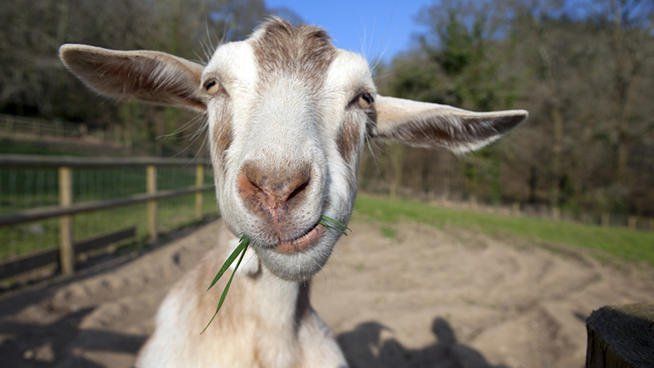 So....in true 'Team of Goats' tradition I prepped my moto for a ride out to Maroc .....
I give the suspension pivots a good greasing and my head stock grease nipple its monthly couple of pumps....a check over ref. brake pads etc and a new rear Mitas E07 tyre was mounted.
Roger would be bringing me a new front Mitas EO7 from the UK that I would mount in Maroc on a rest day.
To eliminate any problem coming from an old chain kit I replaced it with a new kit.
Of course as was to be seen later, all was not as it seemed relative to said chain kit.
I packed my moto in readiness for a rendezvous with 5 other riders from the UK. There'd be a few nights wild camping planned so full camping kit was packed. I had a dry bag this year for the first time as I was taking stuff to pass over to a friend there. My rear rack is usually only used to strap water bottles to it.
We'd rv in a clean, cheap and cheerful hostel in Spain, as they were arriving into Spain on the Plymouth to Santander ferry. Three of the riders had been to Maroc before and therefore by simple maths...erm...two others hadn't.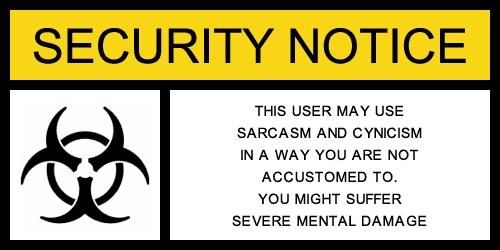 Here you can see my Suzuki 1500cc V Strom fully loaded up.
A Touratwat special aluminium/titanium/cast iron tea cup was purchased specially for this trip (€75.99 available from all good make up suppliers)
It is mounted in a conspicuous place on the front of my right hand pannier to show it off to other riders.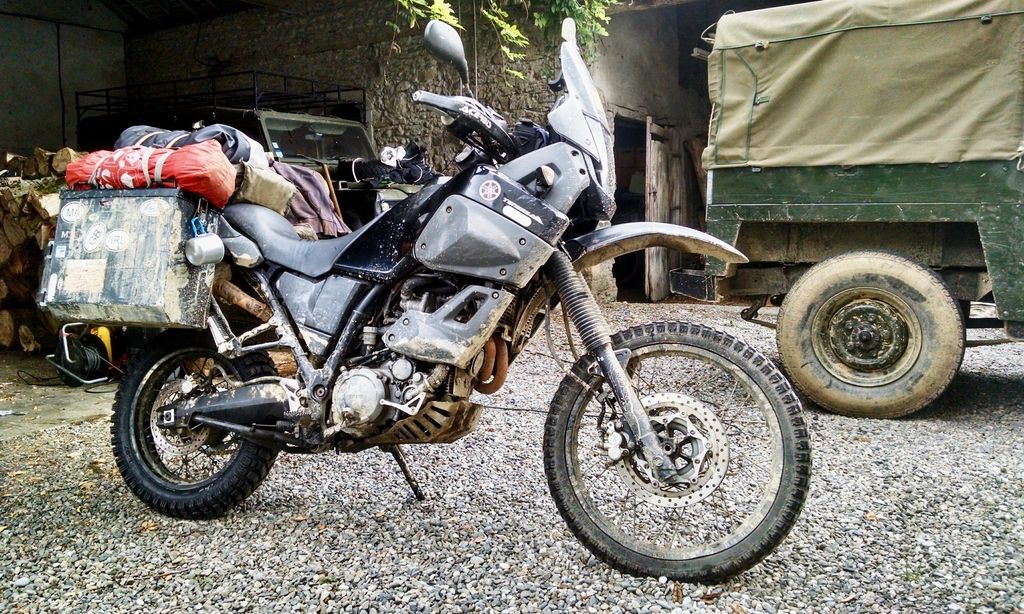 If you zoom in on the picture you can see an extension lead in the background at my rear wheel.
Off I rode in dry weather into Spain via Col du Pourtalet and on down passing through El Formigal ski station. Normally it's baltic and wet.
I stopped at Arguis to stretch my legs at the lake side and to throw a stone into the water to spoil it.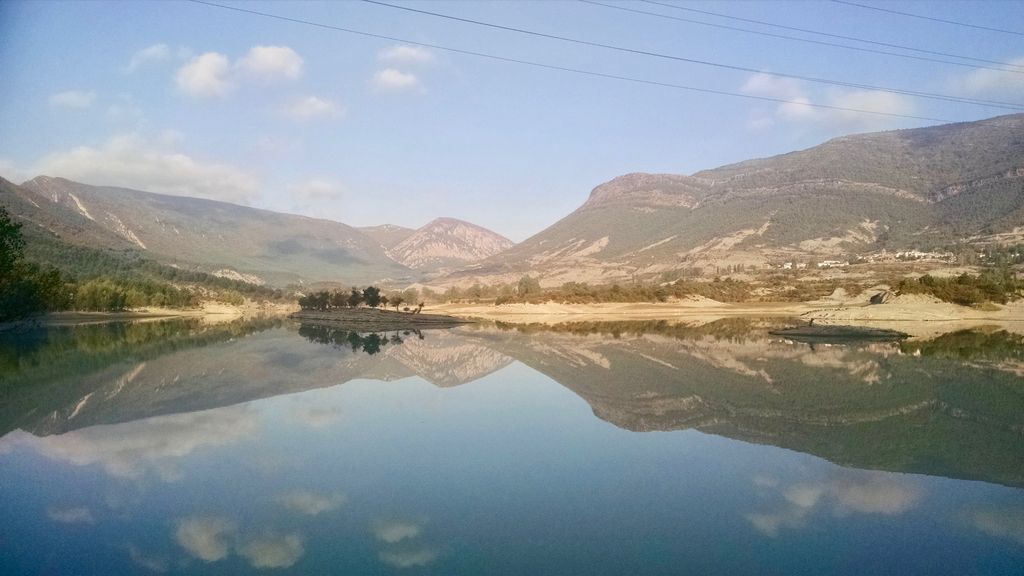 I rode on to Caceres where I'd rv with the rest of the Goats that evening.....a dry, autoroute ride just to cover distance. The only event was that I got pulled over by the traffic police for a document check...they were able to point out the very serious offence of my number plate not being vertical... who'd a thunk it eh?
I arrived and booked in. It cost €18 with a simple breakfast of bread and coffee. It's been the same price these last four years. If you email the reception they actually answer back promptly and in English.
It's located here N 39 28 843 W 005 26 499
We'd dander into the town centre later for a meal.
Alistair arrived first on his Honda Gold Wing.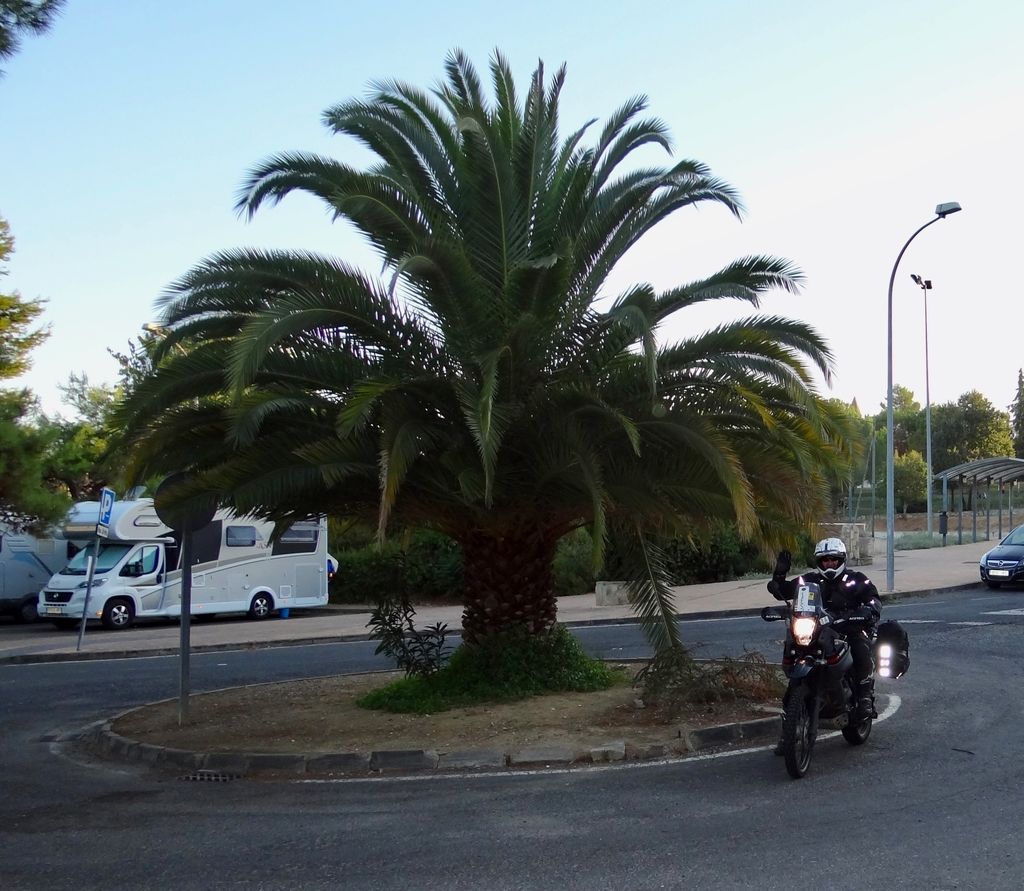 He was in great pain having bent his finger nail back whilst putting on his glove earlier.... after I sang him a nursery rhyme to take his mind of it he was all happy again. I of course commented on his hair style.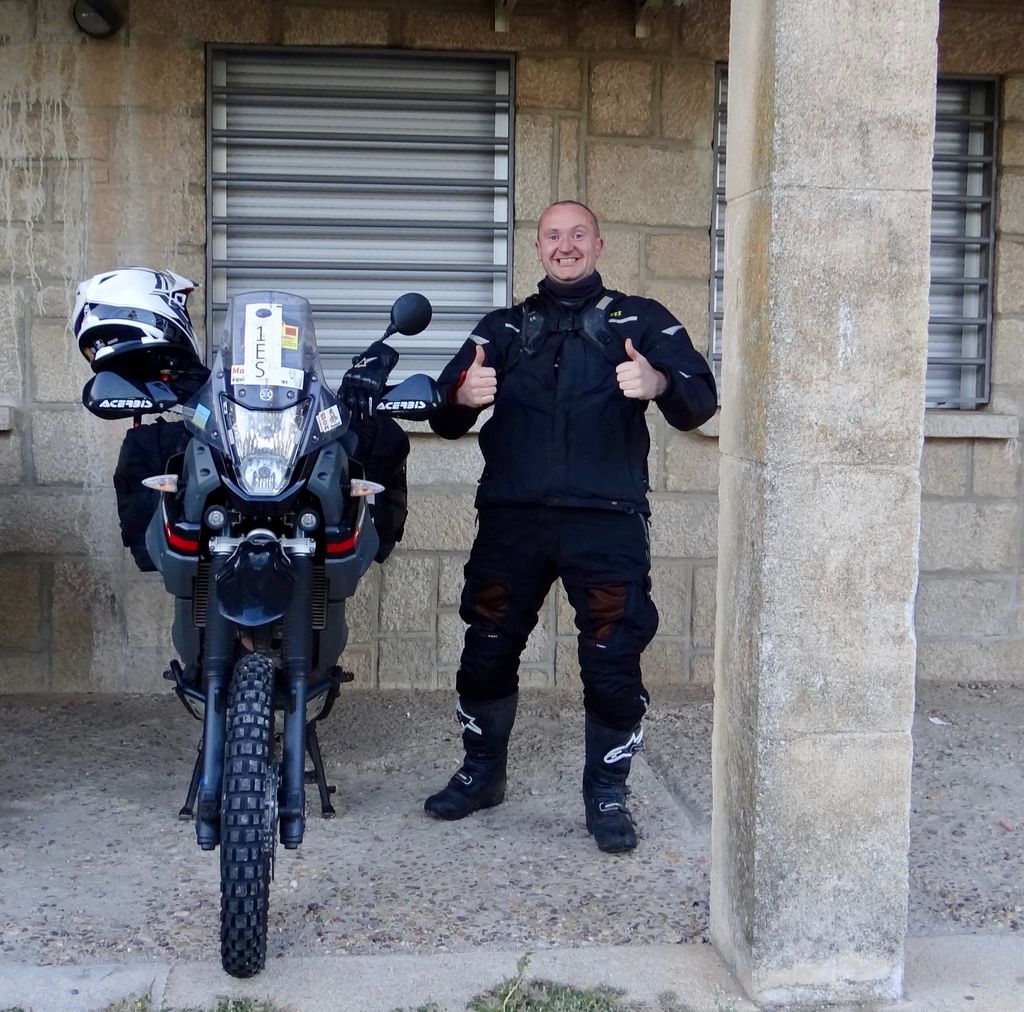 Roger arrived next on his GS1200 carrying my front tyre.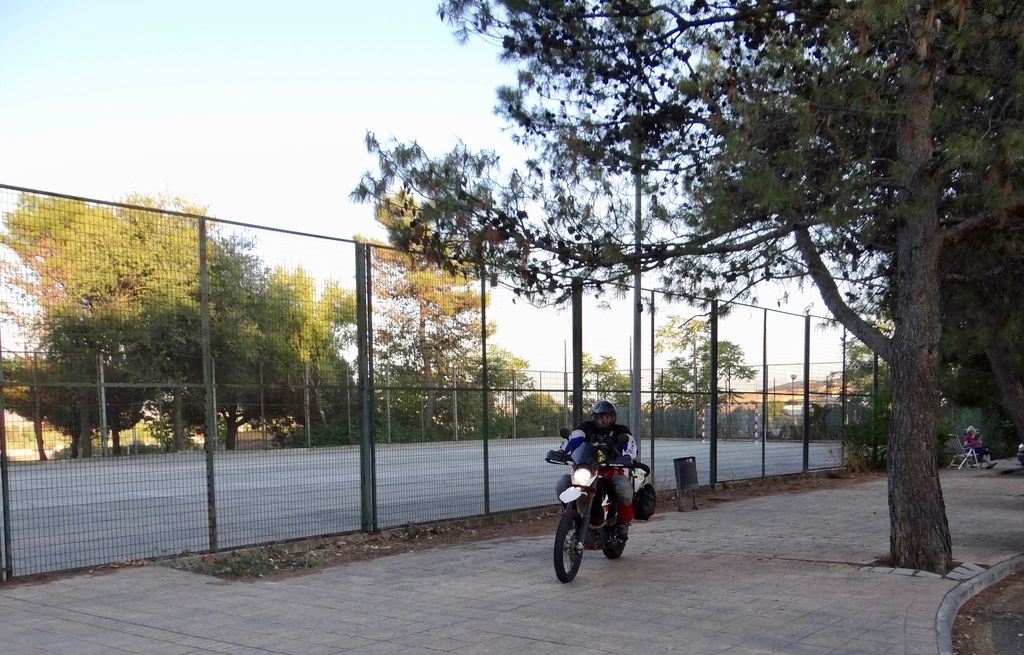 I of course commented on his hairstyle.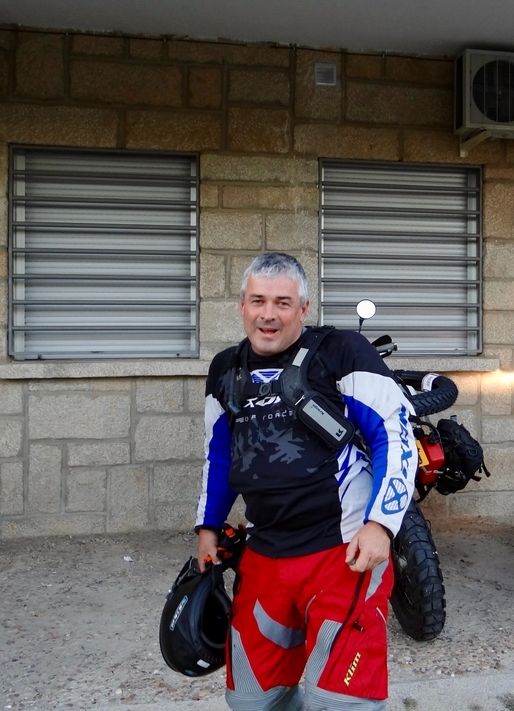 Next Jon arrived on his Africa Twin...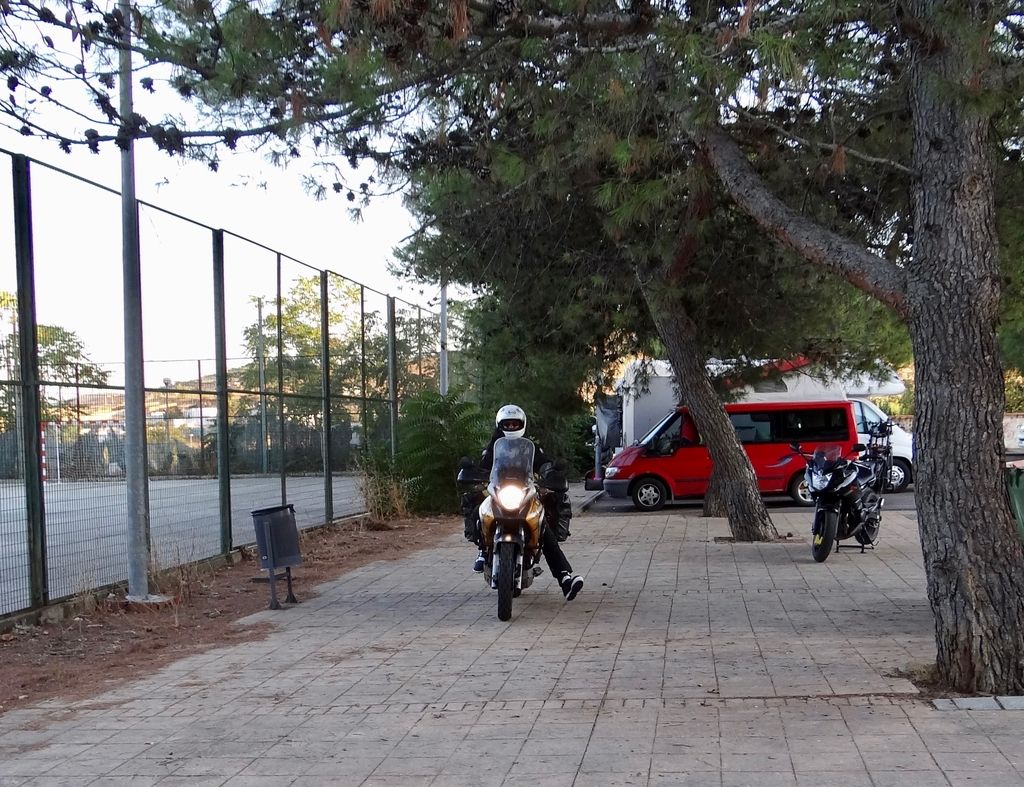 I of course commented on his.....erm.....hairstyle....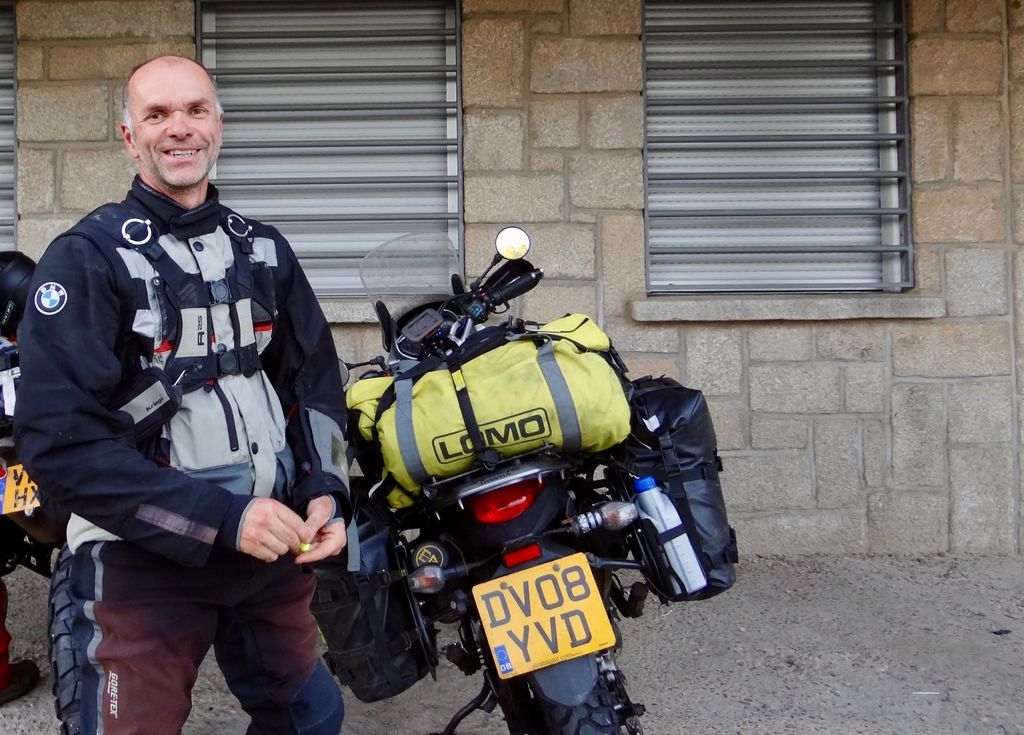 We went in and got booked in. The other two would arrived later as the group had become separated, in true EDC fashion....excellent, it had started...
Just as we had finished putting our kit in our rooms Gordon and Percy arrived. Here we can see Gordon's Honda Crossfire fully kitted out.
I have a picture of Percy on his Triumph 800 Tiger somewhere....
I of course commented on their hairstyles.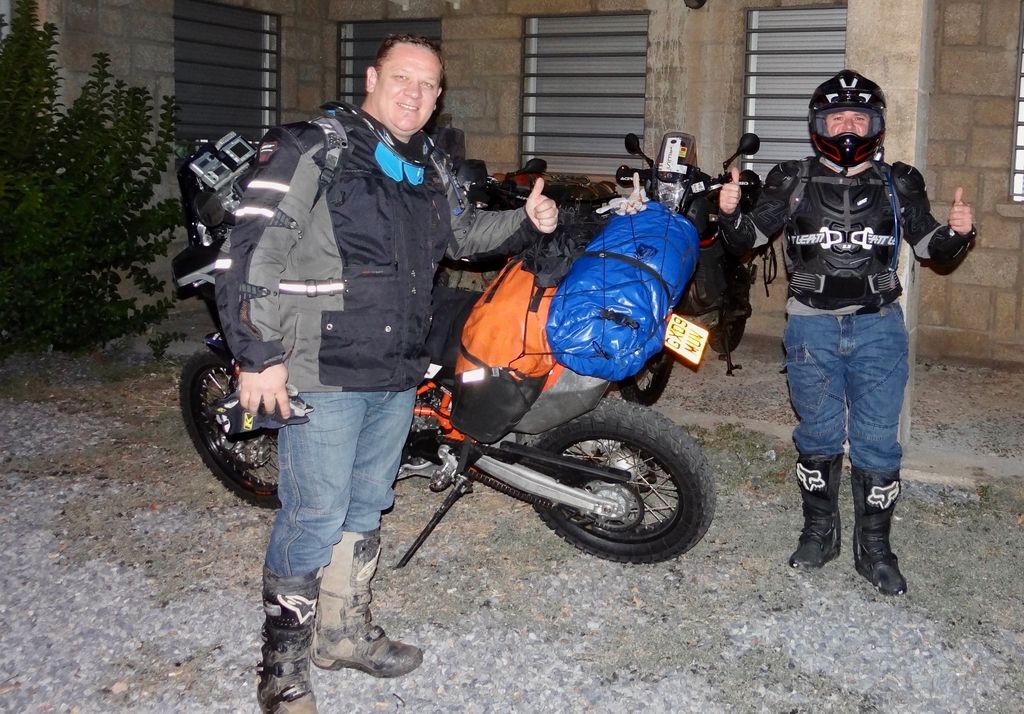 Park the motos in under the above balcony .....