Before I start, I would like to disclose that the following ride report has been assembled from a running blog during the trip itself, which was hosted on another website.

I have subsequently edited as appropriate those original posts made at the time (while endeavouring to retain the feel of the daily diary format) and added new and alternative photographs into what I trust will be a more succinct and entertaining ride report for you to enjoy here on ABR.
[CENTER]
Trans-Am 500 - the seven year itch
[/CENTER]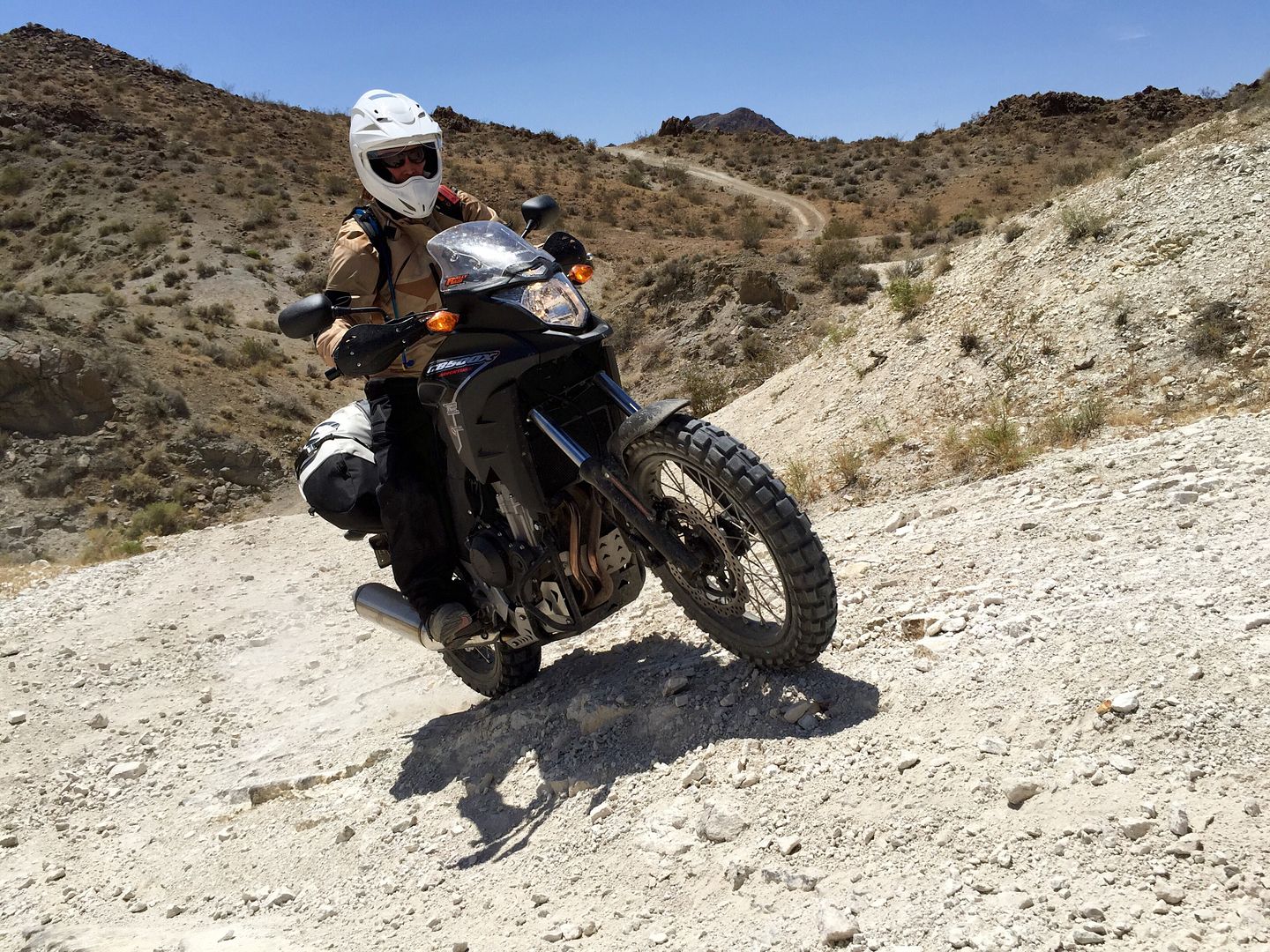 Setting the scene...
In 2008 I was lucky enough to get my hands on what was then the brand-new Yamaha XT660Z Tenere, and immediately shipped it from the UK to the USA where I travelled extensively for the next six months - criss-crossing the country and taking in as many of those 'must ride' dual-sport destinations as I could, bound only by the weather and my own (albeit limited) sense of self-preservation.
Together with exploring deeper in to the desert south west than I had before, fundamentally my intention was to ride as much of the Trans-Am Trail (TAT) as I could during the fall and spring of the following year, which inevitably meant chopping the route into more bite-sized and manageable sections.
I immediately headed to Colorado and was fortunate to ride the key high passes before too much snow had arrived, culminating with a spirited gravel-run to the top of Pikes Peak - that like Paradise, has now been paved of course. I then endeavoured to ride as much of the western TAT as El Nino would allow; and in the new year - after an entertaining and enlightening road-trip through the gulf-coast states - I eventually picked up the eastern end of the TAT and did my best to join up the dots...
It really was an epic trip - not only from the pure enjoyment of riding through such a huge variety of terrain, but that choosing to travel off the beaten track had in turn offered me what I considered was a unique insight (or at least a snap-shot) into more rural and small-town America.
For me it defined everything that an 'Adventure' ride should be - it's not just about the bike, or the scenery, or even the people you meet... but how it makes you
feel
. There is an overwhelming sense of freedom, a piquancy in not knowing exactly where you might stay that night... and when travelling alone, an overriding appreciation of your own self-reliance.
Itchy feet.
Since then I have been rather distracted by real life. Of course there have been compensations - plenty of dual-sport riding and the odd rally race - and certainly the opportunity to work with Rally-Raid Products over the past couple of years (initially on the LC4-50 Dakar bike project, and most recently the CB500X Adventure bike conversion) has allowed me to expand my riding horizons even further - but ultimately there is nowhere I'd rather be than out there somewhere, on two wheels...
Last summer, when John and I drew up the outline specification for a new kind of bike from Rally-Raid, I had just come back from a month in the US where I'd spent a lot of time onboard a new Honda CB500X. Despite an obvious road-going bias, I immediately saw the potential in the bike - not as an out-and-out off-roader or racer as such, rather more of a genuine 'all-road' all-rounder - something you could ride hundreds of miles if required, then confidently take on dirt-roads and Jeep-trails; and ultimately capable enough to tackle terrain that might otherwise cause you to think twice onboard a larger, heavier machine?
Certainly in comparison to my 660 Tenere, the Honda's parallel-twin cylinder 471cc engine is an absolute peach - smooth and lively, offering similar bhp and even better economy - which ought to make any highway miles far more relaxing (not that the Tenere was bad by any means). The CB500X's (comparatively) low seat height and compact dimensions means it immediately feels far more lithe and nimble, while a similar OEM spec to the Yamaha includes a 250+ mile fuel range, small faring and strong subframe makes it an excellent long-distance travelling companion.
When it comes to the dirt, our CB500X Adventure upgrades have been designed to offer similar capabilities (albeit with around an inch less travel and ground clearance that the Yamaha), and certainly ought to handle anything you might want to ride a 200Kg machine (plus luggage!) over on your own.
Having drawn these parallels, we both felt there would be no better way to comprehensively prove the capabilities of the new bike by embarking on a similar trip to that which I'd made back in 2008/09.
Of course from a personal perspective, it would also be an excellent opportunity to perhaps revisit some areas I may have quickly passed though before, find new and exciting trails that I'd had to inevitably forfeit in the past, and not least endeavour to ride the whole length of the TAT consecutively.
Introducing the 'Trans-Am 500' cross-country trail ride.
The idea is to try and visit as many of those 'must-ride' dual-sport and adventure riding destinations as I can within predefined time-frame.
Essentially I am allowing a month each way to cross the country and back again, using a mix of highways and byways, dirt-roads and trails. This won't be all about dirt, indeed the very nature of this bike means you ought to be able to enjoy the paved highway just as much as the trails, and choose your route accordingly.
Starting in May on the west coast in San Francisco, highlights during the initial west-east leg will include crossing through Death Valley off-road, and after a night in Las Vegas, taking part of old Route 66 in Arizona on my way to the Overland Expo in Flagstaff - for the official 'debut' of the CB500X Adventure in conjunction with our US distributor Giant Loop Moto.
From there I'll spend a few days in and around Moab in an effort to really put the bike through it's paces, before heading through Colorado on any passes that are open towards the end of May
(possibly precious few if I'm honest, but fortunately I'll be back this way again a month later)
. I will also endeavour to complete an Iron-Butt Association '1000 mile in 24 hours' Saddle-Sore challenge en route for the east coast, where ultimately I will dip my metaphorical toe in the Atlantic Ocean at Virginia Beach VA.
The West - East leg (outbound): San Francisco CA to Virginia Beach VA.
(note. this is a very rough outline, particularly as Google maps tends to snap to major roads).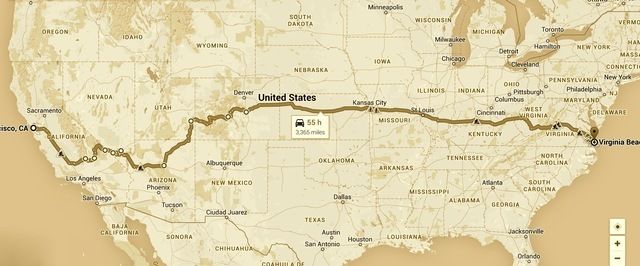 All being well, I intend to start the return leg around the 1st June - initially riding the length of the Blue Ridge Parkway and a visit to Deals Gap, before picking up the Trans-Am Trail in it's entirety all the way back to the Pacific coast.
The 'new' TAT.
As a number of you will be aware, over the years, Sam Correro (originator of the Trans-America Trail) has embarked on a series of updates and revisions to the original TAT route, typically where sections have either been paved or washed away, in an effort to provide a suitable alternative that remains true to the original conception of an off-highway crossing of the entire country.
What is particularly exciting for me is that my trip this year coincides with his most comprehensive re-working of the 'Trail so far, with a brand new western route between Moab UT, that now heads north via Idaho, before turning west again and connects with the original route through Northern Nevada, and ultimately the official end point at Port Orford, Oregon.
The East - West leg (return): Virginia Beach VA to Port Orford OR.
(similarly to above, this map is only a very rough indication of the proposed route, but hopefully indicates the new western TAT route).

This new route is not scheduled for release until later in 2015, so I am delighted, and indeed honoured that Sam has given me the opportunity to be one of the first people to actually ride the newly-revised Trans-Am Trail. Perhaps even more enthralling is that there is currently a sector of 'no-mans land' in Idaho that I may well need to pioneer myself, which ought to further add to the excitement!
A time line...
In exactly a week from today I'll be flying over to the west coast to pick up the very first production CB500X Adventure from the Giant Loop HQ in Oregon, together with some of their minimalist luggage of which I'm a great fan. Certainly my plan is to travel simply and light for the duration - which reflects the whole ethos of the CB500X Adventure project in general, and suitably echoes Giant Loop's motto: Go light. Go fast. Go far.
A more detailed separate post with my packing list will follow, but suffice to say that I intend to fit everything I'll need (including a basic camp) into a Coyote bag behind me, together with just a small tail-pack for my tools and puncture repair kit.
My official departure is scheduled for the 10th of May, when I'll be heading south from San Francisco for the first leg to Flagstaff AZ for the Overland Expo, where we will officially debut the bike to the press and the public over the weekend of 15-17th May.
Throughout the trip I will endeavour to update you all as regularly as I can, with plenty of photographs too of course! Certainly a significant change over the past seven years has been the almost universal introduction of WiFi in even the most remote restaurants, coffee shops and gas stations, although as you might imagine there will still be periods when I'll be out of range and have to be my own barista...
Follow me!
While this is very much a solo endeavour for me, it is reassuring to have the support of both Rally-Raid Products and Giant Loop - and indeed a key part of this marathon journey is to provide them with essential feedback that in-turn can be passed on to their customers.
In that regard, they both intend to keep an eye on me! - and I'll be using a SPOT tracker each day that I'm on (and off) the road, which means you'll also be able to log-in and track my progress across the country and back - oh the wonders of technology!
I'd be delighted if you'd join me on this new and exciting adventure - so please do subscribe to this thread for regular updates, and of course you'll also be able to follow my progress through the SPOT tracker... and I hope that I might even get the opportunity to meet some of you in person as well!
Oh, and finally, what about the little pink fella you might ask? - Piglet!
Yep, despite essentially retiring from traveling (he has a distinctly wonky neck now and a nose that is about to burst at the seams I fear), he will of course be joining me on this new, and hopefully 'most excellent' adventure. Let's just hope its not a bogus journey!
Toot toot for now!
Jenny xx