Hi everyone, my first post on the forum. Been reading the magazine for a couple of years now.
I thought I would post up some photos and a little trip report from our tour of north-west Vietnam, which we undertook in March/April 2014.
On this trip there were Derek (Del-boy), Phil TK and myself. Phil has been on most of the trips to Germany we've done over the last decade, but has long been wanting to do a tour of Asia, either Thailand, Laos or Vietnam. He has spent a fair amount of time out there mainly in Thailand doing diving instruction so he's somewhat familiar with the region. He rode much of the Ho Chi Minh trail from Saigon to Hanoi on his own a few years ago, but the north west is reputed to be the most scenic part of this incredible country so that's where we decided to go.
After we committed to going, we arranged bike hire via Flamingo Tours in Hanoi and booked hotels and flights ourselves. At the end of March we flew out from Gatwick (12 hour direct flight). We managed to get a good selfie with the pilot of our flight before even boarding, so that was a good start to the trip.
Upon arrival we were introduced to the humidity and chaos of Vietnam on our taxi ride to Hanoi. If you can picture a 3 lane motorway, with vehicles crossing (including bicycles and cows) at all manner of angles, whether oncoming or otherwise, and traffic going both ways on the hard shoulder. It's perfectly normal for cars and bikes (90% of the traffic is step-thru scooters) to travel inches from one another, they just get on with it and traffic flows nicely without any aggro. Scooters are used to transport just about anything, including trees, cows etc Don't ever complain about your luggage capacity, if you do, you're doing it all wrong.
It was around 30deg and climbing, and humidity was 90% or more for the whole time we were there. We met up with Phil who had flown in via Thailand and spent a couple of days exploring Hanoi and making arrangements for the second half of the trip. We'd booked the bikes for 8 days initially and wanted to do a part 2 out to Ha Long bay after we'd finished the north west loop. So we had to book a couple of hotel stays while we were there and sort out the extra bike hire with Flamingo but all easily sorted.
So..Hanoi...well it's a crazy place. Cramped and constantly busy, people seem to use the pavement and roadside for just about everything including preparing meat, vegetables, doing the laundry, dining, everything but walking on basically. All foot traffic and wheeled traffic uses what's left of the road which is very little. It does get cramped, we were actually stuck in a traffic jam ON FOOT a couple of times.
The food was great, we soon learned how to use chopsticks, and the beer was cheap. It's home to one of the cheapest bars in the road, where you sit on these tiny little plastic stools actually in the road on this crazy junction, until the police come along every now and then and shoo you back on to the pavement for a while. As soon as they're gone you're sitting in the road again. One night we had 15 beers there, all draught Hanoi beer which is a nice drinkable lager, and it came to about 200,000 dong. That's about £6. We had plenty of dong as you can imagine, in fact we were multi millionaires.
This is Phil in the middle of that junction...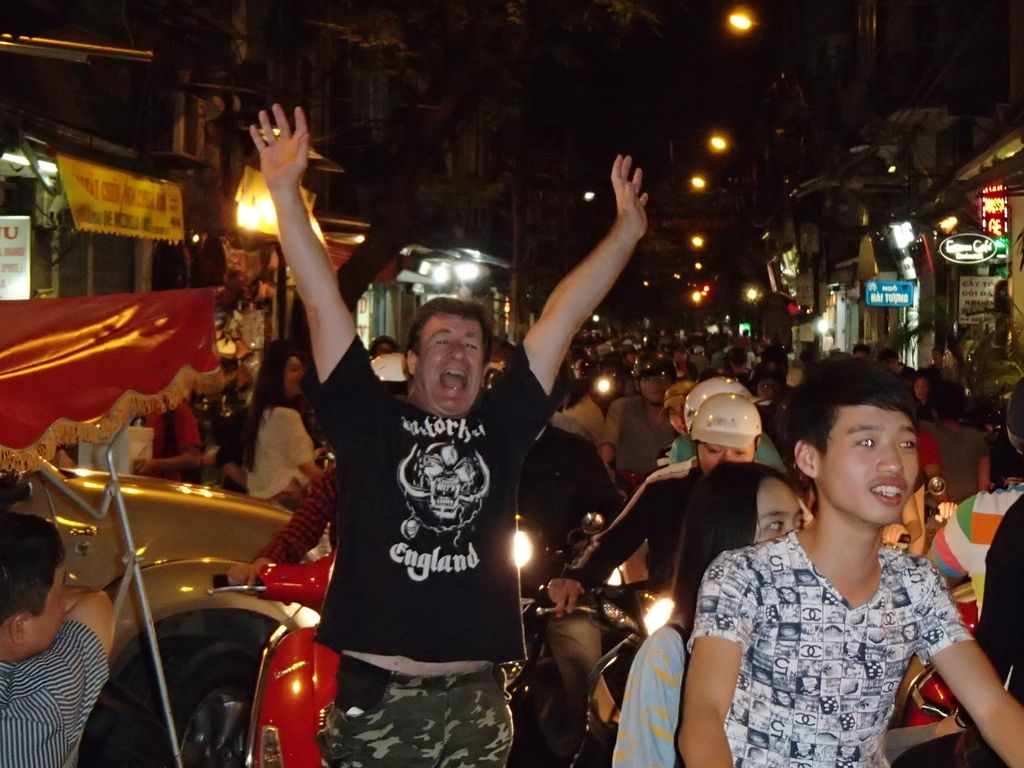 And Delboy at the same place...
This is Del and Phil in the middle of an 8-way intersection, sitting down having just fed a midget girl who was selling balloons in the junction some KFC hot wings. Don't ask.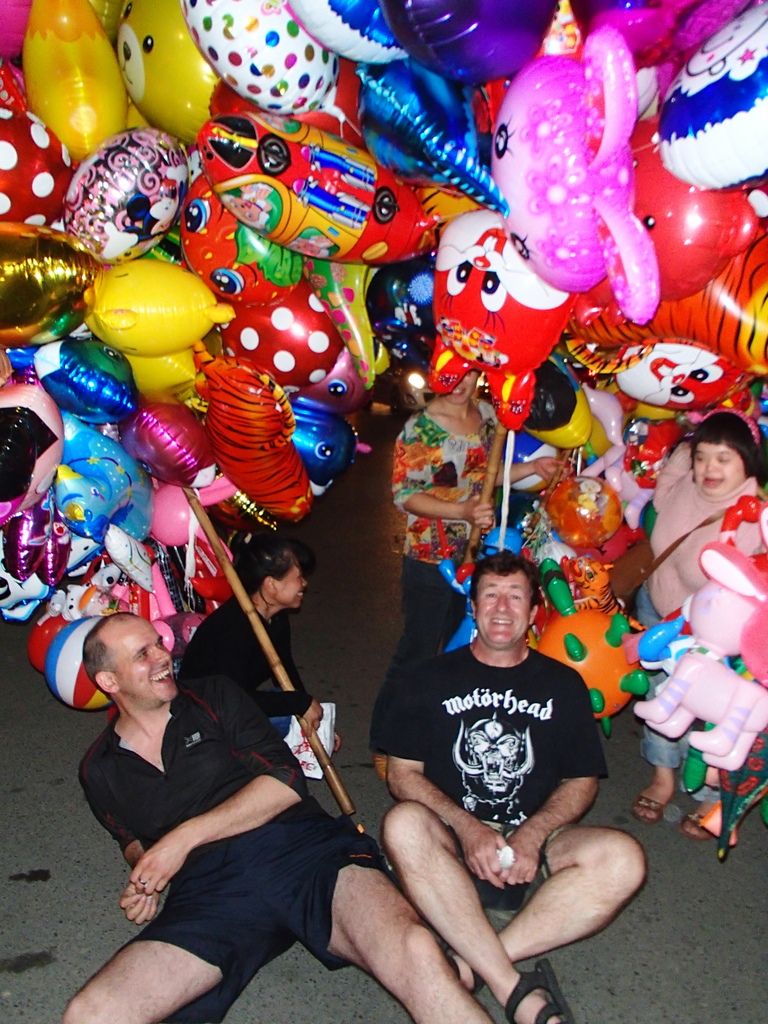 Video of the traffic on that junction...
http://youtu.be/Wzy0-SivGcA
Same junction as seen from the City View bar...
http://youtu.be/OXmvoBgpE1E
Also later on at night you get these mobile pimps bothering you on scooters. They ride up to you and bother you. You want boom-boom? You want nice lady? Saki saki? Monkey back? Lady boy?
We never figured out what or who was involved in a 'monkey back', but apparently it cost about $4.
A special mention about vietnamese coffee... I like my coffee but I'm no gourmet, but this was some of the finest tastiest coffee I've ever had and I miss it now we're back.

Then there's another coffee you can buy out there called Weasel coffee. Vietnam has a breed of civet cat/weasel that lives on coffee beans, and it's very selective choosing only the tastiest beans. You can see where this is going. Weasel coffee is harvested after it's passed through a weasel, and roasted (hopefully washed first). It really is s**t coffee in the truest sense of the word, but there are animal welfare concerns over some of the practices involved in mass producing it.
So, a little about the bikes we'd chosen. None of that Honda reliability for us, nope, we'd gone with 20+ year old russian Minsks which contained (barely) 125ccs of awesome 4-stroke POWER. An odd choice? Well you need agility and something that will handle road, dirt and anything else you can throw at it, so these were a good choice. Originally they would have been 2-strokes but they'd been retro-fitted with 4 stroke donks for reliability.
One minor point is that they are 5-DOWN, followed by a neutral, followed by 5 more down, another neutral...you get the picture. So if you're in 5th and you forget this, and downshift, you're in neutral. Downshift once more and you're back in first, and probably on your arse soon after that (or picking up engine internals from the road). Soon we renamed it the bastard gearbox.
Del's Minsk had been crashed before he'd even set eyes on it so he was set up with a SUFAT (basically a Chinese Lifan). We renamed it the MAN-FAT. Again it was a 125 but a fair bit taller which is no bad thing since Del is over 6 foot.
We deliberated over what bike kit to take for months while we were planning this trip out, and in the end we basically went for body armour, tough boots with a good grippy sole, and lightweight everything else plus open face lids. It's just too hot for anything more than that. I got a pair of £30 boots from Lidl which were great although they now look like they've done an around-the-world trip.
Luggage wise, I took a Hein Gericke roll bag (40l I think), some small 5l bags and I bought a Kriega R20 rucksack so I could keep cash, passport and valuables on me. Del was planning on video'ing each day with his GoPro mounted on his lid, so he took enough 18650 power cells to double Vietnams capacity the moment he stepped off the plane.
We must make a special mention to Del's battery supplier. He contacted
http://www.ebay.co.uk/usr/ecoluxshop
who kindly set him up with plenty of 18650 rechargeable cells. Del tested them and found them to be first-rate, unlike many similar items sold online. These cells were then fitted into USB charger packs that would power his GoPro for the entire day. They then still had enough juice in them to recharge our phones and camera batteries when the power at the hotels would go off. We would recommend these if you are looking to do something similar or for backup power. We will be making a video from footage gathered during the trip, more on that when it's ready.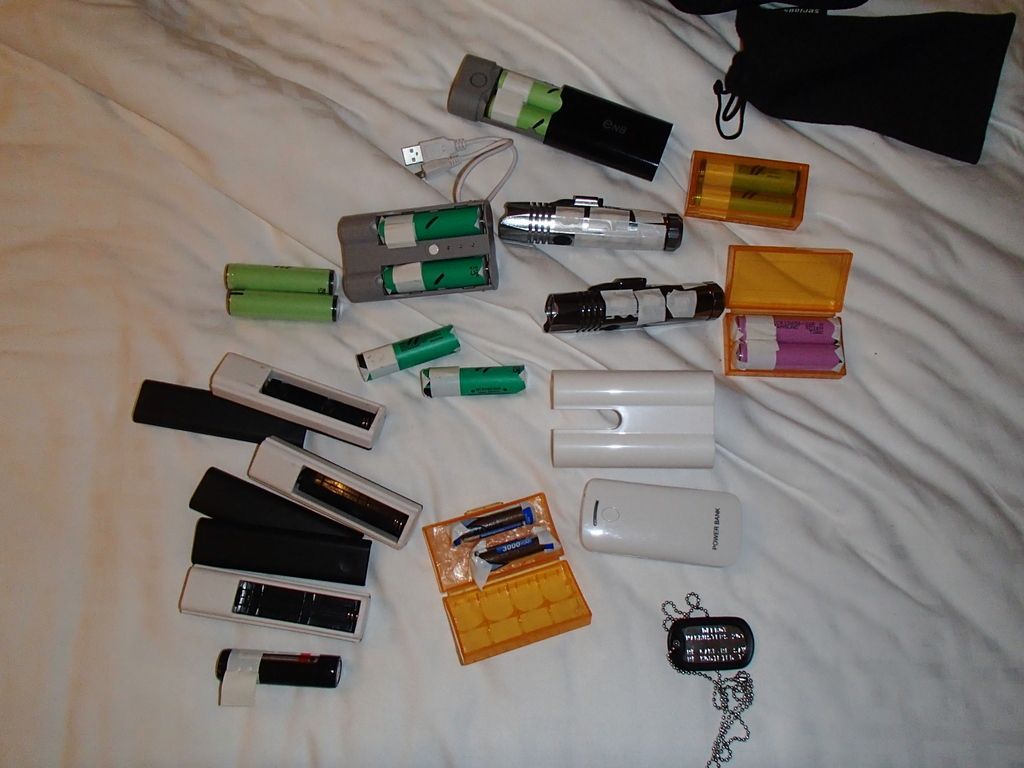 Day 1 - Hanoi to Mai Chau
On the morning of the tour we turned up at Flamingo and loaded up the bikes. They include tough but well-used panniers, and use lengths of bicycle inner tube as bungees. It's cheap and it works.
This is me (excuse the camp pose) allowing my man-servant to load up me minsk.
Phil getting loaded up:
and finally Del's MAN-FAT.
So we had a quick ride round the block, Del was very nervous which was out of character but understandable. He hasn't rode a motorbike for about 6 years, and the first time he gets back on one he's in a foreign country with chaotic traffic and no rules. Fair play though, he rode round the block like he'd never been off a bike and we did the same once we were loaded up.
At every junction, traffic is going in four different directions and all intermeshing, you have other traffic, then you've got rickshaws, pedestrians, you name it all just hitting the gaps between everything else. You need eyes in your arse around here because it's coming at you from every direction. So a Hanoi junction and a funny gearbox was a winning combination.
Hanoi lazy afternoon traffic...
So at this point let me introduce our guide, Pinky. We decided to have a guide for a couple of reasons. First, foreign drivers licences are not valid in Vietnam, and it takes a minimum stay of a month or more to qualify for a vietnamese driving licence. You can get your licence translated into vietnamese, which is then valid, but you're looking at $250 all in. We just decided to avoid the police and not crash. If we did get pulled, a guide would be invaluable in smoothing things over (along with a few hundred thousand dong tucked away in your documents).
Anyway, Pinky was a legend. Within minutes he'd renamed Del-boy to Del-little-boy and that stuck for the rest of the trip. We got along great with him and he was constantly joking around.
This is Pinky and Phil about to tackle a rare set of Hanoi traffic lights.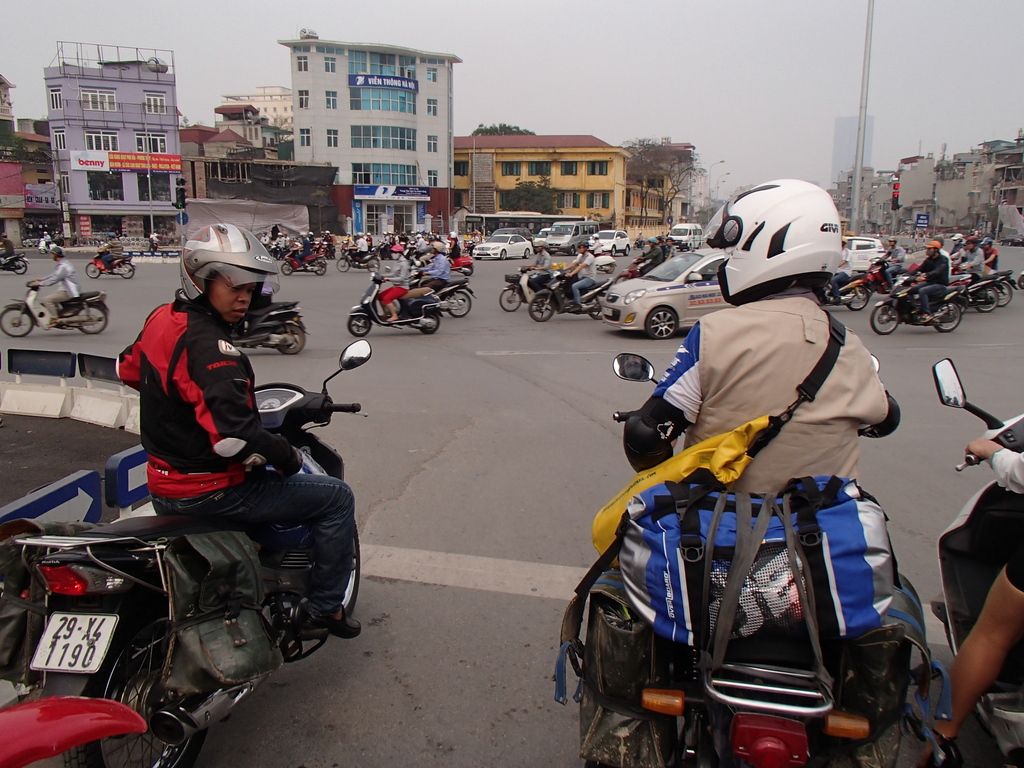 Basically on day 1 it was a case of getting out of Hanoi and starting to make our way into the sticks. This we did, with everything getting more scenic and rural as the day went on. The Minsks are up to the job. You can go from tarmac to gravel to clay and they don't complain at all, we'd now got used to the road surfaces being highly variable. Sometimes you are better off cutting the inside on a mountain hairpin because where the tarmac finishes and the dirt starts it's like a berm, and slingshots you through the bend.The alternative is sometimes huge potholes (we're not talking UK potholes here either, you could go for a paddle in some of them).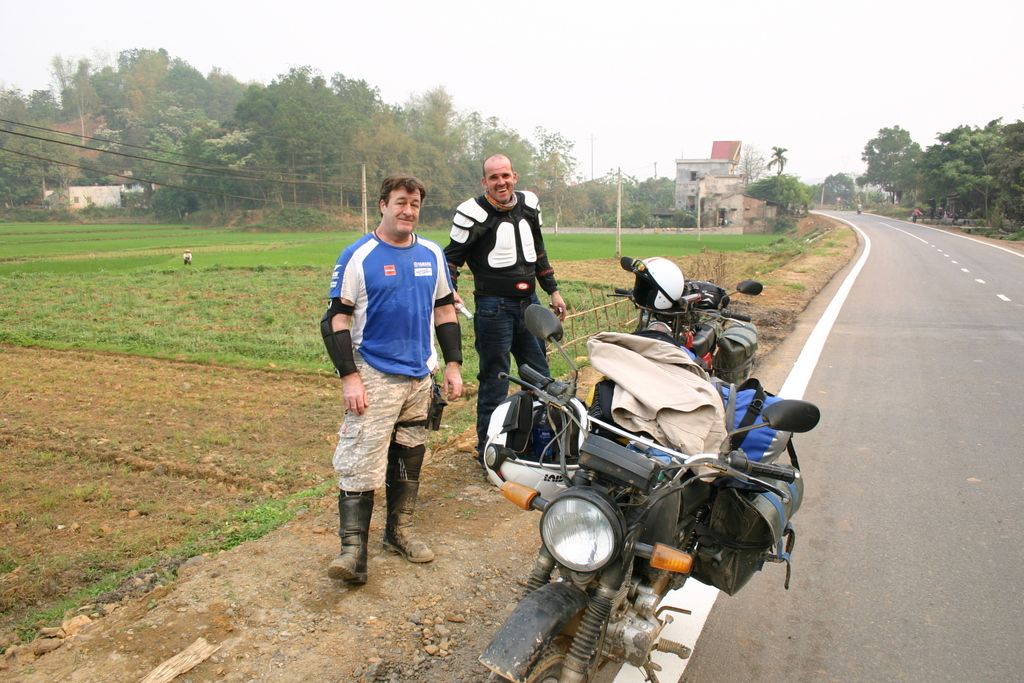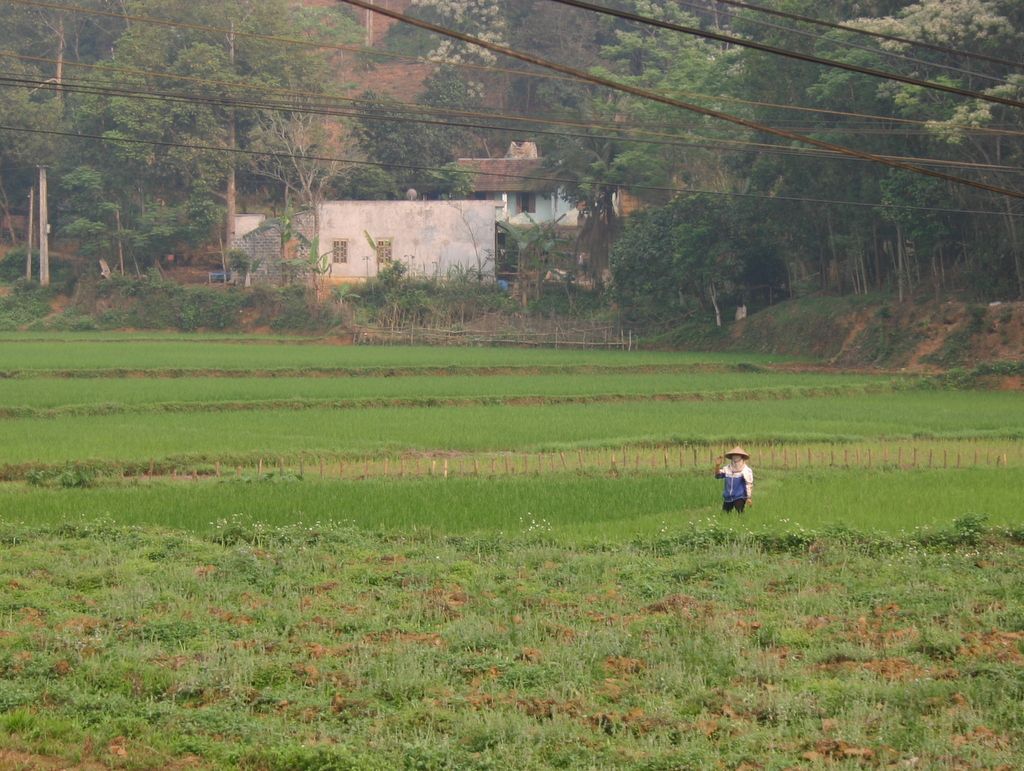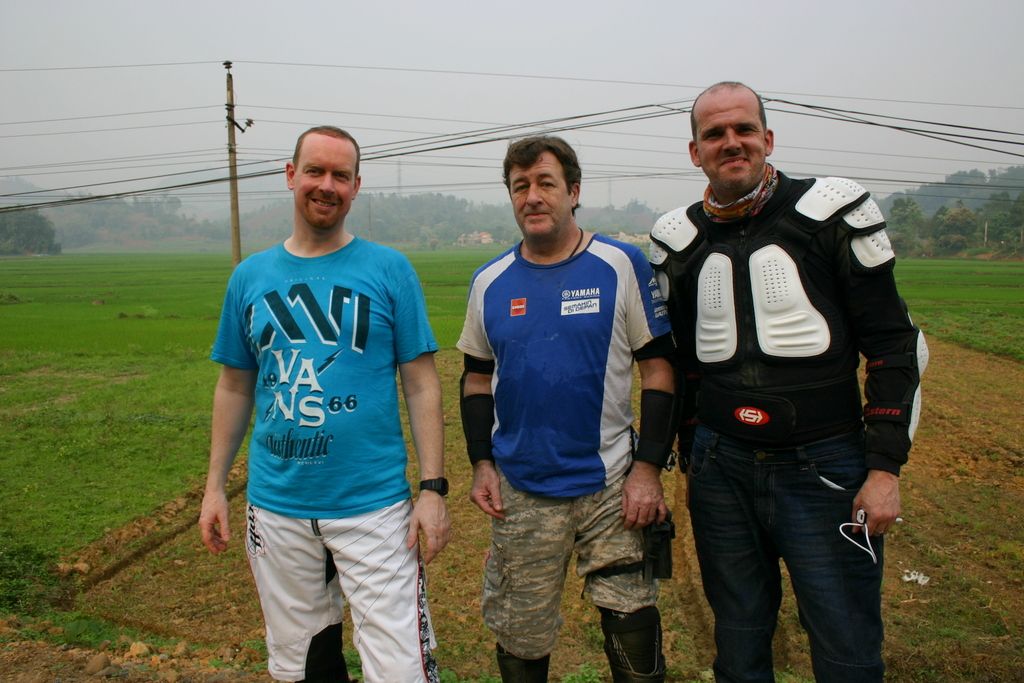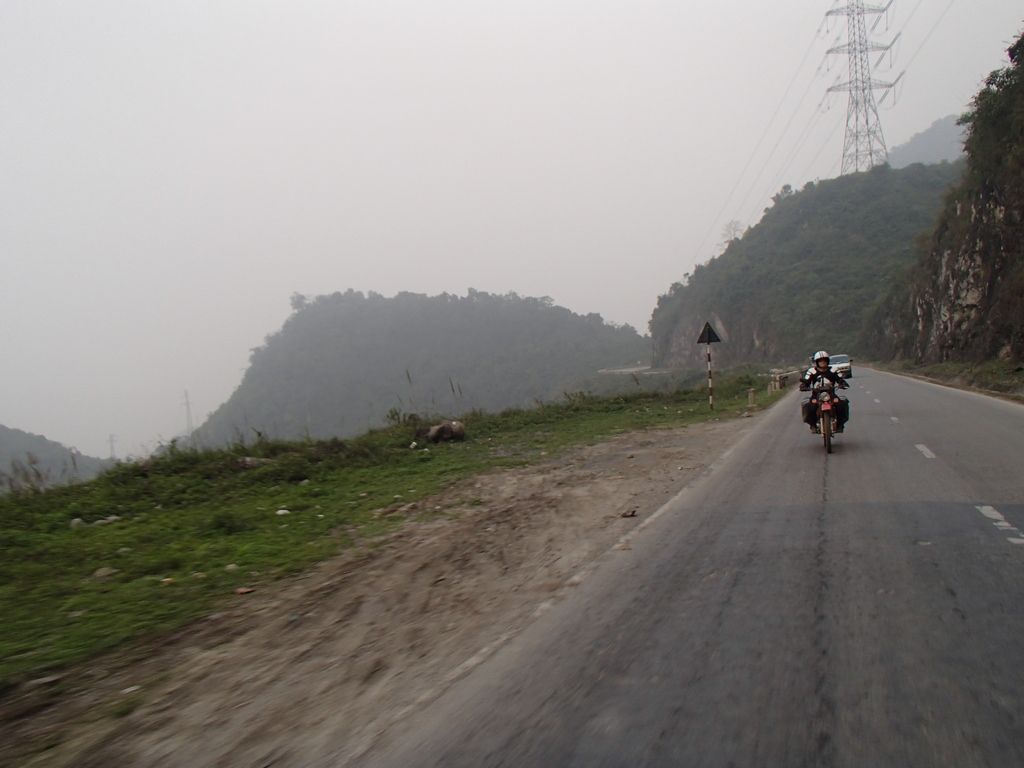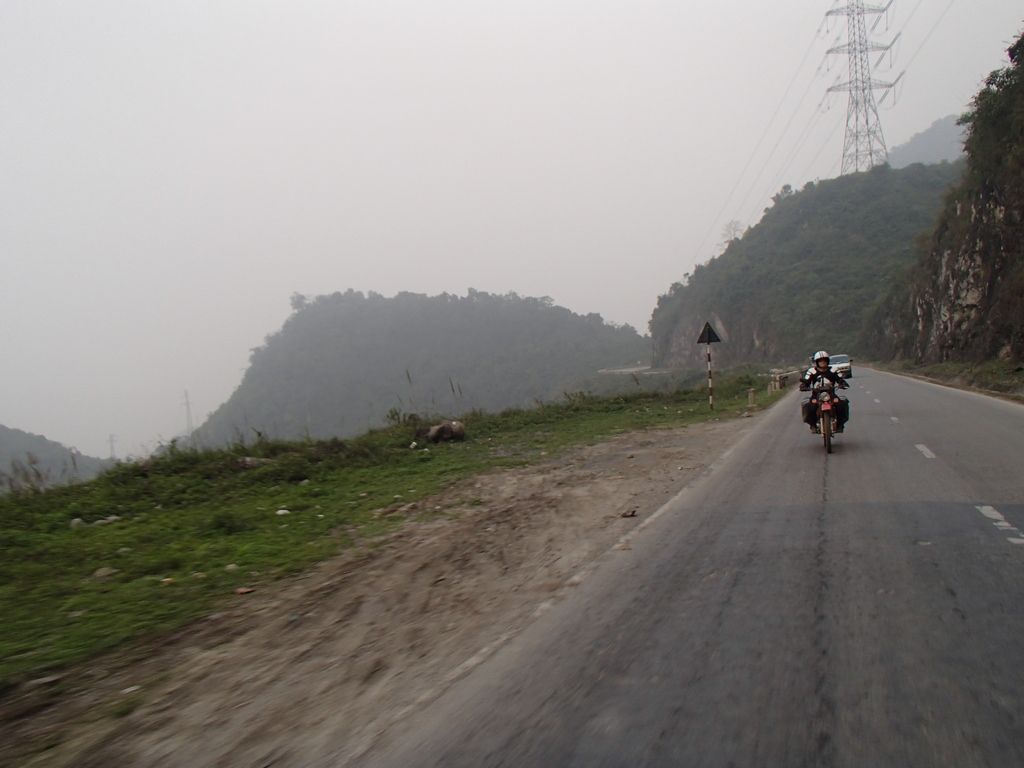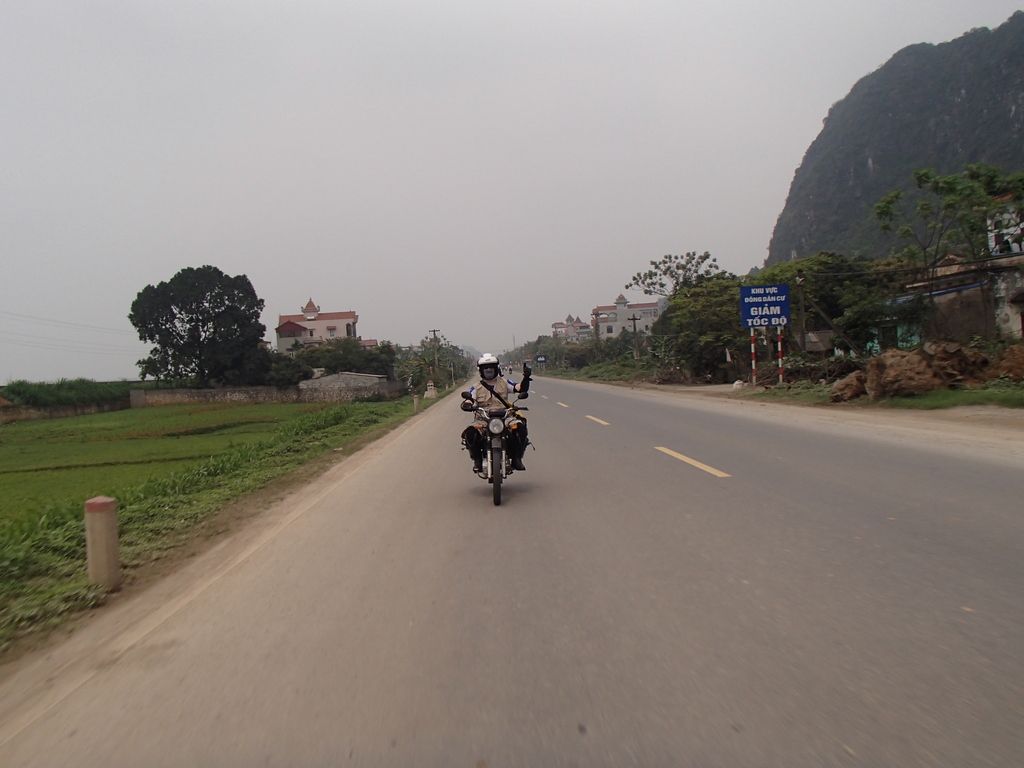 Another thing that happens is the oncoming trucks are coming through no matter what, so we've been forced onto the dirt or grass a couple of times. Perfectly ok on these bikes most of the time. On other occasions you're forced to choose between avoiding a gravel pit, the size of which would well serve paddock hill bend at brands hatch, or choose to avoid that water buffalo that's standing on the good Tarmac. Sometimes it's a nervous dog (all dogs in Vietnam appear nervous). Sometimes it's a rooster or even a cock.
We stopped for a drink and cool off late in the day and eventually stopped at a remote little village to stop at what's referred to as a Homestay. That's where a local family cooks for you and puts you up in their house. In this case, it was a large wooden stilt-house and it was fantastic.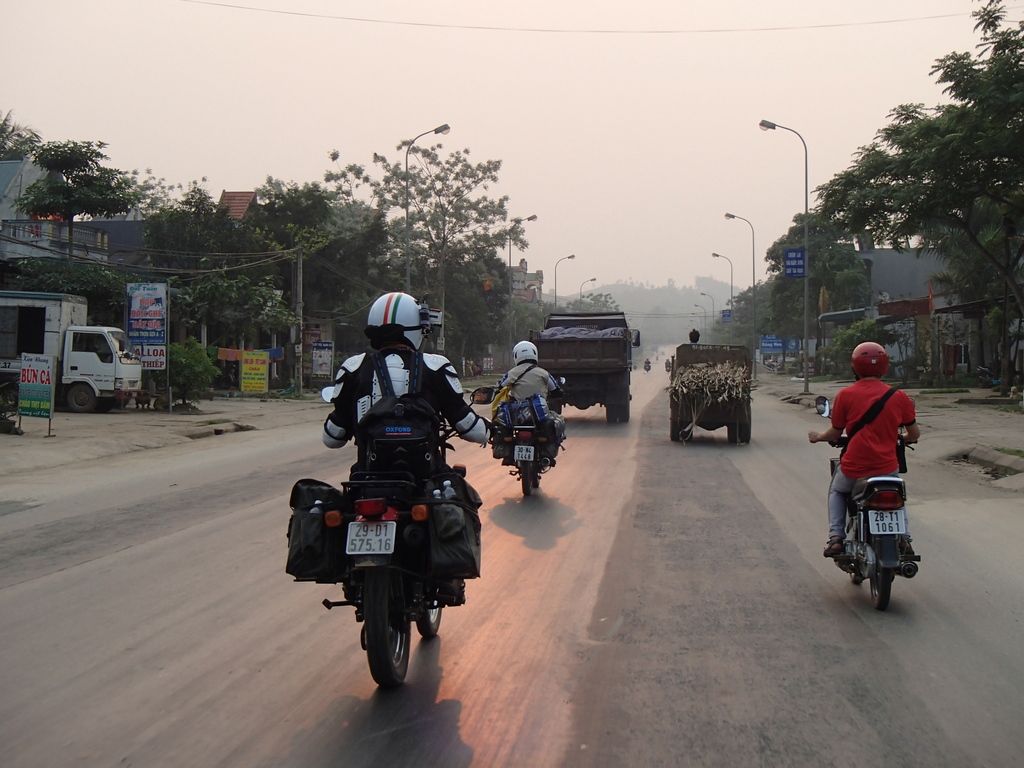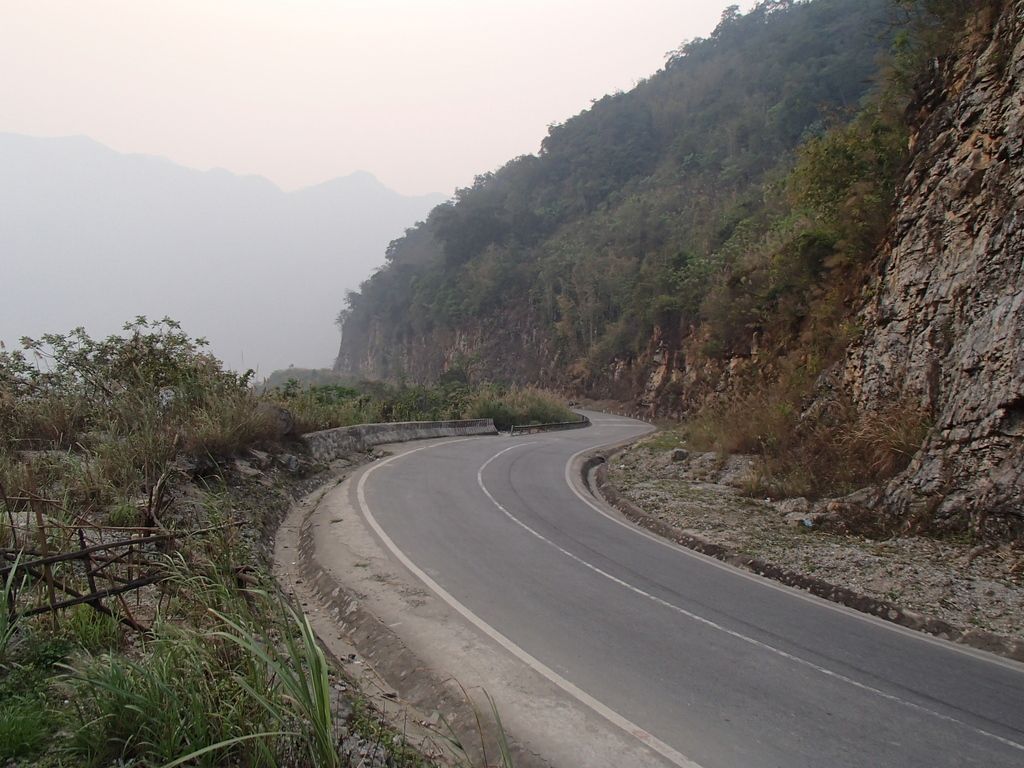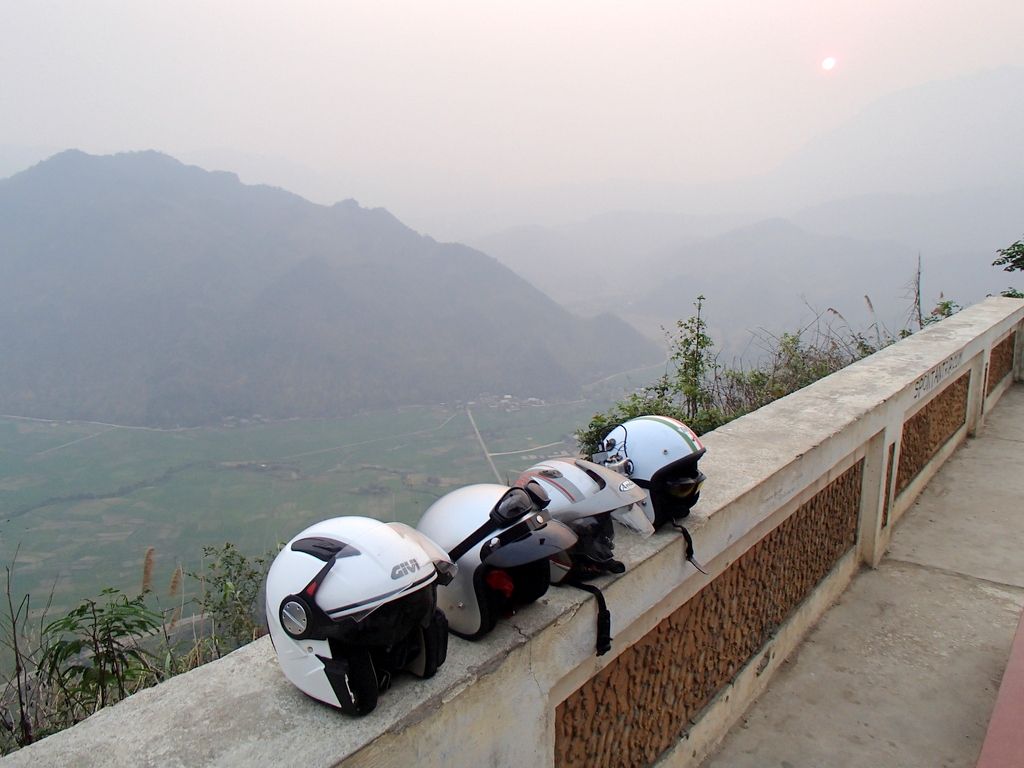 Spring rolls...these would become a favourite of ours during the trip...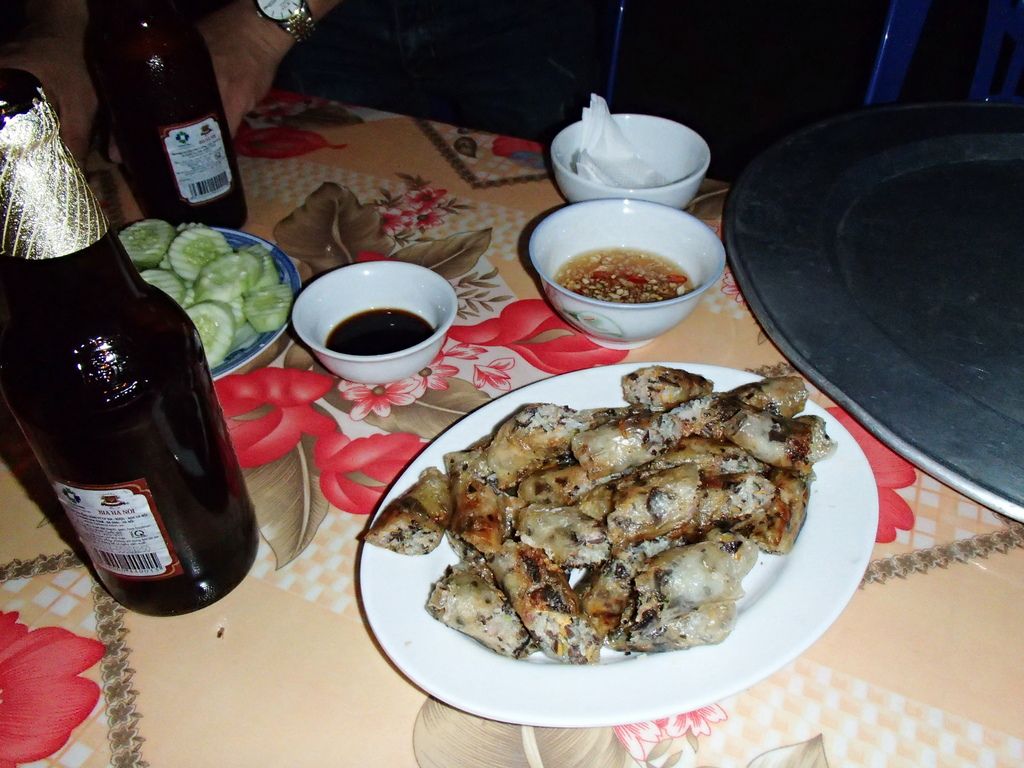 Pinky and our home stay host...
Our banquet for the evening, all the food is communal so you get your bowl and load it up with whatever you like...
Our stilt house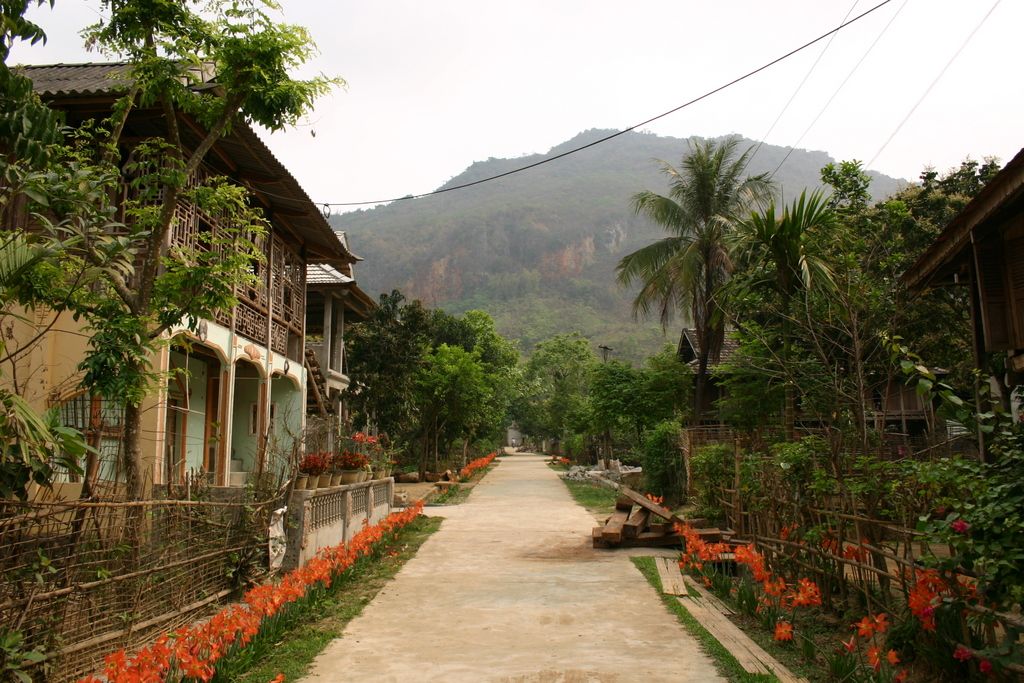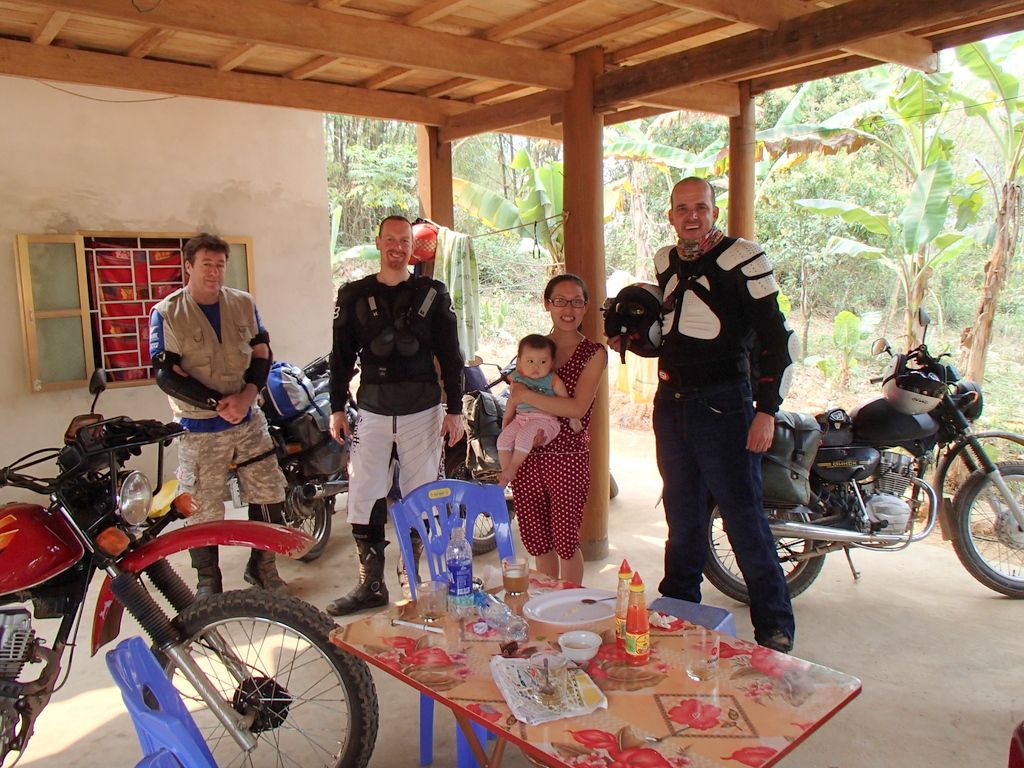 Beds for the night, yes you sleep on the floor. We didn't sleep too well because there were a few dogs nearby which kept setting each other off barking all night, followed by the pig, followed by cows and..well you get the idea...
So endeth day 1 of the bike tour!