If this is article is read with Firefox or Chrome browser and there's an installed extension to 'allow to see Photobucket Images' etc then all images will be seen.
I'm heading back again on my annual ride out to Morocco 'provisionally' from 0700hrs 20.10.17 until 03.11.17 or there after.
I can overshoot the return dates which means a more sedate return through Maroc and Europe.
(I'm retired and I can be flexible with dates)
Michelin Map number 742 refers to Morocco.
The route will be a rough general route to give a taste of as much of the regional variation Maroc has to offer.
EDC?
Short for 'Équipe des Chèvres'..... (Team of Goats)
Not because we ride daring, high trails on cliff faces where only goats dare to tread.......but because of the way we behave....yes, we really are that stupid, following each other blindly.
If anyone is interested in joining me they're more than welcome.
If anyone is interested in arriving at my house in southern France to stay just before the dates they're welcome. Look for a village called Asson with a postcode of 64800.
I've been to Maroc frequently and know how it and the locals work... I speak French and can assist with any problems that might arise e.g. customs.
We will be riding easy trails and might be throwing in some wild camping here and there on spec. I'll explain below in a lengthy manner.....
Normally we check into accommodation as it's so cheap to include an evening meal as well as breakfast. If you read through my last ride report (link at the bottom of the page) it will show up typical prices.
On one of my trips I went with camping kit and didn't use it,because,as I say the accommodation was so cheap. Better looking at it than for it.
The reason to have the capability to have basic camping which is of your own choice is that it covers the following scenario if it should arise.
In the past with a group if there are any delays due to e.g. mechanical failure or a puncture along with darkness approaching then one can at least bed down for the night without getting stressed as where one will be sleeping that night.
If we think we have to be at a particular town for a certain time and there is indeed a goofy problem or three or four,then this stress and need to be somewhere evolves into your holiday not being as good as it should be.
Herein lies the secret of just knowing where you'll be going but not with in a time constraint. My ride out includes rest days so any thing that needs repairing of a more serious nature.....the rest days are juggled and moved to accommodate.
When on the beaten track this is never usually a problem as we'll ride to a town and find somewhere. Off the beaten track with darkness approaching in an hour with no chance of coming across a town until a good few hours later quickly aggravates people. An hour or so before sundown lets us get sorted,eat calmly and sort any problem out tomorrow.
It may sound like overkill or needless to bring kit and never use it but to illustrate a point on a previous ride out the group were all remote trail riding heading for a town about an hour and a half away to stay in at the end of the days ride.
Of course,as usual,at the end of the day we had a puncture. The time lost to repair same meant we were never going to arrive at the town so we simply found a place to camp...made dinner..had a chat...watched the sun go down and effected repairs the next morning before continuing to enjoy the trails....Zero stress.
Without the facility to camp stress levels would have risen without a doubt...to sleep in moto kit on the ground....nothing much to eat...nothing to assist if you needed to go to the toilet...etc etc
A bigger group means more potential for goofy problems....Imagine two thorn punctures...or three throughout the day.Imagine time lost. Imagine the stress compounded? This is why you know where you're going but don't know exactly when you have to be there. That buffer zone of rest days allows you to enjoy your holiday and deal with stuff as and if it arises.
All this to say,Maroc will find weaknesses in your moto with no doubt and to allow for that needs to be factored in. From a broken lever to things vibrating off...all things that require time to fettle on the day.
It's all a bit like going out for a hill walk with a day sac with basic food,bivvy bag,water and a first aid kit...you'll put the day sack back in the boot at the car park upon returning and drive on home. If you twist your ankle though you have all that you need otherwise.
Not only should each rider be autonomous in the way of having the ability to camp if days are extended but also have the ability to effect running repairs on their own moto and cater for same in the way of spares etc.....such things as changing out clutch cables,gear levers etc to knowing how to repair a puncture.
There 'may' also be an option to roughly parallel any off road trails with road riding to arrive at the same place usually on the same day or the day thereafter.
If any break downs occur I have a contact who will transport the motos to where ever at your own cost.
I'll try to keep you right so you pay what you should be paying as best I can, rather than getting fleeced
Essential qualities required: sense of humour and also....
The ability to ......work together when..ahem...I mean, if, it all goes wrong.
Also to have the ability to ......work together,solely for the purpose to gang up, to point, ridicule and laugh at those others in the group that do stupid things. (I'm an expert at getting pointed at)
The ability to ......wing it.
If you're a grumpy old codger and you're content to live with your Adventure bike within the confines of your European little cup cake princess,Starbucks,matching teletubbie-motorcycle suit,comfort zone....then this trip is not for you. :laugh:
The only policy really,is 'Frank and friendly'.....keep it like that and every one gets along just fine...(but this doesn't exonerate you getting ridiculed and pointed at!)
If anyone is interested and have any questions by all means ping a response....the best bit though is....a free guided on/off road ride in Maroc.
To find more information as to what's what read through this whole thread if you can be bothered.

PS;I mean questions about a ride out to Maroc...
PPS; This will give you an idea as to whats involved.
http://www.adventurebikerider.com/forum ... eport.html
As new information or ideas arrive I will edit this page so as nothing gets lost within the confines of the whole thread.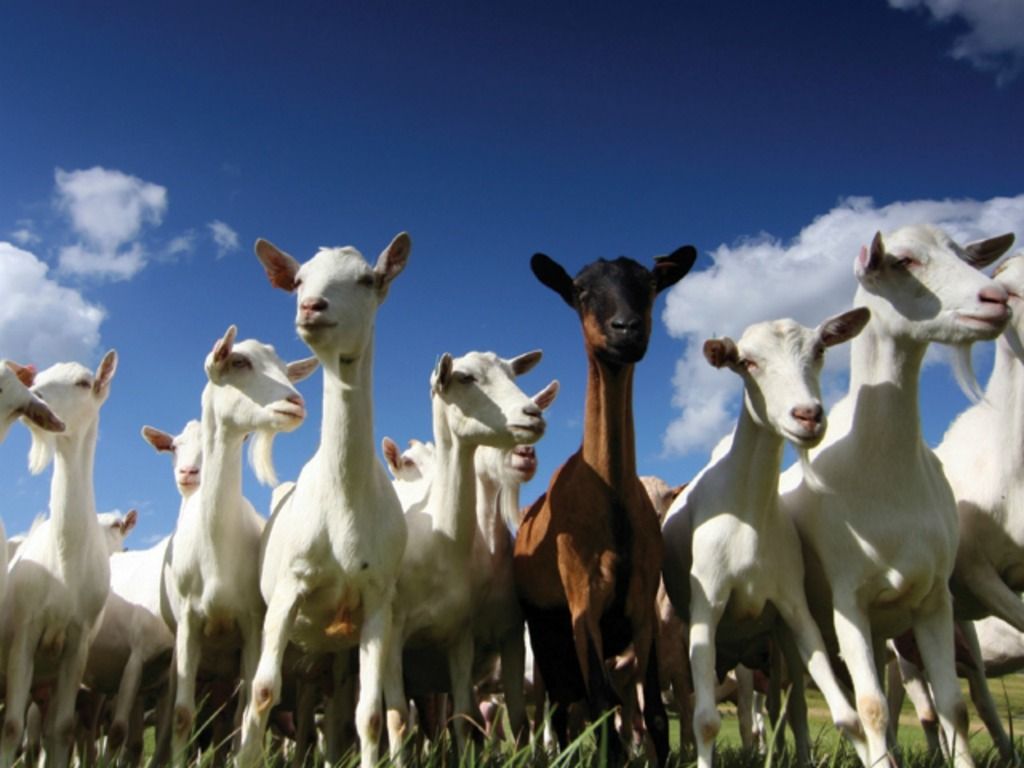 Goats and prospective goats so far,with current motos,subject to change;
( There'll be a group of French riders from a forum I write on and they'll be taken under charge of three of my French friends........we'll bunny hop into them as we parallel each other)
Alistair; Yamaha XT660Z Ténéré...................Riding extra days
Bob; CCM450 GP
David; Honda CRF 250
David Honda Africa Twin 750.........................RV Asson
Dayne; KTM 990 Adv
George; Honda 750 Africa Twin
Greg; Yamaha XT660Z Ténéré
Justin; KTM 990 Adv R
Keith; Yamaha XT660Z Ténéré
Mick; BMW1200RT
Pete; BMW GS650
Rob; KTM 990 Adv
Sean; CCM450 GP.............................................RV Moto parking at Algeciras
Steve; Yamaha XT660Z Ténéré......................RV Moto parking at Algeciras
Tim; Honda Dominator.
Rough route plan is to wing it so far,which of course is subject to change,for whatever reason. There's an option for me to overshoot the return dates if any one wishes to as well.
____________________________________________________________________________________________________________________
CUSTOMS FORMS TO ENTER MAROC.
Anyhoooo....a day extra to traverse Spain is a day wasted not being in Maroc...so....fill in and print this out come the time to go and it ensures a quicker entry into Maroc compared to standing in the wind and rain trying to do with a pen...........in a queue.
http://www.douane.gov.ma/web/guest/d16t ... formAT.jsf
The above link will go to a page that will show the below image with blanks to fill in, relative to your moto.
From the top
Bureau d'entrée = Where you arrive.
Next is the date of arrival
Prénom et Nom = Christian name then family name.
For first timers click 'Etrangers en première visite au Maroc'
If you've been to Maroc before there'll be a CIN number in your passport, if it's not out of date....if you're using a renewed passport a CIN number will be stamped again on the new one.......click this and a box will open whereupon you'll enter your CIN number. The rest of the form will be the same as first timers.
Next
Immatriculation =Registration Number
Marque = Make of moto
Type/Modele = what model it is
Genre = Motocycle
Pays = Your country
Date de 1ère mise en circulation = date of first registration
Numero de chassis = Frame number
After this click ' Imprimer' at bottom LHS and you'll be taken to the next page where the details will be in pdf format...click at the top RHS to download to desk top and/or to print out.
You see a page like this.......the form details from above arrive into another form
Below is what the Passport Control form looks like that you fill in whilst ion the boat. If you have a look at it it'll give you an idea of what you'll need to think about. Bring a pen up from the hold.
Again,those who have been before will write in the CIN that they have stamped in their passport, first timers will have no number.
Email the customs forms to yourself and print out an extra copy to bring. You'll always have it on file in your email should you need to find WiFi anywhere to print it out. Cut into three parts along the dotted lines.
Customs scan the coded area making your entry more smooth.
They keep one to prove you've brought a moto into Maroc....., you keep one for your own information and the final one gets your moto back out of Maroc.
_______________________________________________________________________________________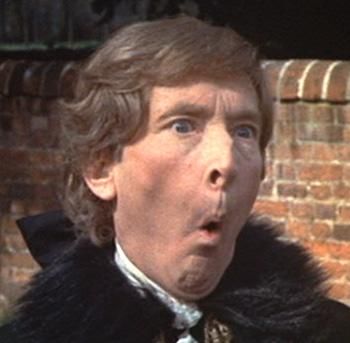 Departure dates work for those coming from the UK with the Portsmouth/Bilbao ferry.
DAY 1
Friday 20.10.17
ASSON FRANCE TO CACERES SPAIN 845km/8hrs plus stops.
Ride to Caceres; Usually raining
Long ride just to cover the distance. Ride over the Pyrénées to arrive into Spain after an hour or so riding. Head to Zaragoza to Madrid to Caceres.
Fuel/ATM's close by and a short walk to the town centre for food that evening.
B&B €18 clean hostel wifi
http://www.alberguecaceres.es
Avda. de la Universidad, s/n, Edificio Fundación Valhondo
10003 Cáceres (Cáceres)
N 39 28 843
w 006 22 014
DAY 2
Saturday 21.10.17
CACERES TO ALGECIRAS SPAIN TO KSAR SGHIR TO ASILAH MAROC. 445km/4hrs and 80km/1hr
Algeciras port depart to Tanger Med at Ksar Sghir Maroc.
(or rendezvous here from whence you came and buy a one way ticket at the main terminal)
ATM,moto insurance and fuel available at Tanger Med Port upon exciting.
If we're too late for anyone needing to buy moto insurance I know an hotel about 1km from the port, Stay there and buy insurance the next day before riding on.
Arrive in Asilah after less than an hours ride by autorute. Cheap tolls to be paid.
Fuel in Asilah
ATM available
Arrive at hotel and buy beer,
Dinner can be ordered for less than €10 or you can dander/ride into the town.
Hotel Al Khaima, Asilah wifi
N 35 28 496
W 006 22 014
DAY 3
Sunday 22.10.17
ASILAH TO MIDELT 410km/6hrs
Cheap tolls to be paid. Good services on autoroute for a lunch stop.
Climb up out of Azrou along twisties through cedar forests to a vast land range akin to the Scottish Highlands.
Stop at a viewpoint for a photoshoot and a break.
Stop just a few minutes before Midelt for tea.
Arrive at Midelt and buy beer.
Kasbah Asma wifi
https://kasbahasmaa.com/accueil/
N 32 40 898
W 004 42 786
DAY 4
Monday 23.10.17
MIDELT TO MERZOUGA 265km/4hrs
Super ride along the Ziz Valley where you see the landscape changing from sheer mountain rock to more be more arid. Pass Erfound and the huste and bustle of Rissani
Arrive to Merzouga to see the Erg Chebbi sand dunes on your left hand side.
Fuel station now in Merzouga at the below co-ords. Also consisting of a small food shop and café....... Ideal RV point.
N 31 08 138
W 004 03 120
ATM for money in Rissani a 30 minute ride north from Merzouga.
Hotel Palais des Dunes wifi Beer can be sourced via the locals here.
http://www.palaisdesdunes.com/
N 31 04 377
W 004 00 799
DAY 5
Tuesday 24.10.17
MERZOUGA REST DAY
Rest/Play/Explore Day
School of Instruction on off road riding if need be.
Numerous hard pack trails to explore along with sand.....any amount of it.
DAY 6
Wednesday 25.10.17
MERZOUGA TO DESERT
30km road ride south to the proximity of the radio mast in Taouz where we pick up 120kms of trail after a briefing .
Wild camp (area of Auberge Dinosaur)
Auberge Dinosaur sometimes wifi.
N 30 38 221
W 004 48 624
DAY 7
Thursday 26.10.17
DESERT TO KASBAH SIROCCO ZAGORA
140km. Last hour is by tarmac these days

Arrive and buy beer.
Kasbah Sirocco wifi
http://www.kasbah-sirocco.com/index.php ... Itemid=101
N 30 19 187
W 005 49 655
DAY 8
Friday 27.10.17
ZAGORA REST DAY
Rest Day
ATM and fuel available
Off road to Zagora Radio Mast mountain for views....opposite the hotel, or explore the trails just before entering Zagora
Effect repairs and/or watch the world go by in this cross over, gateway town for overlanders.
DAY 9
Saturday 28.10.17
ZAGORA - TANSIKHT- OUARZAZATE
Off road from Zagora to join the Route National N9/R108 junction and on to Ouarzazate by tarmac due to mountain range.
ATM/Fuel
66km off road plus 96km on road = 162km
Camping with tents or chalets or hotel...we'll wing it.
DAY 10
Sunday 29.10.17
OUARZAZATE TO MARRAKECH
Tarmac twisties via scenic Tiz-n-Tichka summit
200kms easy day.
Camp or stay in the tent chalets on site.
Buy beer or wine here. Evening meals are good here.
Relais Camping wifi
http://www.hotel-lerelaisdemarrakech.com/
N 31 42 478
W 007 59 373
DAY 11
Monday 30.10.17
MARRAKECH
Rest/Explore Day
European supermarket/McDonalds/Pizza Hut and Decathlon not far from the camping.
I know a small shop where you can buy wine or whiskey if need be.
Evening visit to the medina to eat/visit if so desired
DAY 12
Tuesday 31.10.17
MARRAKECH TO ASILAH 535km/5hrs
Same hotel as at the start of the ride out
Autoroute just to cover the distance.
Arrive at port and buy a ticket at a row of ticket booths.
DAY 13
Wednesday 01.11.17
ASILAH TO SPAIN 80km/1hr
Ride as far north in Spain and closer to the port for the UK ferry
DAY 14
Thursday 02.11.17
SPAIN TO FERRY PORT
Afternoon sailing to the UK
Those who can take more time to stay on in Maroc jump back to Day 12....it's as follows
DAY 12
Tuesday 31.10.17
MARRAKECH - KHÉNIFRA 320km/5hrs
Route National N8
DAY 13
Wednesday 01.11.17
KHENIFRA-MOULAY IDRISS 165km/3hrs
Visit Roman ruins if so desired at Volubilis or Fès......or discuss if to ride further on
DAY 14
Thursday 02.11.17
MOULAY IDRISS-ZOUMI-CHEFCHAOUEN
via the R506, R501,R408 to Zoumi to Mokrissèt to N13 to Chefchaouen. Great backroads scenery.
Stay at either at
Hotel Rif
N 35 10 015
W 005 15 802
or
Hotel Madrid
http://www.hotelmadridchefchaouen.ma/
N 35 10 022
W 005 15 744
or wherever.
DAY 15
Friday 03.11.17
CHEFCHAOUEN
Rest/Explore Day
DAY 16
Saturday 04.11.17
CHEFCHAOUEN TO TETOUAN TO TANGER MED TO SPAIN
Ride via the 4105 to Et-Tieta-de-Oued-Laou to the N16 coast road.
Gorge viewpoint en route.
Bid farewells as I visit friends in Spain
_______________________________________________________________________________________
If you do not have breakdown cover for Maroc and when south of Zagora/Merzouga region, the price for a local 4x4 pick-up to come and get you and take you to Zagora to effect any major repairs will be €200.
If terminal and you need to be taken to Tanger Med to push your bike onto the ferry it will be €400.
If this is not to your liking than you can organise with other locals to see if you can better the price. There's nothing to stop you using one price against another to barter. It's your call.
Any breakdown on tarmac.....we can hunt out a local and negotiate a price for whatever destination.
If you budget for this at least you'll have an idea.
This link will give a concise overview to Maroc for info.
http://looklex.com/morocco/index.htm
Via Michelin will work for distances and times and you can change to sat' map view
https://www.viamichelin.fr/
Garmin maps for here are abysmal. This link will give Open Street Maps which will show piste. If you use your GPS route planner and mark points on trails it will route the very same. Even if you put in a desert town to another it will route via trail to get there. Dead handy.
http://alternativaslibres.org/en/downloads.php
Any road riders can be given a place to rendezvous where we should be in the form of hotel GPS co-ordinates/names. The route is planned to allow for this when at all possible.
As stated if any one wants to return a few days later via the likes of Chefchaouen I can accommodate with some cracking scenic road routes north east of Moulay Idriss.
If any friends or group want to head off to do their own thing we can bunny hop each other as we see fit....there's never a problem with that.
______________________________________________________________________________________
Below is some 'Handy Tips' for what to bring or do...some obvious,that you no doubt do already and some not so.
1. Lip balm as the air is bone dry and there's a chance you'll get chapped lips whilst riding.
2. A neck buff will keep your neck from getting sun burnt as the sun lies very low on the horizon in the afternoon.
3. Small bottle of pocket gel hand cleaner,if you so desire......the dirtiest thing you'll touch, as in Europe, is paper money.
4. Upset stomach medication.
5. Don't
6. Inform your bank your card will be flagging up in Maroc....it's been known for banks to stop cards after a few days in, as it's out of the ordinary withdrawals.
7. Allow for space to stash any winter kit that has been worn en route through Europe. I have vented riding kit which stays open for the duration once over the Atlas; I don't know why I had to mention that.
8. A 'camel bak' type hydration bag is essential. Decathlon ones are cheap and work. Average daytime temps will be 25-30c normally. Keep drinking as when you're thirsty you're already dehydrated.
9. Yelling,screaming and shouting for help will be viewed as attention seeking and will be mostly ignored.
10.Summer gloves or MX gloves along with cotton socks for boots if you so desire.
11. Sun cream
12. Sunglasses
13. Basic first aid kit to cover accidents.
14. Optional small spray insect repellent...every now and then, depending on where we stop, there'll be some flies as it's date harvest time, that's as in fruit...they don't harvest calendars.
15. Spare set of moto keys, preferably permanently on a lanyard around your neck.
16. If you don't charge your gadgets on the moto....then surge protected chargers are needed as there can be goofy power supply, especially that coming from generators. There's plentiful WiFi for the likes of skype/viber etc.
Here is an example of some electrics....you can join cables with a nail.....no problem.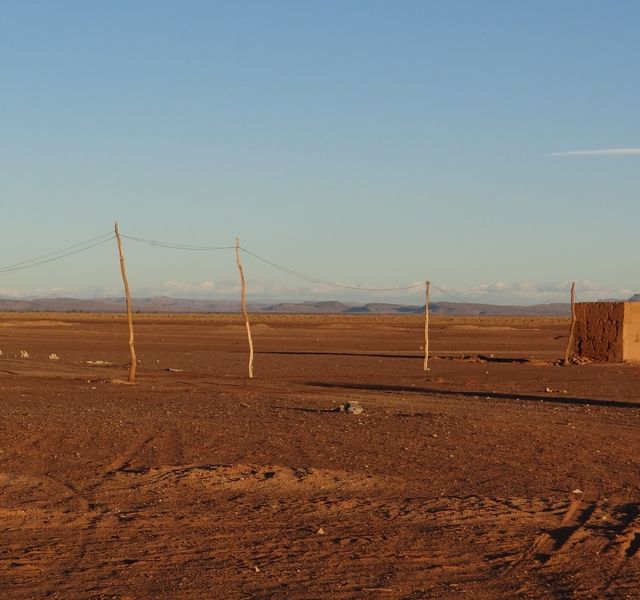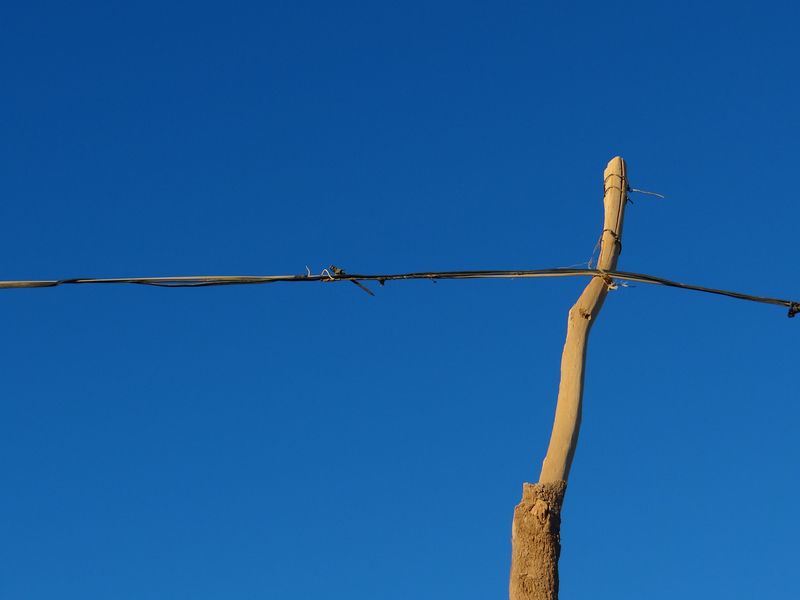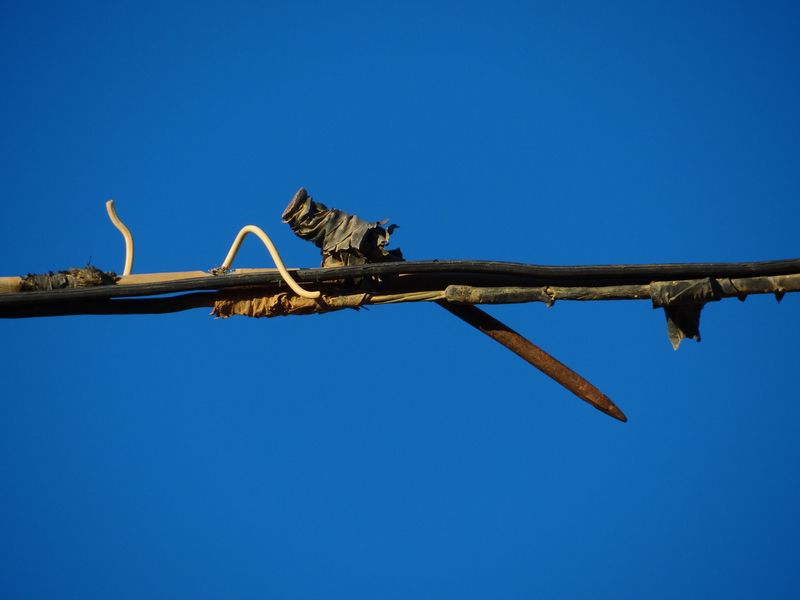 17. Easy access to change for toll booths and speeding fines :laugh:
18. Easy access to head torch.
19. Don't
20. Make-up wipes....these will remove grease whereas baby wipes don't and come in a smaller packet for storage...they also work the same as baby wipes ref toilet usage.
21. Learn how to pick up your moto...........there's more chance of having a snatch-stall in a car park than anything else. Of course no one will laugh......much.
22. Pack as light as possible....see point 21..........................for more information............................re-read point 21.
23. Printing off the customs forms (given in the link previously) before you leave means you don't have to stand and fill them in on the day in gusty rain with the ink smudging
24. Pack a couple of needles and a spool of thread (stashed in First Aid box and taking up no room) if any kit gets ripped falling off...or even just a split seam through wear and tear...handy to have and not always thought about. (On my last trip I sewed a glove seam after a days riding with my finger poking out..really annoying until it was sewn)
25. A socket/tool to remove front sprocket nut in case of a chain derailment where the chain ends up jammed in against engine......not always thought about.
26. If you can ride with a foam filter that will rinse in petrol without the glued seams dissolving it would be a bonus. Some filters fall apart, when rinsing in petrol, as you have to use the makers own cleaner. Spray air filter oil assists too. Dust in Maroc can be like smoke.
27. If you ask questions akin to "Where are the toilets?"..... "Do they change money here?"......"The water temperature in my room is tepid what will I do?" You'll be met with a blank stare.
28. The first person who indicates smugly that they know something more than others will be deemed a Responsible Adult (R.A.) and therefore open to a bombardment of questions and thus blame.
29. Based on previous experience garlic is the best form of defence against vampire giraffes as they're too tall to jump up and hammer a wooden stake in.
30. If applicable a visit to the dentist before leaving... a toothache a couple of days away from a dentist could spoil your ride out.
31. I strap stuff onto my panniers criss cross fashion and tie the ends of the straps to each other. If you just use straps on each end without the criss cross the kit may vibrate off due to long stretches of piste corrugations. This is why a visit to the dentist is also advised.....your fillings won't rattle out.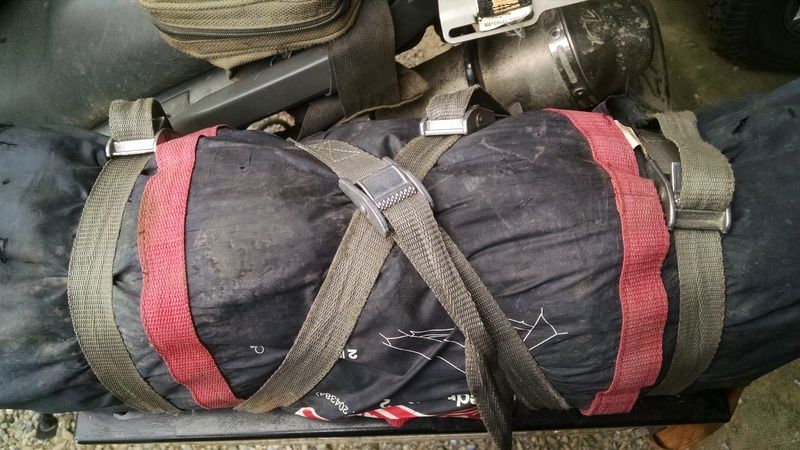 32. Good strong motocross type/style boots should be used rather than softer boots.... ( I once had a chap turn up wearing slip on shoes on a GS1200...against advice he rode, after 1km fell off and did a u turn....he was over 18 years old )
33. A tow strop strong enough to haul your moto in case of a complete breakdown(footpeg to footpeg)....the small ratchet type tie downs you get in the likes of B&Q will not work....for my single cylinder moto, standard e.g. Acerbis moto cross tie downs work to date. Make sure what ever you use is tested as if it's too light it will snap.
34. The corrugations will rattle nuts and bolts loose especially on pannier supports....go around the moto and nip every thing up.....even suspension pivot nuts/bolts.....Loctite is a bonus.
35. If you have an Allen key type front axle to loosen remember to bring the tool to do so.
36. Bring good quality zip tys/short length of wire ref. lost nuts or bolts.
37. Spare cables (if older cables are on the moto) attached to existing cables with zip tys covers the snapped cable scenario.
38. Spare clutch, brake & gear levers to bring would be a bonus
39. If your GPS has a place for a lanyard fit one from there to the moto in case it either vibrates off or gets knocked off after a fall. It can sink into fech-fech or sand and you'll not find it if you missed it coming off. An old sleeping bag draw string works fine and carabiner.
40. Spray the inside of your air box with air filer oil too...anything to catch dust. Seal any sides if you can with a line of grease to catch dust also.
41. JB Weld should be thought about.
42. A small tube of instant gasket stashed, should be thought about.
43. A few denture sterilising tablets to keep your water back-pack fresh.....doesn't take long for spores to arrive in the heat after a few days.
44. A small container should be thought about, with various nuts and bolts and to include a couple of helmet peak plastic screws if applicable. Make's it less annoying if you ding your peak off and then you can carry on.
45. Alloy or soft luggage is preferred over Hepco and Becker plastic...these do not work well off road any great distance.....they will fall off unless a tie down is used to wrap around them via the pannier supports.
46. If you think your pannier supports look a little light duty i.e. certain Givi ones ...weld some gusset at key mounting points.
47. Bring couple of pens......handy to write the fuel price on your hand to show cashiers and to fill in the passport declaration form on the boat.
48. If you run tubes and can't find patches.....try a farm supply as they usually stock same for tractor tubes.
49. A couple of spare split links and a couple of links of chain could be thought about in case a chain snaps. Tool to break links too.
50. A spare regulator could be considered.
51. When entering the confines of Algeciras port ride at the speed limit as there can be radar cops.
52. I ride to the terminal to buy my tickets,parking in the moto park....anyone else on the road with a day glow bib directing you too an office will be ticket touts. Ride on past. The moto park has a thigh height concrete wall around it with a gap in it to ride into. You'll cross over an oncoming lane to get to that opening.
53. If you so desire bring some cheap sweets to hand out to kids along with some pens.
54. Brush teeth with bottled water as you can't drink the tap water.
55. To reiterate I still see riders arrive with not enough tools or no tools along with no medical kit, reliant on other strangers to carry them.....this is OK until you have to return home early for an emergency......this is when you'll get problems......on your own on the way back and no way to effect repairs. This laziness could possibly annoy the other riders.
56. When riding twisties, it;s a national pastime to see numerous vehicles over the centre line. Take note.
57. 200MAD equals 16GBP .....20MAD therefore equals 1.60GBP....... 10MAD equals 80p....1MAD equals 7p ....do you really want to wait around for change when buying a bottle of water for 60p?
Get to know the amounts as the zeros can make some tight fisted folk think it's a lot of money. When I fill my moto up with e.g. 180MAD is give the attendant the rest...as when they go over they'll round it DOWN for you.
I've seen some people wait around for minutes for a few pennies equal in change. The locals think this is weird. If you have this psychological condition......get over it........ a lot of the people you'll meet have nothing and you stand there waiting for 7p?? FFS.
If you cannot read please learn to read before reading or re-reading all of the above.
Any questions just ask.