Managed a couple of hours trail riding today. Just what the doctor ordered

Beddowsm came over to sunny but cold yorkshire to help with some work on the house and Mike being Mike can't take the simple route there and back - good one Mike.
So we went to thurlstone and had a run around the quarry where a couple of trials riders were playing- they must think we are nutters on 225kg machines, I had the customary laying down I usually do early in a ride [video=youtube;2CJAtaSFBcA]
[/video]
Then off to a ford crossing. The exit is pretty steep but there were no embarrassing moments
[video=youtube;3Mdi5dEBocA]
[/video]
Then off to a trail that I had done before on the drz (only 2nd time out admittedly ) and fell of a couple if dozen times, I was a little apprehensive as it was well rutted and when you see bullrushes growing at the side of the ruts you know it's going to be a bit wet 
[video=youtube;G9zluOXk4ZQ]
[/video]
What a difference the Africa twin is to ride that. Simply committing to it and using the weight and power made it a lot easier than the lighter drz which was thrown around All over the place.
Combining the bikes lightness, my heaviness and my lack of talent meant a few bike pick ups... here's the drz attempt
[video=youtube;H-IsLdzN9Nk]
[/video]
Off to another trail, an uphill with ruts from where the water had created a Chanel and a few steps... No time to take pics as I was concentrating on not falling off- really enjoyed that one
Then onto ramsden road in holmfirth - last of the summer wine country. I had been down this on my own a few months back but bottled out at the steep section. Since there was 2 of us then no probs. There is a fun section for just practicing bike control over lumps and bumps.
The puddle in the middle was covered in ice 
Mike showing how it's done
[video=youtube;OwnqrcPAi3k]
[/video]
And me - room for improvement 
[video=youtube;tBVFlrlV7Jw]
[/video]
It's a lovely part of the country especially when there are a couple Africa twins in shot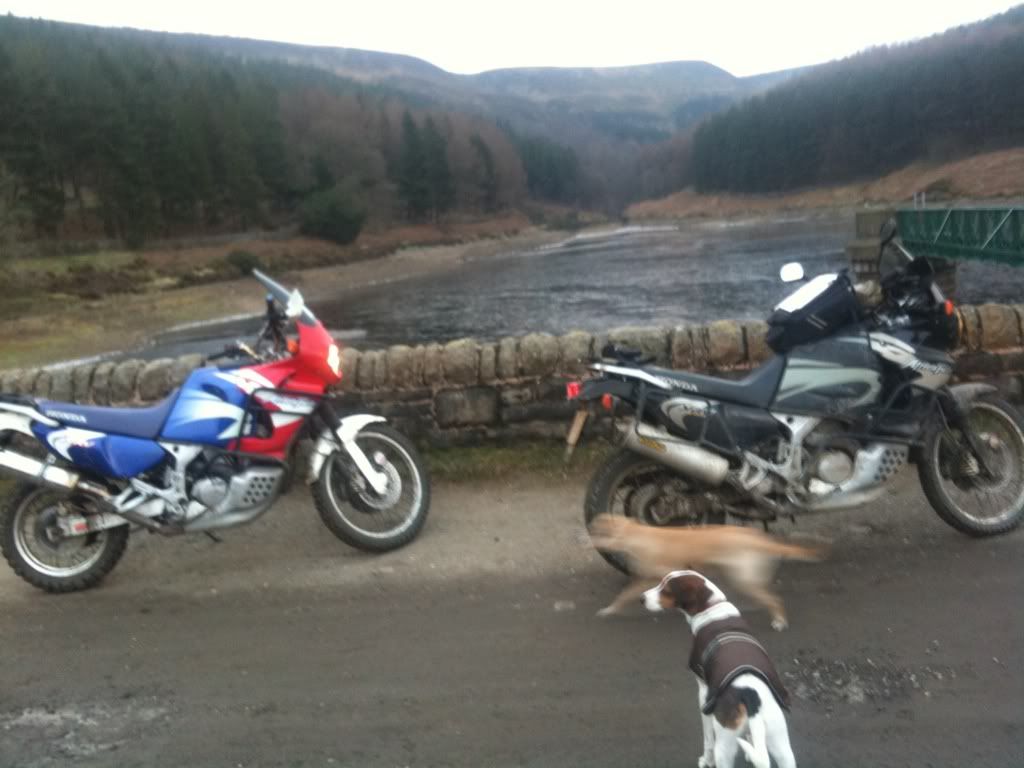 So thanks Mike for rescuing me and thanks to your Dad for finding you some work to do on the house. A couple of hours out is just what the doctor ordered