Harley-Davidson roared into the adventure bike scene in 2021 with the Pan America. With it, America's most iconic motorcycle manufacturer parked its tanks firmly on KTM, BMW and Yamaha's respective front lawns.
With striking looks and a brand new 1,252cc, liquid cooled V-twin producing an impressive 150bhp, it certainly packs some grunt. Coupled with great ground clearance and an impressive collection of gadgets, this Harley is no slouch once the terrain gets tricky.
So, how has Milwaukee's foray off the interstate and into the twists and turns of mountain passes gone? Pretty darn well, as it turns out! Here are five reasons ABR is giving the Pan America an all-American thumbs up.
A head-turner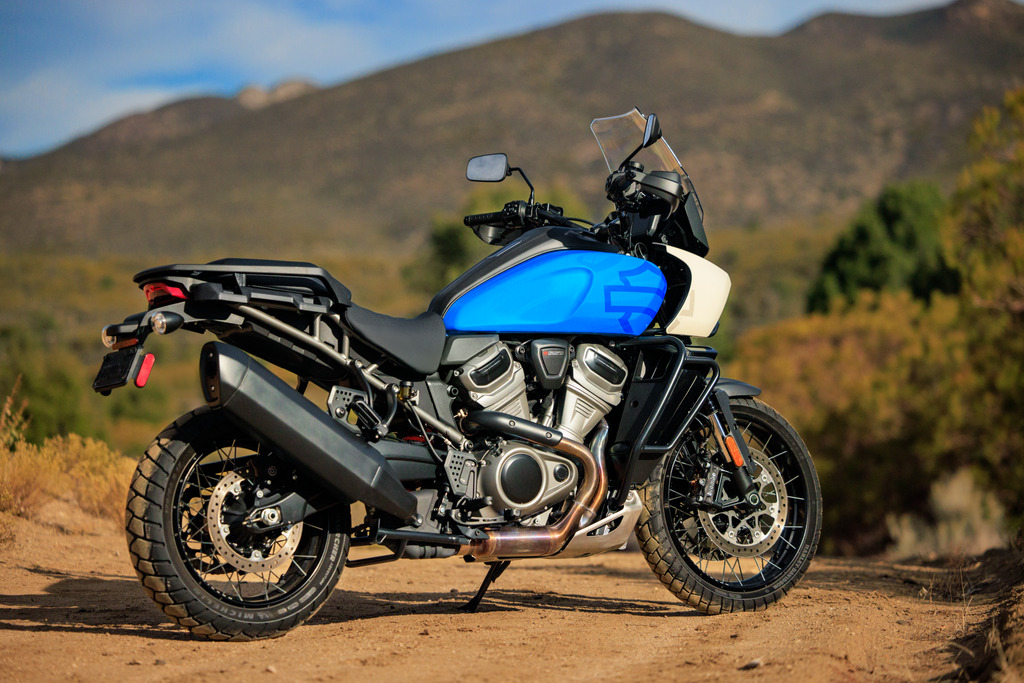 Beauty is, of course, always in the eye of the beholder but, particularly among the sea of KTMs, Ducatis, and BMWs that dominate the adventure biking, we think the Pan America is quite the looker.
By incorporating a futuristic version of Harley's classic Road Glide fairing and a truly unique headlight set up it really will make you stand out from the crowd. All with the added bonus of giving you Dennis Hopper levels of Easy Rider clout, on something that is genuinely comfortable to spend a day in the twisties on.
Chock full of add-ons
There are two models, the Pan America 1250 (£15,595) and the Pan America 1250 Special (£17,295) both with competitive finance deals available via Harley-Davidson Financial Services.
The Special is impressively decked out with an array of extra features as standard, but still remains within the same price bracket as comparable models from the likes of BMW. With semi active front and rear suspension, five riding modes, a centre stand, heated grips, steering damper, hand guards, adaptive forward lighting, brush guard, skid plate, a quick adjust brake pedal and a tyre pressure monitoring system.
For an extra £650 you can add the very clever Adaptive Ride Height system that lowers this big beast by 25.4-50.8 mm (1-2 inches) as you come to a stop, a godsend for vertically challenged riders like myself. It then raises when you move off to give you extra ground clearance.
If you're after seamless and clutchless gear changes, the Screamin' Eagle Quickshifter can also be added on at the factory for a reasonable £310.
All this tech is handled via a tilting colour display with Bluetooth connectivity which can be operated from handlebar buttons on the move and a touch screen at a stand-still.
Safe when you need it and savage when you want it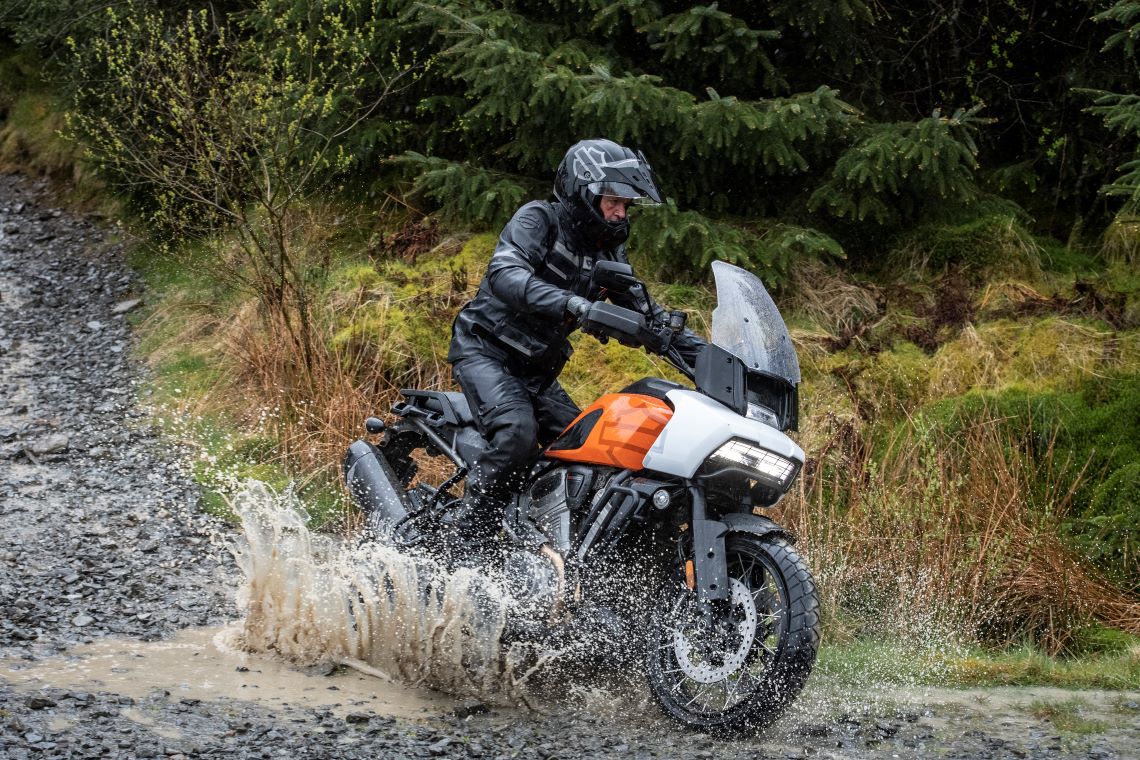 Different riding modes are by no means unique to Harley, but the difference a flick of a switch can make on the Pan America is night and day. In rain mode, its careful and tame, plodding along like a reliable shire horse that isn't going to buck you off on a wet day. Engaging sport mode, however, transforms that shire horse into a wild mustang more than capable of giving any rider one heck of a thrill in the saddle.
Perfectly balanced
Let's be honest adventure bikes have a propensity to be rather heavy set, and this one is, well, American so it is a rather weighty beast (254kg wet). However, Milwaukee's finest have managed to get the centre of gravity so low on the Pan America that you don't have to be built like Harley poster-boy, Jason Momoa, to muscle the machine around. In fact we found it to be so well balanced it was capable of taking on terrain 95% of purchasers wouldn't even attempt to ride.
Come on, it's a Harley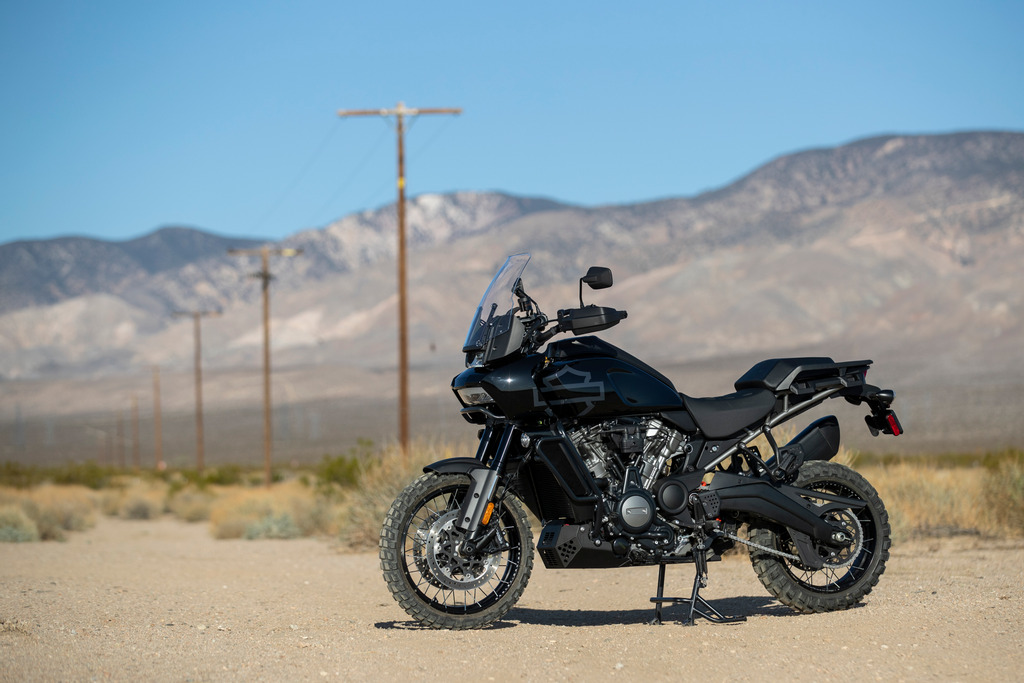 It might not look like the sort of thing Jax Teller would ride to meet gun runners on a hot California night, but it still has the same soul with a traditional H-D V-twin engine rumbling away as you cruise up the highway.
The difference between you and the Sons of Anarchy is you'll still be able to keep going when you run out of highway, all the while being able to say you ride a Harley, and who among us hasn't wanted to utter those words?
Bonus sixth reason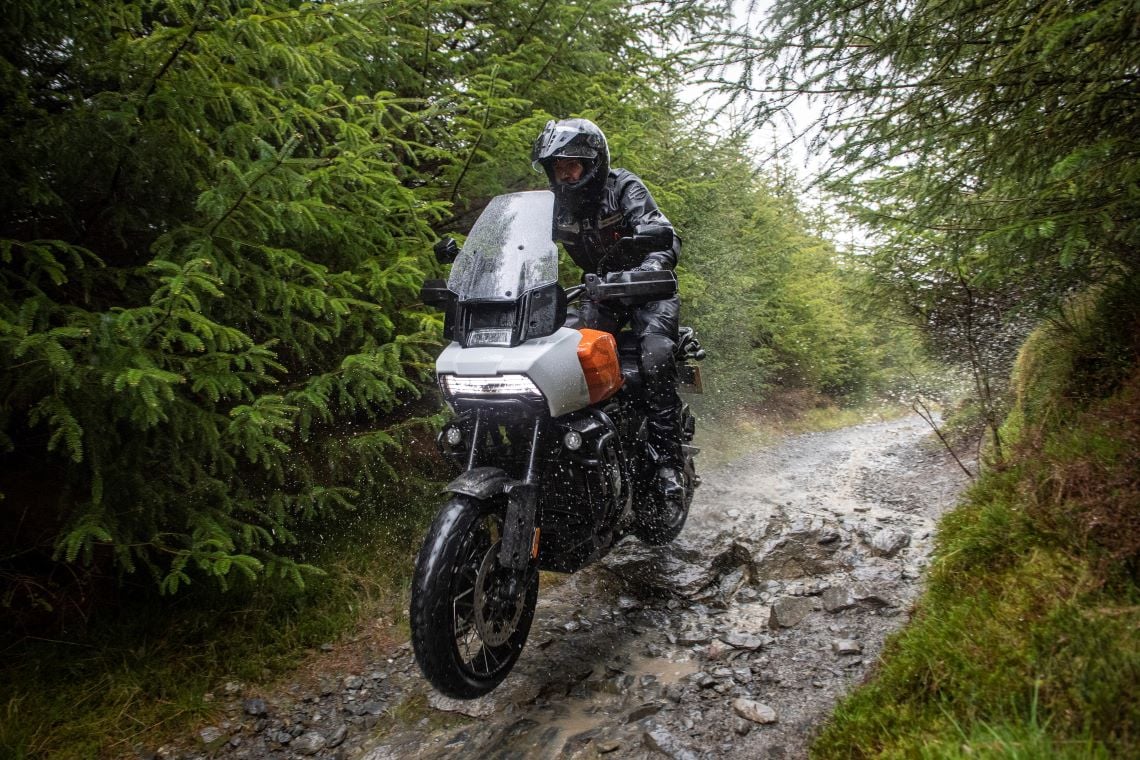 On top of all that, Harley-Davidson has made buying a Pan America 1250 or Pan America 1250 Special this summer even more exciting.
If you order a new bike before the end of September, Harley will place you on a full day at the awesome H-D® Adventure Centre (HDAC) in Wales, worth £349.
With tuition from Dakar legend Mick Extance and his team, you'll learn just what you and the Pan America are capable of by riding off-road equipped bikes in 1,500 acres of stunning countryside.
You'll learn to master the control and approach needed to become an off-road expert in your own right. The team at HDAC can also supply proper off-road riding gear for your day of fun and a restaurant lunch stop.
Head over to the Harley-Davidson website to book your test ride and get your Pan America(n) dream started and for the full lowdown on the H-D® Adventure Centre click here.
Read our full review of the Harley-Davidson Pan America 1250 here.