Royal Enfield has announced a number of updates to its popular, no-frills adventure bike, the Himalayan for 2021.
The bike has become something of a cult classic in the adventure bike world since arriving in 2016, with owners enjoying the refreshingly stripped-back approach that Royal Enfield adopted when designing the bike. However, five years after its release it seems the manufacturer has recognised that a few tweaks were needed to keep the single-cylinder bike relevant amid ever improving competition.
So, for 2021, Royal Enfield has added a few touches that it hopes will keep riders clamouring to part with their hard earned cash. Here's everything we know.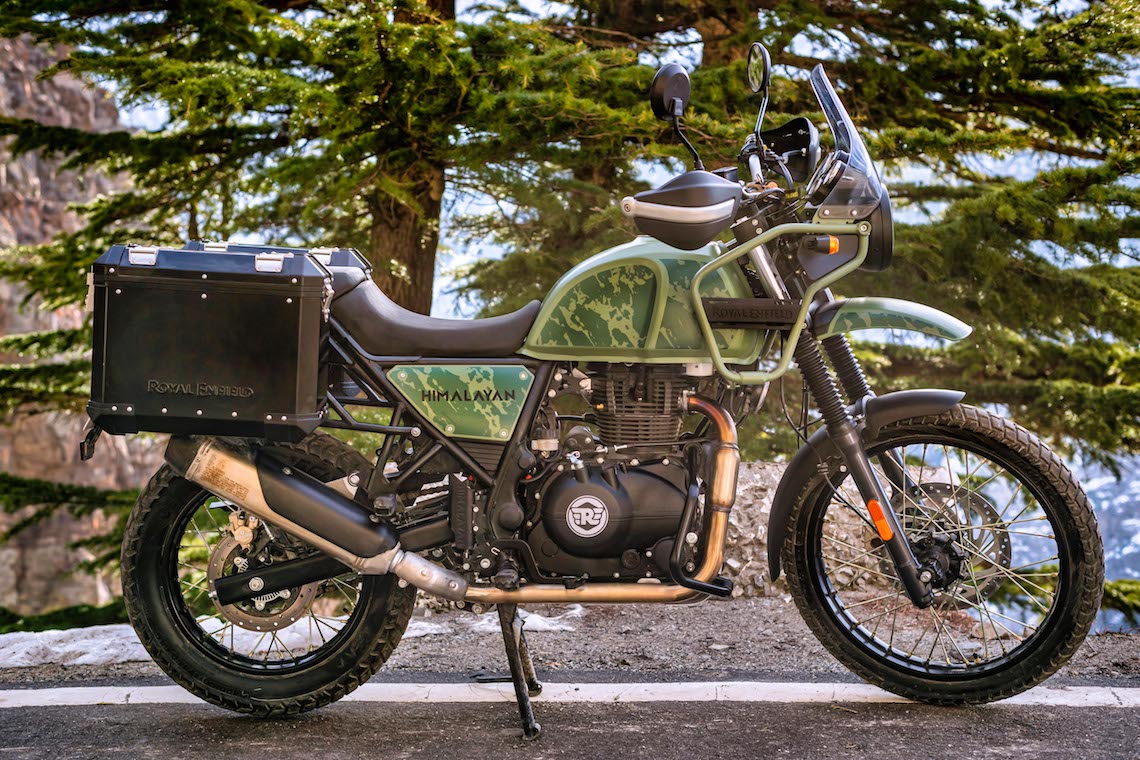 Technology appears on the Royal Enfield Himalayan
The headline news is the inclusion of Royal Enfield's Tripper navigation system, which now comes as standard. While tech-skeptics may be disheartened at this news, the system is a far cry from the large TFT screens on other adventure bikes.
The Tripper navigation system works through a small addition to the dash (pictured below). Built with a Google Maps Platform, riders can pair their phone with the Tripper system by using the Royal Enfield App. The dash then shows turn-by-turn, real time directions on its screen.
On paper it looks like a handy device that will keep you from getting lost on the road, without relying on a SatNavs or a phone clipped to your handlebars. We're looking forward to trying it out for ourselves to see how it works in practice.
Alongside this addition, Royal Enfield has also tweaked the 411cc engine for Euro 5 emissions compliance, whereas the 2020 model was only Euro 4 compliant. It's managed to do this with only a minor  impact on peak power, down 0.2bhp to 24.3bhp, while torque remains the same at 32Nm @4,250rpm.
The new model has also received a few tweaks that Royal Enfield claims will make it a more comfortable ride, including improved seat cushioning and a redesigned windscreen to reduce wind buffeting experienced in the saddle.
The bodywork has also been subtly altered, with an additional plate on the rear carrier added to secure luggage to, as well as a reduction in the height of the rear carrier that the manufacturer claims will make it easier to swing a leg over the saddle. Finally, the front rack has been slimmed down, which Royal Enfield says is designed to improve ergonomics in the saddle by not getting in the way of the rider's knees.
These changes have increased the bike's weight by 5kg, taking it to a fairly hefty kerbside weight of 199kg.
New looks
While the above changes look to be more of an evolution than a revolution, Royal Enfield has also released three new eye-catching colourways to attract buyers, adding Mirage Silver, New Granite Black (pictured below), and, my personal favourite, Pine Green (pictured above) to its existing range of Gravel Grey, Rock Red, and Lake Blue.
The on-the-road pricing of the Royal Enfield Himalayan is from £4,599 for a single colour model, rising to £4,699 for a dual colour model, with a three-year warranty and roadside assistance included as standard. This represents serious value for money for a brand-new adventure bike. Despite the poor power to weight ratio, I'm sure the single-cylinder bike's simplicity, character, and adventurous looks will continue to attract a cult following.
But, what do you think of the 2021 model? Has Royal Enfield done enough in your eyes, or would you prefer to see something fresh after five years of the Himalayan. Let us know in the comments.