When I rode through Scandinavia during the summer a few years ago, I encountered everything that mother nature could throw at me. I was soaked by heavy rain, battered by strong winds, and roasted by blazing sunshine, usually experiencing all three across a single day.
In other words, it was like riding back in the UK. If anything, it helped keep homesickness at bay, a dose of welcome familiarity despite the thousands of miles I'd covered.
The experience also taught me that, when it comes to dealing with this type of weather, it's important to invest in some top-notch riding gear developed by bikers who have experienced the full power of nature from the saddle.
That's why Swedish motorcycle clothing brand Lindstrands' strapline, 'If it works in Scandinavia,' immediately resonated with me.
I'm well aware that if it performs in their own backyard it's likely to work just about anywhere else, which is why I was keen to check out the brand's latest laminated adventure suit, the Sunne. Here's everything you need to know.
First impressions of the Lindstrands Sunne suit
On first impressions, it's clear Linstrands has put plenty of effort into making the Sunne ready for anything Mother Nature can throw at you.
Water and wind-proofing comes from the laminated Dryway+ membrane, which the Swedish brand uses across all of its jackets. We've written a separate feature about why laminated gear is the gold standard when it comes to riding in British conditions, which you can read here.
Both the jacket and trousers are also fitted with a full-length detachable thermal lining for warmth on chilly days, and there's even a removable storm collar for bitterly cold and soaking wet winter riding.
This level of weather-proofing is great to see but, as I discovered on my own trip in Scandinavia, driving rain can be swiftly replaced by baking sun.
When that happens and the clouds clear and temperatures begin to rise, there's a direct-to-body ventilation system built into the Lindstrands Sunne suit to help keep you cool.
Two zipped chest vents combine with a rear exhaust vent to channel cooling air past your torso. That rear vent is permanently open, so you don't have to take the jacket off to unzip it and zip it back up again, and is covered by a large fabric flap to prevent water from coming in.
These vents are effective, but the best are found on the sleeves, with vast armpit to wrist zips (pictured below) allowing plenty of cooling air to hit a body part than can get pretty sweaty inside a jacket.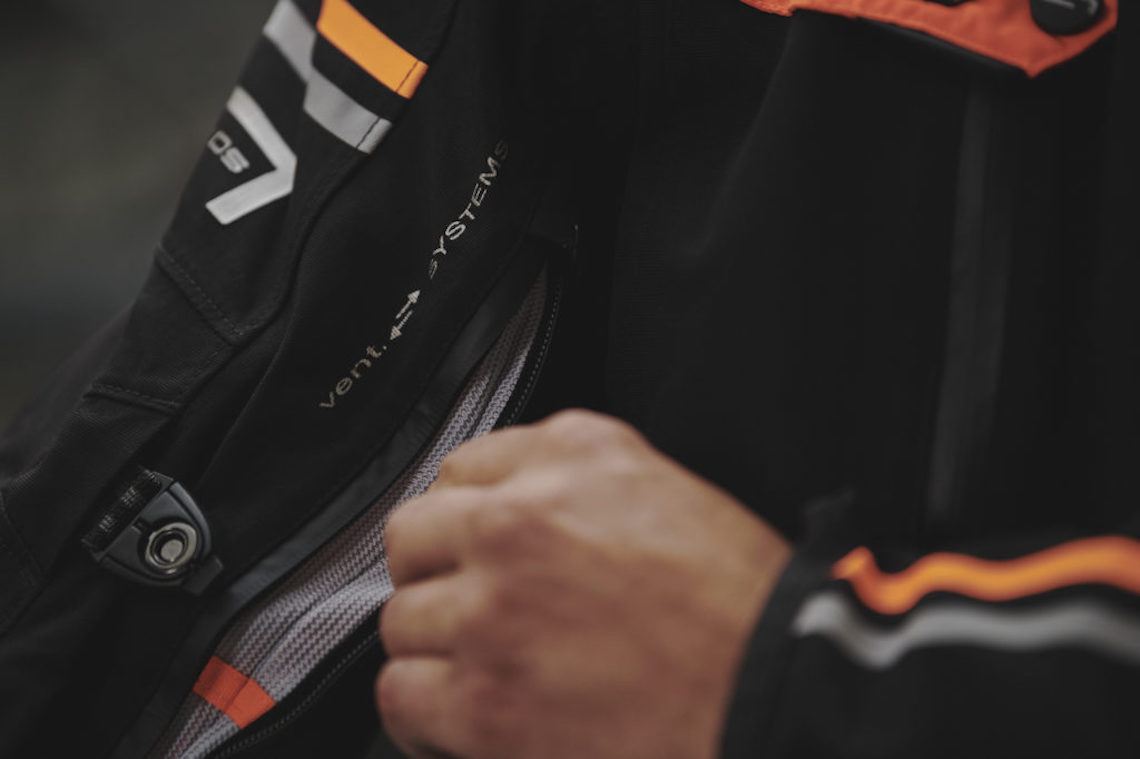 The Sunne suit is CE-AA certified thanks to CE-level 1 armour at the shoulders, elbows, knees, and hips, with a pocket for a back protector, and HI-ART reinforcement at the shoulders, elbows, knees, and backside too.
Lindstrands says HI-ART makes the textile five times stronger and, while we hope that we won't put this to the test any time soon, the commitment to extra safety is something we like to see in a textile suit.
Finally, it's worth mentioning the price. Laminated clothing has long been the gold standard for adventure motorcycle clothing, but the technology and manufacturing process does come at a significant cost and laminated adventure suits tend to sit at the premium end of the market.
That's why I'm so impressed that Lindstrands offers the entire Sunne suit for less than £800 (£469 for the jacket and £299 for the trousers), a seriously competitive price for a good piece of kit, supplied by a well-respected manufacturer.
And hey, if it works in Scandinavia…
Find out more about the Lindstrands Sunne suit on the Scandinavian brand's website.