Last year, we plotted a series of six rides across the UK and Ireland that were linked together by fascinating, quirky, awe-inspiring and sometimes downright ridiculous places just waiting be discovered. And, as always with our routes, we also sought out the best roads the UK and Ireland have to offer, paved and unpaved, in order to create a selection of superb rides you'll be talking about down the pub for years to come.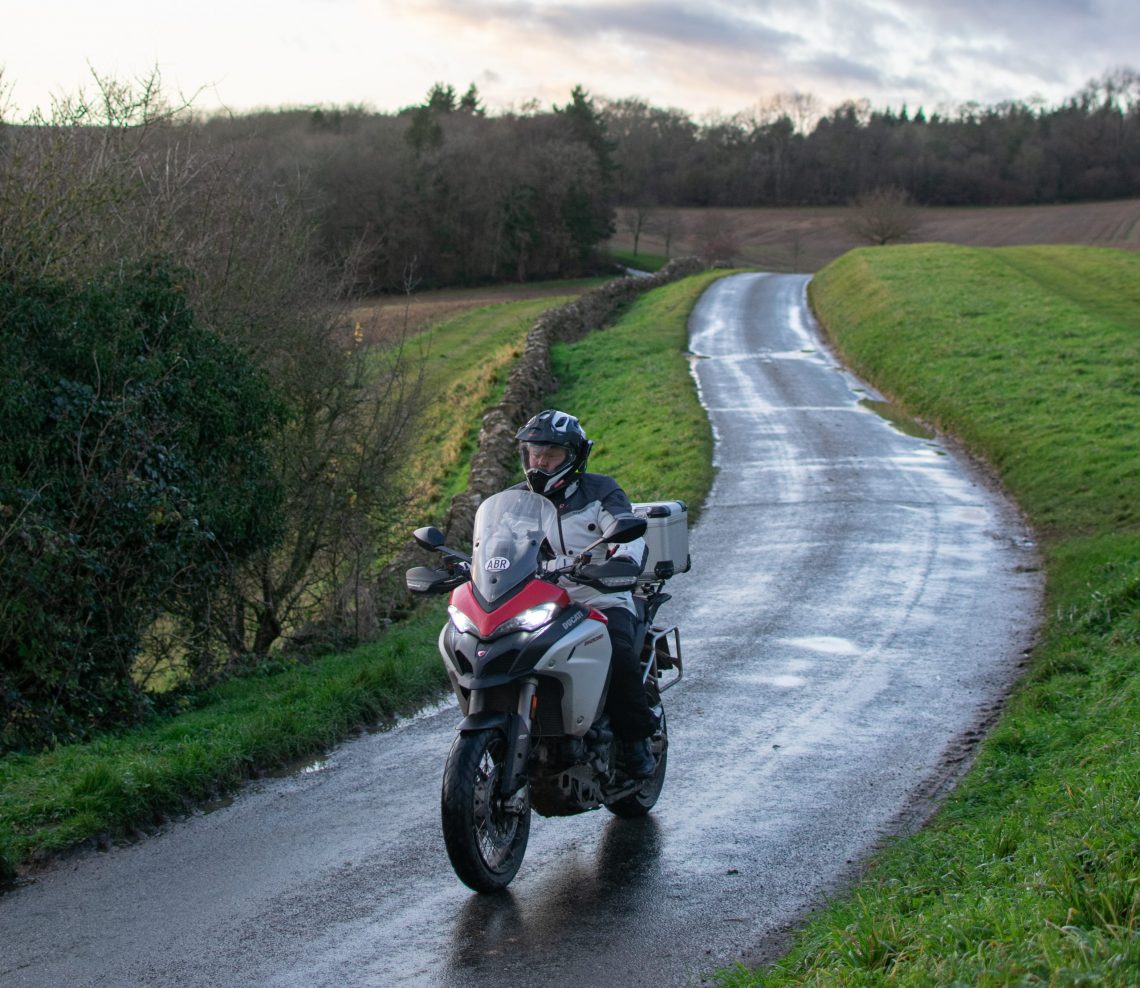 UK Riding
We did so because we're firm believers in the fact you don't need to travel abroad to have an adventure on two wheels (although that's fun too). There are plenty of stunning roads, spectacular landscapes, and amazing places to discover closer to home, and we visited as many of these as we could as part of the TomTom Amazing Britain series.
We based our first TomTom Amazing Britain route in the southern half of England, choosing to unearth some of the fascinating historical sites to be found in and around the Cotswolds Area of Outstanding Natural Beauty. This 190-mile motorcycle route can be completed in a day, making it perfect for your next sunday ride-out. Let's get started.
Visit Shakespeare's birthplace in Stratford-upon-Avon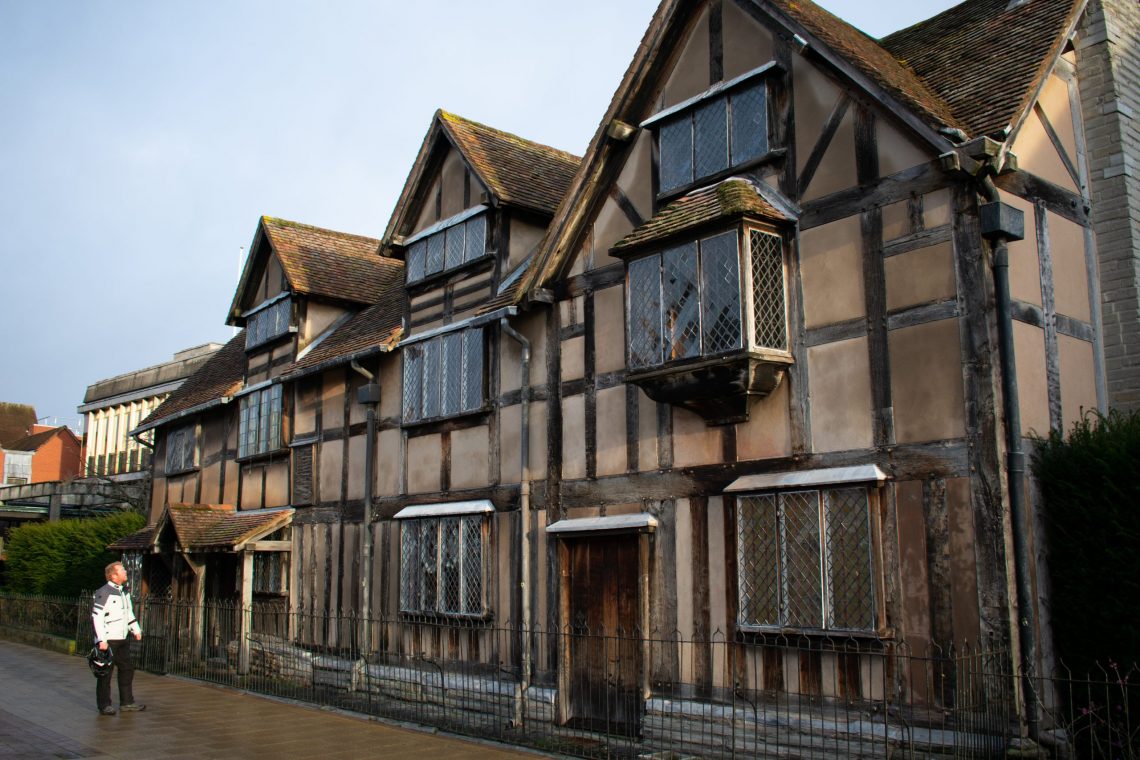 We begin our TomTom Amazing Britain at the birthplace one of the greatest Britons ever to have lived, the playwright William Shakespeare. The half-timbered house stands on a pedestrianised street in Stratford's old town so you'll need to park the bike before taking a stroll to birthplace of the Bard.
You can walk in Shakespeare's footsteps by visiting the house through the visitor centre next door, or if you're itching to get riding, grab a coffee from the café opposite, sit outside and soak up your surroundings before hitting the road. Stratford-upon-Avon itself is a picturesque Shakespeare-themed town, and it's well worth sparing the time to take a stroll through its quaint streets to the River Avon.
See a Vulcan Bomber at the Touchdown Café on Wellesbourne Airfield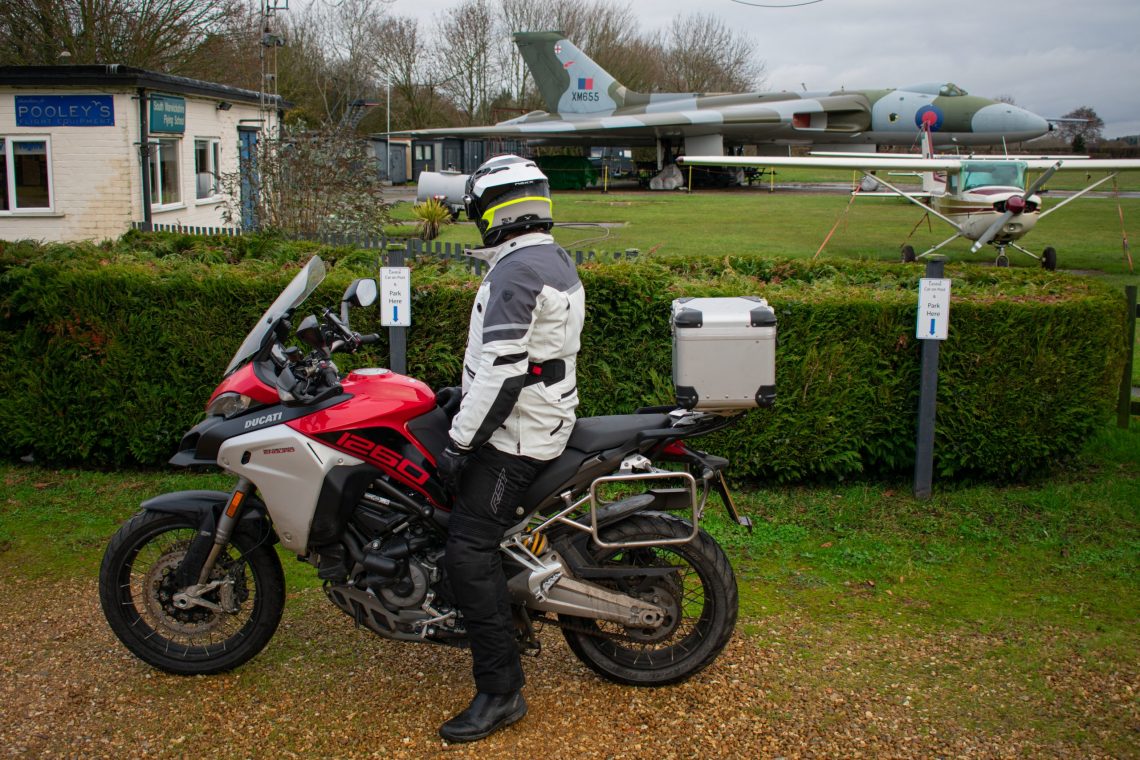 You'll need a decent breakfast to fuel yourself for the day ahead, so take a ride through Stratford and along some gloriously twisting country roads to Wellesbourne Airfield.  Nestled on the edge of the airfield is the Touchdown Café which serves up a cracking full-English and is a popular spot with local bikers.
While the breakfast is pretty spectacular, the amazing site at this stop is the Vulcan Bomber parked up at the airfield. The incredible delta-wing aircraft was part of Britain's nuclear deterrent during the Cold War and is one of only a handful that survive today.
The aircraft no longer flies, but if you're lucky you'll arrive on a day when it is being taxied up and down the runway at speed by enthusiasts. The deafening roar of this magnificent machine in action is a truly an amazing sight and sound.
Imagine dinosaurs roaming from the lookout at Burton Dassett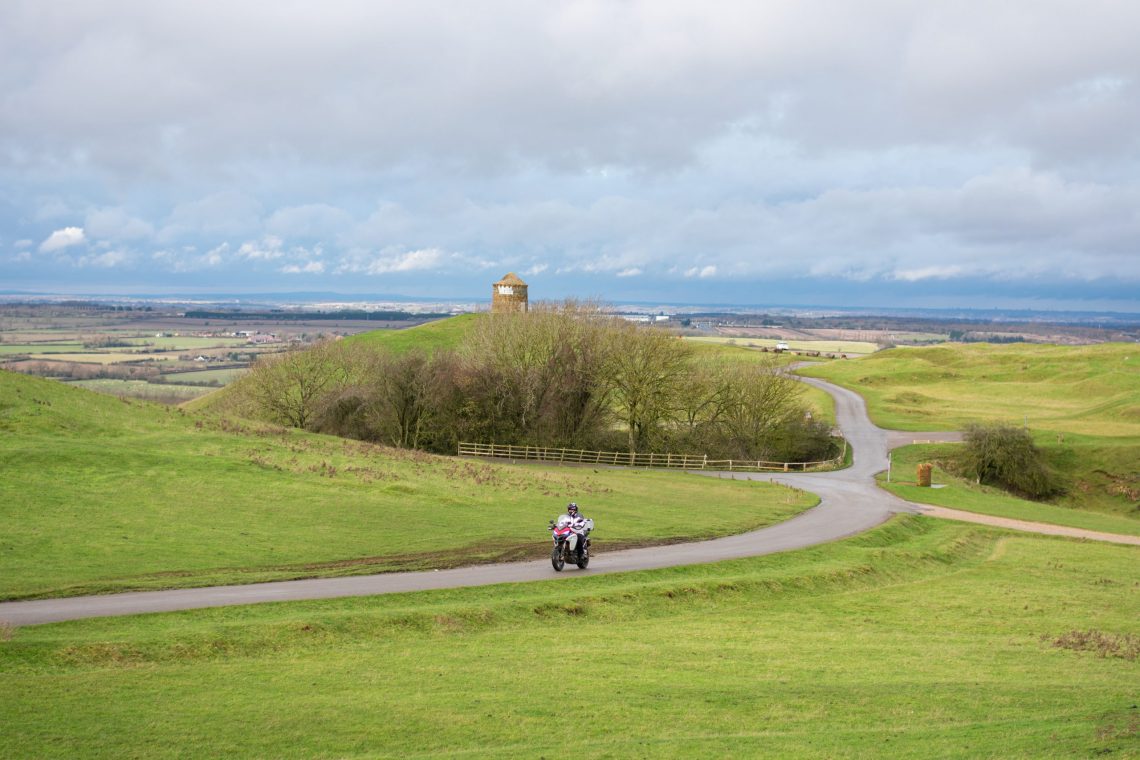 A short ride from Wellesbourne Airfield is Burton Dassett Country Park. Wind your way up the narrow entrance road, turn left at the top, before parking in the car park underneath the medieval lookout beacon.
Take a stroll up to the beacon and survey the spectacular view of the country you've ridden through. The hills you stand on were formed during the Jurassic period some 200 to 400 million years ago when the area was a sub-tropical sea.
To the south east, experts have found evidence of an island where dinosaurs would have roamed. After you've let your imagination run wild, saddle up and head south for a date with more recent history.
Stand on the site of the first battle of the English Civil War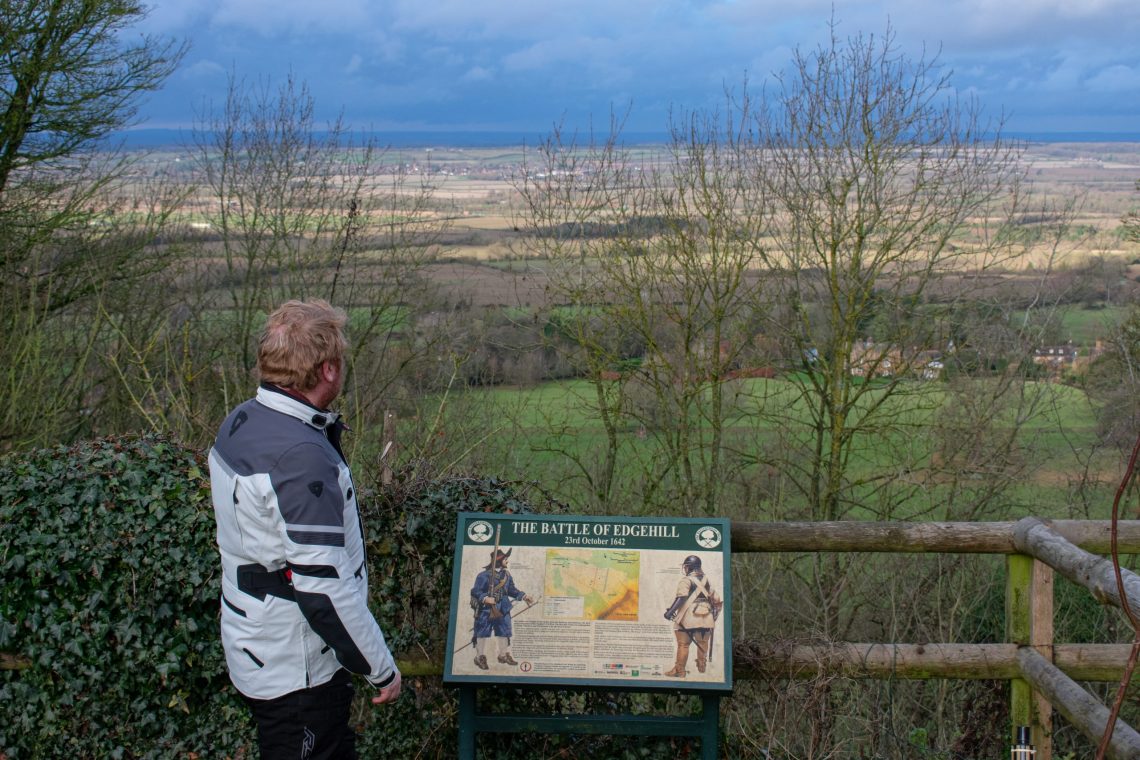 In 1642, King James I's Royalist army met Parliamentarian forces head on in the first major battle of the English Civil War. The battle was in essence a draw, with neither force scoring a resounding victory but it did leave the Royalist forces in command of the all-important road to London, upon which they later marched.
Our route stops at Radway Tower, now home to the Castle Inn pub and restaurant. The distinctive tower was built 100 years later overlooking the battlefield, with some saying it marks the spot where King James raised the Royal standard before the two armies clashed.
The site is a fascinating slice of British history and certainly worth spending a few minutes reflecting on the events that led to Englishman facing Englishman on a bloody field of battle.
Pay your respects at the grave of Sir Winston Churchill
We began this TomTom Amazing Britain route at the birthplace of one of the UK's greatest Britons and at this stop we take a few moments to pay our respects to another. After making our way along some wonderfully twisting lanes and past the grounds of Blenheim Palace, we arrive at the village of Bladon.
Take a sharp left off the main road up to St Martin's Church, park up your bike, and stroll through the churchyard to the grave of Sir Winston Churchill. The former prime minister, who led Britain to victory in World War Two, was given a state funeral at St Paul's Cathedral in London before a private burial was held at St Martin's Church, the resting place of his parents, children and wider family.
It's an understated location for a world leader of his stature, but also rather apt that, after a life influencing tumultuous world affairs, Sir Winston chose the quiet English village he called home as his final resting place.
Experience British eccentricity at its best at Broadway Tower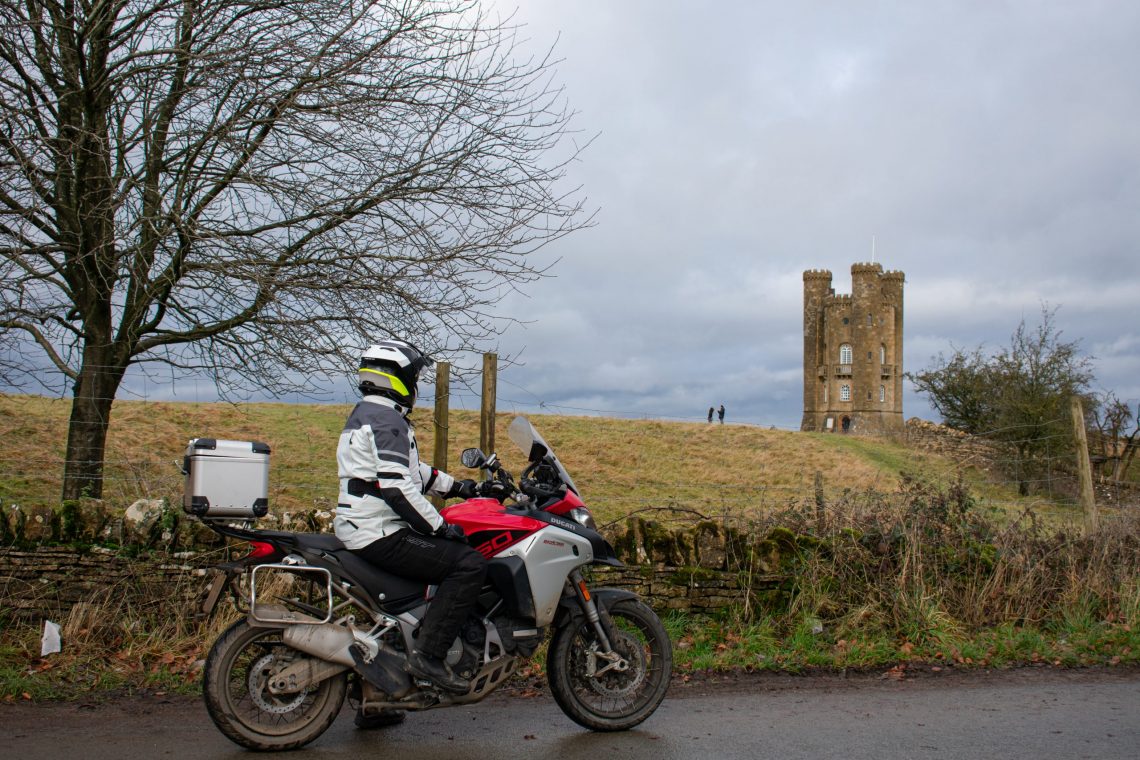 If there's one thing us Brits have a knack of doing well it's eccentricity, and in Broadway Tower, we have a fine example of the British penchant for doing things marvellously differently.
This folly was built by 18th century designer Capability Brown and features a mish mash of turrets, gargoyles, battlements and balconies perched high up on a site that gives you a view of 16 counties on a clear day. The tower has become a landmark in the Cotswolds and attracts visitors year-round.
You can park up and take a walk inside or simply marvel at the rather unexpected site of an 18th Century folly proudly overlooking the English countryside. Just to add to the sense of the unexpected, there is also a Cold War-era nuclear bunker to explore on the site.
Visit the Venice of the Cotswolds, Bourton on the Water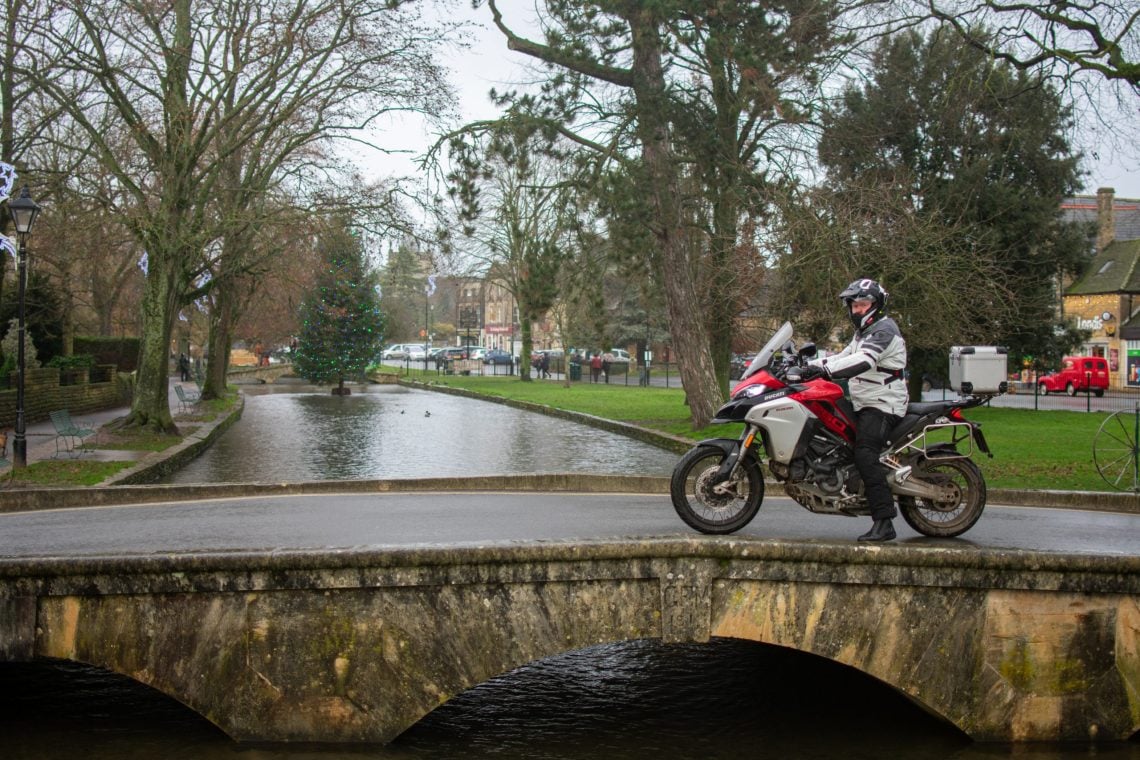 Leaving Broadway Tower behind, we delve deep into the Cotswolds, riding along meandering B roads and through chocolate box villages looking like they're straight from a Hollywood film set. For me, this part the country typifies the poet William Blake's famous phrase 'In England's green and pleasant land' better than any other as you ride through this picturesque landscape.
Upon arrival in Bourton on the Water, you be forgiven for thinking you are in just another charming Cotswolds village. However, once you spy a river running threading its way through the village under a series of low arched stone bridges dating back to as early as 1654, you'll soon realise why it's called the Venice of the Cotswolds.
It's a rather beautiful and slightly surreal experience walking through this picturesque village. I could have easily spent the afternoon exploring the nooks and crannies, but with plenty of miles still to cover, I wolfed down a battered sausage and chips from De la Hayes (highly recommended) and headed deeper into the Cotswolds for a date with the Romans.
Explore one Britain's grandest Roman villas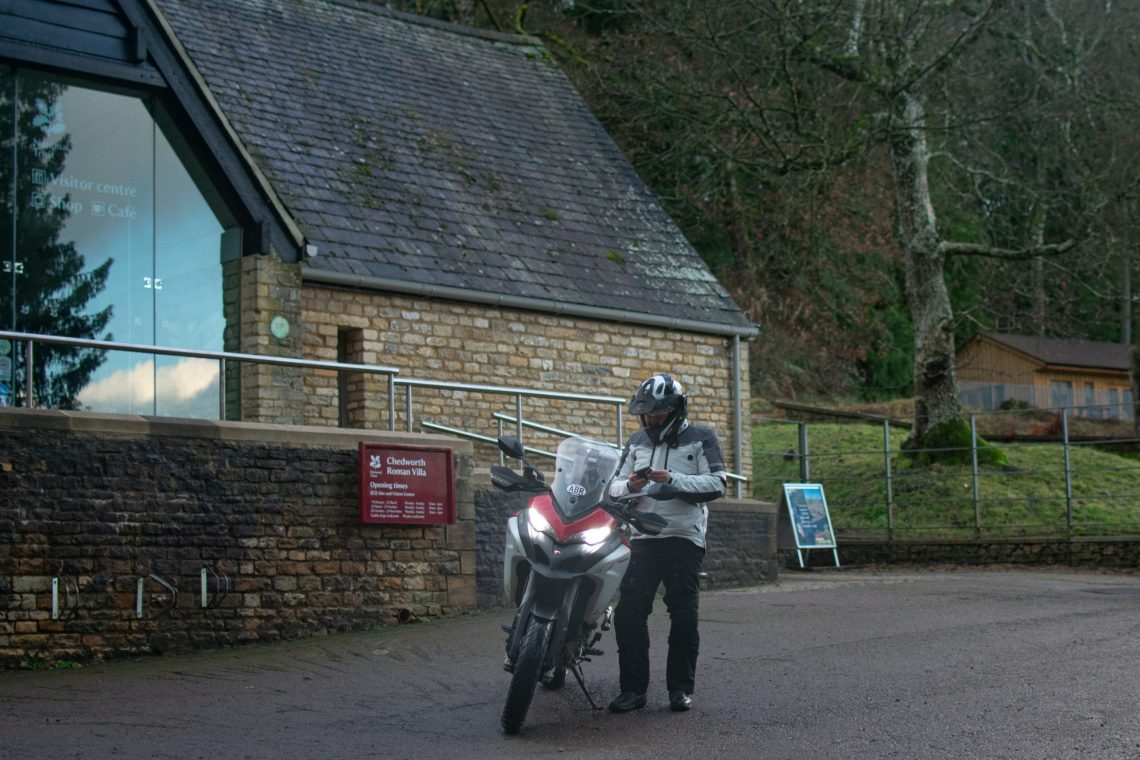 We jump back on the Fosse Way, a seemingly arrow-straight old Roman road that for a time marked the frontier of Roman rule in Britain. A few miles down the road we turn off, following the signs for Chedworth Roman Villa before following a fantastic single lane road with views of the surrounding countryside.
Unfortunately, the Roman villa was closed when we arrived, but is open during the spring and summer months, where you'll get to explore the remains of one of the grandest Roman villas in Britain. Even if you don't plan to go inside, it was worth the visit to ride the road there and back.
It was first discovered by the Victorians some 150 years ago with a wide variety of historical treasures unearthed since then. On display is a mosaic, a bathing suite, a water shrine, underfloor heating and even Roman flushing toilets.
View Uffington White Horse where St George slayed the dragon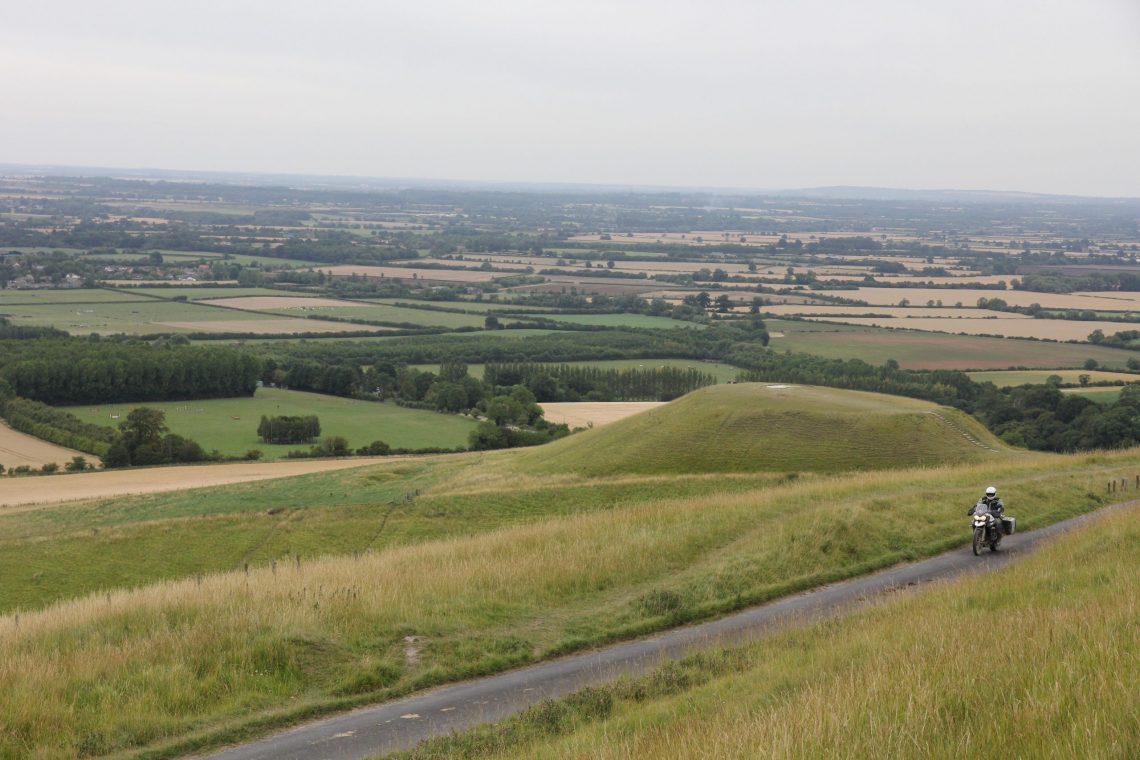 After Chedworth Roman Villa, we turn south and leave the Cotswolds behind, cruising along single-lane country roads without high hedges so you can see the road and landscape unfurl ahead.
This stretch is a gloriously relaxed ride along meandering lanes until we pick up speed on the A361. Just past the village of Woolston we ride up to the sight of the Uffington White Horse.
This chalk figure cut into the hill side is thought to be more than 3,000 years old. It's located next to Uffington Castle, an Iron Age hillfort and close by is Dragon Hill with its distinctive flattened top. This is where legend says St George, the patron saint of England, was supposed to have slayed the dragon.
To get a view of Uffington White Horse, park in the National Trust car park and take a stroll along the path. Alternatively, you can ride right under the white horse along Dragon Hill Road, which as you may expect, gives you a great view of Dragon Hill.
To do so, ride past the car park until you come to sign for the Ridgeway, which is Britain's oldest road. Sections of the Ridgeway can be ridden on by motorcycle, but a sign forbade us from exploring this section when we were there. Turn left at the junction, go past the blue badge holder car park and you'll find yourself on Dragon Hill Road.
Stand within one of the greatest marvels of prehistoric Britain at Avebury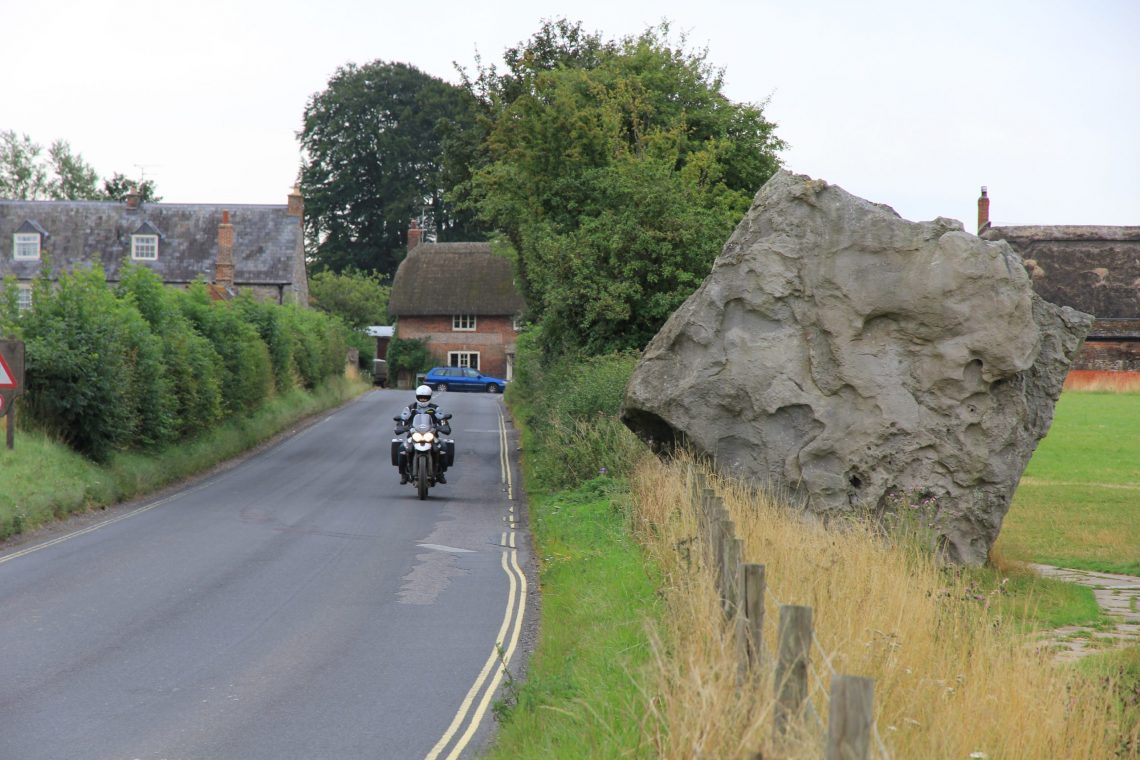 Our route now turns west along more sublime twisting B roads through the North Wessex Downs until we reach Avebury and site of the world's largest prehistoric stone circle.
Handily, there is a pub called the Red Lion sat slap-bang in the centre of it, so park up, get yourself a lemonade and a packet of crisps and explore this ancient site. Alternatively, see some of the stones from the roadside, or follow the signs to the National Trust car park and stretch your legs amongst the stones.
Avebury henge and its stone circle have been described as one of the greatest marvels of prehistoric Britain. They are thought to have been created around 2,850 BC as a ceremonial site that is believed to have been used for rituals, as a sacred meeting place, and pagan worship.
Explore the most beautiful city in Britain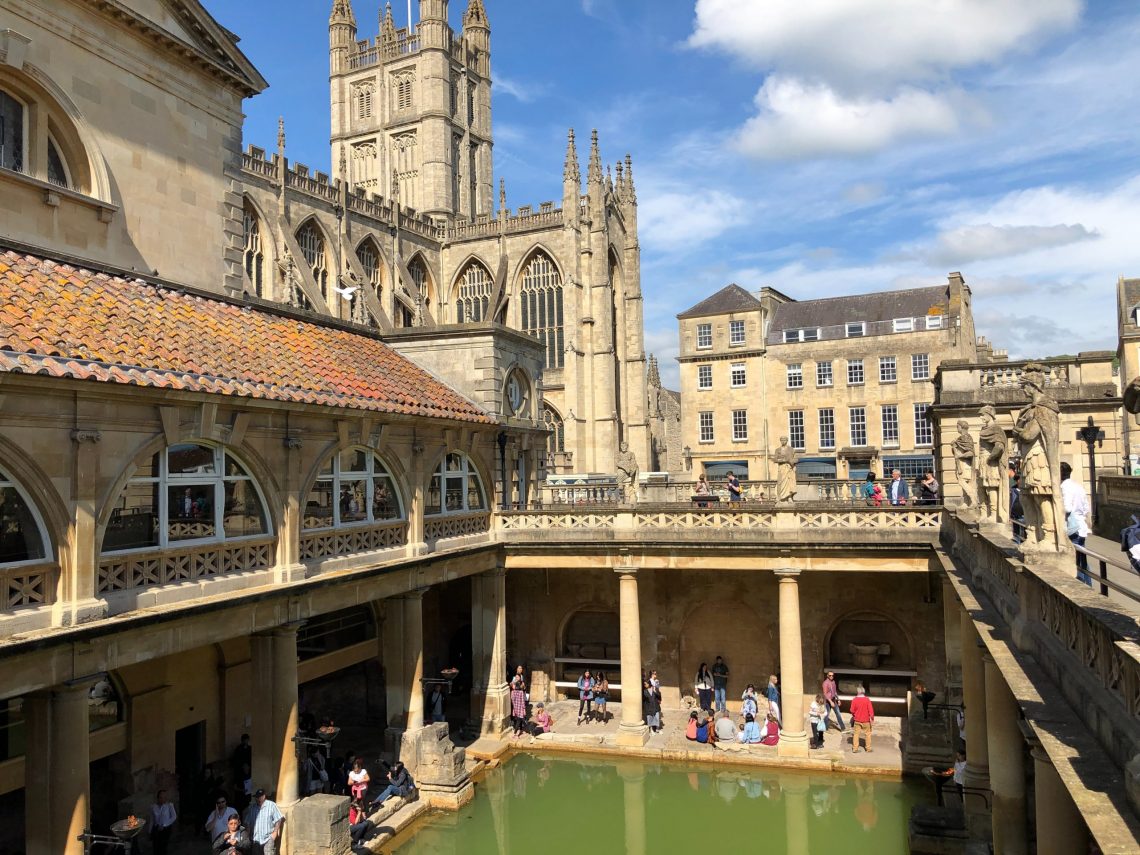 OK, so there are a few cities that could lay claim to being Britain's most beautiful, but it would be hard to argue that Bath doesn't deserve a spot close to, if not at the top, of the list.
This stunning example of Georgian architecture nestled within the rolling Somerset hills is a sight to behold, with the whole city being name a UNESCO World Heritage Site. It's crowning glory is the magnificent Bath Abbey located next to the grandeur of the Roman Baths.
You could spend days exploring the warren of streets lined with buildings made from distinctive Bath stone, including the impressive Royal Crescent. For us, the city marks the end to this TomTom Amazing Britain route.
I'd highly recommend booking somewhere to stay and enjoying a couple of well-earned drinks to celebrate a great day of riding. And remember, Somerset is cider country, so there are plenty of local varieties on offer.
I always enjoy trying the cider tasting board at The Stable in Kingsmead Square, which has 50 ciders to choose from, and also serves up cracking pizzas. I can't think of too many better ways to end a great day in the saddle on our Cotswolds motorcycle route.
The route
Plug these waypoints in or download the GPX file here…
Shakespeare's birthplace, Henley Street, Stratford-upon-Avon, CV37 6QW
Touchdown Café, Loxley Lane, Wellesbourne, CV35 8EL (via the B4086)
Burton Dassett Hills Country Park, CV47 2AB (via the B4100)
The Castle at Edgehill, Edgehill Banbury, OX15 6DJ
St Martin's Church, Church Street, Bladon, OX20 1RS
Broadway Tower, Middle Hill, Broadway, WR12 7LB
High Street, Bourton on the Water, GL54 2AP
Chedworth Roman Villa, Chedworth, GL54 3LJ
Uffington White Horse, Dragon Hill Road, Uffington, Faringdon, SN7 7QJ
Red Lion, High Street, Avebury, SN8 1RF
Westgate Buildings, Bath, BA1 1EB (on-street motorcycle parking bay close town centre)