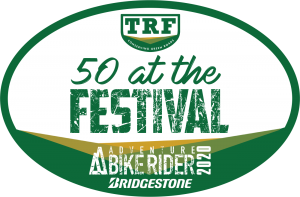 To celebrate the TRF's 50th Anniversary, we are running a number of SPECIAL OFFERS to all TRF members to come along to our 2020 Festival and celebrate 50 years of TRF with us!
If you're already a member of the TRF, simply pop your membership details in the box below and you'll be able to view our exclusive TRF Member offers for our ABR Festival in July 2020.
The Festival is taking place at the magnificent Ragley Hall and estate in Warwickshire. Every major adventure motorcycle manufacturer will be there with a full range of test and demo bikes for you to try out on and off road, there'll be a number of prestigious off-road riding schools offering free tuition, we've got an on-site adventure trail and adventure park, guided road ride and green lane ride outs, live music, great street food, and talks from some of the most inspiring figures in the world of adventure motorcycling in the great hall. With all of this and our commitment to provide a laid-back, fun atmosphere, the Adventure Bike Rider Festival is without a doubt the friendliest motorcycle festival in the UK!
PLUS as a TRF Member at the Festival, you will get:
A TRF wristband to access the TRF village and refreshments at the TRF stand
The opportunity to pre-order a TRF '50 At The Festival' limited edition t-shirt to collect there
TRF '50 At The Festival' free bike sticker
An Invitation to the TRF 50th Anniversary party at the event (it's going to be brilliant!)
£10 off your weekend ticket price if you buy tickets before Sunday 15th December 2019
If you'd like to join TRF – click here, then come back to this page to gain exclusive TRF access to our 2020 Adventure Bike Rider Festival.
Enter your TRF Membership Details to access exclusive offers on the next page…
(If you have already purchased event tickets, enter your details below to pre-order your t-shirt on the next page)