Adventurer and ex-RAF pilot Matt Prior successfully made history when he and his expedition partner circumnavigated Lake Baikal, the deepest lake on Earth, in a World War II Russian Ural motorbike and side car.
Matt and Australian, Dennis Malone took two weeks to complete the 1,550-mile journey facing temperatures as low as -30 degrees and winds of up to 80mph in the depth of the harsh Siberian winter.
Speaking about the challenge before they set off, Matt said: "It's not very sensible and there's a real chance of something going wrong in a big way – sounds perfect."
Beginning in Irkutsk, Russia, the route took them through areas that even locals are said to refuse to go through and across the frozen Lake Baikal, the largest freshwater lake in the world.
The journey served as a test run for a new challenge being developed by British adventure company, The Adventurists, dubbed the 'New Ice Run'. The company is otherwise known for running events such as the Mongol Rally from England to Mongolia and the Rickshaw Run in India.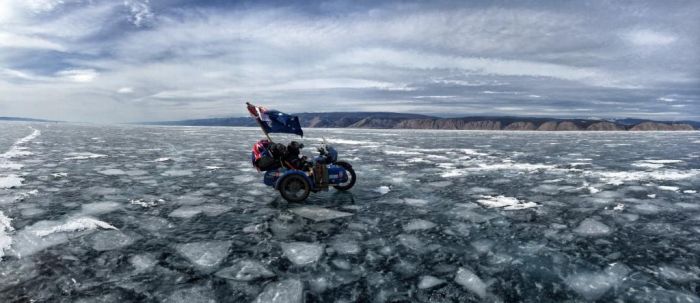 Despite the harsh winter, at times there was uncharacteristically warm weather meaning the ice conditions were unpredictable and often treacherous. As if the duo didn't have enough stacked against them, they also faced multiple break downs and even had to practically rebuild the bike at one stage.
The pair used their journey to raise as much money as possible for their chosen charities including Help for Heroes, Soldier On, Plan UK and Cool Earth.
To find out more information about the adventure head to www.teamontherocks.co.uk.
Are you planning an epic adventure on two wheels? Let us know in the comments below.