As much as we love our fast and powerful go-anywhere adventure bikes, there are times when it's perfectly acceptable to take it a bit slower, relax and enjoy the ride.
The Kawasaki Versys 650 is one such machine that's capable of doing so. While it's not suited to off-road riding, the mid-range tourer offers a great option as a commuter and weekend or continental tourer. Here's everything you need to know.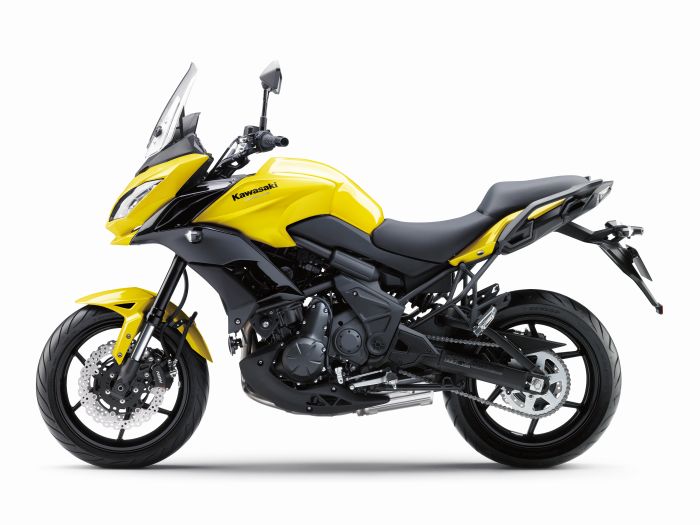 It looks great now it's had a makeover
Past editions of the Versys may have been on the ugly side, but the cosmetic changes to the 2015 version have made it a very desirable bike indeed. With its twin front headlights and re-cast fairing, the Kawasaki gained many admiring glances from passers-by on test. It comes in three colour schemes; black, white and a very distinctive yellow. Not bad at all.
It has decent fuel economy and impressive range
Tank capacity has been increased to 21-litres resulting in a very impressive range of 250 miles between stops. Fuel economy is also very respectable with a purported MPG of 55 miles. With this in mind, we have no reason to doubt its ability to cover the miles without costing an arm and a leg.
It's more comfortable than ever
Kawasaki has taken steps to increase the ride comfort too. The bike comes with extra rubber mountings to counter the fibations that have been a feature of past versions of the in-line twin. It has a new, higher and adjustable screen while the suspension has been improved with a remotely adjustable rear shock and front forks that feature spit rebound and damping controls. Having said that, we still find it hard to comprehend when companies launch new bikes without heated grips. Especially for us British riders.
It's nippy, really nippy
Despite it being perfectly happy, calming and comfortable bumbling around country roads, it has plenty of punch and sharper handling when you want it. It's quick enough for high-speed motorway cruising and nippy enough to make Alpine roads good fun. With that in mind, in the hands of a competent rider, the Versys 650 would actually be more than a match for far bigger bikes.
It has an Achilles heel
If we're honest it has a couple. It's not the best choice if you are going to be travelling with a pillion as the seat section is thought to be slightly too high resulting in some wind buffeting. We'd recommend getting a larger capacity machine if you plan to do much travel with a companion.
The more frustrating problem becomes apparent when the revs drop below 3,000rpm and the ride quality changes from silky smooth to lumpy and stuttering. Not great when coming off the throttle to lower your speeds as you pass through country villages. The result is that you'll find yourself downshifting constantly to keep it above the 3,000 mark. You get used to it, but it's still annoying all the same.
Interestingly, when it was returned to Kawasaki we were told the issue had been noticed on a few bikes but not all. Hopefully this is not a wide reaching problem.