"Setting up a business that operates half way around the world isn't easy," admits Mike. "But Dawa, who I met while working at Everest base camp in the late 90s, has helped cut through the red tape that I would have been unable to do from Scotland."
Mike hopes that the level of experience on offer to riders and the intimacy of each tour – just eight participants are allowed per trip – will set Motorcycles and Mountain apart from other tour companies. The Bike and Hike tour also claims to be the only combined motorcycle and climbing expedition in the world and will see participants ride to Everest Base Camp before ascending 6,000m up the mountain.
Mike plans to accompany each and every ride out, to offer bike and terrain advice, while partner Sherpa knows the mountains inside out; the 50-year-old has twice ascended Everest, speaks six languages fluently and even claims to know what made the yetis extinct!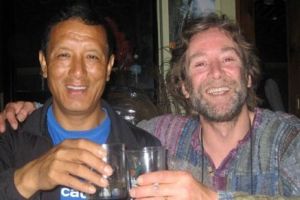 "Riding in the region is just incredible," says Mike. "Something amazes you every day – whether it's riding through a dry river bed or avoiding a buffalo on the road. It really is an assault on the senses." Motorcycles and Mountains is now taking bookings for 2011.