New bike season is well and truly upon us, and Italian manufacturer Ducati has thrown its hat into the ring this week with a full reveal of the new Multistrada V2.
Despite the new name, the bike itself may look a little familiar to the eagle-eyed amongst us, with the changes representing more of an evolution from the previous Multistrada 950 than a complete revolution.
However, there's still plenty to get excited about, including a reduction in weight and a series of changes that Ducati says will make the Multistrada V2 a more manageable bike to live with. Here's what we can expect from the Multistrada V2 when it appears in showrooms in November.
Ducati Multistrada V2 – everything we know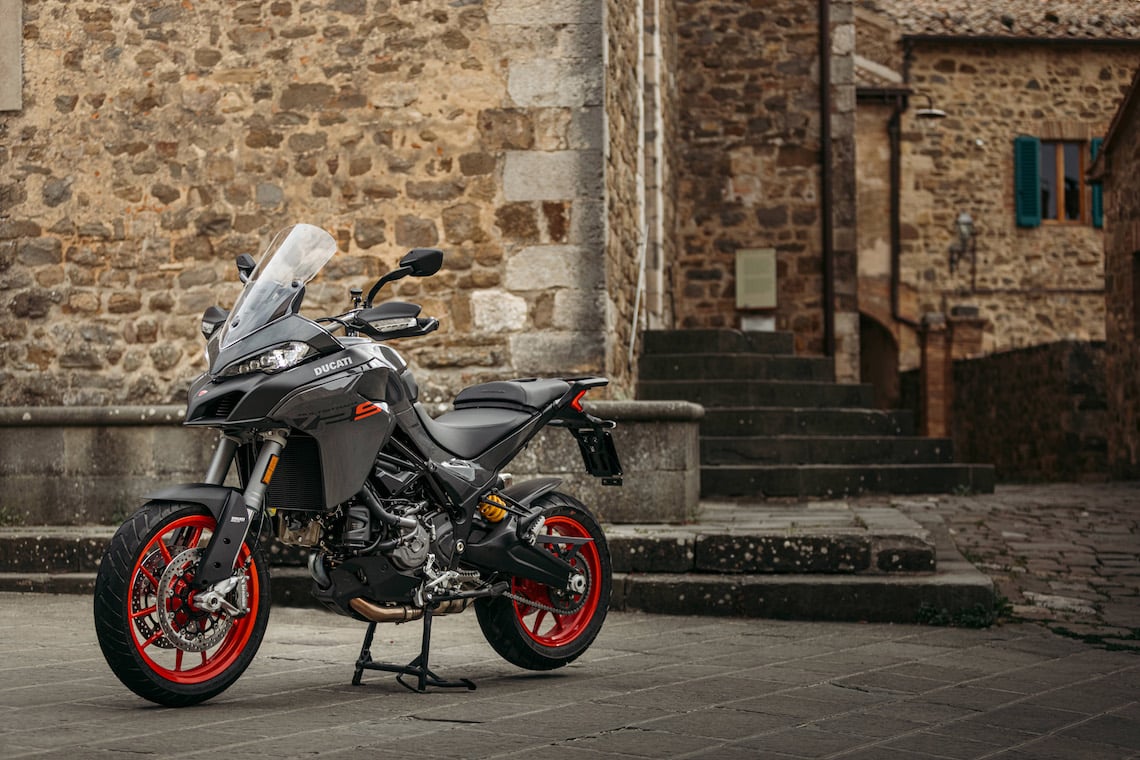 While the punchy, twin-cylinder, 937cc Testastretta engine remains from the 950, it has been given an update for the new year to hone what is already an impressive power plant.
Power stats have been nudged up from 110bhp to 113bhp, and torque from 96Nm to 98Nm. The engine is also Euro5 compliant. More impressively though, Ducati has also been able to trim some fat in the process.
This means the updated engine is now 2kg lighter than before. Interestingly, the engine can also be restricted to make the Multistrada V2 A2-licence-compatible, although I doff my cap to any new, young A2-licence-wielding rider who fancies a Multistrada as a first big bike (I say that as someone who dropped his first big bike on the first day he picked it up!)
Further weight savings come from various pieces of trim, including lighter mirrors and wheel rims (which have been taken from the Multistrada V4), and these changes contribute to an overall weight saving of 5kg from the previous 950, with the new Multistrada V2 weighing in at 199kg dry.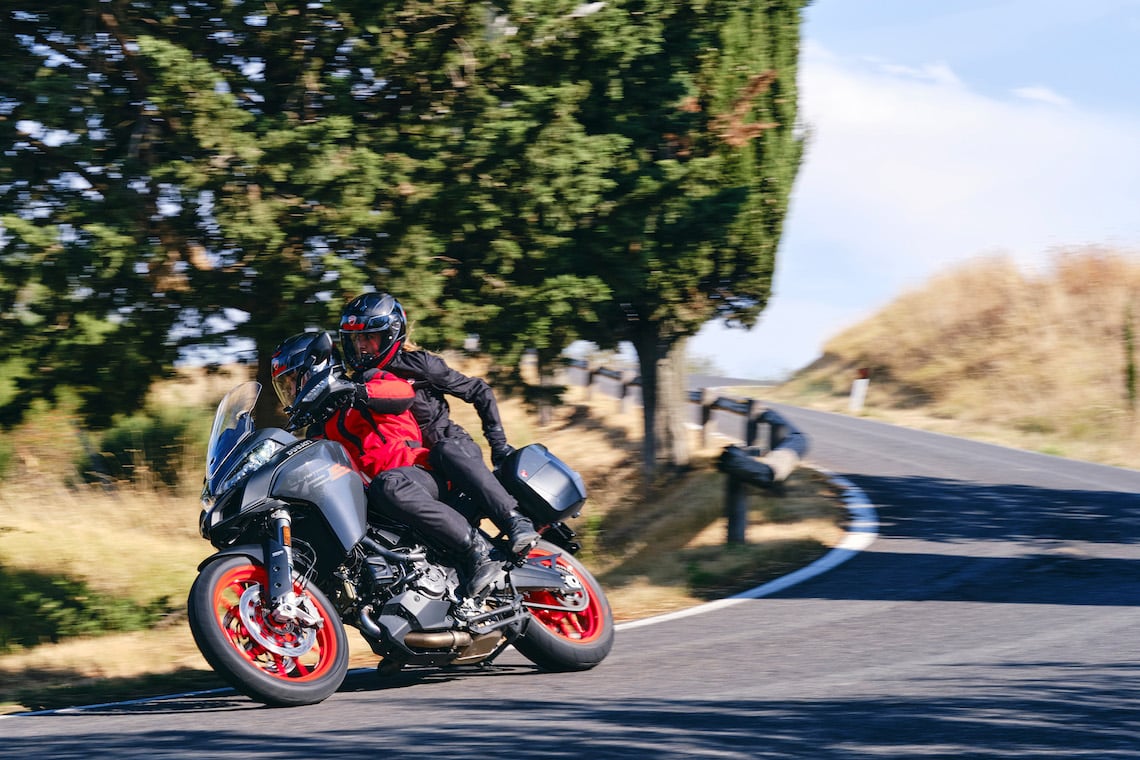 These changes appear to be part of a concerted effort to make the new Multistrada V2 an easier bike to live with, which ties in with the work that's gone on in the ergonomics department. Ducati has dropped the seat height by 10mm to 830mm and slimmed the seat down to make it easier for those with shorter legs to touch the ground.
The Italian brand also says the seat has been made more comfortable, now designed to offer a flatter perch for riders. This is encouraging news because the old 950 wasn't the most comfortable of bikes over long distances when we spent time with it in 2020. Much like other sport-touring saddles, it tilted the rider further forward than we would have liked and it didn't provide much wiggle room when we needed to relieve pressure points on our backsides.
Alongside these changes, many of the features that we loved from the previous Multistrada 950 still remain, and once again the Multistrada comes in both standard and premium S models.
The standard model comes with a 48mm upside-down front fork, offering 170mm travel, along with a rear shock that again provides 170mm travel, both of which have been brought over from the previous 950. Things are different on the premium V2 S model though, which comes with Ducati's Skyhook suspension as standard.
The brakes also remain unchanged, with Brembo monobloc radial calipers and double 320mm discs at the front, and a Brembo floating caliper and 265mm single disc at the rear.
Electronic wizardry
Both models come equipped with a state-of-the-art electronics package, bringing cornering ABS, hill-hold control, traction control, four riding modes (Urban, Touring, Enduro, and Sport) to the V2. We loved how these worked on the previous model, in fact the cornering ABS and traction control kept ABR Managing Editor Bryn from serious harm when a careless driver pulled out on him last winter, so we're pleased to see these features remained.
The V2 S also comes with cruise control, LED cornering lights and headlights, a quickshifter, and a 5″ TFT colour screen (the standard model comes with an LCD unit).
The standard and premium S models are priced at £12,495 and £14,495 respectively, and you can find out more about them on Ducati's website. There's also a travel-ready V2 S edition for £15,525 with side bags, heated grips, and a centre stand as standard.
Stay up to date with the latest adventure biking news and stories
Want to get a weekly digest of adventure biking news, stories, routes, and much more delivered directly to your email inbox?
Sign up to the ABR Bulletin on the right of this page (or below if you're reading on your phone) to find out everything you need to know each week.