Price: £149.99
www.feridax.com
When you get to review a lot of helmets, it's very hard not to pick your favourites and stick with them. Despite having access to some of the best helmets on the market, I found myself looking to the Caberg Xtrace on many occasions. Not only is it one of the best looking adventure-styled helmets out there, but it performs well in the saddle.
The peak, while non-adjustable, is well designed and offers a good amount of protection from sunlight while also causing minimal turbulence. It will catch the occasional breeze at motorway speeds, but you'll soon figure out which head positions are responsible for the drag.
An integral sun visor is also present, though it takes a while to accustom yourself to the position of the operating mechanism.
Ventilation is provided by a simple but effective chin vent and two closable brow vents and you also get a large exhaust on the rear. The amount of air that is drawn in is plenty for warm weather road riding, though if you're working hard off-road, you'll probably be getting a bit sweaty and find yourself wanting to ride with the visor up.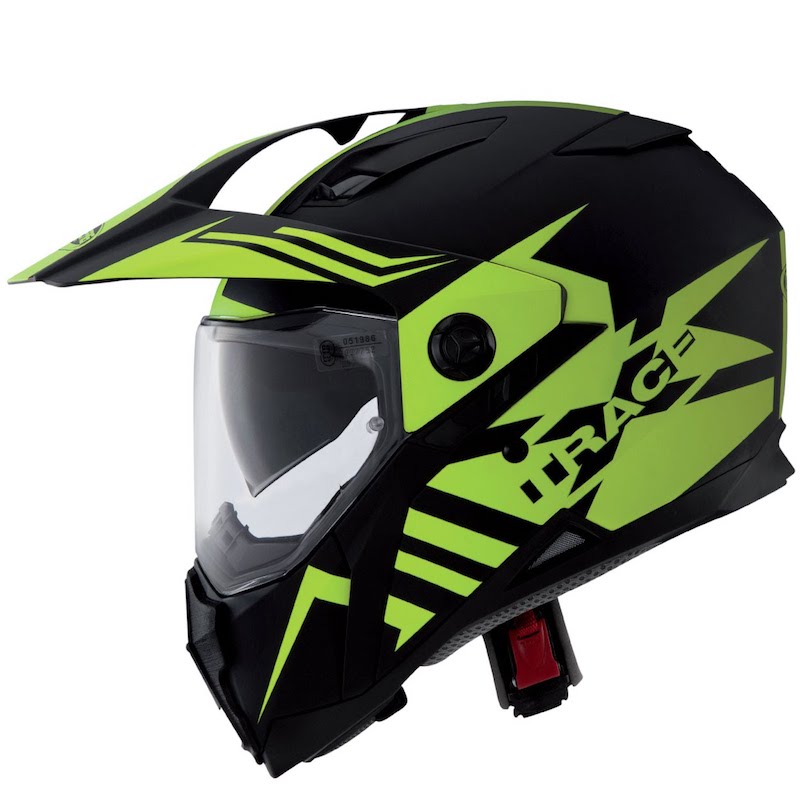 One of the main reasons I liked the Xtrace was just how light and unrestricted it feels when on the head.
If there's one thing that's going to put you off buying the Xtrace, it's that it suffers from something that seems to be common in the Caberg helmets that I've tested over the years, and that's a very short chin bar. If you consider yourself a bit of a Bruce Forsyth then you'll find that your chin touches the helmet, making it more uncomfortable to wear.
Caberg Xtrace verdict
At £149.99 the Xtrace represents excellent value for money. While it passes the relevant safety standards with its polycarbonate shell it won't compete with the premium helmets in terms of quality, but it's got everything you'd desire an adventure-styled lid to have. It looks damn awesome in matt black as well.