Buffalo manufactures a range of motorcycle clothing including textile jackets, trousers and gloves, and the brand also produces some great children's and women's motorcycle clothing. The Buffalo Endurance jacket reviewed here is the most expensive jacket that the brand has on offer, but it still comes in at an affordable £125.
The Buffalo Endurance is slightly different from your standard textile touring jacket (like the Oxford Montreal 2.0) as it is a mix of high-quality leather and textile rather than just a pure textile jacket. The leather is mainly concentrated on the high wear/impact areas and offers great abrasion resistance and extended durability.
The large leather areas also mean that the jacket feels slightly heavier than a standard textile jacket, however it is packed with lots of good features to make up for it, and this combination of fabrics looks excellent too.
Ventilation is taken care of with two front vents and two rear exhaust vents, although the exhaust vents are on the shoulders and not on the rear of the jacket as one would expect. They allow a fairly decent crossflow of air for warm weather riding.
There is plenty of storage provided with four front pockets featuring durable zips, however there are no zip tags to make operation with gloves easier, a frustrating omission. There is also a rear pouch which is secured with a Velcro storm flap and press studs.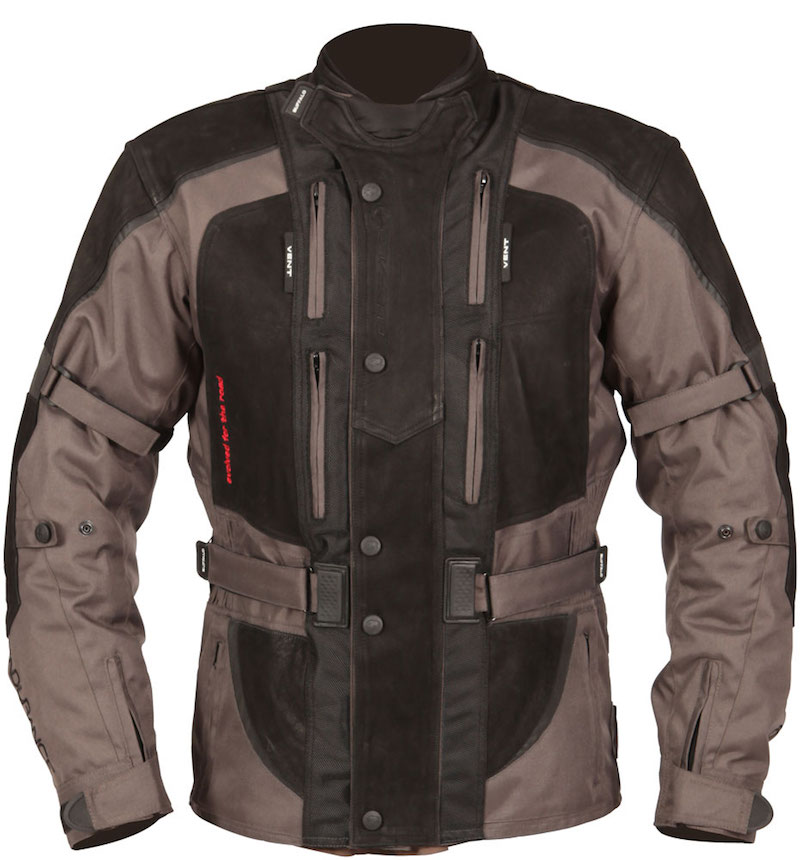 The jacket offers plenty of adjustment in the waist, upper arms and lower arms to allow you to get that 'perfect fit' regardless of your body shape. There is CE-approved armour in the shoulders, elbows and back, and they are all removable.
For added safety, the jacket also features reflective strips on the rear, though we would have preferred it if these were more substantial as they're more of a gesture than a genuinely useful feature.
While riding with this jacket on, it soon became waterlogged and very heavy after significant rainfall. The 'evolved for the road' slogan of Buffalo confirms that the Endurance is suited for road use more than anything else, and I wouldn't particularly like to go trail riding in it for the points raised above.
Buffalo Endurance verdict
If you want something different from a standard three-layer textile touring jacket, then the Buffalo Endurance is one to consider. It's very nicely priced at £125, it looks great and performs nicely on road. Wet weather performance isn't the best though, but if you were to combine this jacket with a waterproof oversuit, you'd have no issues.