So, you've got the textiles and the peaked helmet, now all you need to complete your look is a pair of adventure motorcycle boots. When it comes to buying the right ones, however, you'll soon discover that it's a difficult proposition.
There are loads on the market, with each one advertising different features, and it's easy to become overawed. To help you out, we've pulled together seven of the best adventure boots out there, and put them through their paces.
W2 E-MX8 Boots – £184.99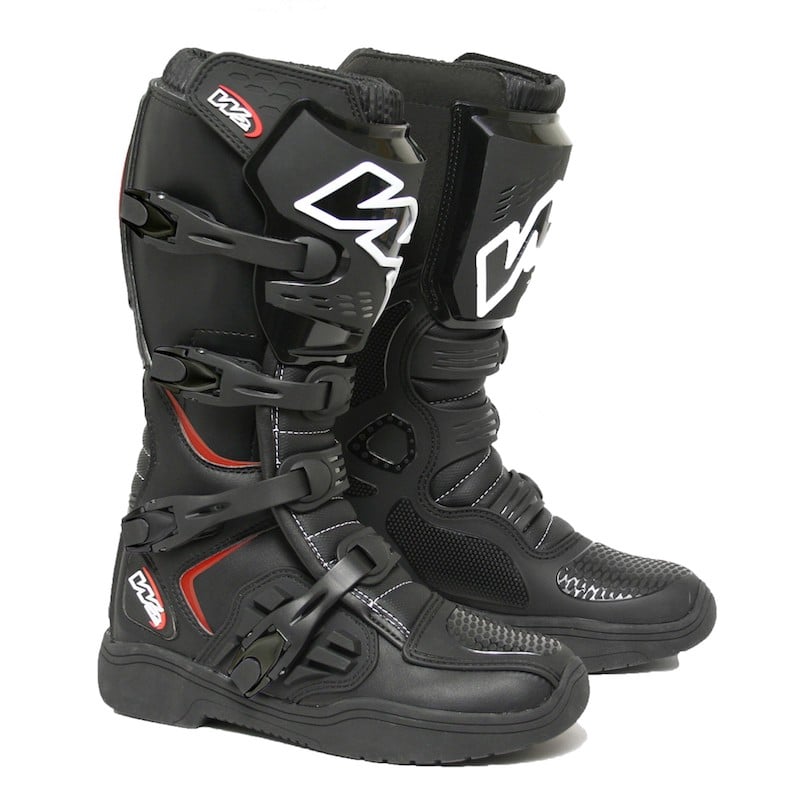 W2 is a name that many might know due to the excellent 4 Dirt boots that we've reviewed in the past, but for this test we've decided to try out the E-MX8 boots. Strictly speaking these are motocross and enduro boots, and as such they don't come with a waterproof membrane, but if you're after footwear for serious green laning, then these might be just the job.
As you'd expect from a motocross boot, the E-MX8 focuses heavily on protection and stability. They're stiff, they're chunky and your feet feel well guarded in them. The toe box is solid, the heel cup is rigid and the armour all over is so tough that I wouldn't be surprised to see it used as protection from explosives on a Challenger 2 tank.
Continuing the motocross theme, the sole unit has a grippy tread that works well off-road, and while it still performs on tarmac, there are better suited models available. That said, it's so stiff that you won't be able to feel a thing underfoot, making standing on the pegs a comfortable affair, and the steel shank offers a fantastic amount of lateral support.
In terms of styling, they look fantastic, and aren't too in-your-face as some competition boots are. Four clasps run up the side of the boot to provide a very snug fit, though I found my ankle lifted a bit more than I would have liked it to when performing certain movements.
In all, if these had a waterproof membrane they'd be solid adventure motorcycle boots, being a very well-priced alternative to the Sidi Adventure 2 boots and the Alpinestars Toucans. As it is, you'll either have to invest in a pair of waterproof socks, or be using them for the sort of riding where wet feet are to be expected, and they won't disappoint.
In a line: Protection is the name of the game here
Forma Adventure Boots – £194.99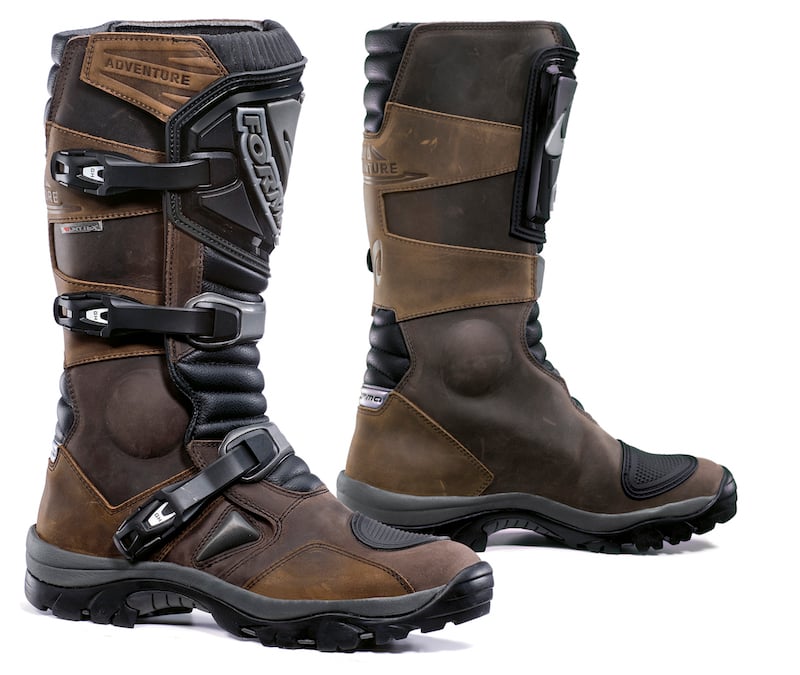 The Forma Adventure Boot has certainly caused a stir over the past few years, with many riders swearing by them and their affordable price tag for all-round quality. Indeed, you just need to look at them to see that they're a beautifully designed pair of adventure motorcycle boots, with their oil-tanned brown leather offering a gorgeous and adventurous aesthetic.
And the boots' overlanding credentials don't stop there. With a fully waterproof Drytex membrane included, your feet will stay dry in harsh conditions, and the sole offers a great compromise of on-road performance and off-road traction. I'd be more than happy to wear these on most green lanes, where grip is concerned.
The sole unit offers enough stiffness in the arch of the foot to make standing on the pegs for prolonged periods comfortable, though the forefoot and heel areas are slightly soft which adds to all-day comfort.
In terms of protection, the Adventure boots perform OK, but not great. You get ankle inserts and a shin guard, though these are flimsy and they won't be of much help if you drop your bike on your leg. The heel cup and toe box are similarly soft, which adds to comfort, but detracts from the overall foot protection on offer.
When it comes to stability, the boot allows for a fair amount of lateral rotation and flexing at the ankle which, again, means they're super comfortable out of the box, but for hard off-roading I'd want something a bit stiffer.
Be that as it may, our usual gear tester, Mike Beddows, has owned a pair for a few years, and he's got nothing but praise for them and they've handled everything he's thrown at them.
In a line: If looks could kill…
Falco Avantour Boot – £239.99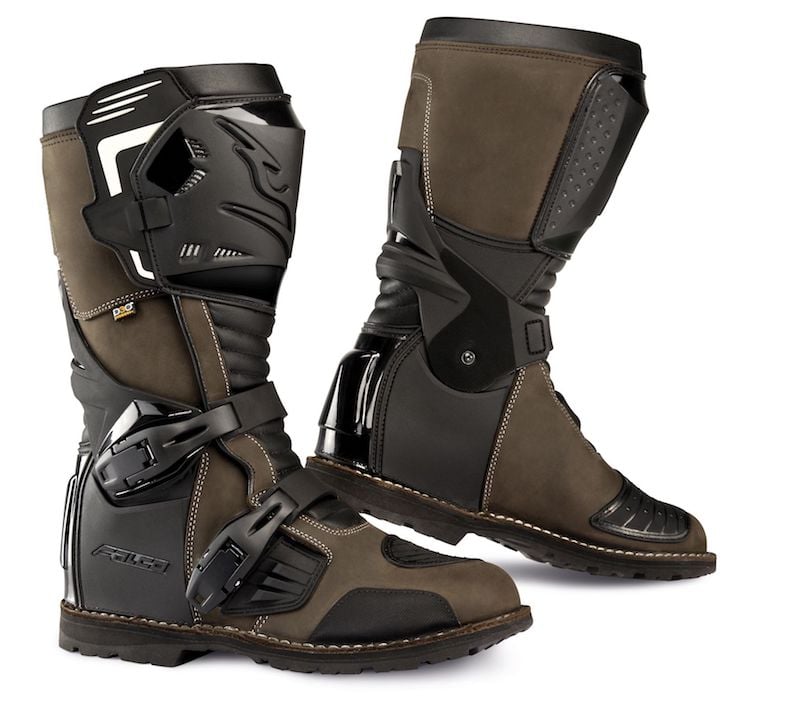 Three years ago, adventure motorcycle boots seemed to be stuck in a stylistic rut. Most pairs came in black or, well, black, and there seemed to be little in the form of aesthetic pride.
In this respect, it appears that the Forma Adventure Boots and the W2 4 Dirt changed the game, with their beautiful brown leather uppers and well-thought-out stylings. Not wanting to miss out, it appears that Falco has cottoned on, and has produced one of the nicest looking adventure motorcycle boots currently on the market, the Avantour.
Designed and made in Italy, there's no mistaking the flair that's gone into these boots, even the name sounds sassy. The upper is made from a gorgeous full-grain treated brown leather, which is complemented by various reinforced matte-black plastic panels. Even the straps and clasps look painstakingly crafted, and it really feels like a lot of love has gone in to designing these.
And that's not the only good thing about them. They're fully waterproof and they strike a fantastic balance of comfort and protection. There's enough flex in the boot, helped by a hinge on the ankle, to make them comfortable when walking around town, and there's adequate D30 armour and stiffness to make you feel secure in them, with all armour feeling very solid.
The sole unit is both glued and stitched to the upper, which greatly helps with the longevity of this potential weak spot, and the sole itself is a quality Vibram unit which offers great grip on and off-road, while also being stiff enough so that you can't feel the pegs.
My experience with the Avantour has been almost entirely positive, though there are two things that you should know.
The hinge that makes walking easier squeaks with every step, which doesn't impact performance, but adds to annoyance. And the ankle armour slightly dug into my ankle. It wasn't enough to make me want to stop wearing them, but it's something to be wary of when you try them on.
In a line: The definition of not just a pretty face.
TCX Drifter – £259.99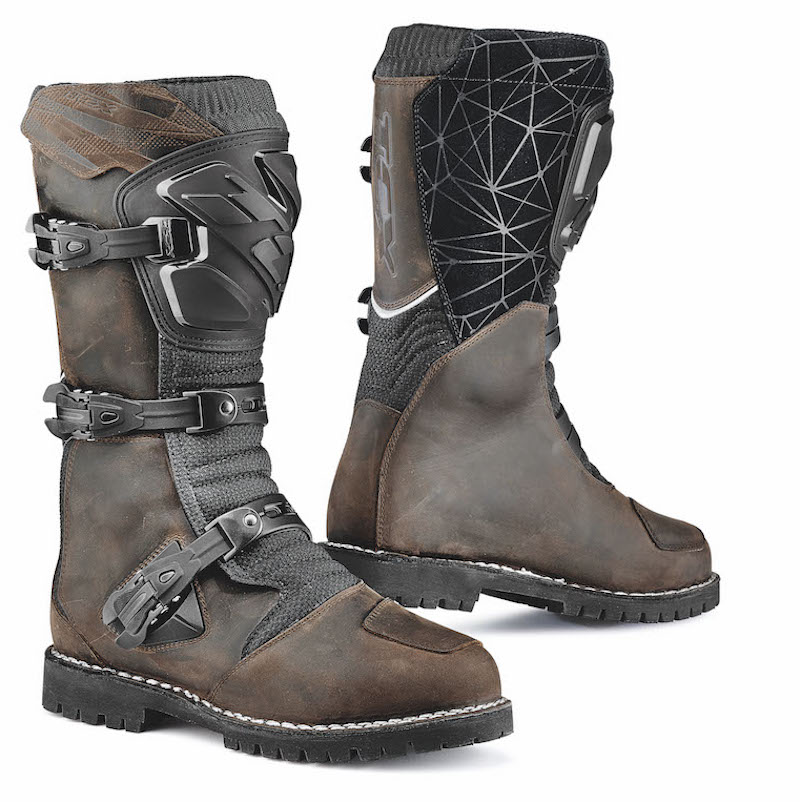 Over the past few years I've had some great times in TCX boots. I've been wearing the Competition Evo boots for most of my green laning exploits, and so I was very excited to try the Drifter out.
They're adventurous by name and adventurous by design, rising high up the leg with a brash shin guard, and the wet stuff is kept out by an included waterproof membrane, which is genuinely waterproof. The main thing that sold me on these boots, though, was their devilishly good looks.
They're made from a beautiful vintage brown leather, and they look like they could have come straight off the set of Mad Max. But looks isn't all these are good for. With chunky polyurethane shin guards, decent ankle armour and reinforced toe cap and heel cups, these adventure motorcycle boots offer a brilliant amount of protection. And it doesn't seem to come with too much of a compromise to comfort.
They're a little stiff when you first slip into them, but after a few days of use the comfort provided is excellent, and it appears that this is largely down to something that TCX has termed its Comfort Fit System.
Essentially, the boots have been created around a new mould that more accurately represents the shape of the foot, providing enhanced comfort. This, along with a nice amount of padding around the shins and ankles makes for a delightful wear for extended periods of time.
The sole unit is also spot on, offering a great amount of grip both on and off-road, and I had no problems with feeling my bike's pegs too much when stood on them.
In a line: TCX has excelled, and these really are excellent adventure motorcycle boots.
Rev'it Discovery Outdry – £289.99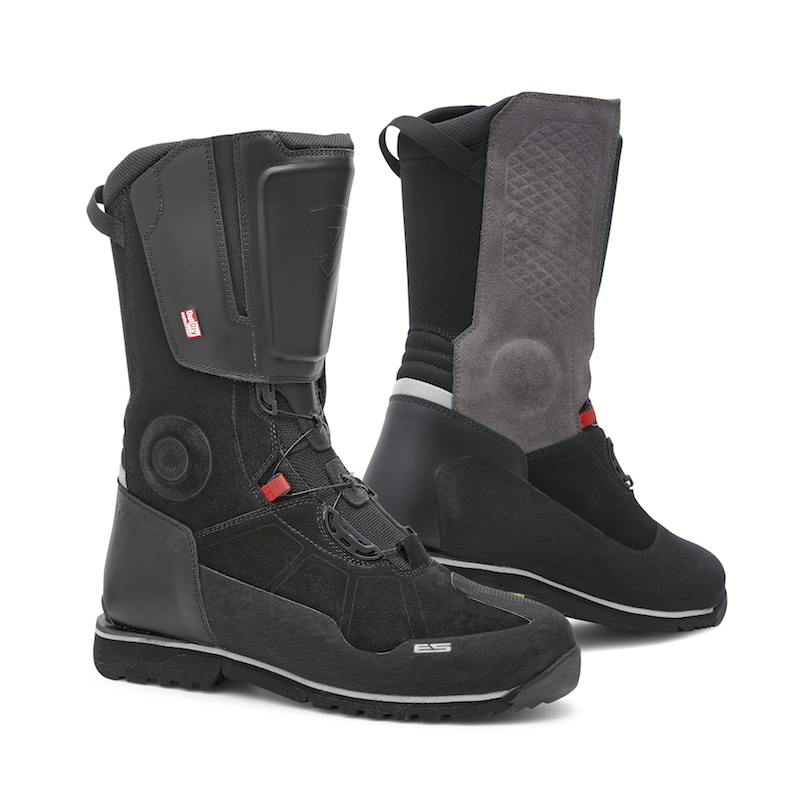 Innovation is something that all good manufacturers will strive for, and when it comes to the motorcycle boot you'd be forgiven for thinking that the basic design is near enough set in stone.
But occasionally there are outliers, manufacturers who really push the boat out to try something new. Touratech is trying their two boots in one approach (as you can see below), while Rev'it has come up with a unique lacing method to enhance comfort and ease of use.
These fully featured adventure touring boots make use of a Boa lacing system which consists of stainless steel wire, moulded lace guides and a dial which is used to tighten or loosen the boots. If this looks familiar then that's because it is – it's a system that has been used in snowboarding, golfing, cycling and even on motorcycle gloves (KNOX Handroid) for years.
The system works incredibly well, providing a snug and secure fit throughout the boot, and it takes away almost all the hassle of putting on and taking off motorcycle boots. But, don't think that the lacing system is the only impressive thing about these boots.
They're incredibly well featured throughout, with quality armour in the shins and ankles, substantial and comfortable padding in areas that need it, and a top quality Vibram sole.
To keep your feet dry, the boots make use of and OutDry waterproof membrane, and this is watertight throughout. Stylistically, the lower section of the boots seems to take inspiration from hiking approach shoes, with a substantial rubber rand running around the shoe to offer protection from bumps and scrapes.
It's worth mentioning that these do come up a bit small in sizing, and I'd advise trying them on before you buy, as you may need to go up a size.
In a line: Is this the future of adventure motorcycle boots?
Touratech Destino Adventure – £299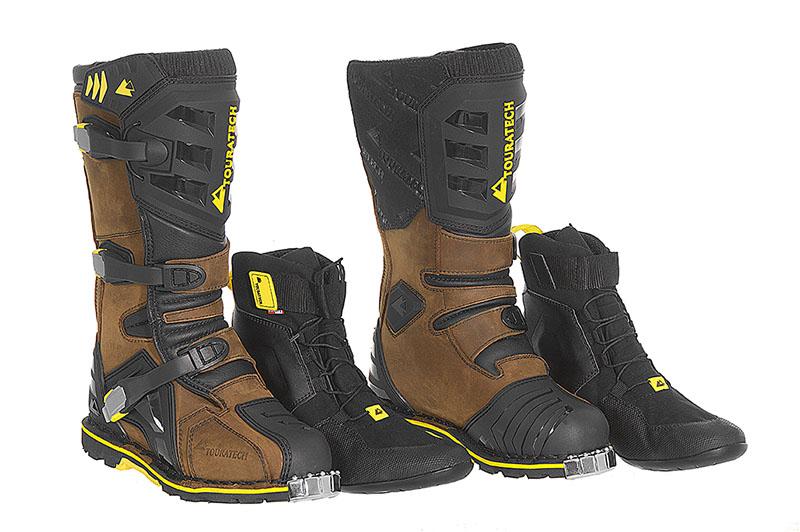 Now then, here's something you won't have seen in a motorcycle boot before. The Destino Adventure boot from Touratech is an innovative product that uses a technology that we've seen recently in the world of outdoor footwear, most notably from premium brand Arc'teryx. Essentially, what we have here is an outer motocross/adventure-styled shell, with an inner waterproof bootie that's removable and can be used as a camping shoe or casual footwear.
The idea is novel, and it's good to see a brand trying something new, but does it work, and is it worth the £299 you'll have to fork out?
>>> Related: Touratech releases new all-in-one riding boot
The outer of the boots isn't waterproof, but the inner bootie is, and this rises just over the ankle to provide a fairly good amount of waterproofing.
In terms of styling, the boots have a genuine adventure appeal, and the brown leather is beautiful (it also comes in white or black), though the trademark Touratech yellow does look slightly out of place, and the boots take on a clumpy, almost snowboard boot look. The inner booties are passable on a campsite, but if you're out for a meal or at a bar, they're not so fashionable.
Fashion aside, in the saddle the boots perform well and offer a decent amount of protection, with a substantial shin guard providing good impact absorption, though the ankle area isn't as supportive as, say, the TCX Drifer. The sole is also well suited for dual-purpose use, with the tread offering grip on most terrains and being stiff enough for peg standing.
In all, they're expensive, they might not appeal to everyone, but I found myself liking the Destino boot. The ability to wear the inner bootie separately will be a big draw for those who like to camp, but if you feel more at home in a hotel and are happy enough to bring spare shoes, they're not quite as appealing.
In a line: A unique take on adventure motorcycle boots that some will love and others will hate.
Sidi Adventure 2 – £311.99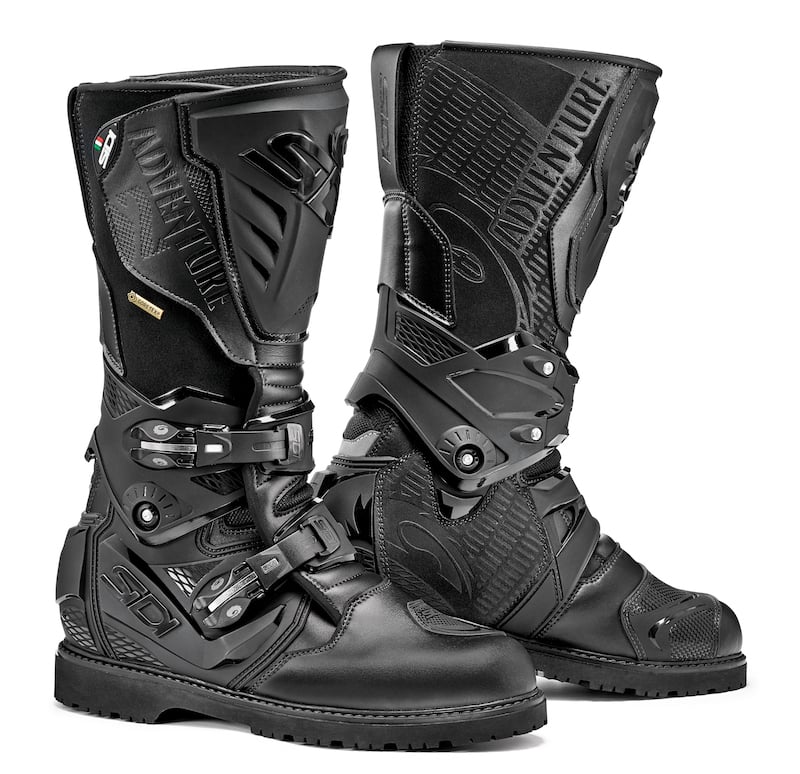 When it comes to adventure motorcycle boots, the Sidi Adventure has pretty much set the standard for the past few years. The Adventure 2 builds on the success of the first incarnation, somehow managing to make a brilliant boot even better, but failing to address one issue that almost all users report experiencing – the Sidi Squeak.
I've worn these extensively over the past few months, in conditions ranging from driving rain to suffocating heat in Morocco, and they've handled everything I've thrown at them.
The Adventure 2 boots bring together just about everything you could want from adventure motorcycle boots, and bundle it all into a sexy, mean looking shell. 2017 updates include a higher Gore-Tex gaiter (7cm higher than previous models), a more flexible shaft to accommodate a wider variety of calf sizes, and more flexibility throughout to improve out of the box comfort.
And they're worthwhile additions. For such a cumbersome boot, the Adventure 2 sure feels good on the foot, and once they're worn in there are no issues with them feeling too stiff or restrictive.
They're not going to be as comfortable as, say the more flexible and slipper-like Forma Adventure Boots, but I've not had any issues on long days in the saddle, and the comfort-to-protection ratio seems spot on.
Speaking of protection, the Adventure 2 offers a serious amount of armour and support. The shin guard is one of the most protective on test, and the amount of ankle support offers a huge amount of reassurance both on and off-road.
The toe box feels bomb proof, and the heel cup isn't much different. The sole of the boots features a well-designed tread pattern that performs excellently off-road in all conditions, and just as admirably on-road.
To make such a heavy and rigid boot more comfortable, Sidi has included a hinge on the ankles which allows the ankle to flex when walking and moving on the pegs. This is a fantastic addition, but it's responsible for something that has almost become a calling card for the boots – the Sidi Squeak. You're not going to sneak up on anyone while wearing these as they squeak loudly with every single step.
Whether that's enough to put you off buying them is your call, but if you can look past it they're almost perfect. The only other adventure boots that can touch them for all-round performance are the Alpinestars Toucans, which weren't submitted for this test.
In a line: The king of adventure motorcycle boots
How to buy adventure motorcycle boots
So, you've read the above reviews and you've narrowed your choice of boots down to a few (one, if you're super lucky), but how do you go about making sure they're the right boots for you?
When it comes to buying adventure boots and you're standing in the store with a sales rep explaining why this one is better than that, there is one crucial factor to consider above all else. And that is how they fit your feet. Everyone's feet are different in terms of shape and size, and there's no one-size-fits-all option.
As well as that, most manufacturer sizing will differ depending on where they are in the world and the type of last they use. For example, Northern European manufacturers tend to make wider fitting boots than Southern Europeans. To help you on the way, we've written the Adventure Bike Rider guide to buying adventure boots, and you can read it here.
Have you tried any of the boots listed above? How did you get on with them? Let us know your thoughts in the comments section below.