The release of the latest James Bond movie, No Time To Die, may have been postponed until November due the coronavirus pandemic, but 007 fans can whet their appetites with this jaw-dropping compilation of motorcycle stunts from the film.
And, even better for us adventure bikers, the stunts were performed 0n the Triumph Tiger 900 and the Triumph Scrambler 1200 XE. In fact, the iconic British motorcycle manufacturer is an official partner of the 25th Bond movie, and it will be hoping the adrenalin-fuelled product placement will convince plenty of cinema-goers to head straight from the cinema to a dealership to pick up a Triumph of their own.
Seriously impressive stunt riding
The video opens with bystander footage of the Triumph Scrambler 1200 XE, ridden by a stuntman dressed as Bond, travelling the streets of Matera, Italy. Shortly afterwards we see several clips capturing a huge jump onto a town square, a stunt which is featured in the trailer of the film itself.
It's an incredible stunt and surely one that will stick in the memories of wide-eyed kids for years to come.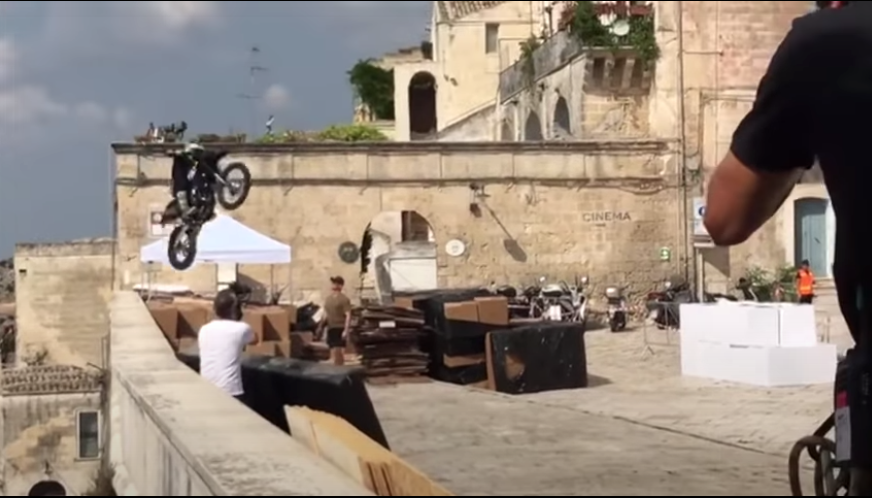 We see more footage of a variety of stunts, including chase scenes through the narrow, cobbled lanes of Matera, while Bond's trademark Aston Martin features as well. The footage isn't of the best quality but it has left all of us in the ABR office counting down the days until the release of the film in November. Rest assured, we'll never turn down the chance to see adventure bikes in action on the big screen.
In a previous interview, stunt coordinator Lee Morrison said of the Triumph bikes; "We have literally thrown everything at them. Big, craggy, sharp rocks, deep boggy mud, high speeds, big jumps, and huge climbs and descents across a variety of conditions."
With the video below only showcasing the urban stunts and no muddy riding, it seems we can expect a lot more two-wheeled action when the film is released.
In the meantime, check out the footage below, but remember, it's for your eyes only…
Put the Triumph Scrambler through its paces yourself
Looking to test out the Scrambler yourself before buying? We have just the event for you…
With every major manufacturer in attendance, including Triumph, the Adventure Bike Rider Festival 2021 is the place to visit. With gleaming fleets of test bikes waiting to be ridden both on and off-road you'll have the perfect opportunity to try before you buy.
Pick up your discounted tickets and save £10 by clicking HERE. Previous years have always sold out, and 2021 will be no different, so book today to avoid disappointment.