Sydney-born Simon Pavey is a bit of an off-road legend. This year saw his ninth time starting the infamous Dakar and there are no signs of the 45-year-old slowing down with trips to Morocco and Australia – just don't show him any spiders!
You've been pretty busy recently. Tell us about Dakar first off. How did you get on? Pretty good. I was happy enough in the end. Like always with that race, I had better days than some, but it all went a little bit too easy in all honesty.
Which was the toughest day for you? One of the toughest days was the one in Fiambala, which it nearly always is now [Dakar] is in South America. I can't even remember which day that was, but it's kind of become the notorious area. It was definitely the hardest day, but it was made a little bit easier for us this year because it rained while we were there, so the temperature was cooler than it has been on other years and the surface of the sand was a little bit firmer, which made things a bit easier. It was definitely still the hardest day but it wasn't anywhere near as difficult as the last two times I've been in South America. Everyone had a bit of a let-off in a way.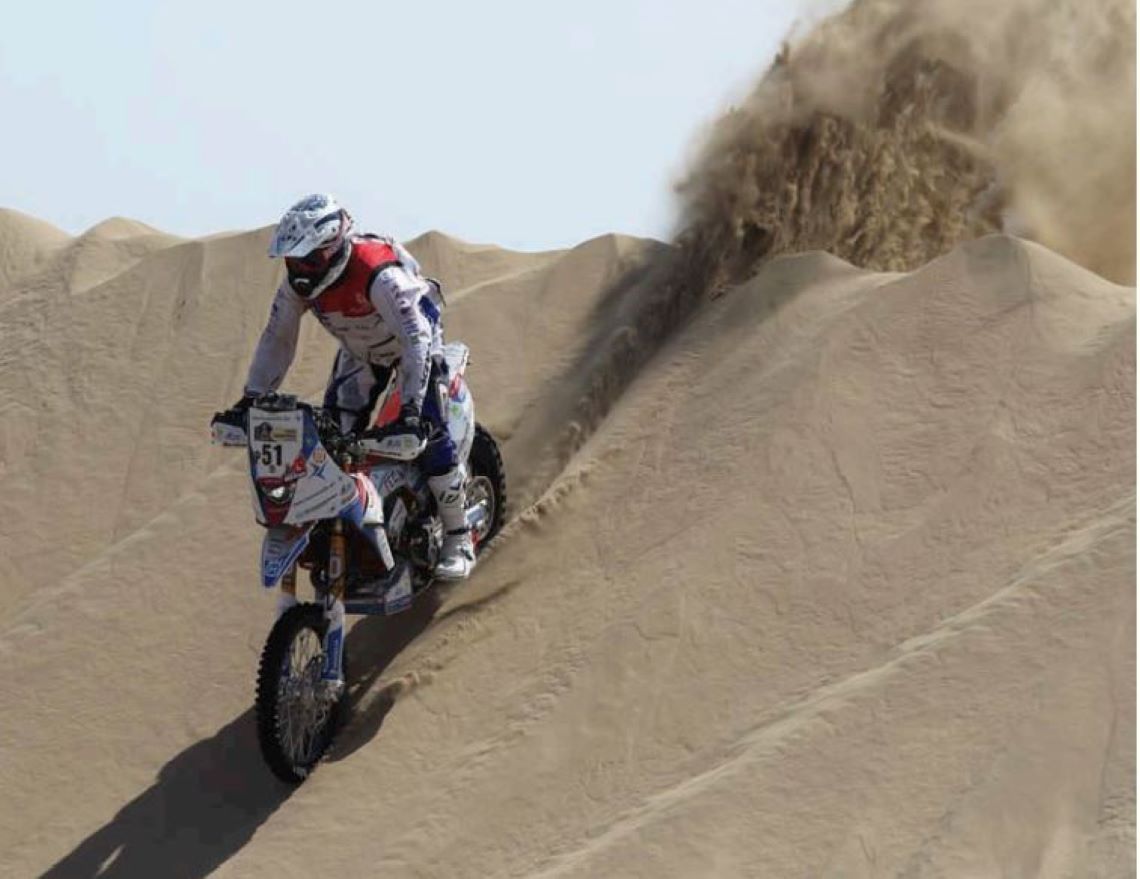 Any wake-up calls on the ride? I dunno if you saw it on the telly, but there was the front end of the field of bikes and they all got through [Fiambala] fine, then there was this massive flash flood and the last 20 bikes and all the cars couldn't get through. Half the cars literally got washed away in this flash flood. They were telling us about it in the bivouac and no one knew [what had happened], then I got back [to the UK] and watched it on the telly and thought, 'My God! That's pretty scary, glad I wasn't there,' but I was! I just didn't know it. Sometimes you're in your own little bubble and you don't really know what's going on in the warzone around you.
Which leg did you enjoy most? Probably the day that was a marathon stage when we first crossed from Chile into Argentina. That was the most beautiful day. The riding was the most fun, it was the most technical and the special stage was really twisty, just a small track through the mountains with lots of corners and changes in direction. It was all at altitude and it's the first time we've had a stage that's all over 3,000m.
Did you do an pre-trip preparation for riding at altitude? No, not at all, and that's another reason why I enjoyed that day, because I think everyone was a bit worried about how they'd get on physically racing at that altitude. Yeah, I was puffing and panting all day, but I felt good and I enjoyed it.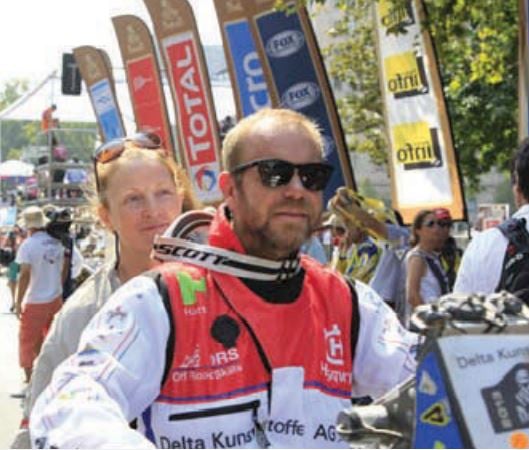 Any other highlights? The special stage was fun and then after the special stage we had a liaison, which was really long, I can't remember how long now, maybe 250 miles, but y'know a long, long run. Quite often a liaison is just a tarmac road, but in this case only the bikes did this liaison and it was a really, really small dirt road almost like a footpath over this mountain pass, which went to 5,300m in the snowline and it rained and hailed – it sounds horrible, doesn't it!? But it was really, really beautiful and there were so many changes of scenery. It's a place I suppose you don't often get the chance to go and because it was liaison and not racing at this stage there was time to look around a little bit – not much – but a little bit, and to enjoy it. Then, because it was the marathon stage, we arrived in this tiny little village and we all got given some crazy Peruvian clothes to wear. There were loads of men walking around this basketball stadium in ponchos. It was very strange!
Did you bring your poncho back with you? I did, yeah!
You took the Husqvarna TE 449; how did the bike perform? The bike was one of the things that made it easy for me this year; it was perfect and we had no real problems. It's just such an easy bike to ride, everything was spot on with that, and with our whole team in fact. For a privateer team we kind of got everything right. We had a great set-up, everyone did their job, which made my life easy really, which was pretty amazing. Today, though, I'm riding my BMW R 1200.
This was your ninth Dakar, any plans to make next year your 10th? Yeah, it's probably a bit early to say at the moment in all honesty. We're putting some plans together, but it's such a big project it's hard to know if we'll do it.
You said this year's Dakar almost went too well. Do you think there's any danger of it becoming too easy for you? I don't think so. I'm probably down-playing it a bit too much. There's no question, it's still the hardest event of any event you can do, there' no doubt about that. But it always depends a little bit on what happens to you; I know other people this year who had crazy stories and hard times, but my Dakar this year, for me, everything went well, which made it easier. I've got another colleague from Portugal who had a great story about having a problem with his bike and finding a local and borrowing this little 200cc thing to ride out of the desert and get some parts to bring back, so it kind of always depends on what happens in your race.
So it's an unpredictable beast? Yeah exactly! And that's what makes it such a great race. You know all that stuff can still happen; it's not like being in a circuit race. You're still out in the desert and if everything goes well, fantastic! And for me, what happened this year is kind of what I've always dreamed about; having a smooth run. I've never had a smooth run before and now I'm complaining about it!
You've also been keeping busy at your Off-Road Skills School, which reopened for training in March. What do you have planned at the school for 2013? Yeah, I had a pretty busy start to the year really. I came back from Dakar and I was only back [in the UK] a week I think before I went over to Morocco to ride the new BMW 1200 GS, which was work,  apparently. It was fantastic. I got to do about 2,000 miles, I love [the bike] it's really, really good. And then the following week I came back and did the first Off-Road Skills School of the year in quite cool temperatures. We're getting into the swing of it now, running Off-Road Schools Thursday through to Monday and we've had a busy start to the season with lots of bookings.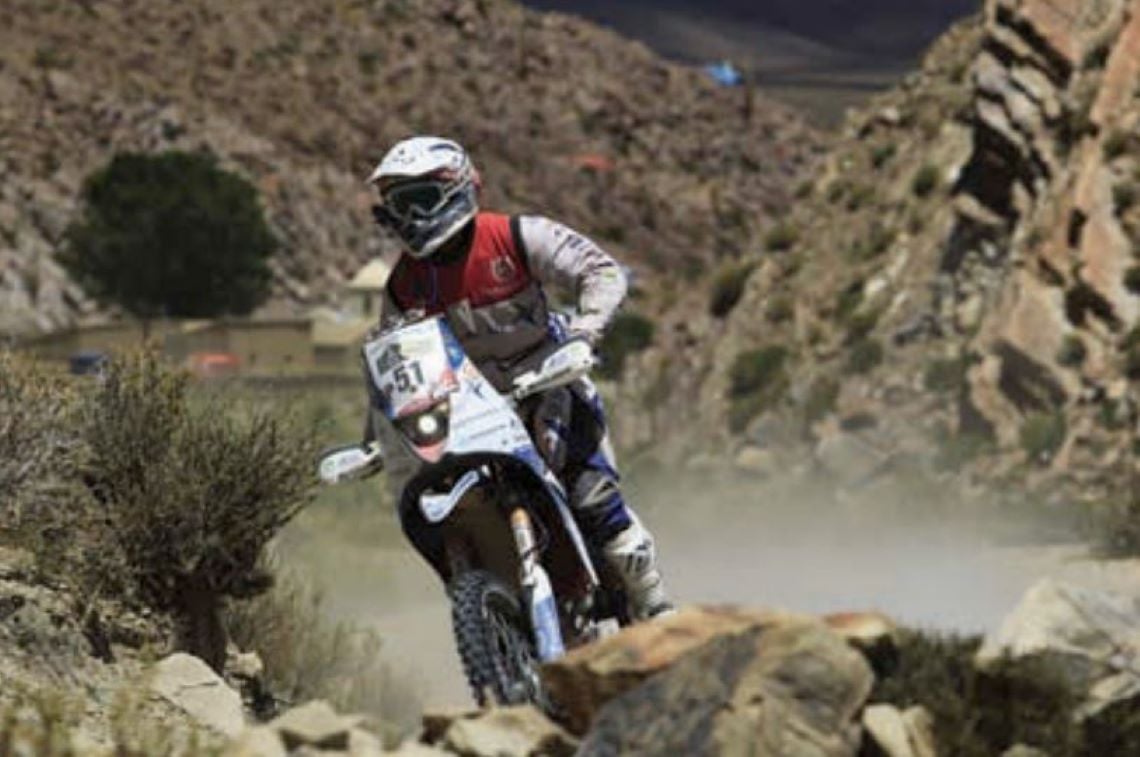 You're also running an Off-Road Skills trip to Australia? Yeah, which amazingly is sold out! But I think we might be doing something similar again next year. We'll see. The other thing we do every year is a five-day trip in Portugal on the Algarve, which is already booking fast for next year. It's a little hidden gem of Europe actually. Everyone thinks of going to Morocco or more exotic places, but this is a real hidden treasure and probably one of the best places I've ridden in the world. It's always about 17-20 [degrees] when we go, so it's great for getting rid of those winter blues, and the riding down there and the countryside is fabulous. It's a fantastic trip; it's my favourite thing we do every year.
Whereabouts in Oz are you going? Flinders Ranges in Southern Australia. We picked there for the first trip because it's what I like to think of as stereotypical outback Australia and what we wanted to show people. Lots of big red roads and dirt. It's desert, but not dune desert, it's kind of stony desert and really, really old like Australia can be. It's ancient country.
Will the trip follow the same programme and teaching system as your school in Wales? There's two parts. We'll be doing our usual two-day Off-Road Skill School out there and then there's a five-day tour, all using the GS range.
What's your favourite kind of riding over there? I like mountains. Mountains are always good. There are always lots of corners on mountains and I like going uphill.
Any plans to move back to Oz yourself? Nah! Definitely not! Far too many spiders out there for me.
Keep up to date with Simon at www.simonpavey.com and see details of his Off-Road Skills School at www.offroadskills.com