ABR Lois Pryce needs little introduction. Having ridden the length of Africa and the Americas solo, she has two books under her belt, a new DVD out, and a film festival in the pipeline – but did you know she's also hot stuff on the banjo? Be prepared to be enlightened…
What inspired you to first get on a motorcycle and when was that? I learned to ride about 10 years ago, when I was in my late twenties. I had always thought motorcycles looked like fun – I was right!
Tell us about your first ever bike My first bike was a 1959 BSA Bantam – that was an education! It only ran a couple of times before I traded it in for a bigger BSA.
You've got a soft spot for vintage Brit bikes; what is it about them that makes you tick? I've always been into old 50 and 60's vintage stuff – music, clothes, design, etc, so a classic Brit bike was what I lusted after when I was learning to ride. I still love vintage bikes – it's the noise, the smell – the clunky analogue charm that appeals. Riding and owning one is a commitment and therefore a very rewarding experience.
What would be your ultimate fantasy bike to own and ride? I already own it! A 1978 Yamaha XT500. It was an impulsive eBay purchase that I bought with the advance from my first book as a wedding present to myself!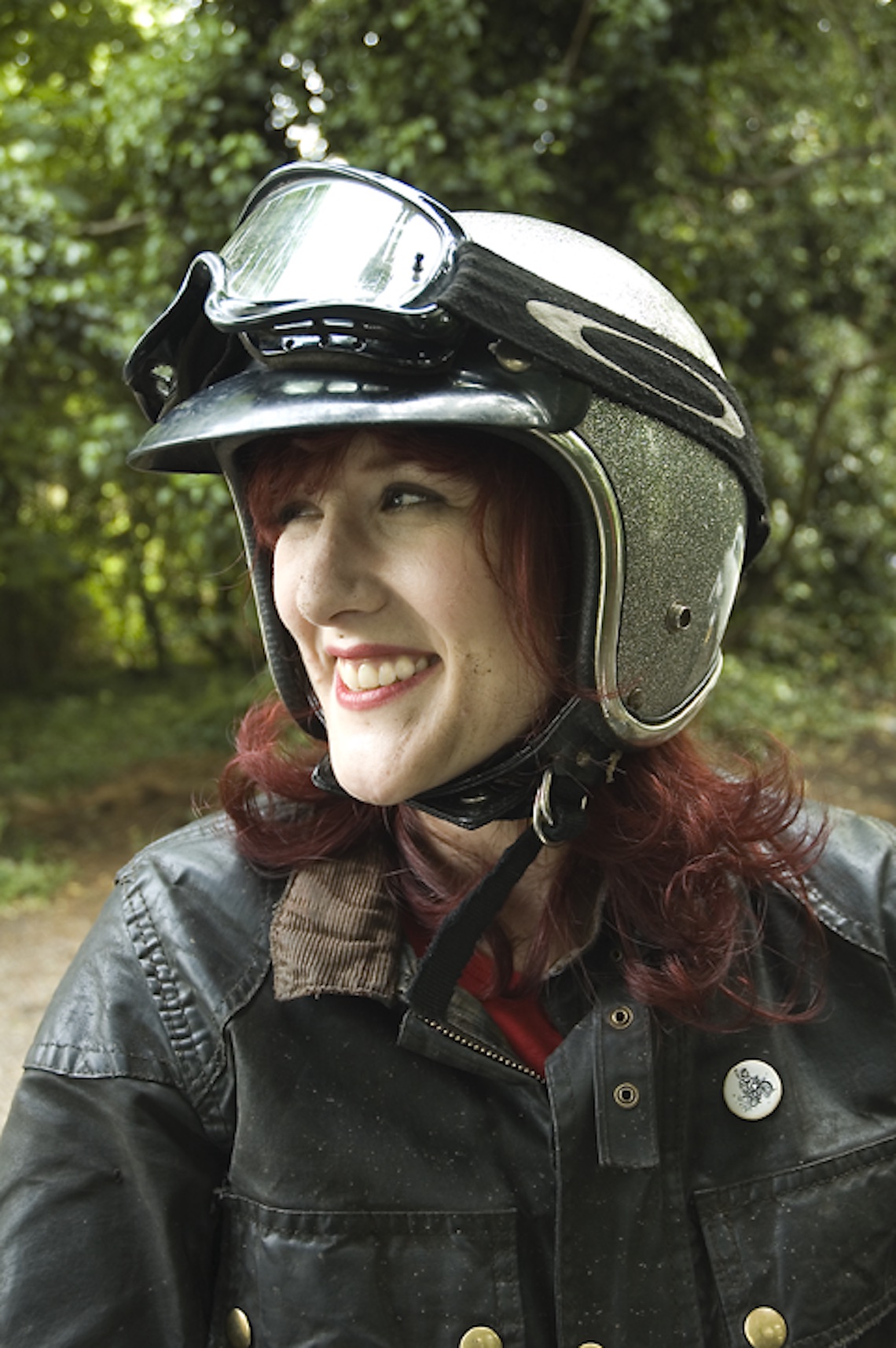 What was the inspiration behind your Alaska to Argentina trip? A boring office job!
What were you doing before you made adventuring your life? I worked in the music industry and was at the BBC before I left on my first trip.
Any regrets on changing jobs!? Oh, no!
How did friends and relatives react when you told them your travel plans? They were pretty supportive about the whole thing – I think my mum had given up on telling me what to do years ago.
Besides adventuring, you've written two books and have a new DVD out. Tell us a bit about them One of the best things that came out of my first trip was that I found a new career as a writer and since then I've written my two books Lois on the Loose and Red Tape and White Knuckles which have been published all over the world, and I continue to write on a freelance basis for various magazines here and in the USA. A couple of years ago, Grant and Susan Johnson of Horizons Unlimited asked me if I'd like to script and present a DVD in their Achievable Dream series, aimed at women riders. It's called Ladies on the Loose (of course!) and it was a fantastic experience to interview all these incredible women motorcyclists and to hear their stories and advice. It was great fun to make and hopefully it's great fun to watch too.
What's your favourite memory from that first trip? Entering Mexico from the USA was one of the most exciting moments of my life – that was when I felt the adventure really started.
Why did you choose Africa for your next adventure? To me, Africa represents the ultimate motorcycling adventure – especially the crossing of the Sahara and riding through the Congo and Angola.
What was your favourite experience in Africa? Riding in the Sahara in Algeria and Niger was the greatest motorcycling experience of my life – ever!
Anything you would do differently if you made the trip again? I wouldn't stop at Cape Town – I would ride home up the east side of Africa.
What's the most invaluable lesson you've learnt on the road? That everything works out OK in the end.
What's been your biggest challenge on the road? Not putting on weight.
What do you miss most when you're on the road? A decent cup of tea.
What's your most indulgent luxury? Too many books – I live in fear of running out of reading material.
Who would you take as pillion RTW? I wouldn't – I'd encourage them to learn to ride their own bike – much more satisfying!
What's your number one piece of advice for would-be bike adventurers? Don't listen to the naysayers – everything is possible.
Of all the places you've visited so far, is there anywhere you'd like to move to permanently? I would certainly entertain the idea of living in Argentina, or the west coast of the US.
You've presented to the MoD – tell us about that. What was the presentation, how did it come about and how did it go? The MoD has a women's network for their female employees, and they wanted to book a speaker for their annual meeting. The gist of my presentations is that I'm a normal person, not a super-athlete type, or super-rich, so if I can do a solo unsupported motorcycle trip through Africa and the Americas then anyone can achieve whatever they set their mind to. I hope it did the trick.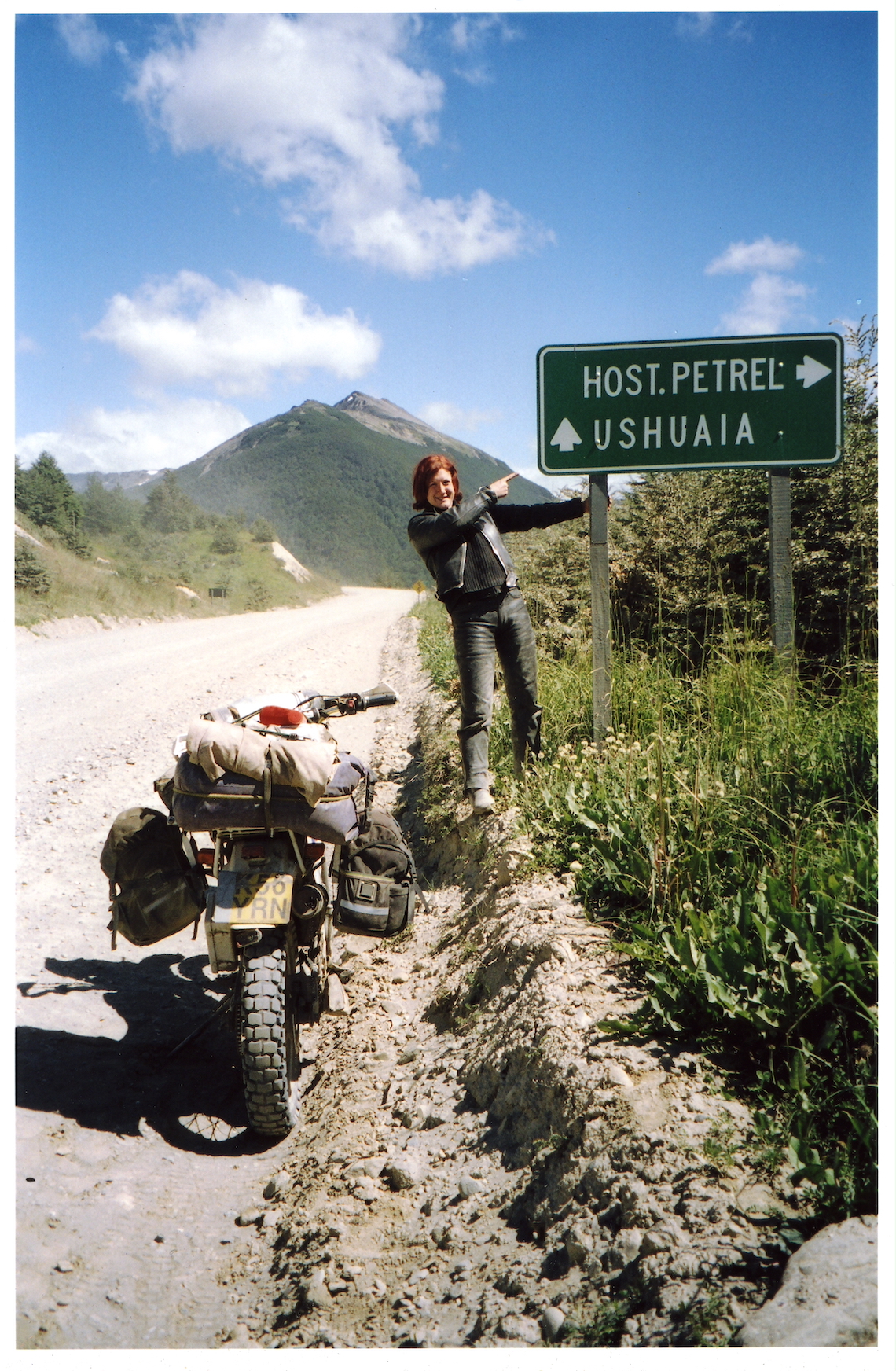 How did you meet husband Austin? Was it love at first bike?! I was introduced to Austin by a mutual friend not long before I left on my first trip – so the timing couldn't have been worse! But we both knew it was The Big One, so when I got back we got engaged and then we were married the next year… then I went off to Africa! He's a very understanding husband. I'm very lucky.
What would be your ultimate fantasy trip if money and time were no objects? The to-do list is long! I really want to go to India and Iran – so that will be the next big ride I think.
Tell us something about yourself that even your biggest fans don't know I play the banjo in the UK's only all-girl bluegrass band, The Jolenes!
What's the Adventure Travel Film Festival? What was the inspiration behind it and what can festival-goers expect? Austin and I were always being sent films of people's adventures, not just motorcycling, but all sorts of amazing trips. It occurred to us that all these incredible films and adventures were never going to make it on to TV or be seen by the general public, so we thought, 'Let's start a film festival!' Since then we've dug up all sorts of brilliant movies from all over the world. Our mission is to show the greatest adventure travel films from the last 80 years and to encourage new film-makers to make movies of their trips – all while having a good ol' knees-up in beautiful North Devon. There's been a fantastic reception to the idea. It's very exciting!
What are you most looking forward to at the festival? Meeting everyone and watching Cycles South on the big screen – it's a super-rare film from 1971 of three guys riding from Colorado to Panama and includes what is probably cinema's only nude motocross scene!
In case we bump into you in the beer tent, what's your tipple of choice? Seeing as it's in Devon, I'll have a pint of zyder, please!
The Adventure Travel Film Festival is taking place 3-5 June, 2011, at Knapp House Activity Centre, Appledore, Devon. For more information, and to book tickets from £35, see www.adventuretravelfilmfestival.com
Lois is the author of two books, Lois on the Loose £7.19, and Red Tape and White Knuckles £6.99, both are available to at www.loisontheloose.com. Her new DVD Ladies on the Loose is part of Horizons Unlimited's Achievable Dream series and is available from www.horizonsunlimited.com priced $24. 99 (£15.60)