Having completed two unsupported overland missions to Magadan, ABR and Maths teacher Austin Vince is here to spread the good word of motorcycle travel: anyone can do an RTW – so what are you waiting for?
Tell us about your ­ first ever bike
A hopelessly useless 1980 MZ TS 125. I jazzed it up with a groovy mod paintjob that took me six months to complete.
What would be your ultimate fantasy bike?
1966 BSA Victor á la Je­ Smith.
And what would be your ultimate fantasy trip if money, time and gravity were no objects?
No question – to microlite from London to Cape Town without a passport. To fly covertly at dawn, touchdown on roads, gas up and then hop the next border in the half-light. The trick is to be out of the country before anyone realises you've arrived.
Mondo happened in 1995 – over 15 years ago – and Terra in 2001, yet tales of your adventures are as popular as ever. Why do you think these voyages have stood the test of time?
Very simple, with Mondo and Terra we did two fairly ordinary trips, but we did a pretty good job on the films. When Long Way Round copied them and went into the field of vision of millions of motorcyclists it was only a matter of time before people started to find out where they'd got the idea from. Almost everyone sees the films LWR and then Mondo Enduro in that order. Naturally, our films represent ordinary people 'having a go' and without much money or knowledge, pulling it off. The message, in the commentary, on both Terra Circa and Mondo Enduro is: "we're just ordinary chaps, if we can do this, then anyone can". The McGregor/Boorman productions aren't like that, actually, quite the opposite, ie these big trips can only be achieved with massive amounts of 'training', expert in-country support and obviously, a huge budget. As a maths teacher I have learned one thing: people respond better to encouragement rather than "don't try this yourself." My message to readers in the adventure motorcycling community is: "A long distance motorcycle trip, outside of your comfort zone, will probably be a defining experience in your life. It's miles cheaper, easier and safer than the celebrities and the tour operators want you to think it is. Do a big trip, come back and encourage someone else to do theirs. Remember the kindness shown to you by strangers, then pass kindness on in your world thereafter. Simple."
For readers who are yet to be enlightened, what's the Zilov Gap and why's it called that?
Now plugged, until recently, it was the 400-mile break in the Trans-Siberian Highway. I coined the name 'Zilov Gap' back in August '95 when we were struggling through it and we arrived, exhausted, at a tiny community called Arsenio-Zilov. Naturally, the name was an echo of Panama's Darien Gap.
You've tackled the Zilov Gap twice – any tips or advice for how to go at it?
It's a dirt bike challenge. Only a superman could do it on a GS, KTM 990, Triumph XC900. Those are all street bikes. A 400cc trail bike, knobbly tyres, minimum luggage and a quiet tolerance of being wet up to the waist every day. Once again, pretty much any able-bodied adult could manage it. However, as LWR demonstrated, it's much easier on the train.
At a ted Simon talk in Coventry he couldn't bring himself to mention Charley Boorman's name – can you?
Certainly.
You undertook both Mondo Enduro and Trerra Cerca with your brother Gerald in the pack, what are the pros and cons of riding with family?
Gerald's energy and vision created Mondo Enduro – good thing. His 'lone wolf' approach to riding in convoy made for several roadside filial altercations! – bad thing.
What's your most indulgent luxury on the road?
A 12v air pump.
Roadside USA saw you hitch-hiking the states and interviewing the people who picked you up – who was your favourite interviewee and why?
Daniel picked us up in Las Cruces, New Mexico. He had 30 years' service as a flight technician officer in the USAF. His story of how, once horribly injured by a heavy lifting accident, he prayed to Jesus Christ and was healed almost immediately, was a story that was all at once utterly implausible and clearly by Daniel's recounting, totally true. It was exactly why we travel (and hitch-hike!), it caused me to question my own reality.
If you could take anyone dead or alive for a beer, who would you take and why?
Obviously, God.
Tell us something about yourself that even your biggest fans don't know.
I write theme tunes for TV shows and adverts. Sony Playstation? Danone yoghurt? That's me!
What would be your theme music?
Ennio Morriconne's theme tune to the killer 1969 western The Five Man Army. Totally underrated and weirdly, it never appears on Morriconne greatest hits comps. It's 100 percent the track that loops in my head when I am on the road.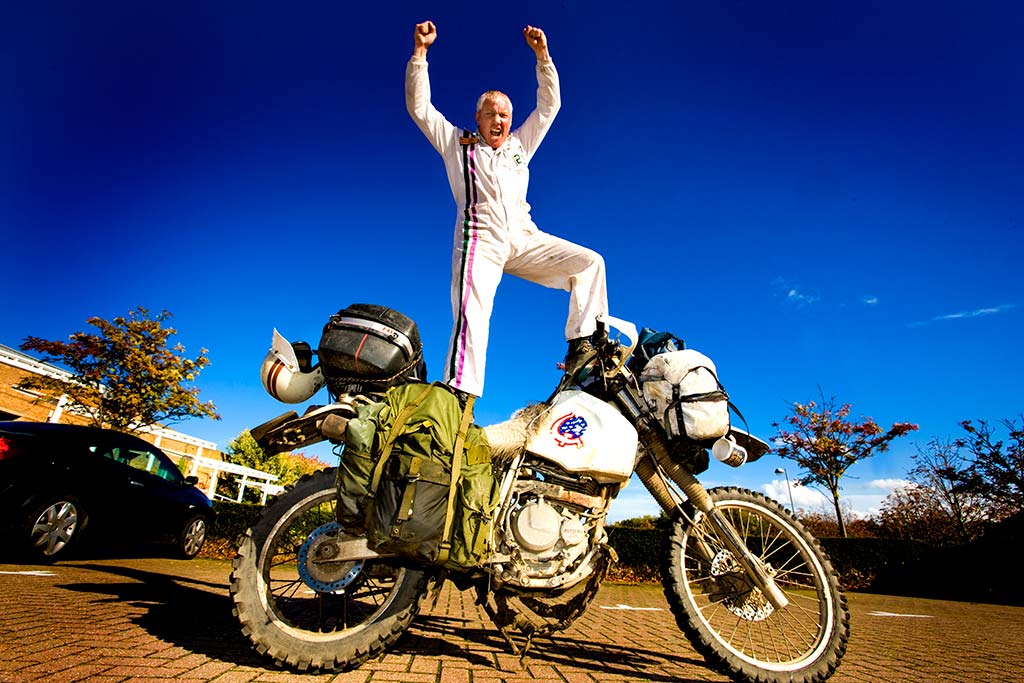 Who's your motorcycle hero and why?
Chris Scott, Maciek Swinarski, Lois Pryce. Don't make me choose.
Fellow ABR and good lady wife Lois disclosed her musical talents to us last issue – what are your hidden talents?
I am very knowledgeable on Victorian water supply and public health/sewage treatment projects. I am planning to write a book called the History of Industrial Chemistry and I would say that I have a better knowledge of the trails in the Catalan Pyrenees than any other Englishman.
Have you and Lois ever considered riding round the world in opposite directions and meeting up at a prearranged point?
No way, I want to spend every second of the day with her!
You have a very unique style – where did the jumpsuit-look come from and who are your style icons?
The striped overalls are copied directly from a scene in the 1971 film Little Fauss and Big Halsy. Robert Redford wears a pair of navy overalls with two one-inch yellow stripes. The second I saw them I wanted some. Upon discovering that they couldn't be bought I started making my own. Style-wise, I spent the ages 16–32 trying to dress as if I was a troubled teen on Sunset Strip summer '66. Any garage band from that time was wearing the greatest clothes ever cut. Cuban heeled boots, broad check drainpipes, four-inch button-down shirt, knitted tie and four button tweed jacket – men have never looked so cool.
Is it true you customise retro overalls for sale? How can ABRs get their hands on a pair?
I have made up about thirty pairs for various clients. They are expensive because they are assembled by me in slow time. I have a pretty amazing collection of 1970's patches which I co-ordinate with the colours of the overalls and the stripes. Add on custom embroidery and you've got a garment that is a total one-off. That's what people pay for. I would love people to do it themselves though! If you want some – www.mondoenduro.com
You collect continental food packages, too – what the appeal there?
Mid-60s graphic design. Same as Italian film posters 1965-71; blissfully perfect – no question.
You can only eat one thing for the rest of your life – what is it?
Cheeseburgers.
Ninja or cowboy?
Cowboy, called Sartana or Django, something like that..
What other exciting projects have you got in the pipeline?
I have just signed a contract making me the new face of BMW/Touratech. It's a perfect ­fit.
Where's your next adventure?
Attending our Adventure Travel Film Festivals in Australia and the USA. The important thing is not for me to be constantly travelling. My life will only have been validated if I encouraged 1,000 people to travel who might not otherwise.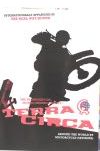 The full story of Austin and co's 1995 Mondo Enduro adventure is available in book format (published by Whitehorse Press, £19.99) and DVD (£19) at www.mondoenduro.com. Also available to buy online on DVD are Terra Crica, Austin's 2001 RTW, and hitch-hiking adventure Roadside USA, both £19.