Grant and Susan Johnson of Horizons Unlimited have been travelling the world for 24 years. After selling everything they owned in 1987, they loaded up their then-new BMW R80G/S and began an epic adventure which has seen them cover over 50 countries, 150,000km and experience things they never thought possible…
Of all the places you've visited so far, which has been the most welcoming?
Malawi was great, very welcoming and one of our favourite countries. In general, the further off the beaten path you go the friendlier people are. Tourist routes are best avoided.
What's been the most surprising encounter so far?
Libya. We went there in 1997 during the height of the sanctions, expecting a horrible place full of terrorists. We had to go through Libya because of the logistics from Tunisia to Egypt – any other route would have been very difficult – but we weren't expecting to enjoy the experience. Getting the initial permits to enter Libya was a pain and we had to be escorted through the country because we are Canadian. But the people we met were amazingly friendly and welcoming, probably because they get so few tourists there.
Do you ever regret your decision to pack up and ride off into the unknown?
Not a chance – it's probably the best decision we've ever made. It really has changed our lives, and without a doubt for the better.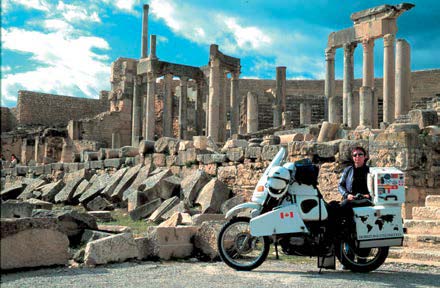 Where do you think of as home?
That's a really hard one – I guess that 'home' is still Vancouver, but we often feel more 'at home' in the UK. In the past 20 years, we've only lived about three years in Canada, whereas we've been almost 10 in the UK; five in Australia, plus we've lived in Singapore and the USA. We think ourselves as 'world citizens'.
What do you miss most when you're on the road?
Not packing up every day! That's why we only travel five days a week maximum.
Besides the bike, what's your most valued travel possession?
An electric vest.
What's your most indulgent luxury?
We used to think it was our two laptops, but now we consider them a necessity.
What was the inspiration for www.horizonsunlimited.com?
I wouldn't call it inspiration – it was just supposed to be the story of our trip on the then-new internet. But people kept emailing us questions and wanted to make contact. After the first few times you tell your travel stories and show your pics, your family and friends just aren't interested any more. You discover you have more in common with fellow travellers you meet along the way than you do with people you've known for years, so we looked for ways that we could reach out and reconnect with those travellers, and share our knowledge and experience with people who were interested. We started the HUBB back in 1999, then in December 1999 we published the first e-zine, featuring travellers on the road who'd written to us from internet cafes all over the world. We recently published the 85th edition. The e-zine goes out about nine times a year to over 7,000 subscribers, and if you printed it out, it would be over 50 pages of text and pics. There are lots of people out there travelling!
How many members does the site have now?
There are approximately 25,000 registered users on the HUBB, plus many more who just read the site without registering. We'll often have 40 registered people on the HUBB at one time, plus 300 or more guests who're looking and reading.
How do you feel about its amazing success?
Awed – I'm often blown away when someone writes and says, "You changed my life, thank you!"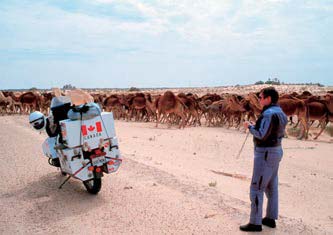 Grant, your BMW literally fell into your path off the back of a lorry when you were looking for an RTW bike – do you believe in fate?
Nope – you make your own. There will always be opportunities – it's up to you what you make of them. Too often people say, "Oh no, I can't do that".
How's it holding up after 24 years on the road!?
We left in 1987 and we're still riding the same bike. It's in need of some serious TLC, but it's otherwise good for a long time yet. Not to say I'm not lusting after something newer and faster!
What's been your biggest challenge on the road so far?
Packing – you never have enough room for whatever amount of stuff you're taking, and if you stay in one place for a few days, it all expands and packing in the morning seems impossible.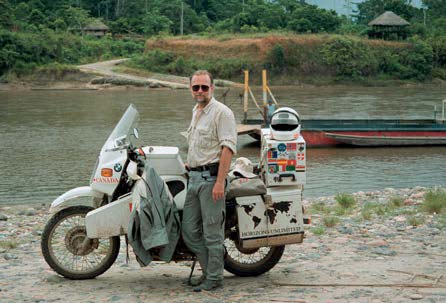 What's the toughest lesson you've learnt while travelling?
Patience. Getting mad only makes it worse – you lose everything when you lose your cool. The only way to survive the bureaucracy of borders and officials is to just relax, and treat it all as if it's the most exciting thing to happen all day. It's always interesting to see what strange new procedures they'll come up with to entertain you.
What are the advantages of riding two-up over taking two separate bikes on a trip?
Shipping and maintenance is much cheaper. We also use an intercom, so communication between us is great.
What do you guys argue about?
Everything! And then we make a decision that we're both OK with and go with that.
What's the secret to touring as a team?
Communication and shared goals. If she wants to see museums and he wants to put in lots of miles, compromising can be hard but necessary. Too many people focus on the trip as something to be conquered, rather than a journey to be savoured, creating lasting memories.
Are there any stereotypes or misconceptions of places or people you'd like to counter from first-hand experience?
People are just people – they're basically the same everywhere. We've found that the poorer people are, the more generous, friendly and willing they are to help.
If you could each eat just one dish from one of the places you've visited for the rest of your life, what would you choose and why?
Grant: New Zealand pavlova. There's nothing like it anywhere in the world. Absolutely the most delicious thing I've ever eaten. Susan: Tunisian tagine (stew) is wonderful, and it always brings back memories of North Africa whenever I taste it.
Grant, you're a road racing and motocross national champion, a gold medallist cross-country motorcycle racer a sailboat racer, scuba diver and expert skier. Is there anything you haven't tried your hand at yet that you'd like to have a go at?
Hang gliding and sky diving! Para-sailing is cool, too. I've only done it once, but it would be good to have the chance to do some more.
Do you ever see yourselves settling down in the traditional sense, ie buying a house etc?
Been there, done that, but you can always sell it – as we've proven! Nothing is written in stone anymore…
What's your number one piece of advice for would-be bike adventurers?
Stop messing about and over-planning – get a bike, any bike, and just go! You'll figure the rest out along the way. Of course, the resources on the HUBB and our DVD series will be a huge help in reducing the fear factor!
Grant and Susan's how-to DVD series The Achievable Dream is available to buy online. DVDs are individually priced from $24.99 (£15.90 ) or the complete boxed set of five DVDs is $158.95 (£101). The series covers all aspects of prepping for a long-distance motorcycle journey, from carnets to tyre-changing and essential gear. See www.horizonsunlimited.com.
Photos: Grant and Susan Johnson