The days are shorter and there's a chill in the air, but for the hardened ABR, the fun doesn't stop when the sun disappears. Simon Rice checks out the Estrella de Javalambre rally in the Siestas Iberico, central Spain
The Estrella de Javalambre is inspired by the famous Italian Stella Alpina Rally. Instead of attaining high mountain passes, though, riders head for the summit of the Pico de Javalambre, 20 miles south of Teruel. At 2,020m, the Pico stands head and shoulders above the surrounding sierras of the Sistema Iberico, central Spain.
The rally was founded in 1986 by a local club from Utiel, Valencia, but is now run by members of the much larger Moto Club Zona Estival from Salou and takes place annually around the last week of January. It would be a mistake to think of the Estrella as Spain's equivalent to the Stella – even the organisers wouldn't claim that. It is, however, fairly typical of a Spanish rally, being very much a local affair, integrated into the local community.
Events like this are big things in villages like Manner where life in the winter can be monotonously dull, and although the Estrella isn't an 'adventure' rally as such, it's certainly an adventure of sorts getting there. When fellow ABR Ed T, aka Ramón, suggested joining him at the 2012 event, it was too tempting a challenge to refuse!
The ride to Barcelona
The route from my base in the Pyrenees to the Javalambre took me through the Maestrazgo. This mountain range, located inland of Castellón in Valencia, is one of Spain's hidden wonders. Packed with surprises, dramatic gorges and ravines, tortuous mountain passes and hidden valleys, life is tough for the inhabitants of its isolated villages, as well in the desolate mountain farmsteads on the high plateau.
My first obstacle, however, was crossing the Ebro Depression, which had been full of thick, freezing fog for over a week now. I also had to take into account the short daylight hours to cover some 300-odd miles before making camp in seriously sub-zero temperatures. Spain's continental climate means it suffers severely cold winters and once over the coastal sierras you can forget all the holiday brochure stuff. Luckily I was able to split this stage of the trip into two legs, stopping overnight in the city of Tarragona, just down the coast from Barcelona. This detour took me away from the Ebro and along the sierras of the Alt Penedés region – cava country!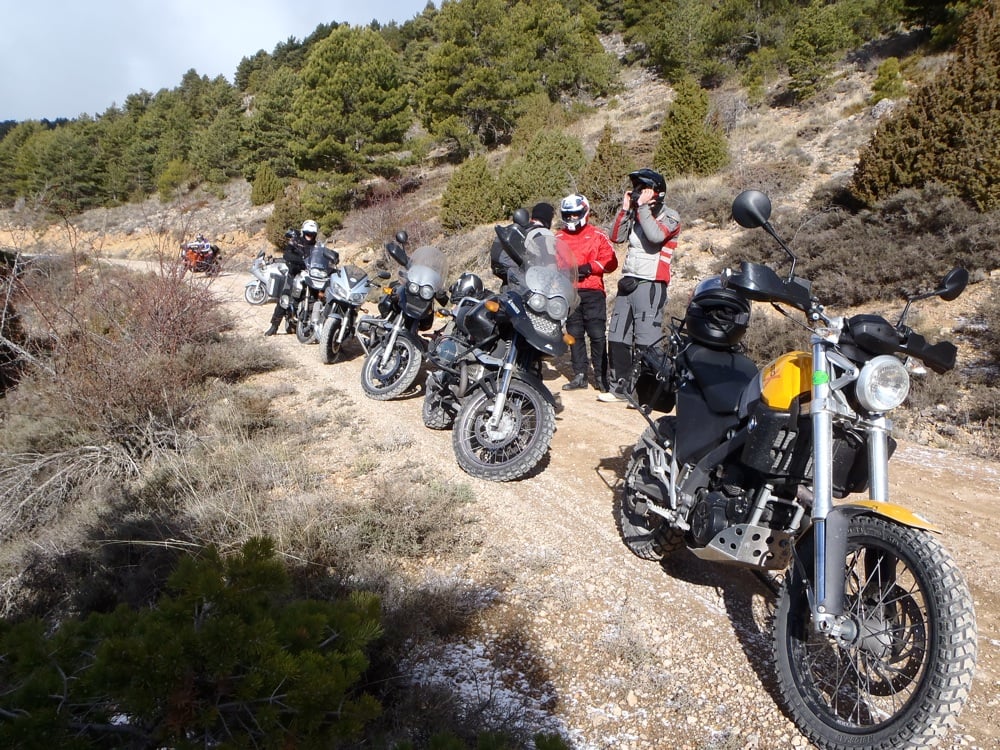 I joined the delightful C37 Igualada to Valls road about halfway along having kept to the rolling, open downlands of the Segarra district to the west and avoiding the foggy Ebro Depression altogether. The C37 has got to be in my Top 10 list of best rides. As you wind down the deeply wooded valley with the road twisting and turning among cliffs and bluffs, it's hard to imagine that the urban sprawl of Barcelona's huge conurbation begins just over the ridge.
Horses for courses
Riding inland from Tarragona along the N 420 as far as Gandesa, the bike was quite happy bumbling along at 65mph with plenty of oomph to spare for overtaking or those long, long ascents. It's also a handy cruising speed for keeping the carnet free of all those nasty penalty points; it pays to scrupulous with the gee-gees on the Nacional highways.
The best of Spain's roads, however, are on the secondary routes. This is the way to explore the real Spain and where the X- Country comes into its own. From Gandesa I spun off south through the Els Ports mountains. Here the secondary roads are typical of the breed; excellent modern surfaces on ancient roadways that closely follow the contours of the landscape, hills, bends, dips and all. They're also largely traffic free, save for the odd tractor or little white van with a pig in the back, and, in the real backwoods of the deep interior and the southern regions, tiny donkeys towing huge carts. It's no exaggeration to say that I often ride for hours without running up to another vehicle.
My route along the back of the Els Ports Reserva Nacional went past Horta de Sant Joan, made famous by Picasso's sojourn there during his first bout of artistic genius, and the pretty market town of Valderrobres, before making another jump in altitude towards Monroyo, the 'gateway' to El Mastrazgo. The Mastrazgo is a huge structure –'massif' is certainly the right word – consisting of hard rocks like dolomite and limestone. The Guadaloupe River rises here and the whole area is listed in the European Geoparks Network. What this means for the passing biker are open roads with vast panoramic views interspersed with sudden, hair-raising, switchback descents into valleys, each with its own tightly packed little communities.
Usually when I take the east-west route from Morella to Teruel via the beautifully named Cantavieja ('Old Song'), I find myself wishing for a big Ducati – or even a little one, the X-Country can't do everything. But the Pico de Javalambre is well south of Teruel so this time I took an even more obscure route, new to me, through Vilafranca and Rubielos de Mora, passing over the puertos of Mosqueruela (1,475m) and Linares (1,659m) where the wind nearly had me off the bike at every turn. From these high vantage points the Mastrazgo just seems to go on forever, trails disappearing over the horizon in every direction, but my destination beckoned and after crouching behind a typically hideous monument I motored on, panicking about fuel as usual.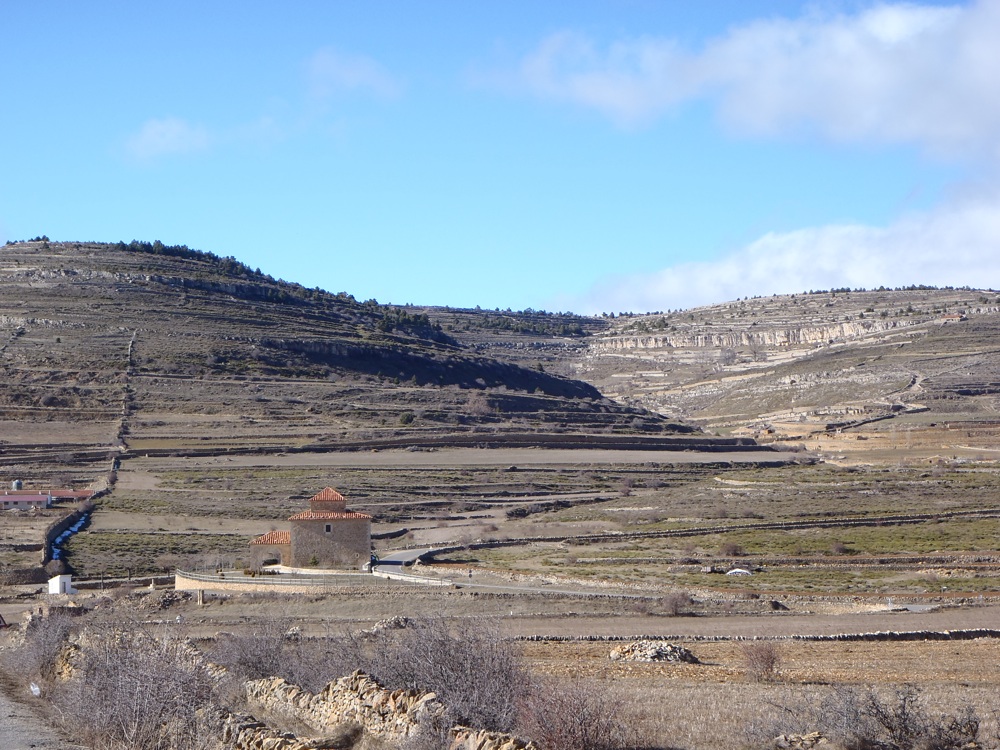 Cold comfort
It's axiomatic that bikers are born to suffer – getting cold and wet is part of the fun. To cope with camping in extreme cold at the rally, I'd planned to put a lightweight sleeping bag inside a three-season one and just accept the pain. Did I mention that Teruel is notoriously the coldest part of Spain!?
Ed T and his mates in Club Maxi-trail, the Spanish club-cum-forum that I inevitably found myself joining, were all set to camp, too. The week before the rally, however, it had snowed buckets, so I was relieved when one of the club members, Sir Vindaloo, decided to hire a cottage for us all to stay instead. Apart from having innate good manners, Spanish people can't bear to think that someone should feel excluded – no place for Anglo-Saxon reserve here! So, like any lone biker at a Spanish rally, I was quickly 'adopted' and joined in the fun.
There were in fact only about four tents pitched at the campsite when we arrived for registration on the Saturday afternoon, so I was very lucky indeed to be included in Sir Vindaloo's cottage initiative, especially as by morning the temperature was -12oC with a wind-chill factor of heaven only knows, so the few dozen riders who did end up camping must have really felt it. The Maxi-trailers came from Madrid, Burgos and Calatayud, and having met for lunch earlier in the day, they arrived mob-handed around 8pm by which time I'd got the fire going and bagged my berth for the night.
After a presentation by two ABRs who'd recently returned from an expedition to Iceland, there was a briefing to attend before a torch-light parade in memory of fallen riders, so it was after midnight before we settled down to eat an impromptu supper of local specialities, brought from our respective regions of Spain. There were hams, cured sausage, cheeses and some very special home- made orujo – a hooch made from distilled grape pips. It would be a mistake to come to Spain looking for a booze-up; people drink plenty, but little-and-often is the rule. It's not unusual to see bikers drinking wine or beer with breakfast before riding out. This is still a culture-shock for me, despite all the years I've lived here.
The only way is…
The briefing had revealed bad news – drifting snow blocked access to the summit itself so we'd have just six miles of trail to ride up to a reserve meeting place at 1,535m where we could park up, collect our Estrellas (stars), have a coffee and do the usual rally things, like wander around looking at bikes and talking bike talk. After an easy ride up the trail some of the Maxi-trailers wanted to ride on and test the snow hypothesis, but time was passing and we all had long rides home, so the consensus ruled again and we descended for the parting of the ways back at the cottage.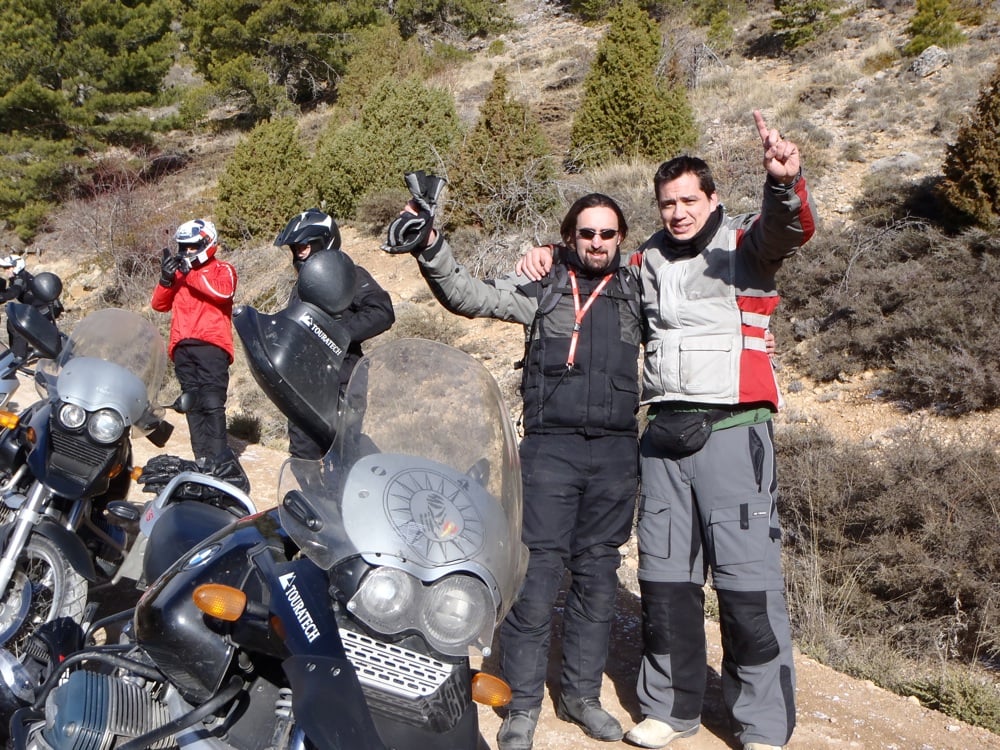 We encountered many more bikes still on the way up. These ranged from adventure bikes through to low riders and chopped trikes by way of tourers, cruisers and even supersports bikes, plus a few classics, of which an immaculate Montesa Impala, celebrating the 50th anniversary of the model launch and perhaps the first true 'adventure bike', was the star turn. Accommodation in the area limits the rally to about 350 participants but at a guess I'd say quite a few more riders living locally had simply joined in on the Sunday. As I said in the beginning, the Estrella is no Stella Alpina, nor is it even the definitive 'must-do' Spanish winter rally; if there is such a thing it's probably Los Pinguinos held in Valladilid north of Madrid, with around 26,000 bikers in attendance. For me, though, the point of any rally is as much about the camaraderie and making new friends as it is about getting a new badge on my panniers, and the Estrella hit all the right buttons there, despite the snow. So, if you dislike crowds, fancy a challenge and getting to meet the friendly locals, perhaps it might be for you, too?
Know your winter rallies!
Grab a heated jacket and get down to one of these
Elephant Rally (Elefantentreffen)
Where: Loh/Thurmansbang, Solld – the middle of the Bavarian Forest, Germany
When: An annual event that happens either the first weekend of February or the last weekend in January. The next event is scheduled for 1-3 February, 2013.
What: Created in 1956 by Ernst Leverkus and organised today by the Federal Association of Motorcycle Riders in Germany, the Elephant is seen as a quiet, traditional rally that on average brings 5,000 riders from all over Europe. As a sign of respect, the rally traditionally holds an annual torch light procession to remember riders who've lost their lives in the saddle. Riders camp out in conditions that are notoriously tough. Each year, snow is guaranteed with temperatures dropping to -20C at night.
Top tip? Get a Bavarian beer jacket.
ABR hardcore rating: * * * *
For more information, see www.bvdm.de
Dragon Rally
Where: A secret location somewhere is the mountains of Snowdonia, Wales
When: Hosted annually in February. The next event is scheduled for 9-10 February, 2013
What: Founded by the Conwy and District Motorcycle Club in 1960 as the 'British' equivalent of Germany's Elephant Rally, it is now in its 52nd year. The rally has become something of a motorcycling rite-of-passage and brings together around 1,400 bikers from all over the world. Attendees are given a distinctive dragon badge to commemorate the rally, which over the years have become highly collectable. Another quirk
of the Dragon is that the exact location of the rally remains undisclosed to attendees until the first day of the event.
Top tip? Book early, this rally sells out fast.
ABR hardcore rating: * * *
For more information, see www.conwymcc.co.uk
Primus Rally (Primustreffet)
Where: Velmunden Lake near Bjoneroa – roughly 60 miles from Oslo, Norway
When: An annual rally that takes place during the last weekend of February. Dates for the next event are as yet unconfirmed
What: It's not one for the faint hearted. Temperatures average at -10 to -15 degrees but it's not unusual to see them drop to -30. Attendees must also be completely self-sufficient due to the remote location and the lack of facilities. In comparison with the other winter rallies, it's very small, with only 50 -100 motorbikes attending.
Top tip? Take spiked tyres
ABR hardcore rating: * * * * *
Official contacts are hard to come by due to the size and nature of this rally, but a good contingent of attendees can usually be found on Horizons Unlimited (www.horizonsunlimited.com) or why not form your own ABR Primus 2013 group at www.adventurebikerider.com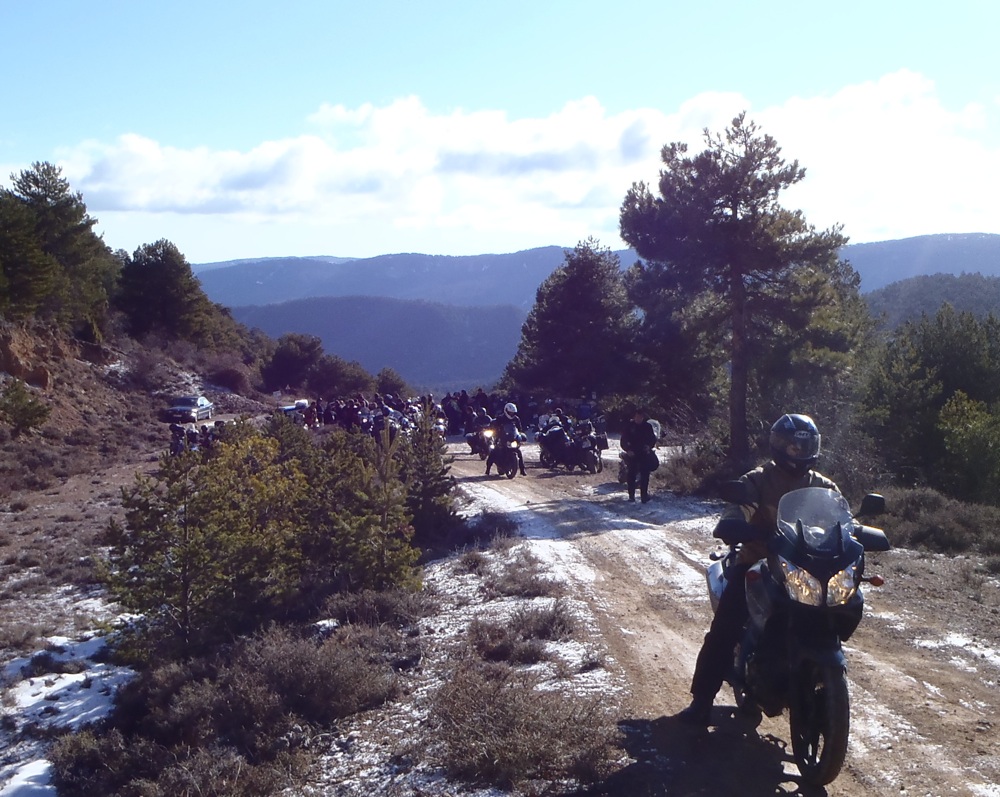 The bike
To my mind the BMW G series 650 cc X bikes had far too short a production life (2007-11) to gain the reputation they certainly deserve. My X-Country was marketed by BMW as a docile 'commuter' bike, surely a death knell to developing any new motorcycle's reputation. In fact it's turned out to be an excellent all-round adventure bike, great for touring as well as trails. OK, I don't go looking for extreme – there's always the awesome X-Challenge for that – but that's not to say that during my trail riding with the X-Country some extreme conditions don't come looking for me!
Who's riding?
Simon Rice, aka The Spanish Biker, has moved to Spain in 1997. He originally began touring the country in the early '80s, but sadly, the crazy biking days of his youth aboard Ducati Desmo singles and a Laverda 750 SF2 gave way to the mortgage and rat race. His return to two wheels was part of a mid-life self-assessment and the BMW G-650 X-Country arrived shortly after in 2009; Simon has never looked back. He is the author of The Spanish Biker, and online blog dedicated to documenting and sharing the best bits about riding in Spain, for more see www.thespanishbiker.wordpress.com.
Pack your winter panniers!
ABR Mike Stevens, retail director of Costwold Outoor, has a BMW R 1150 GS; here are his winter rally essentials
Whether it's the Elephant, The Primus or our very own Dragon Rally, you need to be prepared for sub-zero temperatures. Staying warm both on and off the bike is key to a successful, safe and fun trip, and the best way to do this is by applying the layering principle. Several thin layers of technical fabric are a better, more flexible and comfortable solution than one giant woolly jumper as you can add and remove them as required.
Tent: Vaude Terra Trio 3P, £270
Simply a great tent for the adventure bike riders, with two large entrances and acres of space, it's uber tough and a doddle to pitch with gloves on.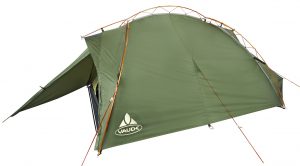 Base layers: Helly Hansen Warm twin pack, £70 (SRP £110) and the Icebreaker Everyday LS Crew, £45
Worn next to the skin, base layers have two jobs: to insulate and wick away moisture from the skin. Base layer products don't have to be skin-tight and several are available in a more relaxed fit for the, ahem, fuller figure.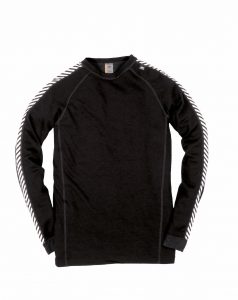 Mid-layers: The North Face 100 Glacier Quarter-zip, £40, and Rab Generator Vest, £90
The mid-layer continues to build up the insulation, a good-quality 100 weight fleece is brilliant for this as it can be worn under a thicker fleece or insulated jacket when off the bike, or underneath your insulated riding gear on the bike, without feeling too bulky or restricting your movements. This fleece and vest combo will keep you toasty without adding bulk.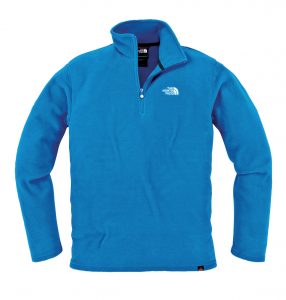 Outer layer: The Marmot Precip, £85
This layer is intended to stop the elements and wind chill reducing your core temperature when sitting around camp or progressively riding on the Autobahns. Hopefully your breathable, waterproof bike gear will do this job for you, but it's worth considering a lightweight, packable waterproof for those chilly evenings.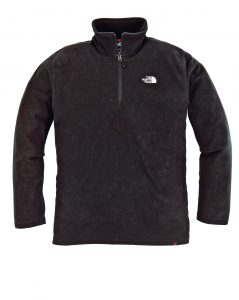 Kip mat: Mountain Equipment Helium 3.8, £49 (SRP £75)
Budget luxury when sleeping in the outdoors, this lightweight mat offers superb pack-size at a reasonable price.
Stove: Jet Boils, from £75
With built-in heat exchangers to improve efficiency, reliable piezo ignition, a compact size and loved by HM forces, these are ideal whether you're looking to get a brew on or heating up a hearty winter stew in double quick time.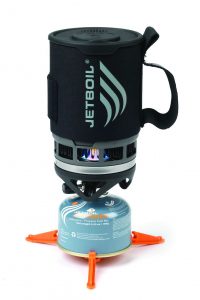 Sleeping bag: Rab Ascent 700, £220
A great four-season down bag providing superb warmth-to-weight ratio that performs well at really low temperatures. This bag also benefits from a wider shape and a wide foot area so it's less restrictive than other mummy-shaped bags. Worried about it getting damp? Don't be. Invest in a dry bag from Exped (from £6.50) or Ortlieb (from £15). In fact, we always recommend taking a few dry bags for your sleeping kit, clothes and valuables.
Luxury item: Hagloffs Bivvy Down Jacket, £180
Pull this on in the evenings as a boosting extra layer or wear it all day under your bike jacket. This lightweight down jacket provides warmth without the bulk associated with other insulated products; it even packs down small, too.