WHILST YOU'RE OUT THAT WAY… BORNEO
Ian Neabauer rides off-road Borneo
Right'o. Follow me, and try to keep up." When you hear these words uttered by a former British Motocross Champion, the smart move would be to give up and go home before you start. But seeing as I was nearly 6,000km from my home in Sydney and had just spent 16 hours flying between three different airports to arrive at this point, going home wasn't an option. Throwing caution to the wind, I kick over my bike – an old but gutsy Yamaha TTR 350 – and set off after my host Bryan Wade through the traffic-choked streets of Kota Kinabalu, the capital of Sabah, one of two states comprising the Malaysian section of the island of Borneo. 
Half an hour later we reach a dingy roadside cafe where Bryan has arranged to meet a dozen or so members of the Penampang Enduro Club. They are mostly well-to-do Malay-Chinese who don't speak much English apart from the mandatory four-letter swear words. There's one member however who speaks it well and very loudly. His name is Emiliano Ceresa, a round-bellied Italian restaurateur riding a KTM 530 EXC. The Austrian marque seems to be the weapon of choice here: there are four riders mounted on KTM 350 EXCs, three mounted on Yamis, one on a locally made Demak 200 and two brave fools riding Kawasaki KLX 150s, essentially, scooters with dirt bike fairings.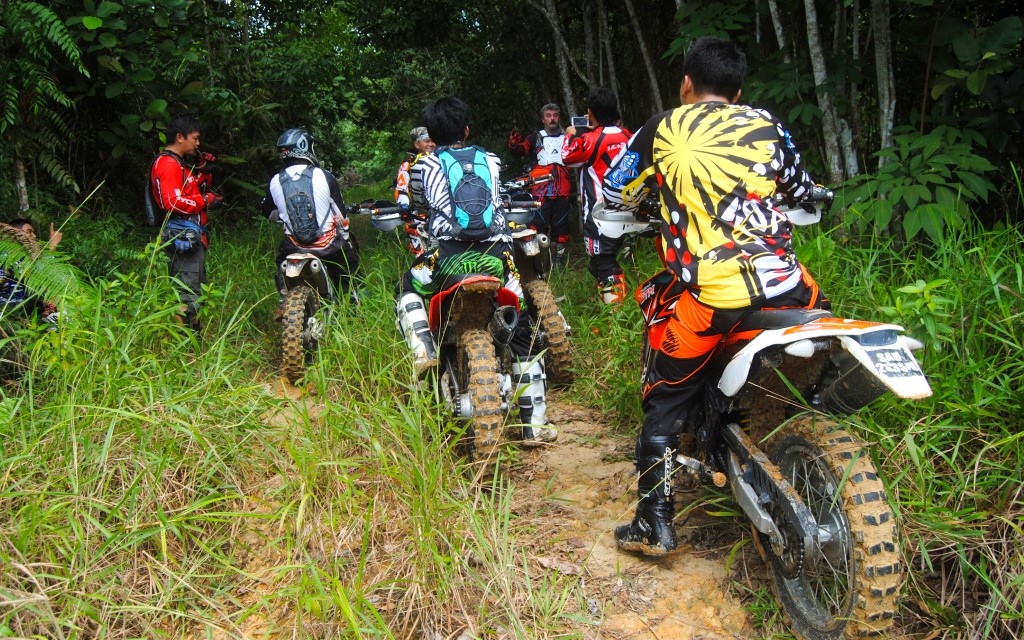 Into the jungle
We make a formidable force charging down the highway, collecting hundreds of waves from pedestrians and honks from vehicles on the road. Our destination is a village on the outskirts of town where we veer onto a dirt track that cuts straight into the jungle. It's now November, the start of the monsoon season, and last night's rain has turned the forest floor into a veritable slip and slide. Within minutes we're all covered from head to toe in warm gooey mud.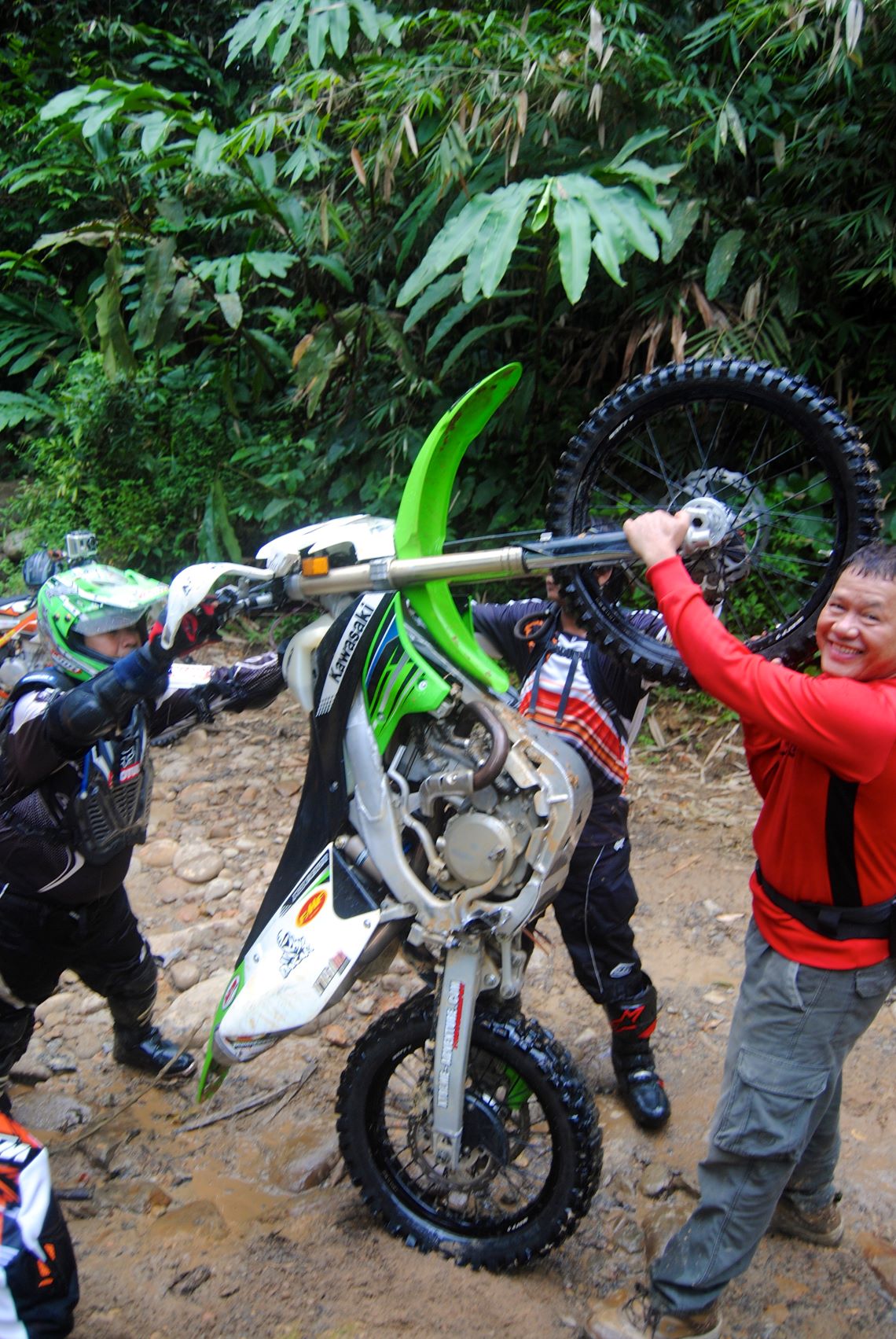 We pass a small collection of huts where a group of naked children run out to gawk at us with facial expressions that should be reserved for the landing of aliens. From there we turn onto a single track that turns into a technical hill climb riddled with rocks and fallen logs. I'm gunning it with confidence when the rider in front of me stalls his bike; I slam into his rear tyre and we both come off. I stretch my left leg out and manage to correct myself, find a new line and charge to the top. But some of the riders are beginners and get hopelessly stuck: revving their bikes madly but going nowhere fast. Having been there and knowing how quickly your energy gets sapped, I park my bike and walk back down to give them a hand. 
"Wait," says Emiliano, stopping me in my tracks. "Let them suffer a bit. Otherwise they will expect you to help them all the time."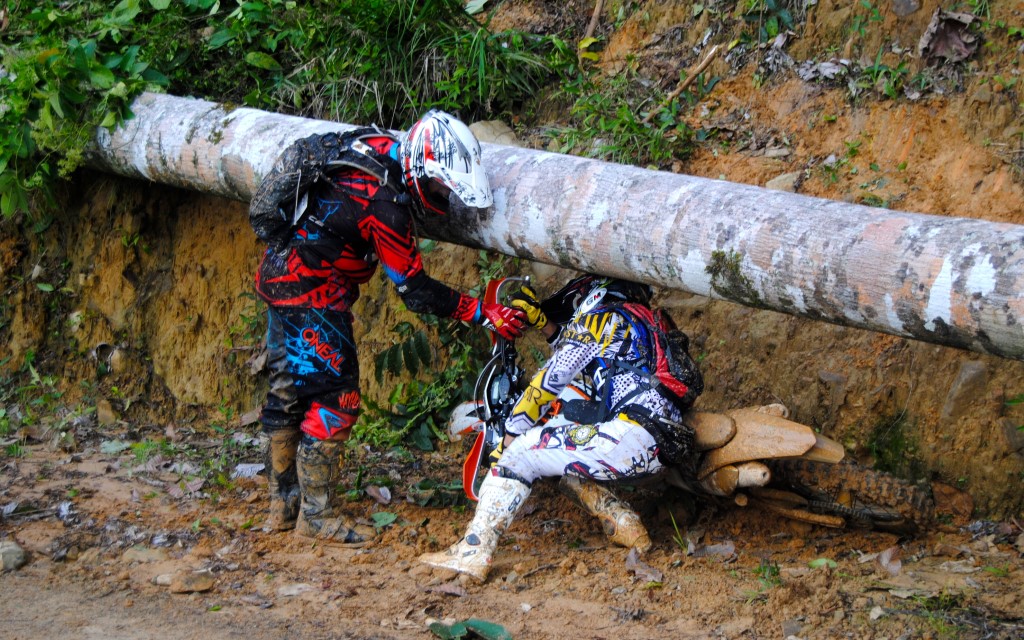 I do as instructed, pull my camera out and take a few pics of the carnage. When it becomes apparent the strugglers don't have a snowball's chance in hell, I relieve one of them of their machine, give it a kick and punch it up the hill. The act earns me kudos with the boys and, after the other strugglers are likewise assisted, we continue into the hills. 
The trail bobs and weaves through a velvet-green valley and around the side of a mountain, carpeted with metre high elephant grass. All is well until we get to the next single track up a hill, where we're confronted with a foot-high dirt step with no unobstructed line. The rider in front of me manages to get through, but I come to a dead stop and drop my bike flat in the mud. I heave it up, hit restart and buck it to-and-fro, but my rear tyre spins hopelessly spewing dirt into the air. Soon another rider comes to my aid, pulling my front tyre over the step and giving me a much needed boost. I come off twice more before getting to the top, struggling to find the energy to hoist my bike up in 35°C heat. When the ordeal is over I park and collapse onto the ground, more exhausted than I've ever felt in my life. I can hear the other riders revving their bikes in the jungle, but I'm boiling with heatstroke and have nothing left to give.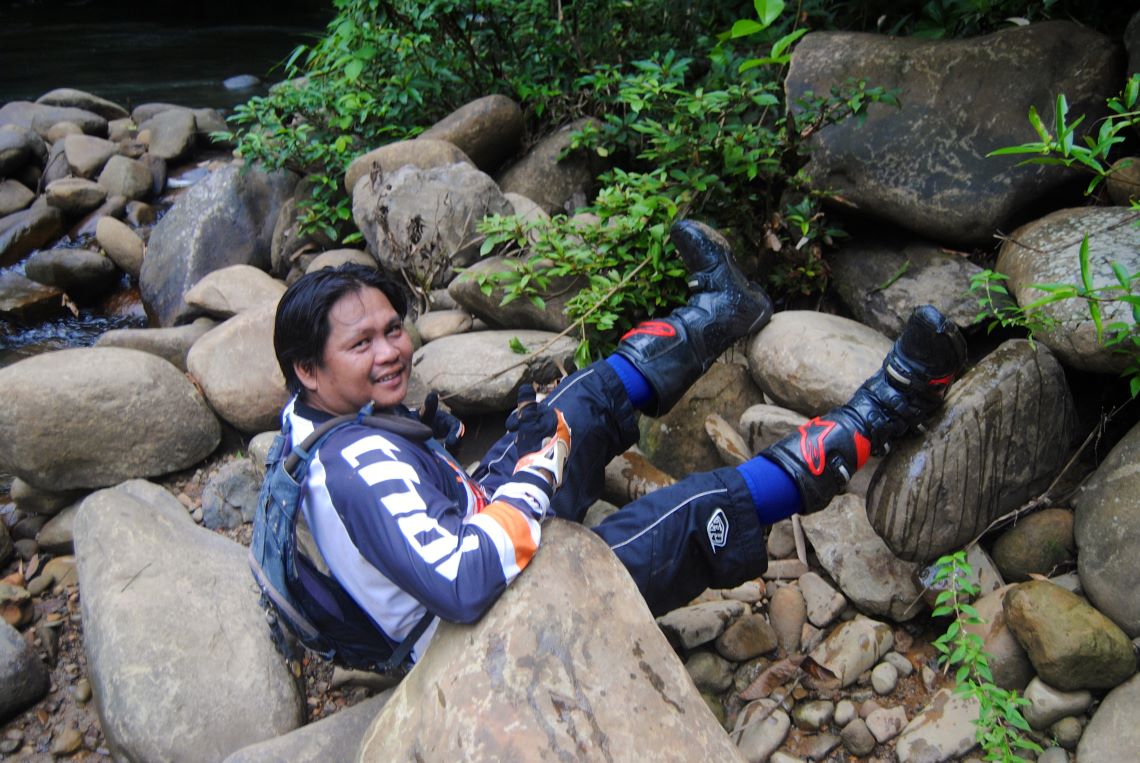 When finally I catch my breath ten minutes later on, I walk back down the track to see an extraordinary sight: the boys have tied a rope to one of the strugglers' bikes and are literally winching him up the hill using elbow grease. It takes the phrase, 'no one gets left behind' to brave new heights and typifies the camaraderie and brotherhood that makes me so passionate about this sport.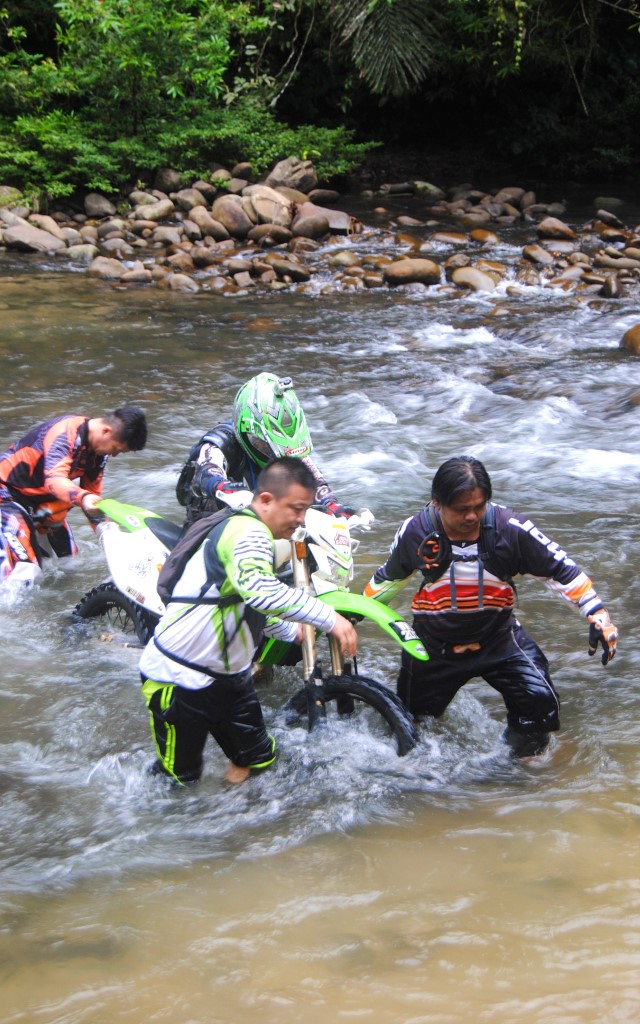 Rivers run 
When the last rider makes it to the top, we collectively collapse in a heap in the shade and after a short discussion, agree to change course. The hill-climbs are too technical for the beginners in the group and the more advanced riders are burning too much energy getting them unstuck. Bryan suggests we follow a logging trail into a nearby valley where we can try our hand at a few river crossings and take a much-needed swim.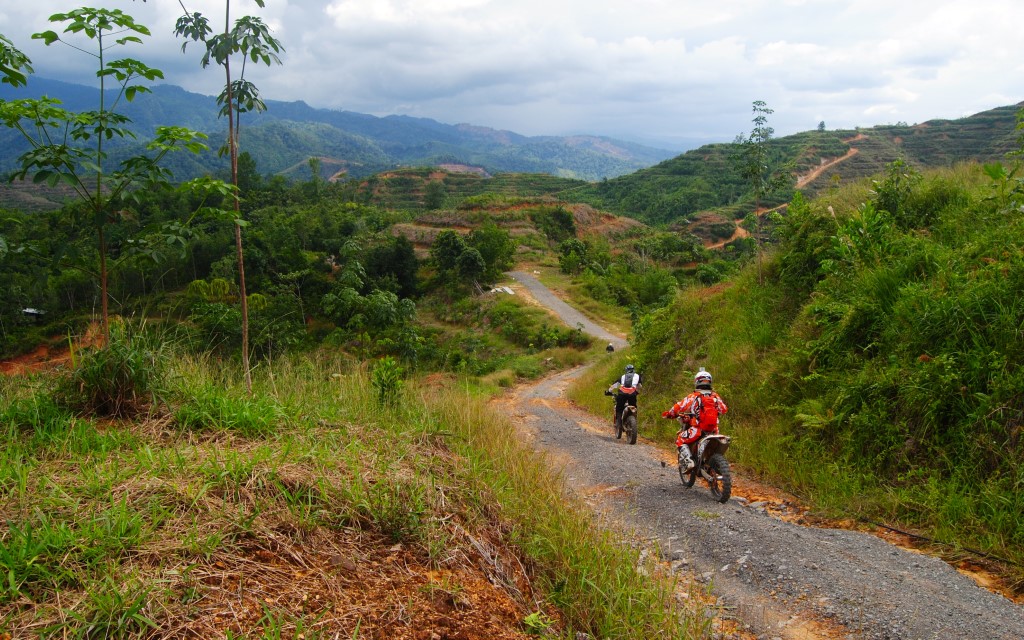 Our new route towards a river crossing takes us down to a paved road where we stop at a roadside store to replenish our camelpaks. Now with a second wind, we blurt onto a gravel road that winds up one of the peaks of the Crocker Range, a mountainous spine with an average height of 1,800m that divides the east and west coasts of Sabah. The view from the top is absolutely magic – we can see all the way down to the city and the tropical islands dotting the South China Sea. 
The terrain here is a clay, cut with deep ruts, but nowhere as challenging as the hill-climbs. The mud gets thicker and deeper as we descend downhill, as does the jungle, which brims with the sounds of birdlife. At times I have to re-adjust my lines because of vines dangling from the canopy that are thick and fibrous enough to rip a grown man off his bike. We also come across a massive tree that someone seems to have felled deliberately to block the path, but it's nothing a bit of teamwork can't solve. One-by-one we carry our bikes over the log and continue along towards the pit of the valley.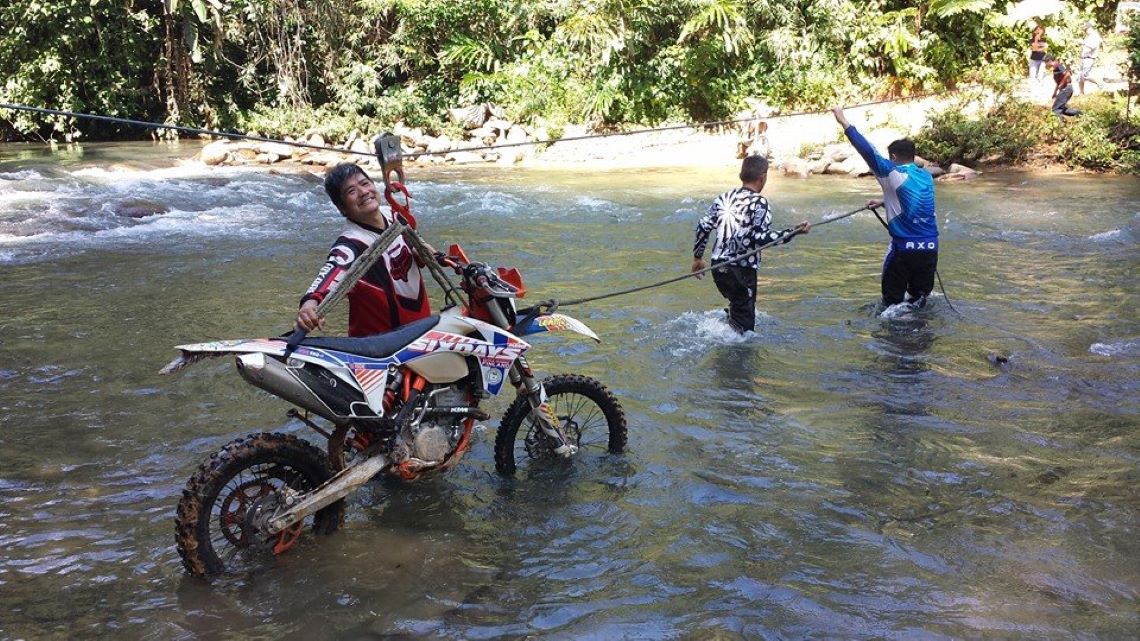 It's late in the afternoon when we reach the last obstacle of the day – a 50 metre wide river with a sizable current. Five or six riders make it safely across and I follow in their lead, treading blindly but with determination through metre-deep rapids and receiving a round of applause when I make it to the other side. But the guy behind me loses his grip and ends up fully submerged along with his bike. Three blokes jump in to stop it from being washed away and together they haul it out of the river. 
By the time we get back to Kota Kinabalu we're all thoroughly shagged, yet beaming from ear-to-ear after a solid day's ride. I'm stoked to have had the opportunity to ride in one of the most wild and untamed parts of the world, but even more stoked to have met such a cool bunch of blokes brought together by our love for dirt bikes and the great outdoors.
THE BORNEO SAFARI 
Founded in 1990, the Borneo Safari is a friendly eight-day, 600 mile off-road expedition through some of the most agonisingly difficult terrain on Earth. It's not a rally or a race, but a test of teamwork, skill, stamina and safety that brings out the very best in man and machine. Last year, the Borneo Safari included a team of dirt bikers for the first time comprising six members of the Penampang Enduro Club. "The first day was the most hardcore section," says Emiliano. "It was only 8km, but it was muddy as hell. There were leeches and snakes everywhere. Some sections were just impossible to get through and we needed to winch the bikes uphill by hand. Five hours into it we were totally exhausted. We'd run out of water and were ready to give up, when we heard an engine revving through in the jungle. One rider went up to have a look and came back ten minutes later with some good news: we were only 400m from camp!" For more, visit www.borneosafari.com.my
D.I.Y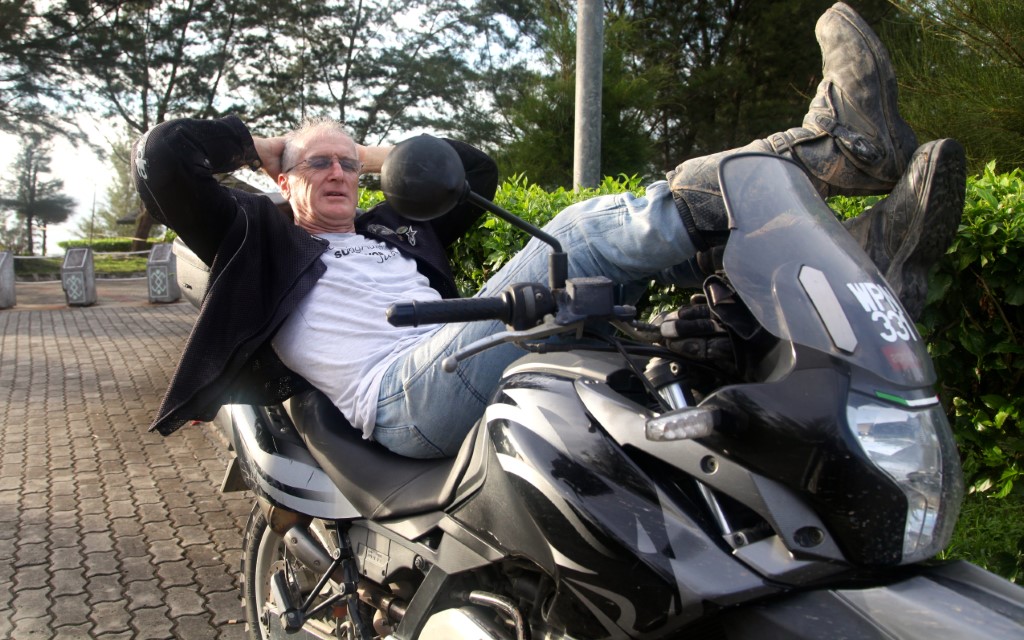 If you're interested in riding the trails in Borneo, Bryan's company, Borneo Biking Adventures, offers guided tours through the Crocker Range on a Yamaha TTR 250 or 350 from the capital Kota Kinabalu for £100 per day, inclusive of riding gear, fuel, insurance, support vehicle and park entry fees. Accommodation options vary from Bryan's spare room to beachfront resorts and cost £30- £90 per night. For more info, visit www.borneobikingadventures.com. Or, if you happen to be in Borneo with a bike of your own, contact Emiliano Ceresa ([email protected]) of Penampang Enduro Club to see if you can join one of their weekly Sunday rides. "Generally we like to have anyone join us," says Emiliano, "provided you don't start crying when it gets too hard!" 
Photos: Ian Neabauer