There's nothing to stop you riding around the world on a pizza delivery bike – and you could make a couple of quid dropping off margaritas along the way. However, there are better machines, so we asked adventure expert Richard Jeynes for his advice
For a newcomer to adventure motorcycling and touring the choice of bike is daunting. While a purpose-built adventure bike will take you almost anywhere, there are various factors to take into consideration when choosing a machine.
Road touring bikes are capable of transporting the rider huge distances at speed and in great comfort, but they are heavy and have little, or no, off-road ability. Ideal for long-distance tarmac touring they are simply not designed to cope when the black stuff ends and the piste begins.
For those who expect to go off-road occasionally and stick, in the main, to riding dirt tracks and gravel trails then dual-purpose adventure bikes offer an interesting compromise, although their ability to cope with the more demanding off-road conditions is limited by their size and construction.
A trail bike is designed for arduous conditions and is less smooth and relaxing on tarmac. With greater ground clearance, longer suspension travel, larger (21in) front wheels and stronger construction, these machines are designed for off-road use and, to a degree, designed to be dropped. They also have their limitations: the seat is often high off the ground and shorter riders could have a problem reaching the floor, plus the seats are narrow and uncomfortable on long journeys. These machines will also have smaller fuel tanks requiring you to either replace them with a larger one or carry significant additional fuel in cans strapped to the bike.
As with so many things it becomes a matter of compromise. At the outset, you will need to decide what your journey will entail. Will you travel entirely on tarmac, predominantly on dirt trails or a mixture of the two? People have travelled all over the world on all manner of machines and you will have to balance your requirements for economy, reliability, comfort, weight, agility and simplicity.
A further factor to consider is the manufacturer's distribution network and the availability of spare parts for repairs. The more complicated your machine the more difficult it may be to get parts in some regions of the world and the more spares you will need to carry – although there aren't many parts of the world DHL can't reach these days.
Remember, as a solo rider the machine is your lifeline and you need to be comfortable riding it, pushing it, lifting it and repairing it. So what's available?
Off-road biased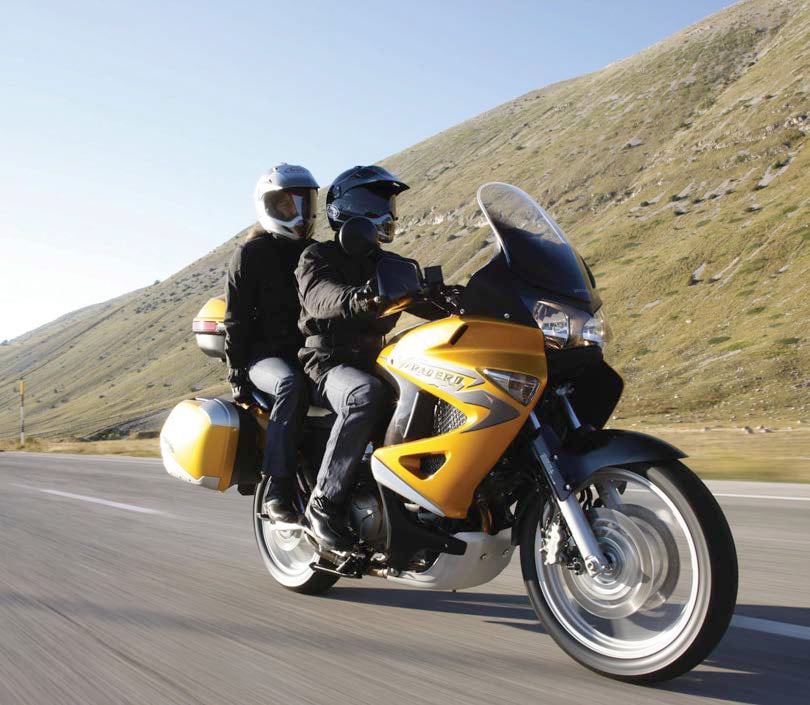 Only a few manufacturers really specialise in this field. With off-road adventure motorcycling popular on the continent, it's not surprising that BMW (Germany) and KTM (Austria) are recognised as leaders in the field with stiff competition from Honda and Yamaha.
Buying new restricts your choice although there are excellent machines to choose from. The BMW F800GS is a popular choice with excellent on and off-road capabilities. Weighing in at 178kg it is not too heavy to lift after the inevitable off-road tumble, and the 85bhp twin-cylinder engine delivers good power and a claimed top speed on-road of around 125mph, which is more than adequate for long stretches of tarmac. Well distributed weight, decent suspension and a useful turning circle make it relatively easy to ride on challenging, rough surfaces.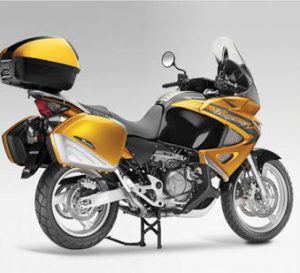 The Austrian manufacturer KTM offers a huge range of genuine off-road machines from 125cc – 999cc. For adventure motorcycling, the KTM 990 Adventure and the more recent Adventure R are outstanding machines with considerable off-road capability due to the V-twin engine and excellent suspension. A 19.5L fuel tank, ABS brakes and an auxiliary power plug for accessories are useful standard items.
On the downside, it's a large machine weighing around 207kg unloaded and the seat height is high (915mm on the R version).
Yamaha has a long tradition of success in long-distance rally racing and its XT660Z Tenere is a highly capable off-road machine. A tough frame, outstanding suspension and a massive 23L fuel tank as standard make this a bike worth considering. Designed for heavy off-road use it is durable and even has a front towing hoop that's a useful addition. The buyer considering a used machine has much greater choice. Bikes such as the BMW650GS (and the Dakar version), the R100GS, the Yamaha XT500, the Honda Africa Twin and the Kawasaki KLR650 are worth seeking out.
Do not underestimate smaller machines. Across the Third World, 125cc motorcycles are standard transport in all types of conditions, and adventure rider and travel writer Lois Pryce has travelled across the Americas and Africa on a Yamaha TT225 Serow.
Dual purpose
For most riders, the majority of their adventure will be spent on reasonable surfaces with occasional departures onto dirt roads and tracks. Comfort over long distance is likely to be more of a priority than hardcore off-road capability.
Currently, the undisputed leader in this group is the BMW 1200GS Adventure. Having evolved over 30 years, this massive machine has a 400-mile plus tank range, a twin-cam motor and electronically adjustable suspension. Despite being a current best-seller it is rarely used to its full potential off-road. While mechanically more than capable off-road, it's exceptionally heavy (256kg unladen) and well beyond the skill set of most untrained or inexperienced riders.
A number of manufacturers have produced similar large machines aimed at the adventure travel sector. Recently launched as direct competitors to the BMW are the Yamaha XT1200Z Super Tenere and the Ducati Multistrada.
Right now, the Yamaha is only available through the company website and comes with fitted aluminium panniers, headlight protector and bash plate as standard – important considerations as many manufacturers provided these as expensive extras.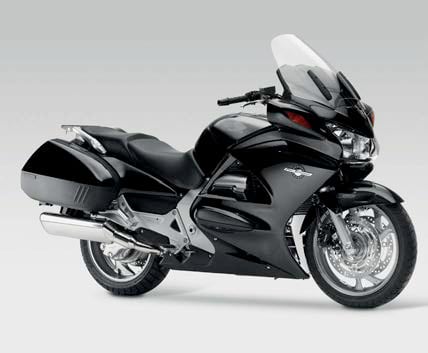 Honda's rival to the BMW1200GS is the Varadero, which has a reputation for being a comfortable all-day ride. Probably more useful as an adventure bike though is the ever-popular Transalp CABS, which is a practical touring machine quite capable of light off-roading.
Triumph produces two versions of the Tiger: the 1050 and the 1050SE. More suited to long-distance tarmac travel they also have some limited light off-road capability.
Much rarer, the Benelli Tre-K-Amazonas is a capable and well-priced machine worth considering. Again, the second-hand market offers a wide choice with the BMW1150GS being a much sought after machine.
Road-based touring
For the rider who will never venture off-road, there is significantly more choice of machine. Comfort over great distance, fuel tank capacity and road handling will be key features and all of the major manufacturers produce suitable machines.
Large touring machines worth consideration include the BMW R1200GS (the road version of the Adventure), the BMW R1200RT, the Harley Davidson Electra Glide, the Honda Deauville/ABS, the Moto Guzzi Stelvio 1200NTX or the Kawasaki GTR 1400, Honda Pan European and the Yamaha FJR 1300.
So, which one?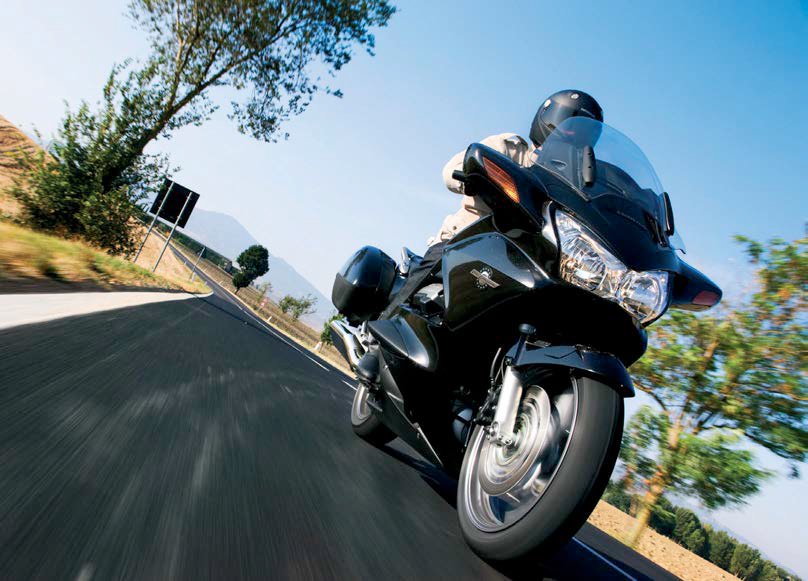 Ultimately it comes down to individual choice and people have used all manner of bike, ranging from 125cc learner bikes to out and out sports bikes, to circumnavigate the globe. It's important that you choose a bike that you are comfortable with. Following fashion can lead to a mismatch between the ability of the rider (particularly off-road), the chosen machine and the intended journey.
Plan your choice carefully. Look at and ride a number of machines and think hard about your proposed route. If your trip entails off-road sections be honest about your skills and ensure you can ride the type of machine you are considering with confidence before buying.
Although you may be tempted to purchase one of the glamorous larger machines and embark on a round the world adventure from the outset, it's advisable to start with something smaller and develop your riding skills with training and shorter, less demanding trips before embarking on something more challenging.
Remember few new machines are sold as 'expedition ready' and you will need to factor into your budget the cost of essential extras such as panniers, crash bars, additional lights, off-road tyres and a host of other bolt-on goodies that are available on the after-sales market. These items are expensive and could easily cost up to half what you spend on the bike.
---
Richard's top five essential accessories
There's a real difference between what you think you might need and what you actually need. The after-sales market is huge and it's easy to spend several thousand pounds on bolt-on goodies that you will be advised are essential. it's all a matter of personal choice but below are some items that I feel deserve to be at the top of the list.
Bash plate and crash bars.
Rough terrain and falls are inevitable when you venture off-road and without such protection, your bike runs a very real risk of terminal damage. Source these items with care as some bash plates fitted as standard are often simply plastic or fibreglass cosmetic items.
Hand protectors.
These will not only protect your hands but also brake and clutch levers which are always vulnerable to damage caused by falls.
Headlight protector.
A welded steel mesh protector will prevent stone and crash damage to your front lights. I recently came across two German riders in Morocco whose lights had been smashed by stones thrown up by a passing lorry and as they needed to travel in the falling dusk they had to convoy behind me for 20km.
Suitable tyres.
As your only contact with the ground, never underestimate the value of the correct tyres for the journey you plan to undertake. A variety of manufacturers produce tyres for all types of terrain and you need to choose with care. Standard fit tyres will be designed for road use and are unlikely to be suitable for an off-road adventure. Learn how to change a tyre and repair a puncture.
Panniers.
Think carefully about what you need to carry as there will always be a temptation to fill whatever panniers you have. Metal boxes provide security and can be used as seats in camp. Soft panniers can double as a backpack should you need to leave the bike and walk. I use a mixture of the two.