Geoff Hill details a stunning two-day ride through the majestic mountains and rugged coastline of South West Ireland.
If you're wondering which clothes to bring to the west of Ireland, the answer is all of them. You may have been fooled by tourist board photos of Kerry teenagers sitting outside a pub in t-shirts enjoying the gentle caress of hailstones on their forearms, but I speak from the experience of having gone out too many times under blue skies in light biking gear, only to look up in horror as the heavens emptied. 
However, the good news, as Mark Twain allegedly said, is that if you don't like the weather in Ireland, just wait five minutes. So, with waterproofs packed, stand by for two days of riding which will make your heart sing. 
Day one starts where we left off in last issue, in Bantry, home of Bantry House (www.bantryhouse.com), one of Ireland's grandest stately homes, spectacularly situated and exuberantly furnished with treasures collected from all over the world by generations of Earls of Bantry. 
From there, it's north on the open and sweeping N71 through the mountains, then after 25 miles a diversion up Priest's Leap, the highest ride in Ireland. 
Retrace your steps back to the N71, then on to the lovely coastal village of Glengarriff, nestled between mountain, oak forest and ocean. Its oldest inhabitant, 102-year-old Dutchman Jan Linzel, was a Second World War RAF pilot.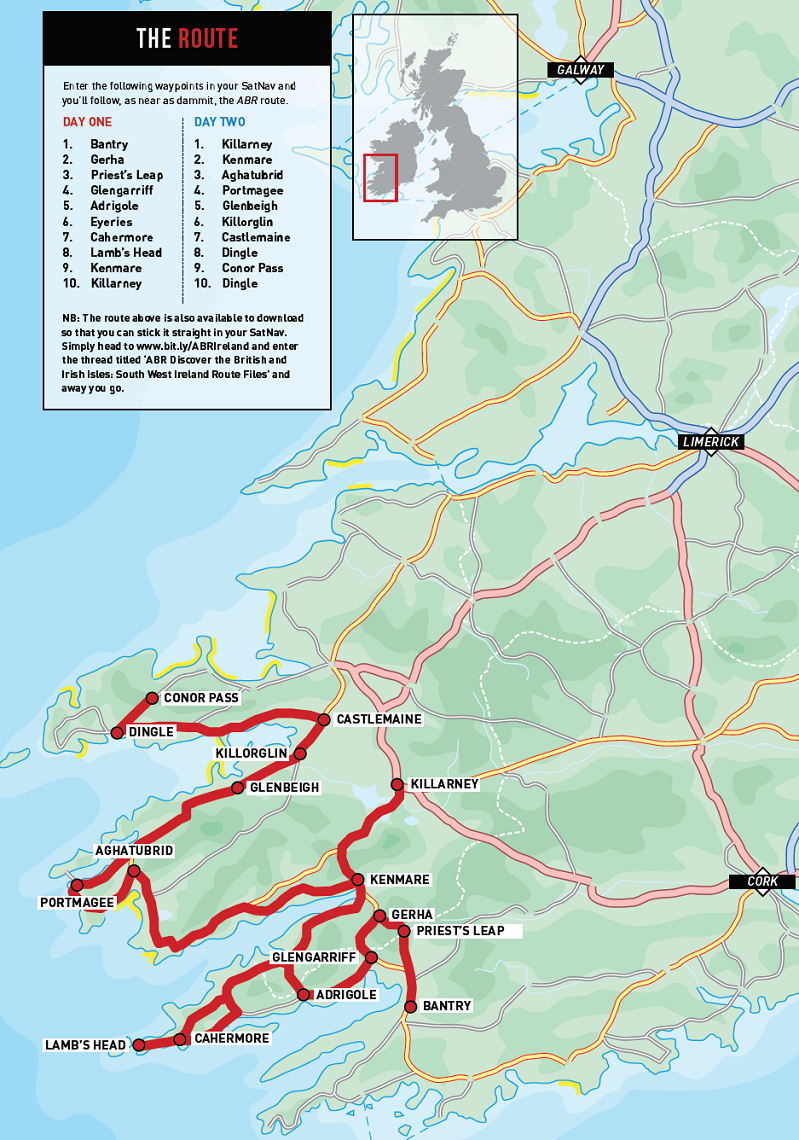 From there, the road narrows as you head west, so take it easy, since there may well be a sheep in the middle of the tarmac around the next corner, and just enjoy the view on a coastal loop which reaches its most westerly point at Lamb's Head. You'll then turn back to finish the day through Kenmare and the stunning hills and lakes of Killarney National Park. 
Day two sees a slight backtrack to Kenmare through the national park, but with scenery like this, who's complaining? 
Kenmare's a pleasant market town with a lovely view up Main Street of pastel-coloured buildings, then the church spire and the mountains beyond. From there it's the famous Ring of Kerry, a stunning loop on a two-lane road which dances between the soaring green on your right and the aching blue of the ocean crashing onto rocks on your left. 
In high season, most folks are either on a tourist coach or in a snail trail of cars, but on a bike, you can soar past both with a cheery wave. Note that the coaches do the Ring anti-clockwise, so most car drivers do the opposite, as you will be. 
At Dingle, finish the day with a fabulous blast up the Conor Pass to admire the view, then back down to Dingle for dinner and overnight.
See
Killarney National Park  
The Alps? Who needs them when you've got scenery like this, with a well-surfaced road winding past deep blue lakes, rugged mountains and the last great virgin forests in Ireland, an island which was covered in mighty oaks until they were chopped down to make ships for the Royal Navy. 
At least the oaks survived, which is more than can be said for the last wolf in Ireland, who was killed here in 1700, presumably after wandering through these forests for months wondering why no one had replied to his ad in the lonely hearts sections of Wildlife Weekly saying: Partner wanted for friendship and possible romance. Must have own fur coat and like long walks, cold nights out and raw sheep. Non-smoker preferred. Must be a wolf.
Killarney 
Killarney's been a tourist town since local landowner Henry Herbert invited that well known biker Queen Victoria over in 1855 for tea and buns at his Muckross House mansion just outside the town. 
"Love to," said Her Majesty, checking her royal diary, "see you in six years." Sadly, Henry then spent so much redecorating the place that after HM arrived with her own bed and an entourage of 100, he had to sell it. 
Still, Thomas Cook tours soon followed, and today Killarney is buzzing year-round with pubs, restaurants and the clip and clop of horses trotting around the lakes pulling jaunting cars filled with Americans saying: "You know, Harry, this isn't a bit like Texas".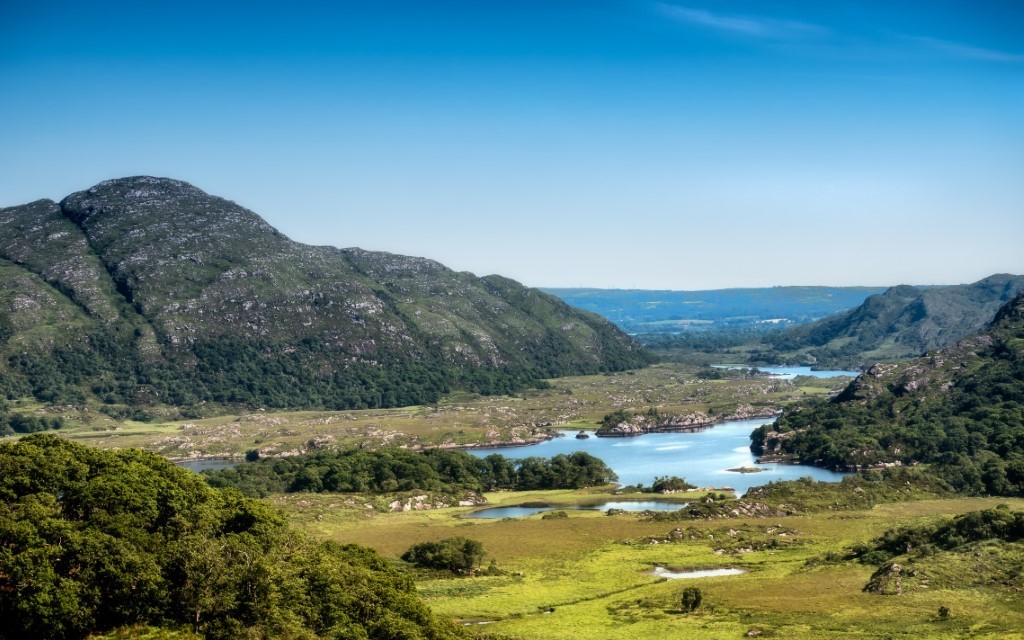 Discover
Kayaking with Fungi 
Fungi the dolphin turned up in Dingle harbour in 1983 and liked it so much he stayed. 
Today, he continues to entertain visitors, and although you can go out on a large boat to see him, I took the time to arrange a voyage out on the water in a kayak, accompanied by the knowledgable Noel O'Leary of Irish Adventures (www.irishadventures.net; €50 for a half-day), and spent a very pleasant morning paddling around the bay with Fungi leaping out of the water around us and doing a couple of backflips at no extra charge. Fabulous. 
Even better, I was in a twin kayak with my biking mate Peter Murtagh up the front, so he couldn't see that he was doing all the work while I admired the view.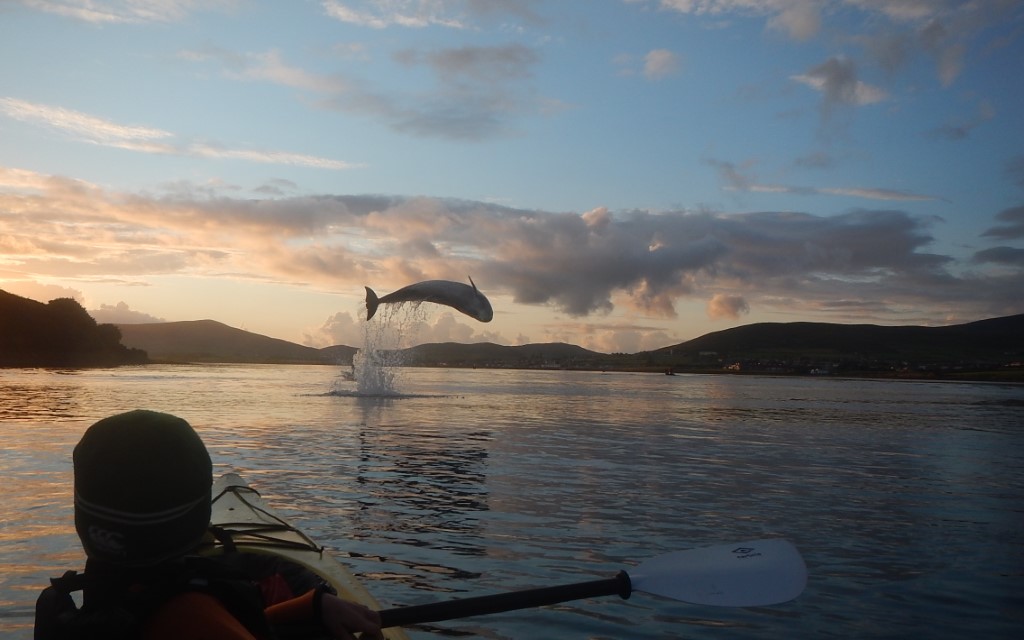 Eat, drink and be merry 
In Dingle, Dick Mack's opened in 1899 as a spirit grocer, a peculiarly Irish establishment in which drink was sold side by side with groceries. It is now a tiny pub, and outside it you'll find the name plaques in the pavement show that everyone from Julia Roberts and Dolly Parton to Robert Mitchum called in to have a pint or try the astonishing selection of Irish whiskies behind the bar. 
The Global Village in Dingle (www.globalvillagedingle.com), which is just up the street, has a tasteful interior, friendly and knowledgeable staff, and food better than I've eaten in Michelin star restaurants. Try the six-course taster menu at €60, or €90 with wines from an eclectic list, and stand by for a treat. I stayed at the sprawling and popular Dingle Skellig Hotel (www.dingleskellig.com).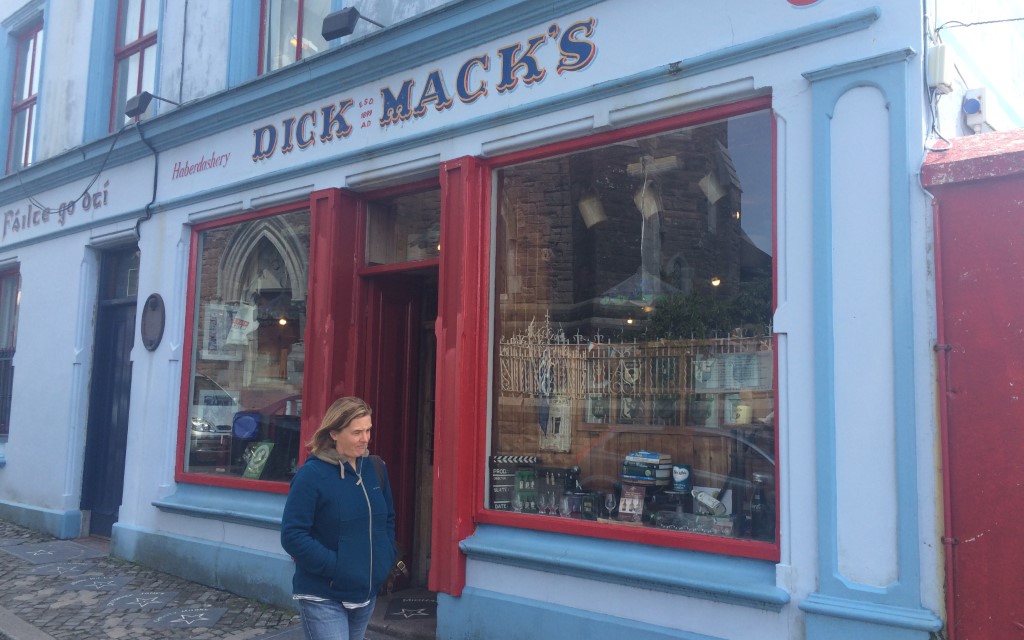 Ride
Priest's Leap 
Day one of our tour kicks off with a bang as you head north from Bantry. After 25 miles, turn right for Gerha, then at Gearhanagoul left up the four and a half miles of farm track to Priest's Leap, the highest rideable pass in Ireland at 1,516ft (462m). 
This is no racing track, though, it's patchy tarmac for about half the way then hard-packed gravel with grass up the middle, and fairly upsie-downsie. Despite the degrading road surface, the riding is incredible, and if an off-road wuss like me can breeze through it, anyone can. 
And the reward for doing it is spectacular, as you climb off the bike at the top and take in glorious views of the mountains sweeping down to gently cradle distant Bantry Bay far below.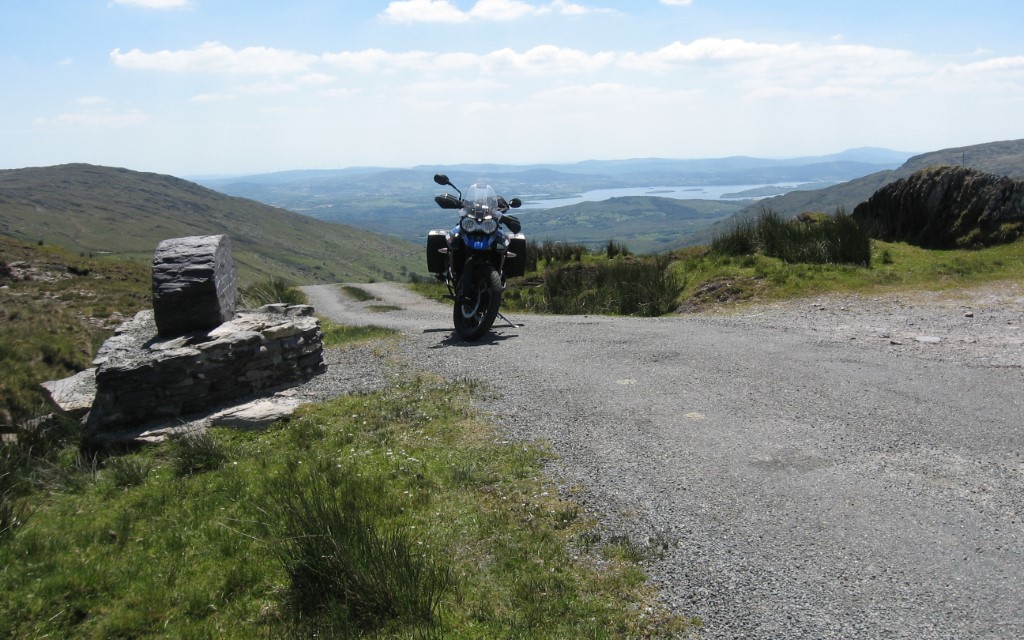 Conor Pass
It's only five miles from Dingle to the top of the Conor Pass, but what a five miles they are. 
It's a fairly narrow road, but well-surfaced, and snakes its way aloft with cliff faces on one side and steep drops to the lakes below on the other. 
The good news is that because it gets even more narrow and twisty down the other side, caravans, camper vans and lorries are banned, and coaches tend to avoid it, so you may well have it to yourself as you crack on, drinking in the curves and the sound of your engine echoing off the cliffs. 
From the car park on top at 1,500ft (457m), the view before you is so much like Middle Earth that you expect Bilbo Baggins to wander up clutching a pint of Guinness at any moment, nod wisely, and potter off on his merry way before the pub shuts.