In the penultimate instalment of our TomTom Discover Britain series, we head to the north and northeast of England, an area of the country that I have never visited before.

Our usual weekend rides follow the coast, picking up from where our last left off, but for this issue, we've done something a bit different. Rather than start in Staithes, where our East Coast Weekender came to an end, we decided to skip the built-up areas of Middlesbrough, Sunderland and Newcastle, instead opting to begin in Wetheral, on the outskirts of Carlisle.
With this in mind, this issue's route is more of a two-day circuit, beginning in Cumbria and, travelling west to east, following Hadrian's Wall to Alnwick on the northeast coast of England, and then back again through the Otterburn Ranges and Kielder Forest. This first stage of the journey will take you through an incredible part of the country, where the roads bisect green rolling hills and pass through pretty little villages.
From Alnwick, we head to the coast and ride with the North Sea over our right-hand shoulder up the Northumberland Coast Area of Outstanding Natural Beauty. Here, the roads have the potential to become a bit busier, but even during the summer holidays (when we rode the route) there wasn't too much traffic.
As you ride through Shoreston Hall, Bamburgh Castle appears on the horizon, sitting atop its rocky outcrop, with commanding views of the land around it.  Riding underneath the imposing walls of the castle, we continue on to the remarkable island of Lindisfarne. The island is accessed via a tidal causeway, which gets completely submerged by the sea at high tide, so coinciding your visit with low tide.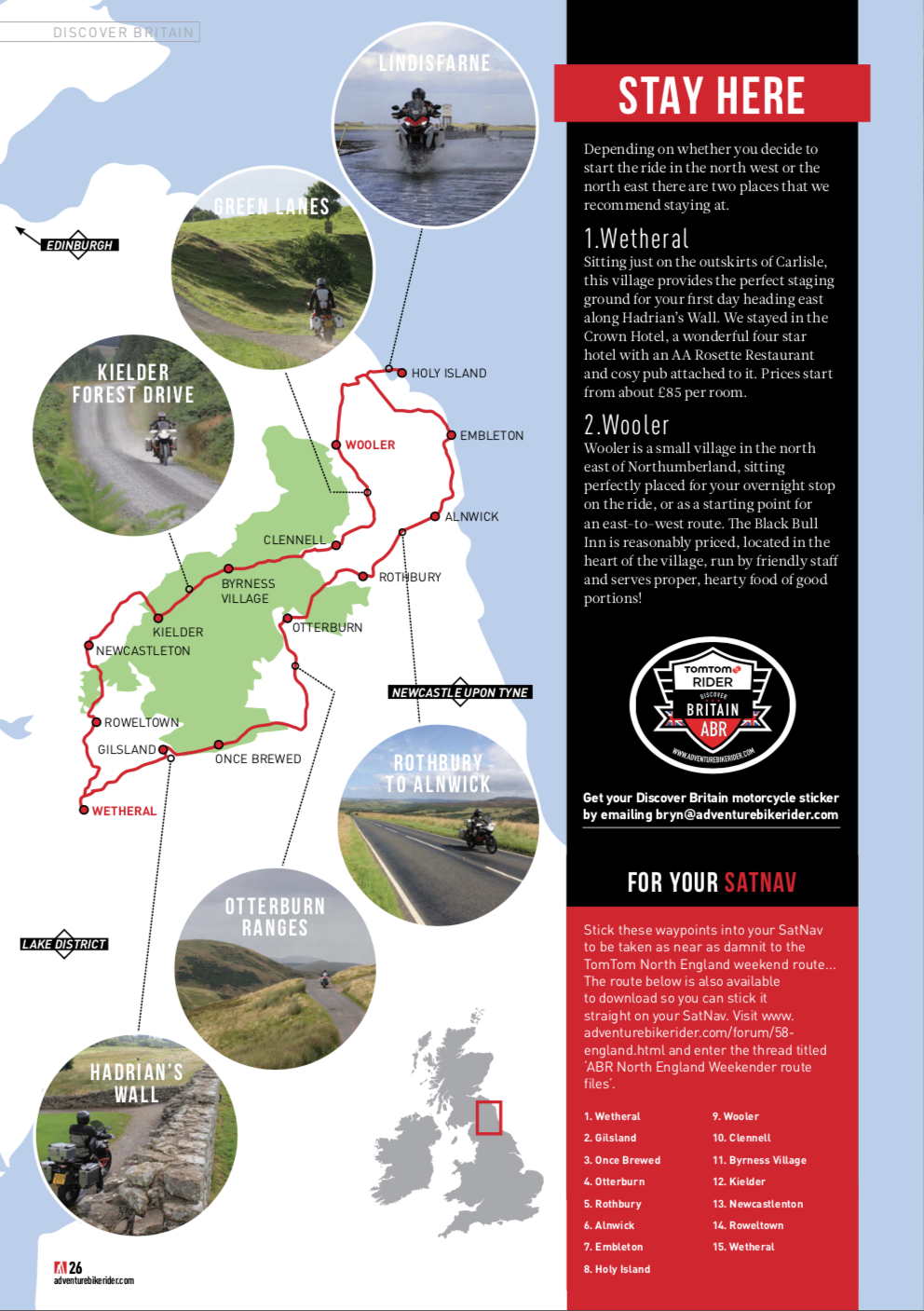 Just a few miles from Lindisfarne we call it a day in the sleepy town of Wooler. The next morning, following a hearty full English, of course, there are two options for you. Either spend some time exploring the local green lanes, or head straight over to the Otterburn Ranges. Here the riding is sublime, not because the roads are good, but because the atmosphere of the Ranges, coupled with the striking scenery make it such a memorable journey.
From Otterburn, you're deposited onto the Kielder Forest Drive, a 12 and a half-mile long gravel track that takes you through the wilds of Kielder Forest. This route is easily doable on all bikes but take it easy if you're new to riding on gravel (it's hard compact in most areas so you should be fine).
After the forest drive, it's just an hour to the finish point back in Wetheral, our route taking you over the border and into Scotland. This hour-long part of the ride is excellent, with a combination of fast, open roads that are eerily quiet.
See
Hadrian's Wall
Most people reading this will have heard of Hadrian's Wall, the 73-mile long defensive structure that was built in 122AD, but to see it in the flesh is worth this trip alone. It's amazing how much of the wall is still intact (albeit slightly tattered) even after the rocks and stones that made up its three-metre width and
five-metre height have been pillaged to make farmer's walls and local military roads. Our route runs almost parallel to the relic of Roman history and in places, you are riding within feet of it. To think it's nearly 2,000 years old is astonishing, and it provokes thoughts like, "Will my new-build flat still be standing in 2,000 years?" Probably not.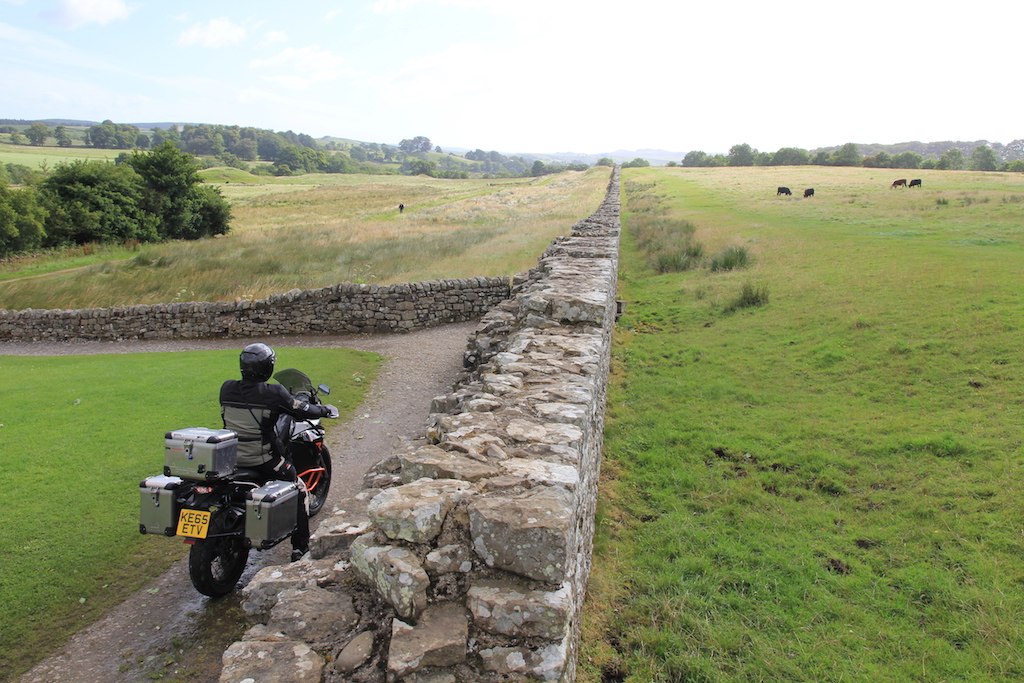 Lindisfarne
On the northeast coast of Northumberland you'll find the remarkable Holy Island of Lindisfarne, a small tidal island with a recorded history dating back as far as 635AD, and was once the centre of Celtic Christianity in Britain. Despite visitor numbers of over 650,000 people per year, there are just 160 residents on the island.
Lindisfarne is accessed via a paved causeway which is engulfed by the North Sea twice in every 24-hour period. According to signage, an average of one car per month is abandoned on the causeway when a crossing is attempted too late. Don't get caught out, so check the tide tables at www.lindisfarne.org.uk.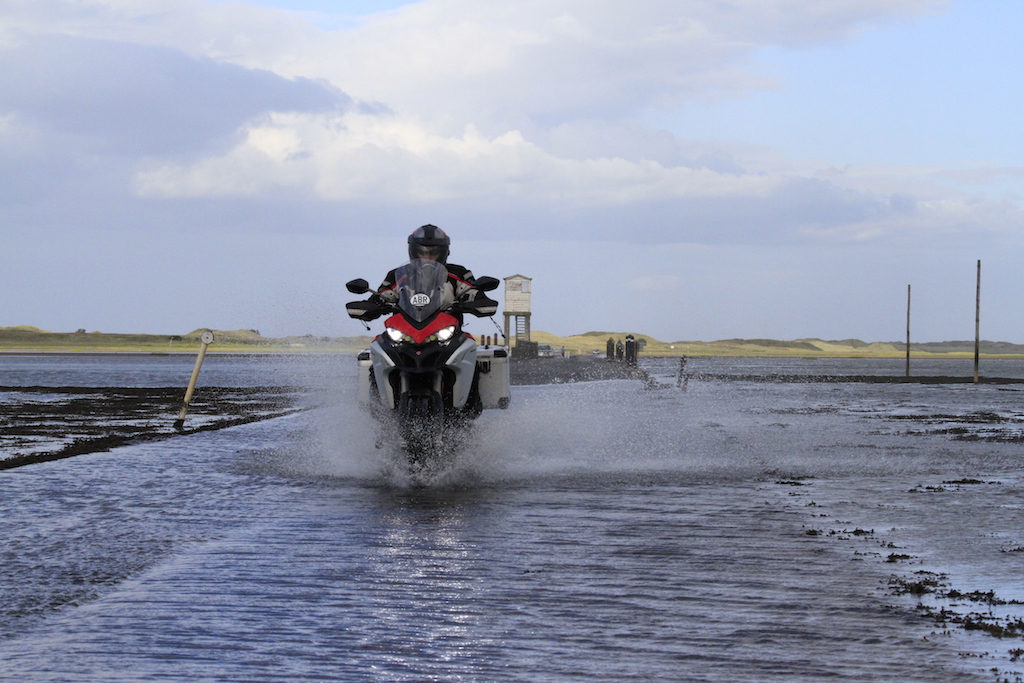 Discover
Green Lanes
While we like to present these weekend routes so that they're accessible for everyone on any bike, there are a ton of fantastic green lanes to be explored around Northumberland. Grab yourself an OS map (OL16 covers the best lanes to the southwest of Wooler) and become acquainted with where they are.
We rode the Cup and Ring green lane, starting in Dorridge, another lane with a lovely ford crossing to the east of South Middleton, and then a fantastic trail that takes you up and over a mountain pass, beginning in the village of Ingram. All can easily be ridden on big adventure bikes, but they have a lot of grass on them and will become very slippery when wet!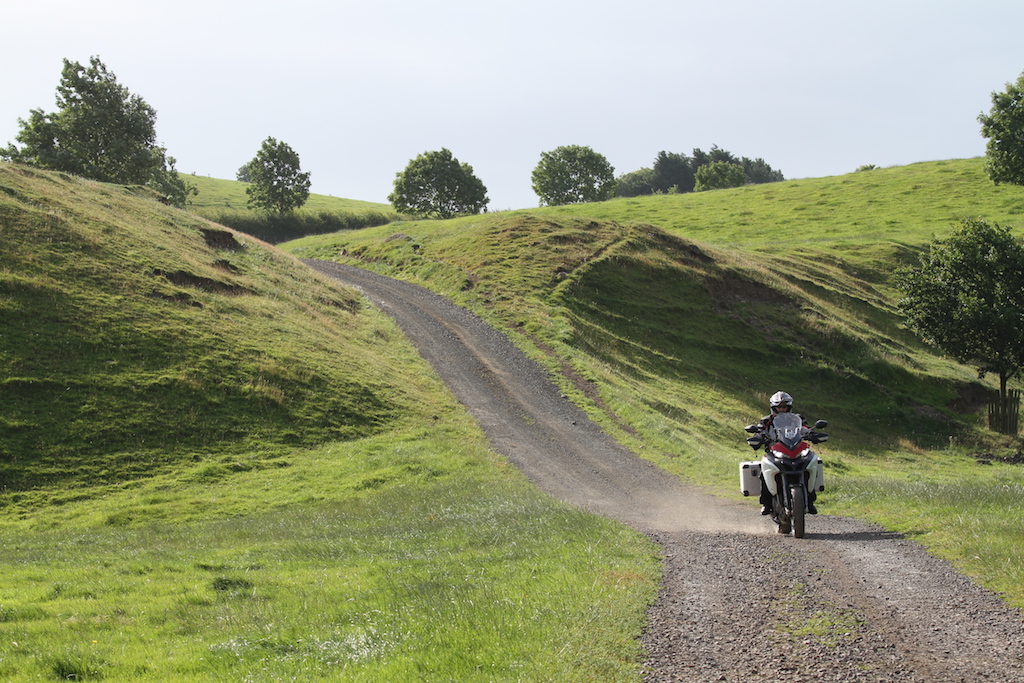 Otterburn Ranges
Out of all of the places I have visited in the UK, nowhere has inspired awe as much as the Otterburn Ranges. It's the UK's largest military training area and riding through this desolate land is like being transported to Tolkien's Middle Earth. Access is restricted during certain times, denoted by a red flag flying at the entrance, but speaking with locals, including the postman, we discovered that they still drive through when the flags are displayed, it's only when the gate's closed that they don't.
Of course, it's down to you to make up your own mind, visit www.gov.uk/government/publications/otterburnfiringtimes to see when access is restricted.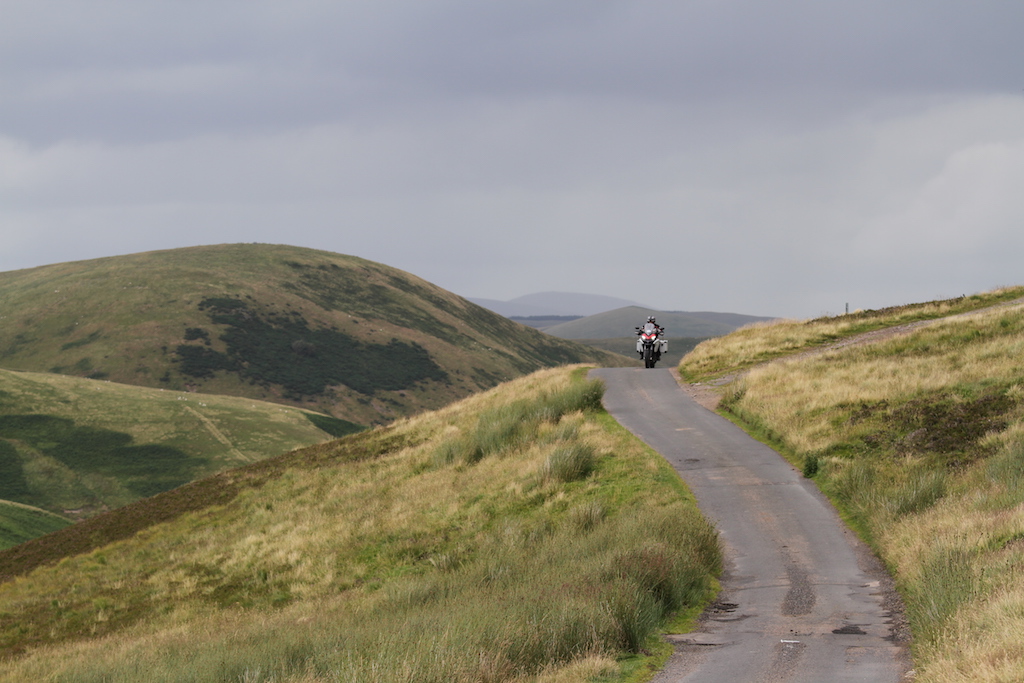 Ride
Kielder Forest Drive
This 12 and a half-mile long gravel track is about as close as you can get to riding the US-style logging trails in England. It stretches from Kielder Castle in the west to Blakehopeburnhaugh, directly off the A68 in the east, taking you through the heart of Kielder Forest.
The track is doable on any bike and is one of England's highest roads (the highest can be found in the Pennines), reaching over 450m in altitude. The scenery along the way is incredible, while the excitement of driving on a 12-mile long gravel trail should satisfy most adventure biker's thirst for off-road adventure. The Kielder Forest Drive is a toll road costing £3 to ride, payable at the western end of the road.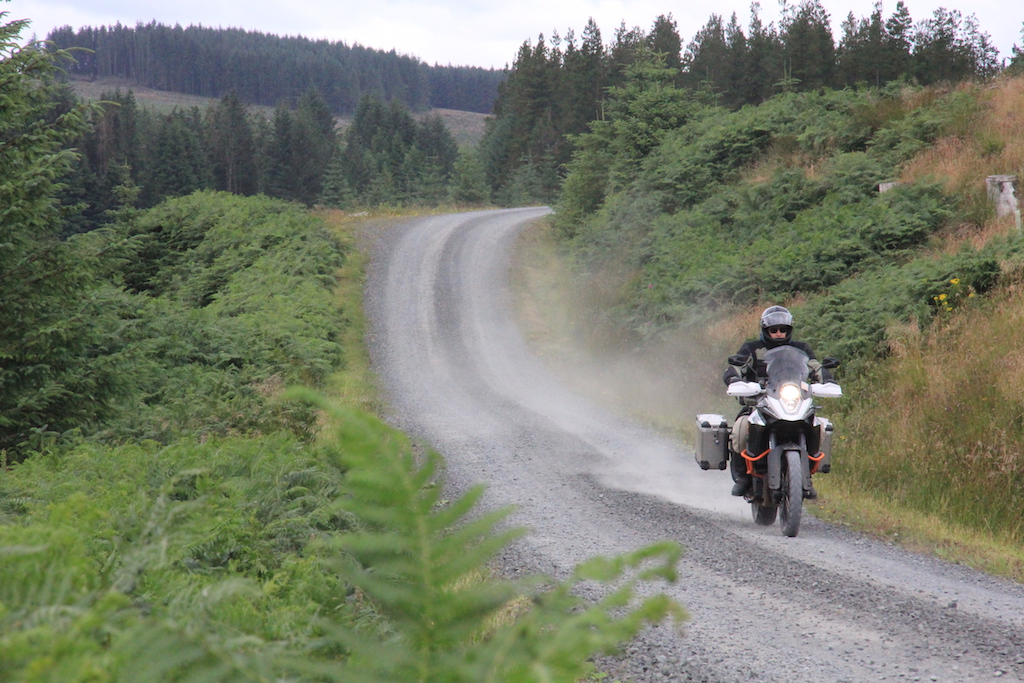 Otterburn, Rothbury to Alnwick
While it's hard to pick out any single stretch of road from this route that should be ridden above all others, the section from Otterburn to Alnwick via Rothbury, along the B6341 stands out as being one of the most enjoyable, picturesque rides of the weekend.
The tarmac rises and falls with the lay of the land, and when cruising at top altitude the views are simply stunning. As you approach Alnwick you'll catch your first glimpse of the North Sea in the distance. We also noticed that this road seemed to be relatively un-travelled, but the best part is that when you come to get stuck behind a slowpoke, there are numerous overtaking opportunities.