Our Scottish Instalment Of Discover Britain Comes To A Close As Mike Taylor Takes A Fantastic Ride Around Two Of The Country's Best Islands
When I was tasked with deciding upon two islands to visit for the final instalment of ABR's Scottish Discover Britain series, two places immediately came to mind: Orkney and Mull. These islands offer two very different landscapes with a great variety of motorcycling experiences.
Orkney, a group of islands in the far north of the country, is accessible by two ferries that run from Scrabster and Gill's Bay. The Scottish Government are going to include these routes in the subsidised Road Equivalent tariff (RET), so from the middle of 2018, it'll be much cheaper to get to Orkney than it has been in the past.
The main island, known as 'The Mainland' is a great place to spend a couple of days riding around. I use either the town of Stromness or the Orkadian capital, Kirkwall, as a base. There are plenty of shops and places to eat as well as accommodation from campsites and hostels to posh hotels.
The roads on Mainland are in great condition and the views are stunning as you ride around UNESCO world heritage sites, World War 2 remnants and award-winning distilleries. I recommend booking some of these in advance if you want to visit them, especially in high season. Riding around Orkney's Mainland is a pleasurable and relaxing experience.
The roads are mostly open and smooth with great visibility and no surprises to intimidate newer riders. It's pretty easy to look around and imagine the Vikings and Norsemen travelling the same routes as you're following. Starkly contrasting with Mainland is the island of Hoy.
While Mainland is relatively flat, Hoy has large hills, tall cliffs and a tiny population. There's only really one road on Hoy, a narrow, well worn, single track which runs from the small village of Lyness to Rackwick near the Old Man of Hoy, a famous sea stack.
Riding through Hoy gives a real experience of stepping back in time, as well as great views over Scapa Flow and Mainland. Definitely book accommodation if you want to stay on Hoy or, alternatively, wild camp near Rackwick bothy.
If the quietness and solitude of Hoy appeals, then you'll love the Isle of Mull over on the west coast of Scotland. Take the ferry from Mainland Orkney to either Gill's Bay or Scrabster in Caithness. Follow the A9 down the east coast to Inverness then down either side of Loch Ness.
I prefer the east side of our most famous loch, but it'll add a fair amount of time to your day. Stay on the A82 heading south, a few miles past Fort William you see signposts for the Corran ferry. This fi ve minute crossing is the gateway to the Ardnamurchan and Morvern peninsulas where you have a choice of two ferries. It's worth taking the longer ride to Kilchoan and getting the ferry straight into Tobermory.
Once out of the surprisingly busy town of Tobermory you'll find loads of narrow, twisting, single-track roads, phenomenal scenery, and loads of places to pitch your tent if you like to wild camp. Gravel, potholes and wildlife all battle the amazing surroundings for your attention, especially in the north of the island.
Any bike is suitable for this ride, but I much prefer the plush suspension of a big trailie to crashing around the island on my old ZZR. Mull is serviced by three ferries. The 'big boat' from Oban to Craignure, which you're best to book in advance, and two smaller ferries from Lochaline to Fishnish and Kilchoan to Tobermory.
These smaller ferries are rock up and ride on affairs, which you can't book. Using them would allow you to do a ride around the north of Mull while taking in the equally impressive Morvern and Ardnamurchan peninsulas, but I'd recommend spending at least a night on the island. Tobermory is a great night out, or if it's a peaceful evening under canvas you're after, pitch your tent at Calgary Bay or down near Fionnphort.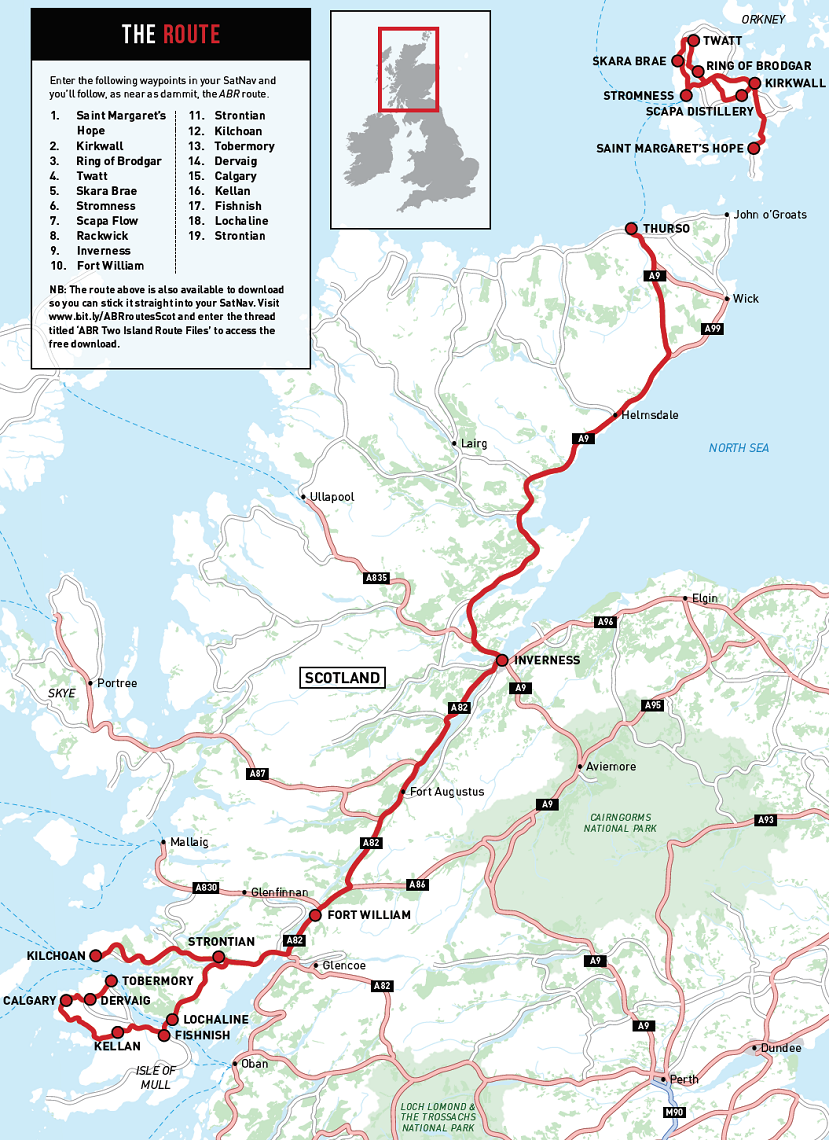 ---
See
1. Rackwick Bay
Nestled among the hills at the northwest of Hoy is beautiful Rackwick. This small crofting township is considered one of the most beautiful places in Orkney. Surrounded by towering 200m cliff s and steep heathery hills you'll find Rackwick Bay, a fine sand and boulder strewn beach. It has a beauty and climate all of its own.
Right beside the beach lies Rackwick Bothy. A bothy is a basic stone shelter open to anyone who needs to use it, and provides an amazing camping opportunity. Rackwick Bothy is fancier than most, with a flushing toilet and running water.
Take a tent in case the bothy is in use, and everything else you'd need if you were wild camping. It's advisable to boil or purify the water before drinking it. Jimmy and his dog Diesel live just up the road and keep an eye on the bothy, so if you see him around stop and say hello, he has some great stories about life on Hoy.
The walk to the Old Man of Hoy, the famous sea stack, starts at Rackwick Bay. Give yourself around three hours to get there and back, and take good footwear.
2. Dervaig Hairpins
Seven miles from Tobermory on Mull lies the small village of Dervaig. While the twisting, climbing, single track road to get there may be short, like all good rollercoasters, you'll probably want to ride it a few times.
The surface of the switchbacks is smooth and grippy and there's a great view from the top. On a clear day you can see over to the Isle of Coll. White Tailed Eagles (Sea Eagles) are a common sight in the area too, so it's worth taking binoculars.
There are good view points to safely pull over in just where you'd want them. A perfect place to stop for a brew and a sandwich while taking in the peace and quiet.

Discover
1. Scapa Flow Museum
Orkney is famous for its Neolithic monuments. Skara Brae, Maeshowe and the Ring of Brodgar can all be visited in a day's ride. What many people miss is the Scapa Flow Museum on Hoy. The museum is centred around the former fuel oil pumping station at Lyness Naval Base.
The fascinating exhibition illustrates the importance of Scapa Flow as a base for the British fleet throughout history, concentrating on its role during two world wars. It includes photographs, text, artefacts, films and an audio exhibition, plus a collection of large military vehicles, cranes and artillery.
The Museum is free to enter, but you'll need to pay the £8.50 return for the ferry. Scapa Flow Museum is only a two-minute walk from the ferry, so you can leave your bike at Houton on Mainland if necessary.

2. Tobermory Distillery
Tobermory is a great place to spend an afternoon off the bike. For such a small town there are lots of things to see and do. Tobermory Distillery, right on the seafront, offers a selection of different tours giving you the chance to see the workings and history of one of Scotland's oldest commercial distilleries.
You can also, of course, sample a dram or two. Tobermory makes two very different whiskies, the unpeated Tobermory and the smokier Ledaig. They also offer 'driver packs' allowing you to take a dram away with you if you're riding on. There are plenty of good eateries a short stagger from the distillery if you're staying over.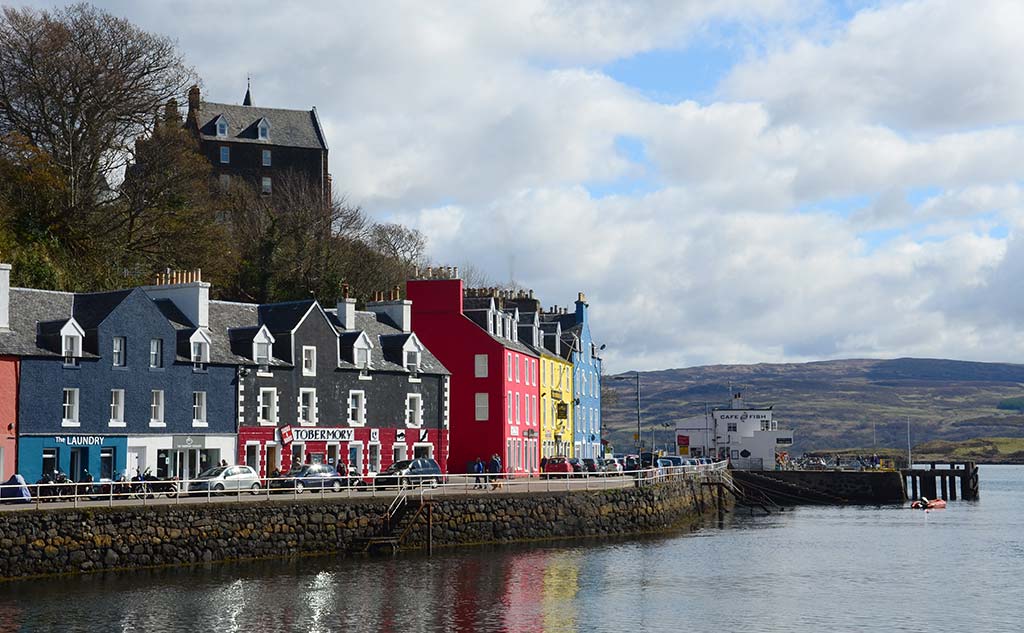 Ride
1. Scapa Flow into the Stone Age
If you take the ferry to Orkney from Gill's Bay (just a couple of miles from John O'Groats) it takes you into Saint Margaret's Hope on the island of South Ronaldsay. From there you have a great ride north over all four of the Churchill Barriers.
Keep an eye out for the block ships that can still be seen sticking out the water after being scuttled in WW2 to stop the German navy getting into Scapa Flow. Following the coast past the Scapa distillery, past Maeshowe and on to Stromness, it's worth nipping into Stromness town centre to ride along the extremely narrow streets.
North out of Stromness takes you to the Stone Age settlement Skara Brae, before we head around to Twatt for some hilarious photos. Take the A967 south and turn off for the B9055.
This is a great single track road, which passes Orkney's famous stone circles, crossing the narrow causeway between Loch of Stenness and the Loch of Harray. At the junction for the A965 you can either turn right and head back to Stromness or left to Kirkwall, Orkney's biggest town.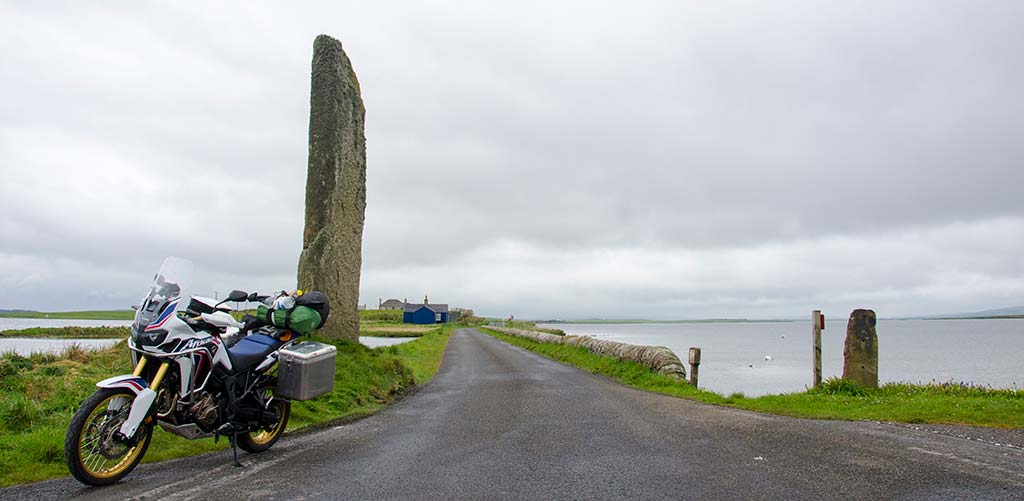 2. Two ferry visit
Starting in Tobermory, head up the hill and out of town towards Dervaig. The road quickly narrows into single track as it climbs, giving you stunning views over the island. In no time you will fi nd yourself on the Dervaig hairpins, an absolutely stunning section of tarmac which is also used in the Mull rally.
Stay on the coast road as you pass the white sands of Calgary Bay and over the hills towards Salen. I'm not joking when I say coast road, in some parts the only thing between you and the sea in a little stone wall! At Salen take a right and head for Fishnish where you get the short ferry over to Lochaline.
Back on dry land, head north across the moorland to Strontian before riding along the side of the stunning Loch Sunart to Kilchoan, where you take the ferry back to Tobermory. If you'd rather do this run but stay on the Scottish Mainland I recommend staying at Sunart Camping in Strontian. They have very reasonably priced cabins and the owners Tim and Lynne are passionate bikers themselves.