At just a two hour ride away from Sydney, Watagans National Park is one of Australia's toughest trail biking destinations, Ian Neubauer finds out more
Trail biking is a dangerous sport. We see a lot of people get injured,' Bruce Hancock tells the group of 17 men and one woman gathered behind the pub at Bulahdelah, two hour's drive north of Sydney. 'Last weekend a rider hit a tree and temporarily lost all feeling in his legs. We had to call the Wespac Rescue Helicopter to airlift him to hospital. And a few weekends before that we had a rider who ended up with his heel bone sticking out through his boot. The bloke happened to be a doctor. Took one look at it and said, 'that's no good''.
'So, take it easy and keep the revs down as we drive through town – there's no need to ruffle up the locals or the coppers. And one more thing: every time your handlebars touch the ground today you have to make a $2 donation to the rescue chopper. I'll be passing around the collection plate at dinner tonight.'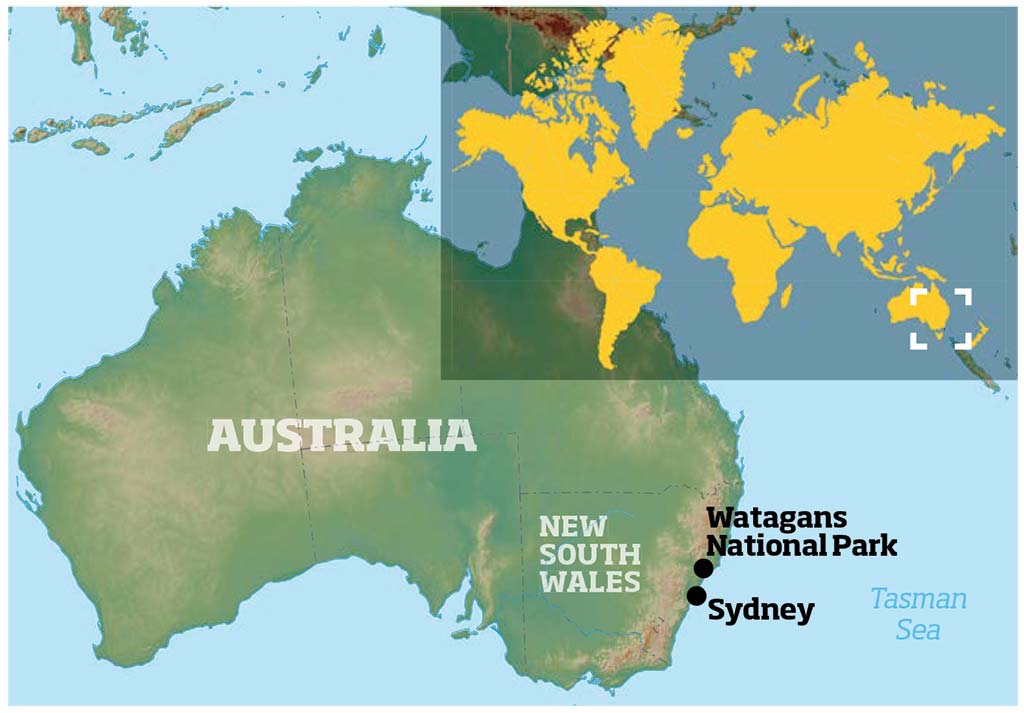 With the formalities out of the way, all 20 of us – Bruce and sweep rider Paul included – charge out of the car park and onto a country road that's quickly enveloped by the tall trees of Watagans State Forest.
With so much quality timber this close to the coast and the second-highest average rainfall in the state of New South Wales, it's easy to see why loggers have been coming here for more than 150 years. In the 1970s, dirt bikers began following the logging trails into the hills, giving birth to what is now one of the country's most popular trail biking destinations. Bruce's company, Watagans Trail Bike Tours, has been offering one, two, and three-day tours as well as trail skills days for beginners here since 2003. He also helps organise two local meets for the NSW State Enduro titles each year, as well as the annual Red Bull Lost & Found Enduro.
Day 1: Greasy Not so Easy
The sun is shining brightly on this hot autumn day. But the torrential rain that hit the coast the week before turned Watagans into a greasy slip-n-slide. Not two minutes after entering the forest some bloke on a Yami comes off on a steep hill, bringing the riders behind him – myself, two blokes on Suzuki DRZ400s and Paul – to a dead stop. And while the guy on the Yami gets going again I'm unable to follow suit, the rear wheel on my KTM spinning hopelessly in the mud. I have no choice but to dismount, do an awkward 10-point-turn, coast to the bottom and try it again.
The effort of lugging around the bike leaves me gasping for air, but the guys on the DRZ behind me fare worse yet. As relative newcomers to the sport piloting one of the heaviest big bores on the market, they lack the skills and bike fitness to progress any further. Bruce has to double back with Paul to bring their bikes to the main road, at which point the DRZ guys call it a day. 'I felt like I was about to have a heart attack,' I heard one say. 'I nearly spewed in my helmet,' the other remarks.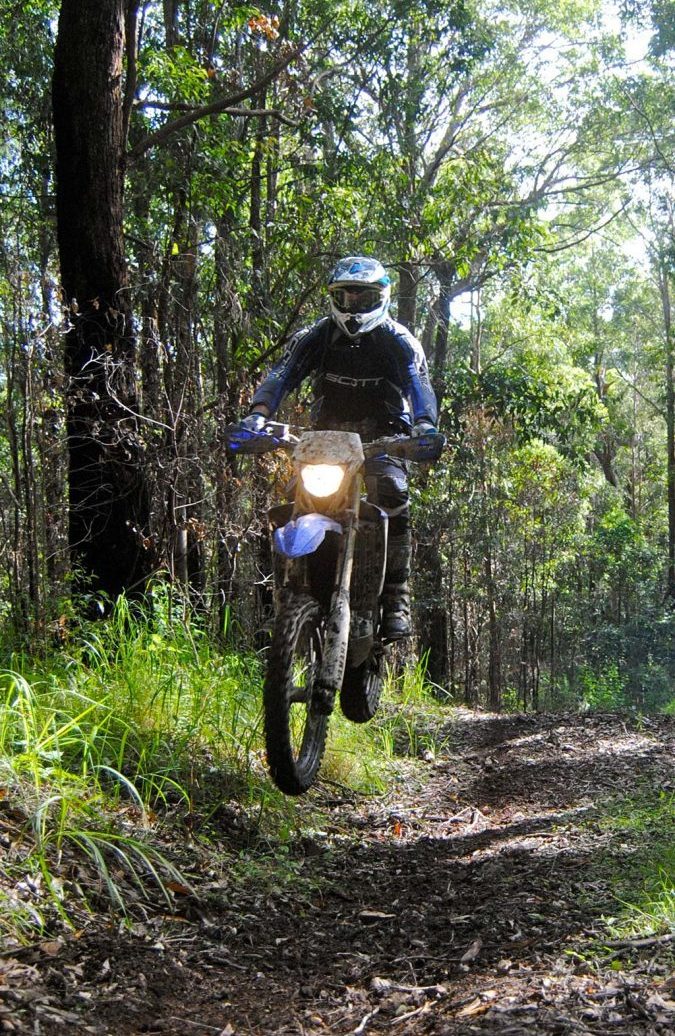 'Sorry guys,' says Bruce, pointing them back towards town. 'Come back another weekend and I'll give you a free skill trails day. Then you'll have a license to ride mud.'
With the DRZ guys gone we pick up the pace, tearing through leafy single tracks that wind through the trees.
To make sure no one gets lost along the way, we use the tried-and-true cornering system.
It sees the first rider behind Bruce park their bike across crossroads that are passed and point in the right direction until the last rider has caught up.
And even though I'm riding at speeds any normal person would consider insane, the last rider in the group always happens to be me. Stopping to take photos every two minutes doesn't help, but it's the downward runs that really set me back. What I need to do is coast down in second gear and have faith my Katie-Em will get me there. But instead I hang on desperately to the brakes – giving myself a savage case of arm pump and sapping my strength.
Just before lunch we come to the biggest hill of the day, at the bottom of which five or six riders lay in wait. There are two more riders stuck on the slope, their bikes' rear wheels spinning hopelessly in the mud. They've become stuck while navigating a 90-degree corner crisscrossed with roots on the steepest part of the incline.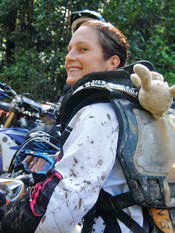 It takes more than half an hour for the group to get through, leaving only Paul and I at the bottom of the hill. I look at the 90-degree corner and then at the sweep. 'There's no way in hell I'm getting around it,' I tell him. 'Piece of piss,' Paul replies. 'Just leave it in second and get a shitload of a speed on your approach. The bike will do the rest. Trust me, mate.'
I nod a yes, slip my goggles on, drop the clutch and crank the accelerator. The second I hit the corner I feel the revs go low and I am tempted to change gears.
But instead, I redline it and hightail out of there, pulling off a jerky wheelie at the same time. I'm whooping inside my helmet as I take the last part of the hill when out of nowhere a big fat log appears in my path. My front wheel gets over it but my rear hits it on an angle and down I go, into the mud. But I'd managed to get around the corner that undid many of the more experienced riders and I'm totally stoked… king of the hill!
Day 2: More of the Same
When we get back to the pub late in the afternoon, my many sprains and bruises have amalgamated into a full-body ache 'n' pain. But after a hot shower and a cold beer, I feel human again and limp across to the dining room for a feed with the boys. It's steak and chips – typical pub grub – with veggies we all make a point of leaving on our plates. After dinner we watch helmet-cam footage captured by three riders in our group, pissing ourselves every time they stack it and the screen goes haywire.
It's followed by the passing of the collection plate for the chopper and the Watagans Wally Awards. After being named struggler of the day I'm given a particularly nasty bottle of red wine that tastes like a blend of battery acid and high school punch. Next comes the 'unpreparedness award' given to a rider called Damo. Damo held up the group for 15 minutes today when he had to borrow a hex key to tighten up an aftermarket handguard. Everyone who rides with Bruce has to be self-sufficient and carry all the tools they may need, so Damo was given a plastic kiddies tool kit.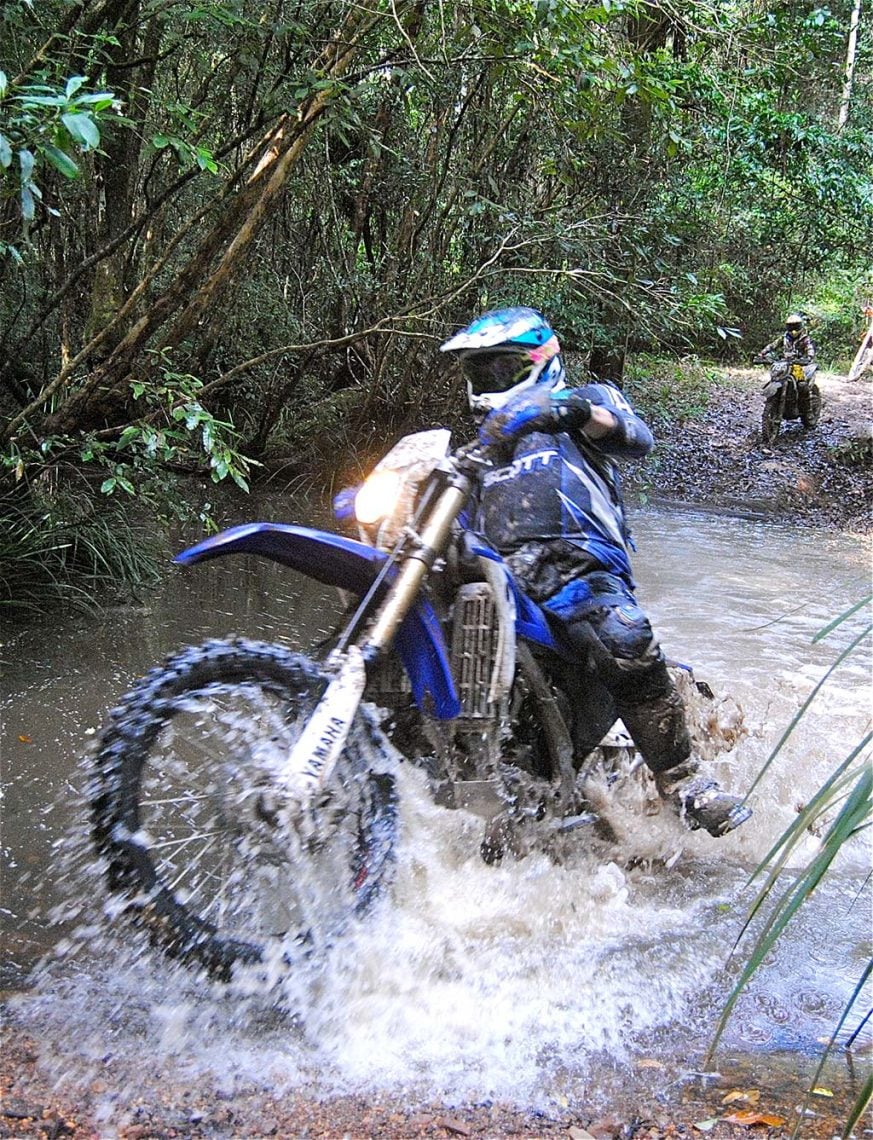 To drive the message home Bruce made Damo tape the plastic toolbox to his mudguard and ride around with it on display for the remainder of the weekend. The next day we're joined by Malcolm Hall, whose dealership, Cessnock Motors, loaned me my KTM. Malcolm is piloting a TM 250 EN – an Italian two-banger I had the pleasure of riding a couple of years ago. If I wasn't on a big bore it's the only bike I'd want: quick as lightning and light enough to throw around.
After a cooked breakfast we're off and away, retracing our tyre tracks from yesterday. For the entry point into the forest Bruce selects a two-metre-high dirt wall with a clump of five or six fallen logs lying directly above it. I climb the wall easily enough but lose the front end of my bike on the logs. I end up tangled up in the bushes with my bike upside down and the engine revving like mad. Way to make an impression on Malcolm; he must think I'm a goose!
I find my groove a short while later when Bruce leads us through a section of rainforest. There are plenty of creek crossings to mix things up and wash away some of the mud that's caked to my skin. At one creek crossing the water comes up to the handlebars, where Bruce's girlfriend, Ally (see side-story: Rider Profile) becomes unstuck. Her KTM 250 altogether disappears in the stream, but a few guys help her fish it out and soon she's charging again.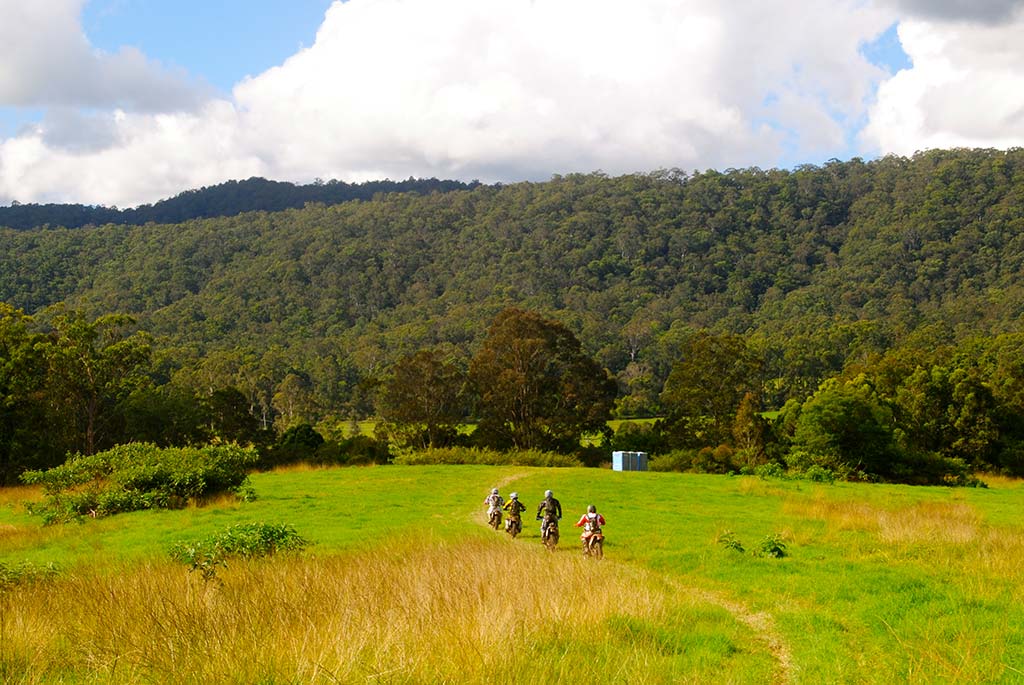 After lunch we take on a series of hill climbs that I manage to clear without falling off too many times. But I get into trouble again on the downhill legs, my back wheel locking up with the slightest touch of the brakes. On one slope I fall three times in a row and by the time I reach the bottom, I'm totally fucked.
Then I see it: a ridiculously steep hill carpeted in helmet-size rocks that's thrown half the group in the mud. One after another they have to ride back to the bottom and try to clear it with fresh momentum.
Now I'm no quitter but I know when I'm spent; there's just nothing left in me to conquer this hill. So I hand my bike over to Pete and do the walk of shame, struggling just to clear it on foot. Three-quarters of the way up I step to the side as one of the last riders in the group attempts the incline. He's nearly cleared it when a large rock throws him off course and he ends up in the bushes under his bike. I'm having a little chuckle when I hear him cry out in pain; he's done something to his leg and can't get up.
I run over and lift his bike up while two others carry him to the top of the hill. It seems he's done something nasty to his hamstring – either sprained or torn it – but either way his weekend is over.
Bruce dinks him to the nearest road and then radios the support vehicle to take the poor bugger into town. I decide to follow and finish early too; it's no fun riding when you're so thoroughly shagged. It's been a highly challenging and rewarding weekend, but I never want to see a muddy hill again.