Bryn Davies takes a plunge into the unknown as he explores the mountains of Aragon and Catalonia on a Montesa 4Ride
I have a confession. I'm one of those people who has never experienced the 'real' Spain. Instead, I've stuck as close to the coast as possible, stopping exclusively in holiday resorts dominated by sunburnt Brits. Of course, this isn't my fault, I've merely been taking advantage of the free holidays that present themselves when my grandparents are looking to treat me.
Oh, and there was the time when I went to Magaluf with the lads after our A-Levels, but the less said about that the better. So, over these past 15-or-so years, I've probably visited the country about 20 times, and on each occasion, I've sat in bars, played pool or sat on the beach.
That all sounds very adventurous, especially coming from the editor of a magazine titled Adventure Bike Rider, but bear with me. While I've been sat gorging on full English fry ups from Betty's Bar (Betty is, of course, a 40-something lady from Birmingham who moved to Spain for sun, sea and, well, whatever else she could get), there's always been a thought at the back of my mind, urging me to get on a bike and explore the areas that are less visited by the throngs of tourists.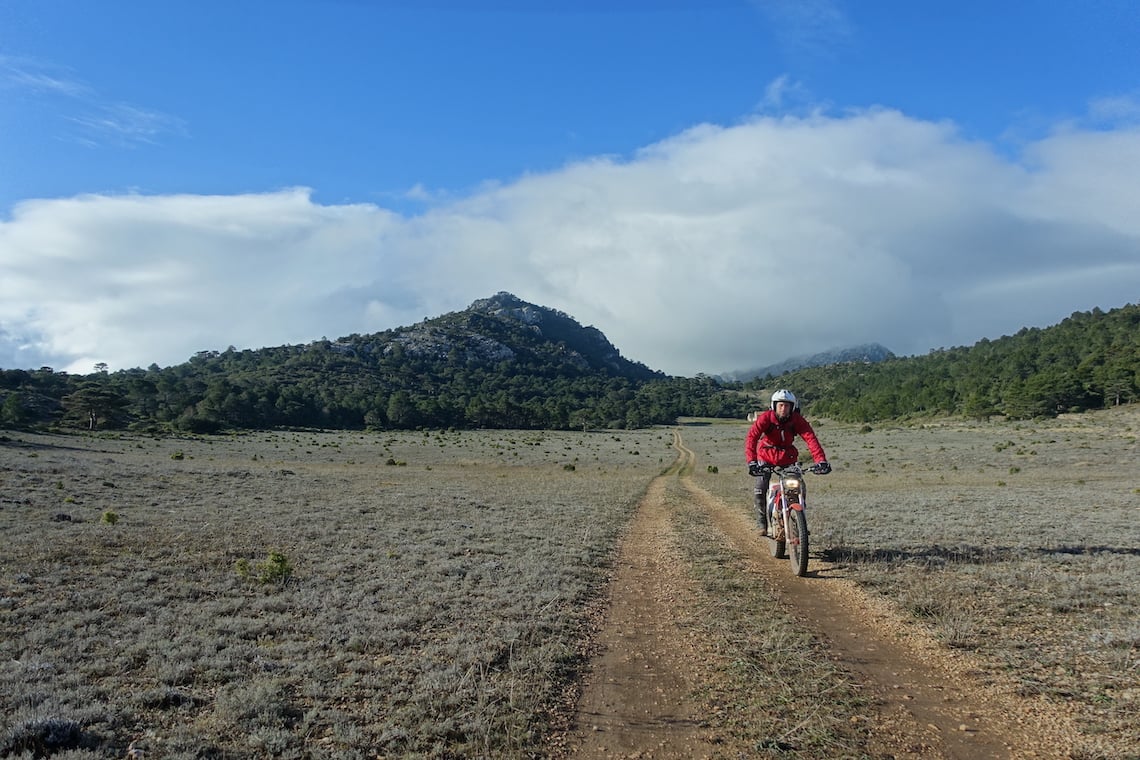 The opportunity escaped me for too long, but finally, in the depths of winter, I was travelling to Barcelona airport to meet up with a guy called George Moore, who was in the process of setting up his Spanish touring company, Montana Adventures. George is a 27-year-old gent from Northampton who set up his own tree surgery business 10 years ago.
He did so well for himself that he's now decided that he wants to live the good life in Aragon, Spain, while also sharing the area with riders who want to experience some of the best trails the country has to offer.
This wasn't all George wanted to do, however. He wanted to make the trails accessible for all riders of all abilities, and part of doing this was by making use of the new(ish) Montesa 4Ride, a trials bike that's been adapted by Montesa to have a seat and more user-friendly ergonomics and gearing.
Not only had I never ridden in Spain, but I'd never had the pleasure of riding a trials bike and I was interested to see how they performed, particularly when it came to long days chasing trails through the mountains of Els Ports Natural Park. Montana Adventures is based in a small village called Lledo (pronounced Yeddo), which sits pretty atop a hill just to the north of Els Ports and provides the ideal staging ground for an assault on the mountain range.
There's very little information about Lledo and Els Ports that can be found on the internet, other than the fact that it's a limestone mountain massif on the border of Catalonia and Aragon, and it was one of the last strongholds of the Spanish Maquis in the 1940s and 50s.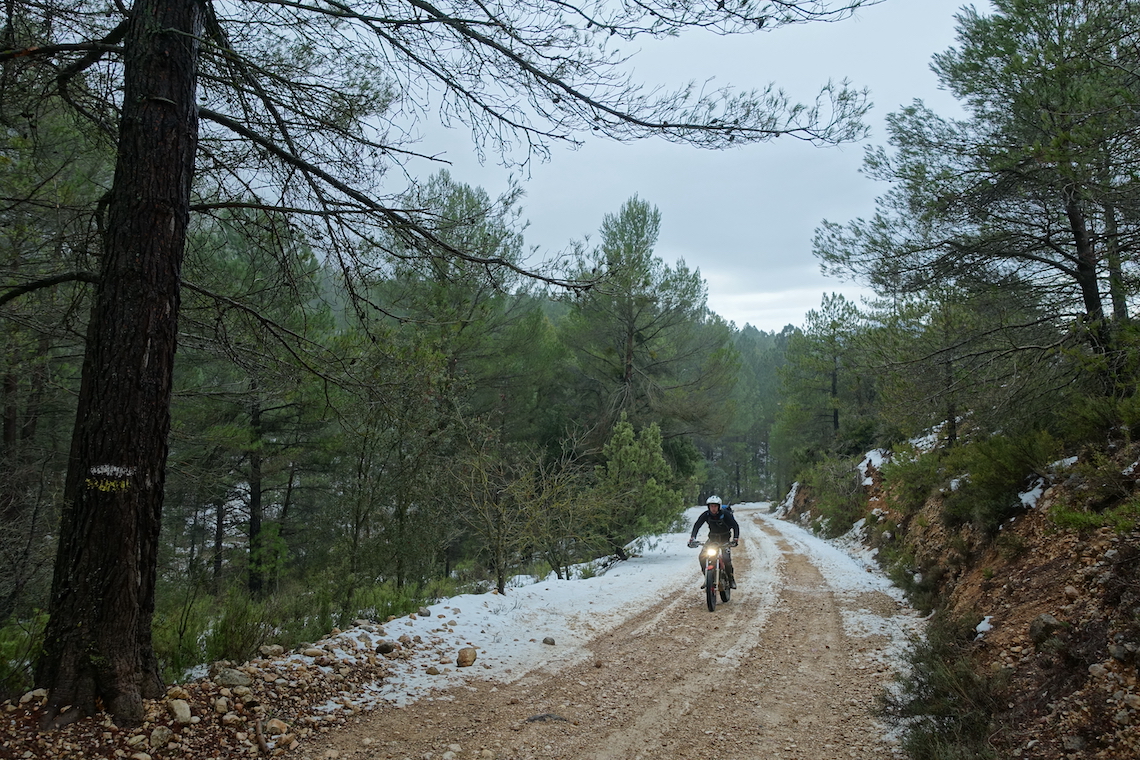 So, after landing in Barcelona and being picked up by George, where I was headed to was pretty much a mystery to me, save for some stunning views that were revealed after a quick scout of the area on Google maps. As you drive towards Lledo from Barcelona, Els Ports eventually comes into sight, and it's a majestic view indeed.
I was shown to my room in La Casa del Avi Brenchat, a family-run hotel/B&B in the village, and introduced to the owner, Rodrigo. My room was beautifully decorated, with a comfortable bed and a huge en-suite shower. I could definitely get used to this.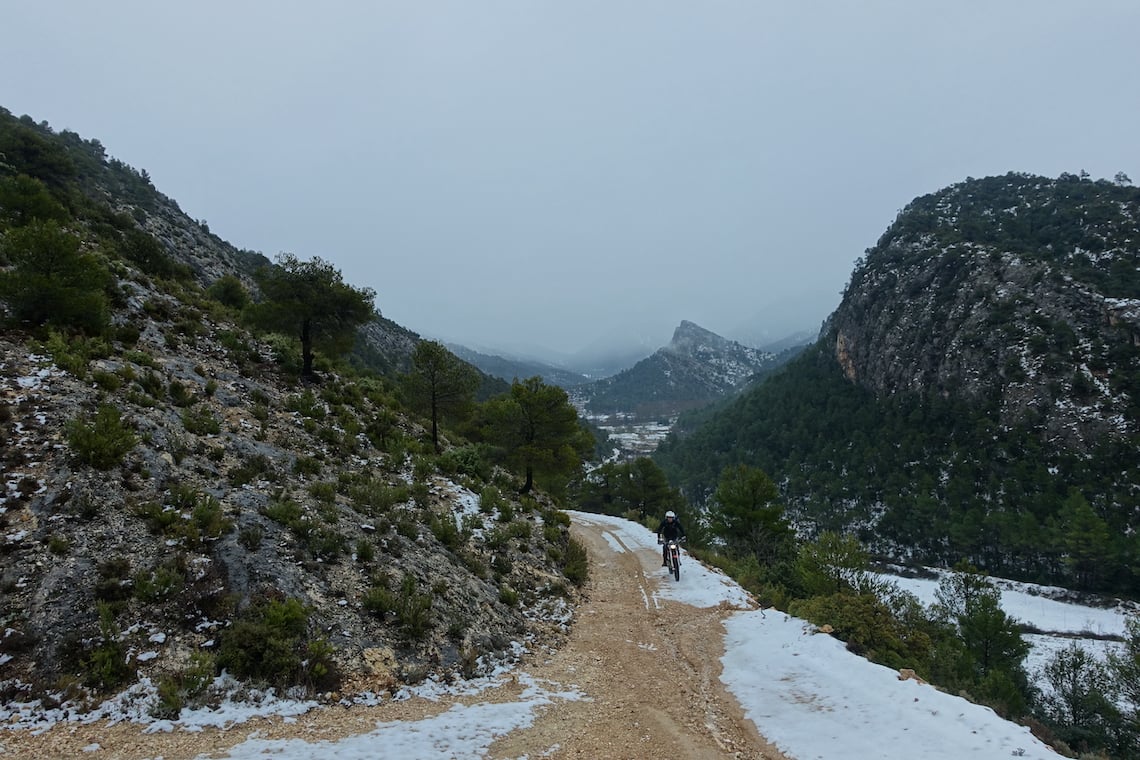 Before long, I had adorned my riding kit and found myself stood in the Montana Adventures finca, a patch of land that George has purposely renovated to make the ideal proving grounds for trials riders, novices and experts alike. It took some time for me to get myself acquainted with my bike, and that's probably because I couldn't help but stare at the towering limestone cliffs of Els Ports in the distance and think of Italy's magnificent Dolomites.
It was music to my ears when George announced that we were heading in the direction of the monolithic rocks, and after a few hundred metres of tarmac we turned off onto our first piste of the day. This beautifully kept gravel road was super easy to ride, but the simple fact that you're not travelling on tarmac gets the blood flowing, and before long you're living your own adventure.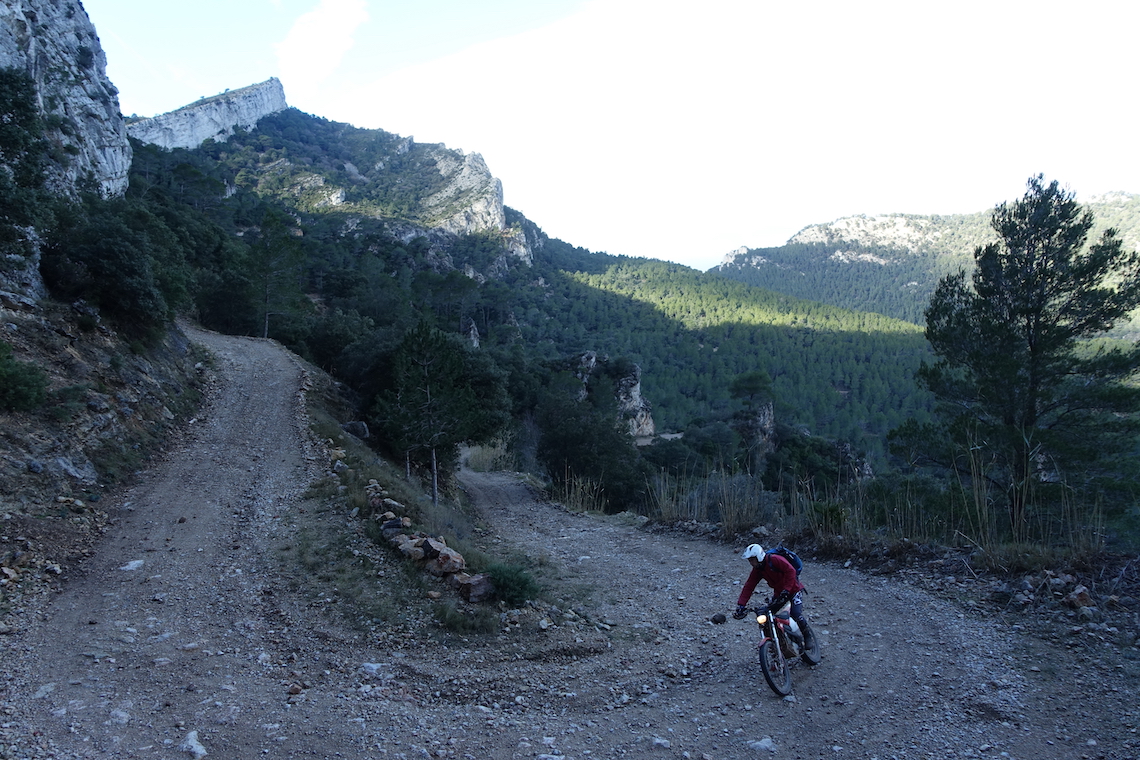 George had claimed that there were more off-road trails than you could ride in one tour with Montana Adventures, and while I initially took this to be standard marketing spiel, it soon became apparent that he wasn't telling porkies.
For miles upon miles these dirt trails, or Caminos as they are known, snaked their way around, up and over the mountains and through rivers, creating an intricate network of routes that would take you just about anywhere you wanted to go. There must be thousands of miles of trails here, and that's not including the more technical and difficult to ride Senderos.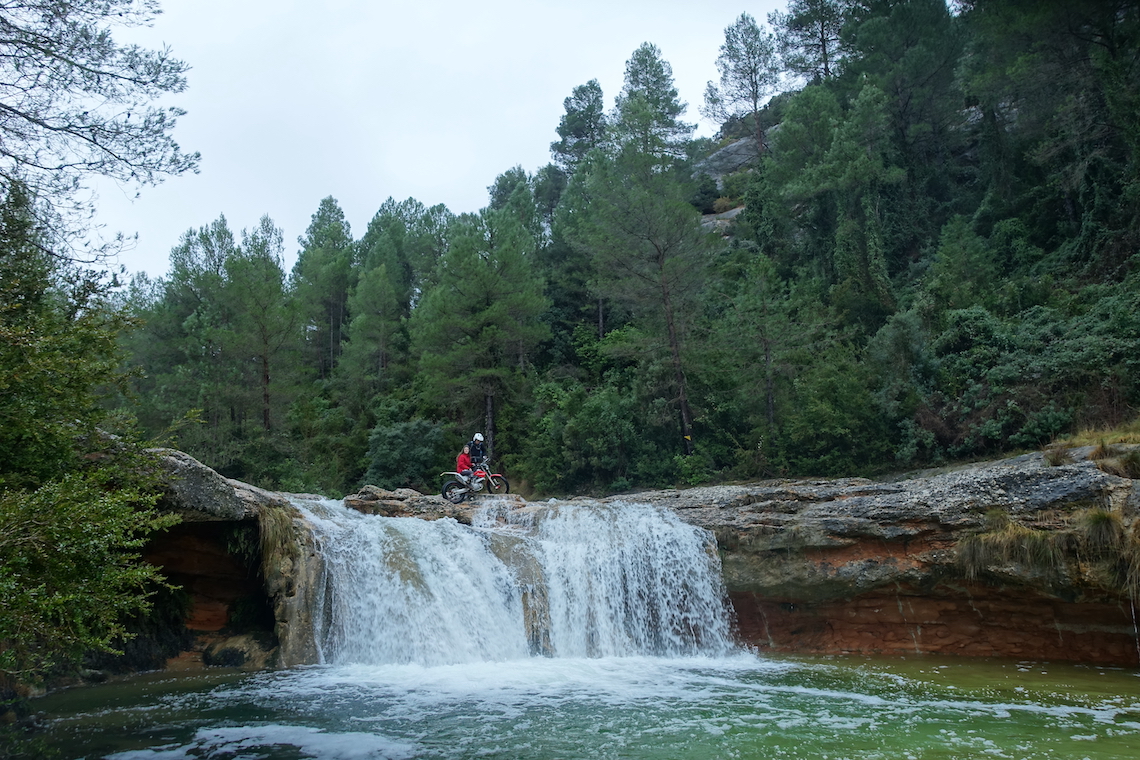 As we stopped for a quick rest George pointed towards one particularly dominating peak with a spectacularly steep north face, Monte Sagre, and proclaimed that we were going to get the bikes to the top of there tomorrow. It was a long way up, and there didn't seem to be an obvious route, so I nodded and laughed while thinking "keep dreaming, pal".
As you may remember, my previous experiences of Spain have involved beaches, beer, swimming pools and sun, and so when it started to rain I was a bit taken aback. Even more so when the temperatures dropped close to freezing. This wasn't the Spain that I thought I knew, but I was loving every second of it, and the fact that I never once wanted to pull over and seek shelter is testament to the quality of the trails and guidance.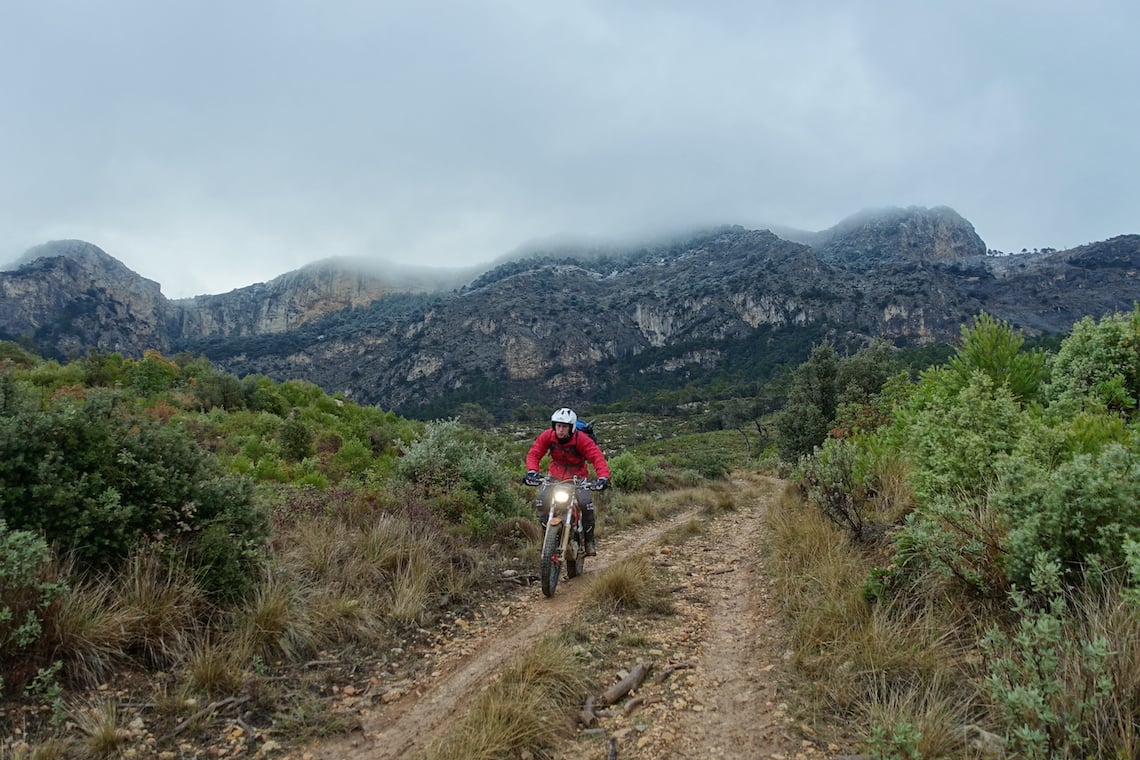 All of a sudden the rain turned to snow, and almost as if I'd just ridden through a portal into Narnia, I was surrounded by a thick blanket of the white stuff. I pulled over to take in the novelty of riding in Spain in thick snow. I'm a bit of a kid when it comes to snow, you see, and even after spending a ski season in Meribel, I still get excited at the faintest sign of it.
After a while of listening to the perfect silence, I kicked the Montesa into life and caught up with George and Raquel, his girlfriend who was out riding with us, who informed me that one of the neighbouring towns had seen 70cms of snow over the last few days.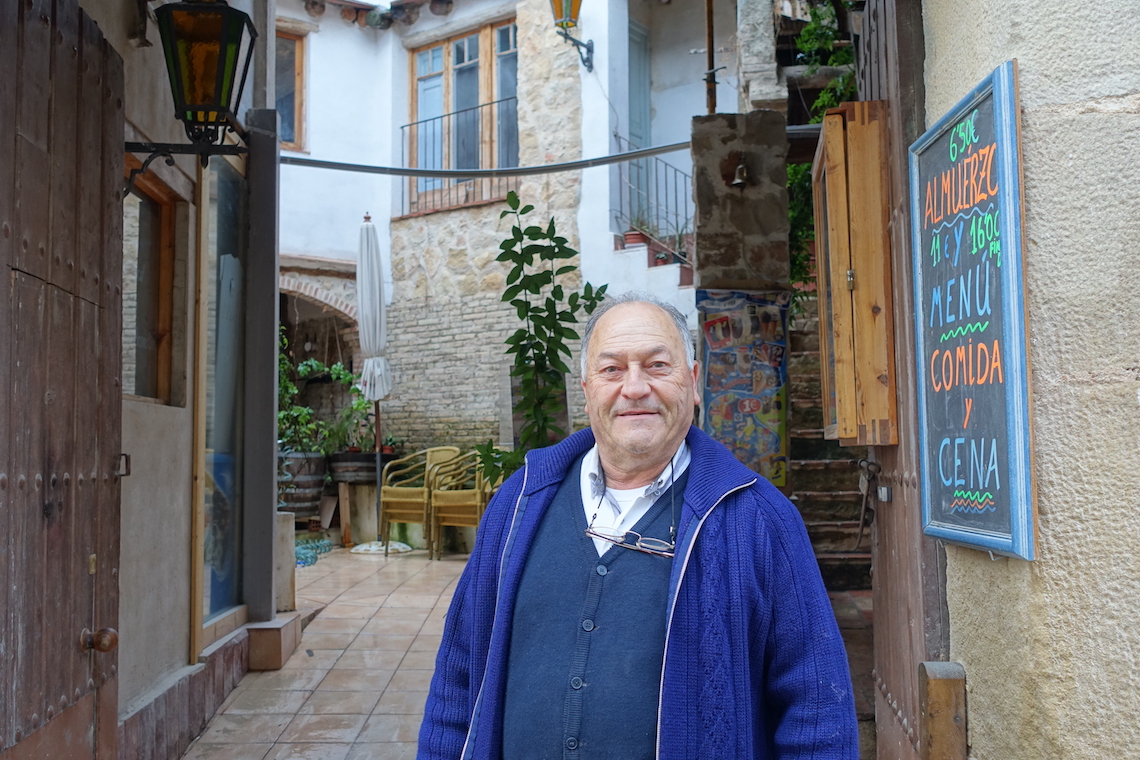 "This is epic," I thought to myself as we navigated our way to Beceite, a small village on the outer reaches of the national park. I was feeling good, despite the cold and wet. My gear was holding up well and I was getting into the swing of riding. The same could not be said for Raquel, however. Her feet were going numb and she couldn't feel her hands, so she made the choice to leave us and make a bee-line for the restaurant we were stopping in for lunch.
George and I pressed on, heading out of the village and up a gravel road. Soon the snow was covering the trail and we were making fresh tracks. I'd never ridden on snow properly but I imagined what someone more experienced might tell me, and I decided that the best bit of advice was to grit my teeth and grab the throttle, not making any jerky motions that would upset the balance of the bike. As it turned out, I think I channelled Robbie Maddison, because everything was just fine.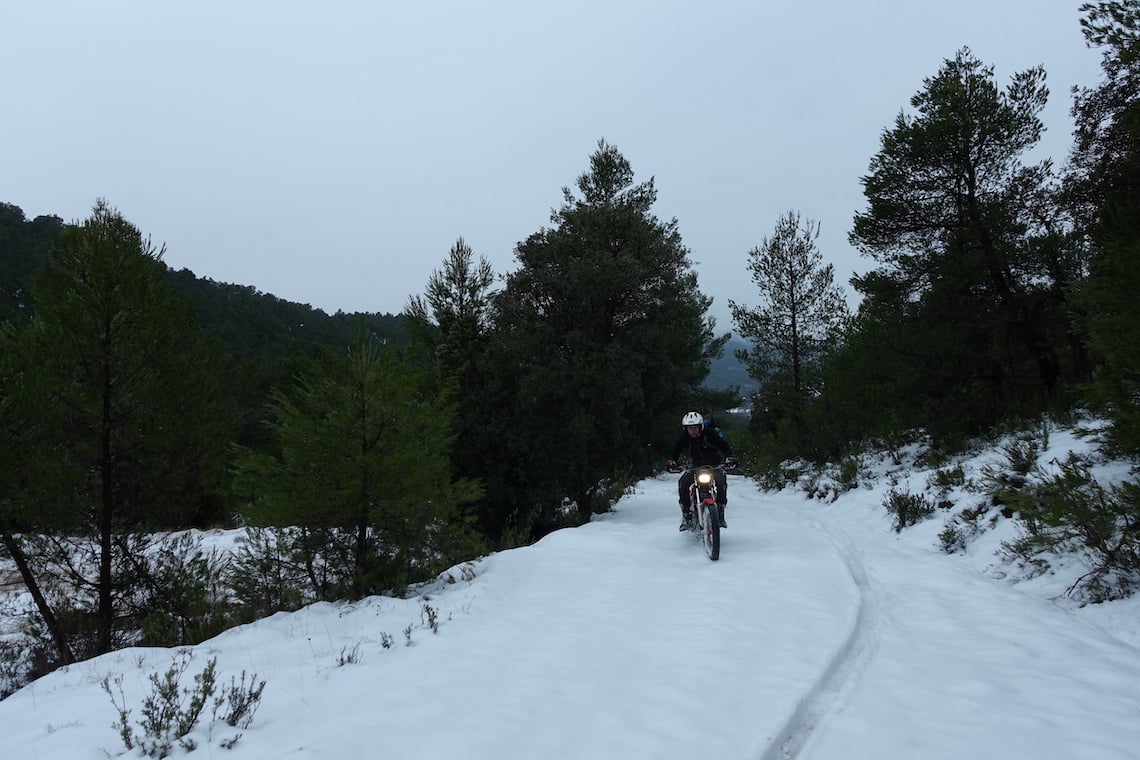 We made tracks higher and higher into the mountains, and as we went the snow got deeper and deeper. Before long it was coming down hard as well and I was truly in adventure riding heaven. By now the going was getting tough and it was hard to get any momentum at all in the knee-deep powder, but we pushed on, passing through tiny villages and secluded farmhouses. While these routes are all legal rights of way, for the whole day we only passed four cars.
After pressing on for lunch, we made a hasty ride home as the temperatures were dropping more, and we were more than likely slipping into hypothermia. A warm shower and some good food later and I was flat out asleep, gathering my energy for the last day of riding before my flight home.
Raquel wouldn't be joining us as she had to work, so George and I headed off towards Monte Sagre, the peak that he had pointed out to me the day before. And he was still telling me we were going to stand on top of it with our bikes. I guess he was being serious after all.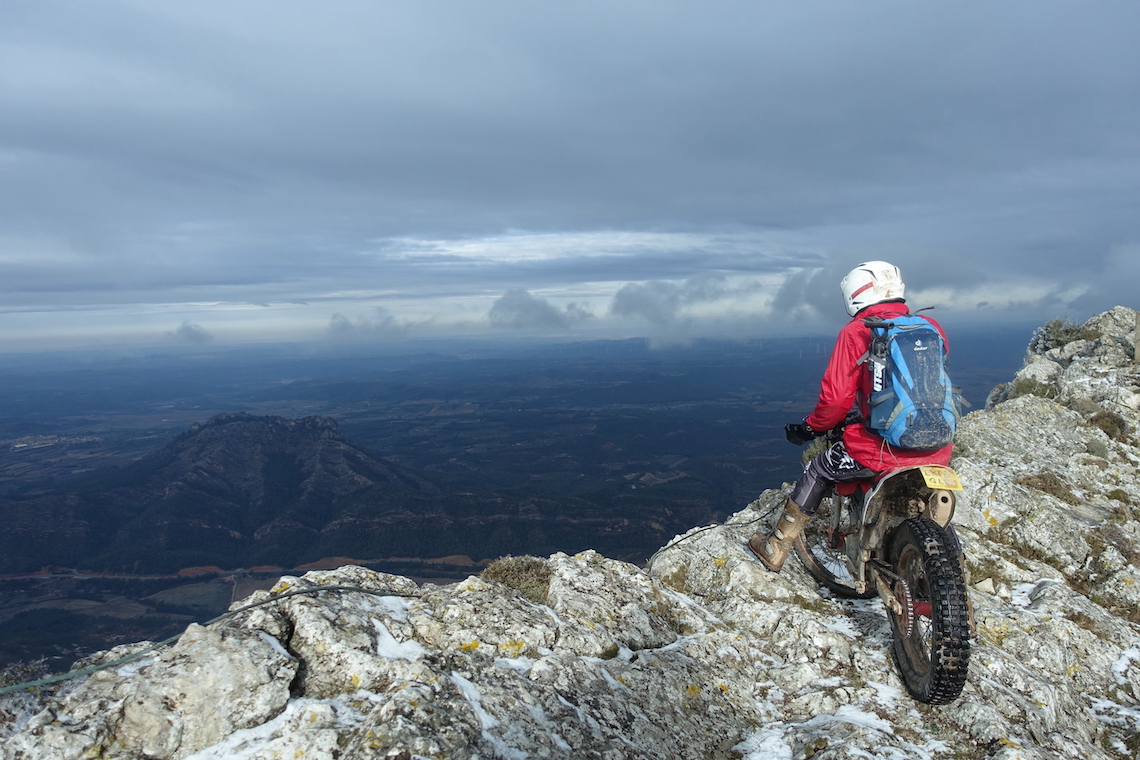 The network of trails from Lledo to Monte Sagre is fantastic, starting with some lovely, gentle access tracks that skirt past farmers' fields and secluded, idyllic houses. The only tarmac I saw was a 30-or-so-metre section which we crossed before dipping into the valley in front of the towering peaks of Monte Sagre and Roques de Benet. Here the trail became a bit more exciting, carving a thin brown line out of the hillside before climbing up the lower slopes of the mountains in front.
After zig-zagging our way around the northern sides of the mountains we decided to forgo the gnarly Sandero that would take us to the track that leads up Monte Sagre and opted to take the scenic tarmac route instead. Once my tyres hit the black stuff I was once again amazed at how comfortable the small Montesa was. It was hauling me along at about 50mph with ease, a feat that would seemingly defy the small stature of the machine.
Before long we had turned off and were around the south-eastern side of the mountain, following a beautifully wide piste through the trees that surround the base of the peak. Soon the views opened up and my eyes struggled to stay focussed on where I was going, instead, they were being drawn to the huge expansive vista that had opened up before me. Spain stretched out, revealing numerous perfectly formed mountains, and between them, I could see ribbons of tarmac that were just begging to be ridden.
A close call with the edge of the trail brought my attention back to reality, and I looked up to see the route I was taking, and how it snaked back and forth up the almost vertical slopes of Monte Sagre. Rising from the side of the gravel track was a monumental cliff face, and for a while, as I stared at it. All sense of perspective was thrown out of the window, and I felt tiny. We followed this epic, switchback-laden trail for a few miles before we eventually reached a grassy plateau.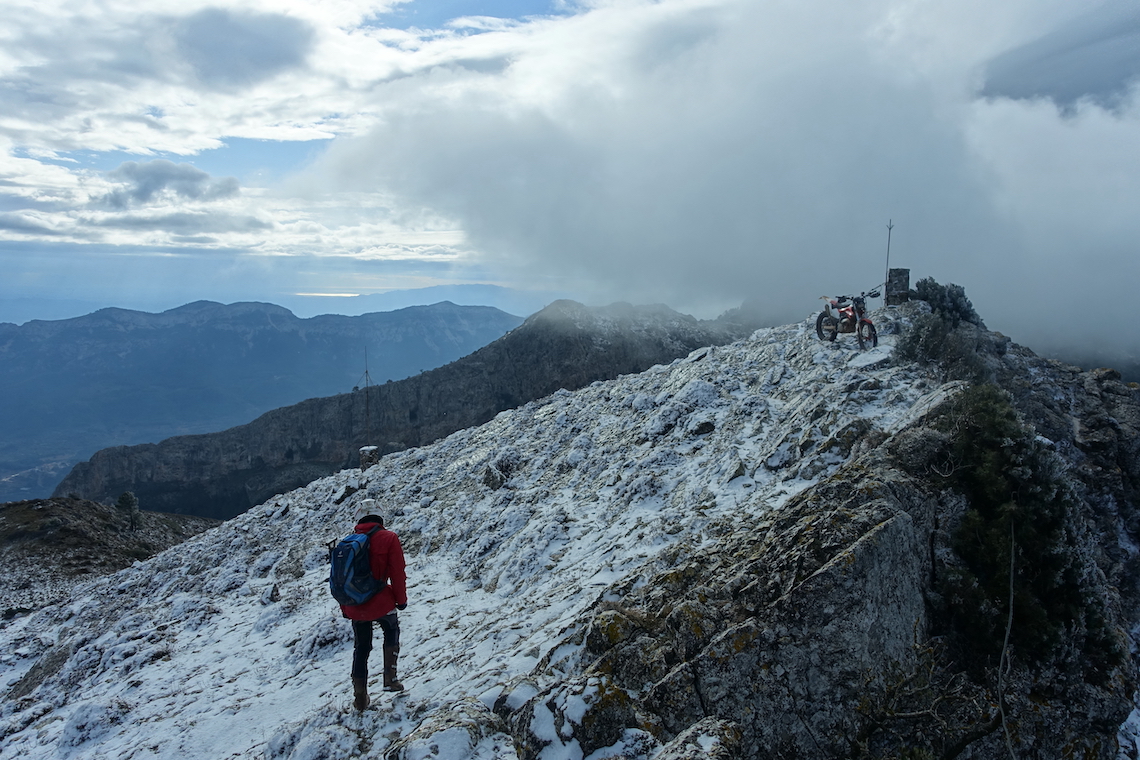 From here it was a short ride to the summit, where there was a solitary, small building. Bemused as to why this would be here, I quizzed George. Apparently, in the summer, it's someone's job to sit here and keep an eye out for fires, such are the danger they present in the beautiful Els Port National Park. The thought of fire was a bizarre one as I rested my bike on a snowy bank, but what a job that must be.
Just 10 metres from where I had parked my bike, stood the summit of the mountain that had been following me for the past two days, and so with a huff and a puff, and a reminder that I'd become unfit after trading my passion of hiking and mountaineering for a passion of two wheels, I finally stood on the summit, surveying the epic landscape that stretched out before me.
'This is what adventure motorcycling is about,' I thought. The trail to the top of the mountain wasn't exactly the toughest, but the incredible backdrop that you're riding through makes it that little bit more special, and as you stand on top of Monte Sagre, you can't help but feel as though you've just conquered Everest. George likes to finish all of his tours, whether you're a beginner or a seasoned vet, with a ride to the summit of Monte Sagre, and I couldn't think of anything more rewarding.
The smile that had crept onto my face at the summit stayed stuck firmly in its place for the rest of the day, heck, even the week, and after getting delayed at Barcelona airport.
---
The Bike
The main idea behind Montana Adventures is that you're riding the trails of Spain on an adapted trials bike, the Montesa 4Ride. There's no denying that these plucky little machines, with their 258cc engines, 885mm seat height and 81kg weight are a less intimidating proposition than a tall, aggressive enduro. The five-speed gearbox has been specifically tuned to allow for longer gears, and the tank capacity sits at a modest 4.4-litres.
Having never found myself perched on a trials bike before, I was massively impressed with how the 4Ride ate up the miles on the trails. I'm 6'2 and there's no denying that I felt a bit cramped on the bike (some bar risers wouldn't go amiss), but there was enough power to cope with my 19-stone frame and the pull when navigating over steep rocks is nothing short of amazing.
The tank provided enough fuel to last us about 50 miles, though there's a handy storage unit under the seat that's big enough for two litres of extra fuel. Would I recommend the 4Ride as a green laning bike for the UK? Abso-bloody-lutely, though the £6,299 price is a bit of a stumbling block.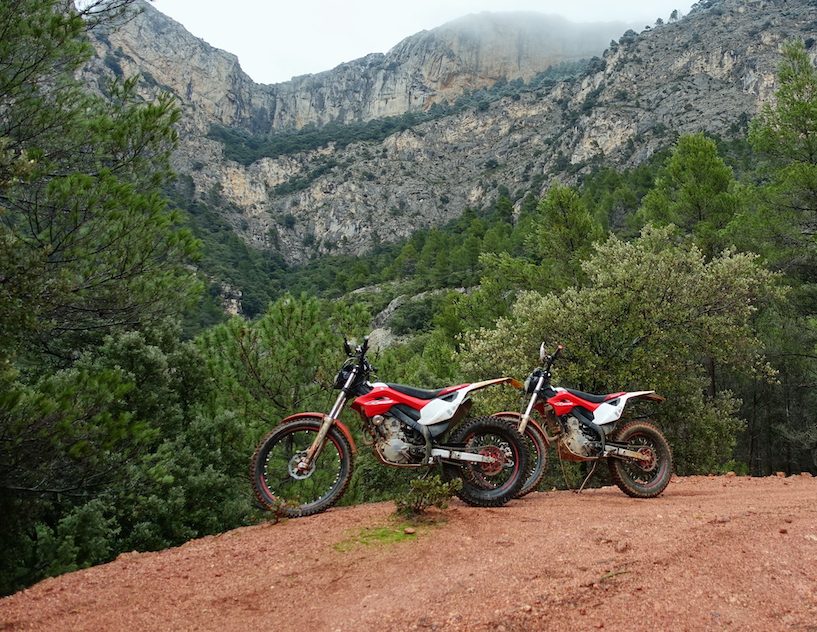 ---
Want to ride this route?
Get there
Montana Adventures' base is situated about two hours southwest of Barcelona in a small village called Lledo (pronounced Yeddo). There are plenty of flights to Barcelona from just about every UK airport, though I flew from London Luton as I find the relatively small airport to be stress-free. A return will set you back roughly £100 with no luggage (Montana Adventures can provide all of the kit for you) or £150 with 20kg luggage allowance. Once at the airport, transfers are arranged by George at Montana Adventures.
Alternatively, if you fancy adding the experience to a bigger tour of Spain, it's a 350-mile ride from Santander to Lledo or 290 miles from Bilbao.
Stay there
Accommodation is organised and arranged by Montana Adventures, and you'll be staying in a charming rural house, La Casa del Avi Brenchat, which is run by a wonderful Spanish couple, Rodrigo and Angels. The accommodation oozes character, and the rooms are spacious and comfortable with en-suite bathrooms. A common room provides the perfect place to chill out with a few beers and Rodrigo's homemade wine, as does a traditional courtyard bar.
The tour
Typically, a tour with Montana Adventures is a four-day affair, costing €750 (approximately £640) for everything but flights and beer. Day one is typically a 'familiarise yourself with your machine' day, and on day two you head into the mountains for a full day of chasing trails, along with lunch.
Day three is more of the same, though by now you'll be very familiar with your bike and will likely attempt some more spectacular routes. George is very open to tailoring his guided tours based on your itinerary, however. So if you're in the area for the day, or fancy staying longer, he's flexible. Riding kit can be provided if you don't want to bring your own.
For more information on the tours visit www.montanaadventures.co.uk, or call 07525149836.
Skill level
The beauty of the Montesa 4Ride is that it's so user-friendly and if you've never ridden off-road before it's a great bike to start on. Couple this with the fact that there's such a wide variety of trails in the area, from easygoing, well-travelled Caminos to gnarly Sanderos, the route can be tailored completely to your riding skill.