UNDER AFRICAN SKIES
Bikes, baboons and some colourful riding buddies make for high adventure in Ethiopia for Ted Hely
Ethiopia was the third African country I visited on my UK-South Africa adventure. By the time I reached its borders I was more than ready for a change of landscape. Egypt and Sudan were hot, arid and dry in more ways than one. I was craving greenery, lower temperatures… and maybe a cold beer or two. Ethiopia was just what the doctor ordered.
Myself, Neil, Cam and Craig arrived at the Ethiopian border at about lunchtime after a night of wild camping in the Sudanese desert. Leaving Sudan was a simple a­ffair by African standards and only took a couple of hours with the help of a $5 local fixer. After filling up our bikes with jerry can fuel, we rode around the rope which masqueraded as the country's official border, straight past the two dozing border guards and into Ethiopia. Our passports were then stamped in a nice air-conditioned office. Now all that remained was to get the customs official to stamp our carnet import documents and we'd be home free. Simple. Or not, as the case may be.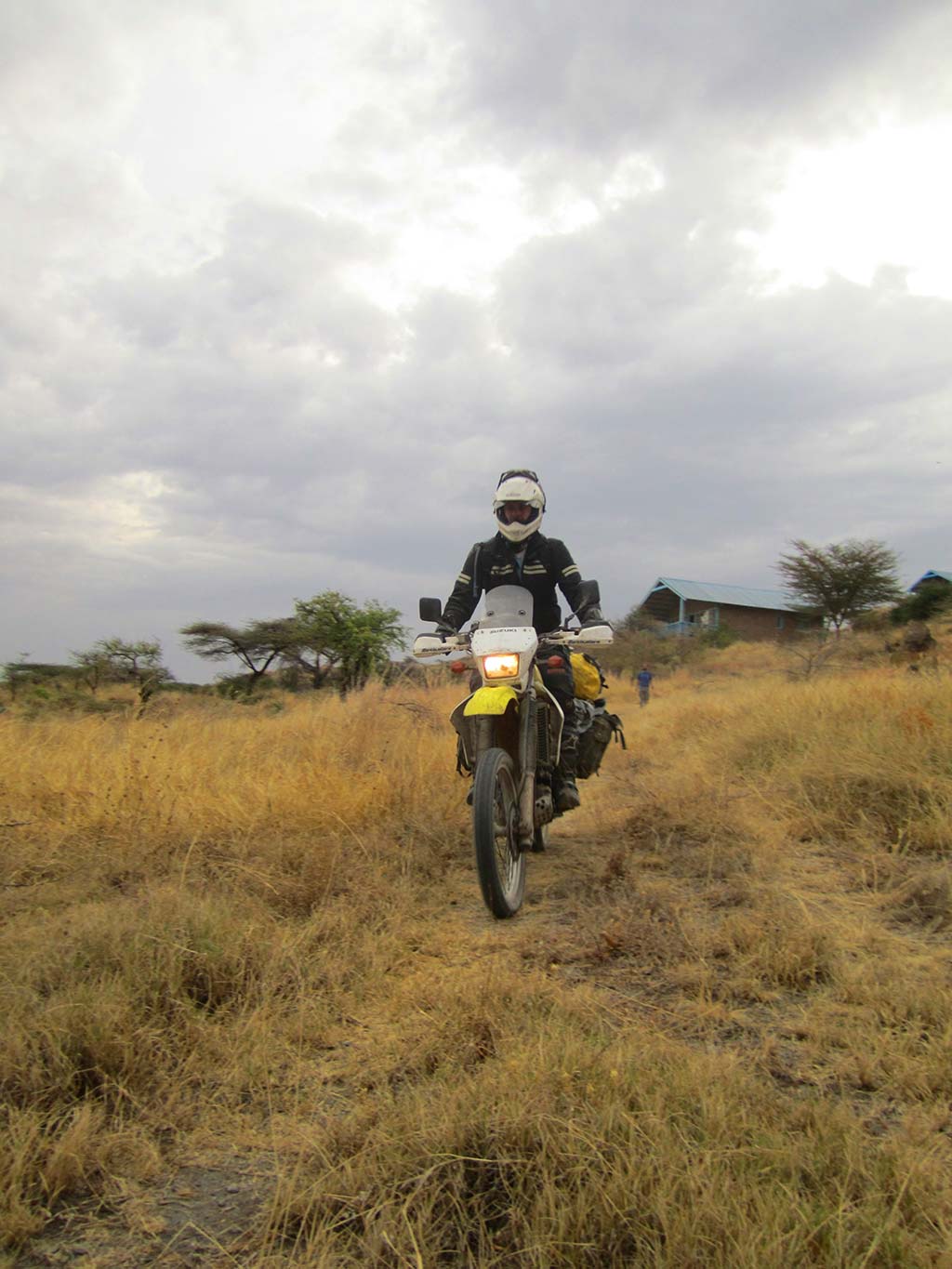 The Many Adventures Of Laptop Man
The previous week, the Ethiopian government had appointed an ex-military general to run their immigration control. Desperate to make his mark, he'd imposed a new rule that all foreign vehicles needed a letter of invitation from their government embassies in order to enter Ethiopia. Obviously, we had no idea about this. Luckily, in Africa, there's always a way. Sitting outside the customs office was the only man in town with a laptop and mobile internet access. For a small fee he would allow hapless travelers to use his laptop to email their respected embassies. The embassies would then return an electronic letter of invitation, which enterprising Laptop Man would arrange to be printed out at the local bank, on the only printer in Gallabat.
Having argued the toss over our carnets with every official in sight to no avail, me and the Kiwis started talking through our options; Neil was being his usual helpful self, deciding that the best course of action was to sit down in the cool shade and cook himself some noodles. Suddenly, in one of those lights-bulb moments, I remembered that I had the phone number for the British Embassy in Addis Ababa and a few quid left on my Sudanese SIM card. I eventually got through to the correct department on a crackly line and was told that I could get a letter of invitation the same day – hurrah! I managed to give the lady on the other end three digits of my chassis number and my email address before the credit ran out on my phone. Disaster strikes again! So. Plan B was then brought into immediate e­ffect: we went to make friends with Laptop Man and did it all by email.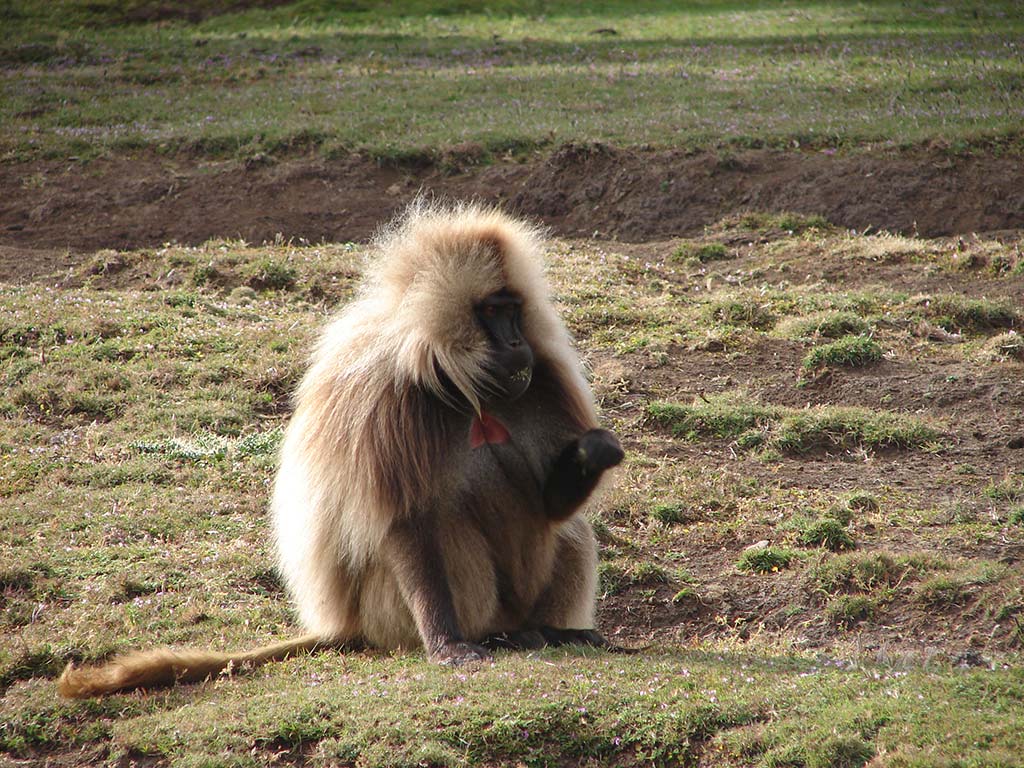 Dark Times
Five hours later we had our carnets stamped and just two hours' daylight to make it to the next town of Gondar 100 miles away. After being spoiled with good, fast roads in Sudan our expectations of the same quick tarmac in Ethiopia were a little short of the mark. The roads, although tarred, were full of animals, pot holes, rocks and other hazards. The scenery was outstandingly beautiful though. Sweeping hairpins carved their way through mountains and forests as we climbed higher and higher with every mile. We couldn't help but stop and take photographs with every new spectacular vista that we came upon. In the excitement, we forgot about our daylight deadline and as the altitude was sapping the power from our engines, slowing us down even further, it dawned on us that we were going to be stuck out in the dark.
Twenty miles short of Gondar the sun finally disappeared behind the mountains. The already treacherous roads now became lethal. It was pitch black with not a glimmer of light anywhere. We took a vote on whether to find a place to wild camp or push on to Gondar. Much to my disappointment, the decision was made to keep riding, but if we saw a place to stop, we would.
I hate riding at night. I've had too many narrow escapes riding in the dark through third-world countries. With all those near-death experiences playing on my mind and my enduro bike's feeble headlight, I had a bad gut feeling. Just three minutes into the ride, Craig had to do an emergency stop due to a massive cow in the road. He was literally handlebar-to-horn with this enormous beast, but still we carried on, dodging rocks and holding our breath when suicidal truck drivers hurtled towards us.
Ten minutes later my fears were realised when, with no warning, I hit a large rock in the road. My front wheel bounced violently over it but the rear wasn't so lucky. The rock jammed between the tyre and the swinging arm, locking the back wheel up before being spat out the back again. It shook the whole bike and threw it into a vigorous tank slapper; I barely managed to keep it upright. Within five seconds the back tyre was flat and the bike was once again out of control. With more luck than skill, I rolled to it a stop at the side of the road to assess the damage: a three-inch gash right through the tyre carcass and a shredded inner tube. Shit!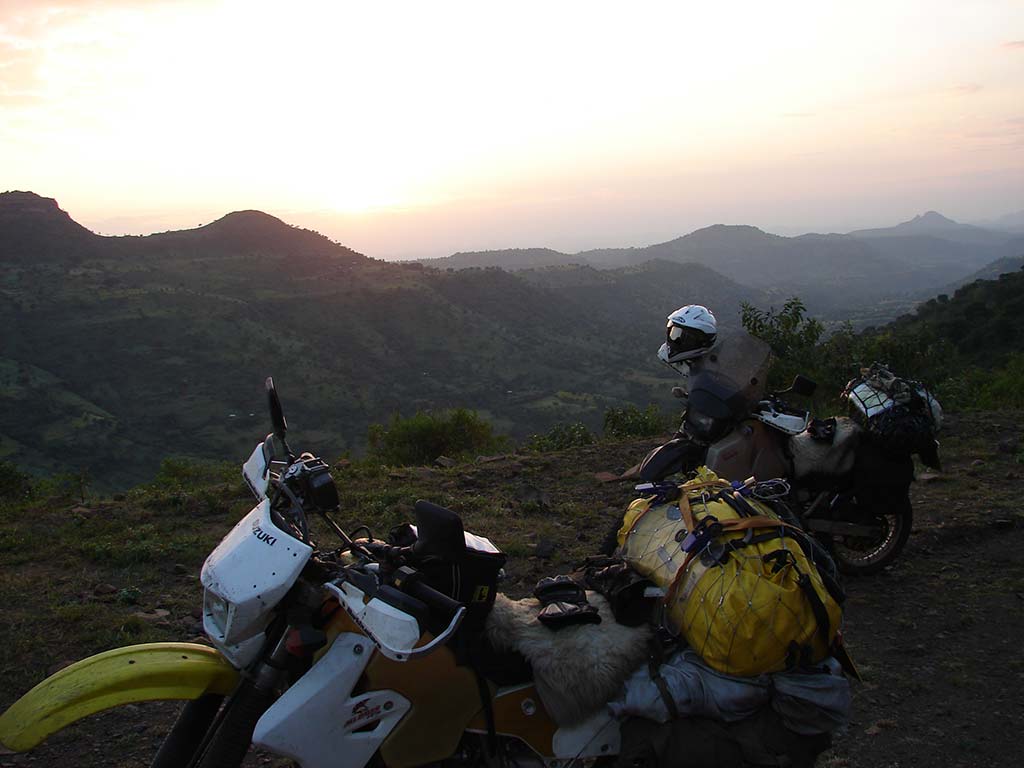 A Chance Reunion
It was too dark to change the tube so we dumped the bikes at the side of the road and with help of our head torches, trundled through a rocky field full of tall grass to camp wherever we could. The next day I woke with the sun at 5am and got straight to work with my tyre. I hadn't eaten in nearly 24 hours and was fed up. Even at this time a crowd of locals had gathered. The women giggled among themselves and the children hid behind them. The men greeted me with handshakes while eyeing my bike like it was a space ship from Mars.
An hour or so later, the other guys joined me, and we were ready to roll on to Gondar. In the harsh light of day, it was only too obvious how stupid we'd been to ride at night. The road was littered with rock falls, large branches, blown-out truck tyres and potholes you could keep a goldish in. The flat had been a saving grace.
Gondar is a small but lively town. Not being on the average gap-year backpacker's hit list, it's a strange mix of historic Ethiopia with a few amenities, like internet cafés and hostels, geared towards travelers. Battling with my GPS, we zipped through the muddy back streets, passed closed-down petrol stations and fruit stalls to the Hostel Belegez. To my surprise, we ran into three Belgian lads and a couple of South African bikers I'd met in Egypt – small world! And just when I thought it couldn't get any smaller, mates Dave, Steph, Matt and Kim rolled in the next morning.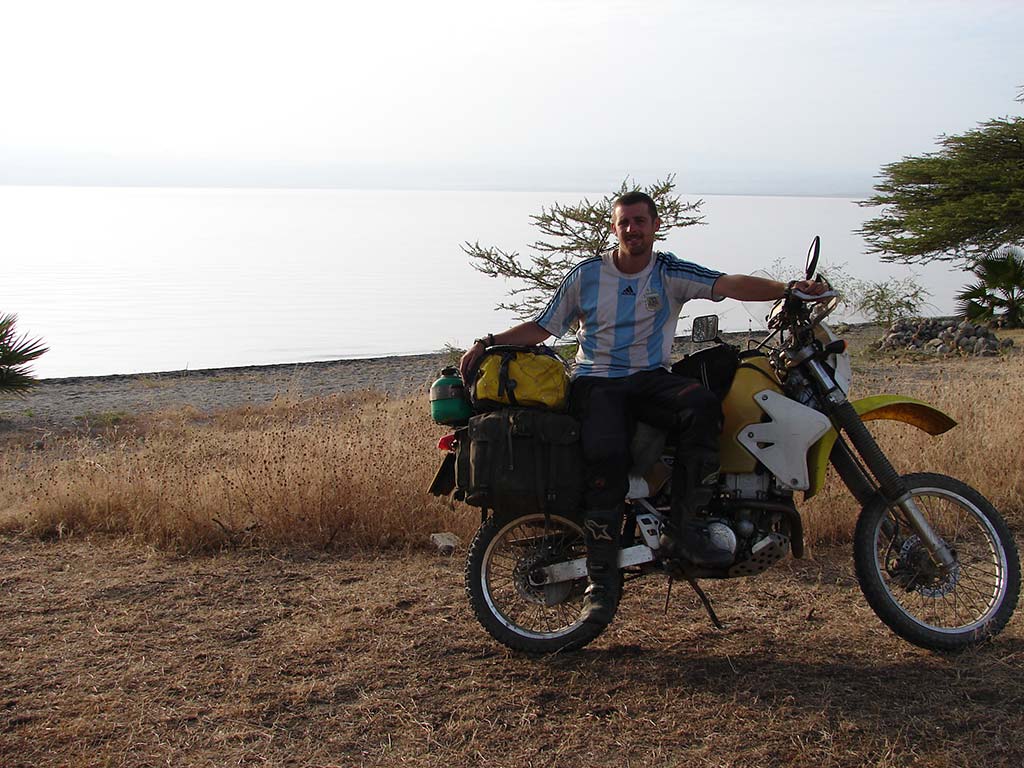 Park Life
We decided on a mass ride out to the stunning Simien Mountain National Park. Just 100 miles north of Gondar, it boasts 4,500m peaks and is a UNESCO world heritage site. I was really looking forward to this after weeks in the desert. Leaving all our luggage at the hostel, we left at a leisurely hour, but grossly underestimated how long it would take to reach the park entrance. A hundred miles of gravel, sand, cattle and road works later we arrived at the town of Debark where we paid the park entry fees and picked up our guide, who hitched a ride in Dave and Steph's Landrover. He spoke no English and was obviously very poor, with nothing to eat but a few stale bread rolls. We were told that the guide would provide for himself but at this point it was obvious we had adopted a local. All packed up, off­ we set into the park.
With every mile the road climbed higher and got rougher until it turned into a rocky dirt track. This was proper off-roading and I was glad I had my little DRZ400. I felt like I was taking Frodo's ring back into the fires of Mount Doom, minus the Orcs, of course. Exhausted, I was just beginning to wish I'd stayed back in Gondar when a huge pack of baboons came into view. Their majesty was only surpassed by the backdrop of pristine, snow-capped mountains reaching far back across the landscape, far further than I could focus on. The Simien National Park still remains one of the most beautiful places I've ever visited and seeing the baboons really brought home how privileged I was to be there. The final 20 miles to our first campsite (at 4,000m) flew by after that and I was really enjoying throwing my little DRZ around the technical tracks.
Pitching the tents, we were treated to a jaw-dropping sunset over the mountains as we cooked up a feast of rice, soup, biscuits and red wine to go with it. With the sun gone and at altitude, the temperature dropped about 20 degrees within the hour and I cursed myself for being unprepared. I finally crawled into my sleeping bag, wearing all of my clothes and still shivering. The next day we headed even higher into the mountains to a breath-sapping stopover at nearly 5,000m.
We were all struggling with the altitude and the temperature. Without a tent, our poor guide just lay down on the ground, shivering under his blanket, so I decided to buy some firewood. With a fire going, other guides soon joined us. It was quite an experience being up in the mountains huddling around a fire with these hardly mountain folk sitting on their wolf-skins. One of the younger local lads had taught himself English and translated the conversation. We all had a laugh and a giggle at my attempts to speak Amharic and one of the guides let me play with his AK47. It was surreal.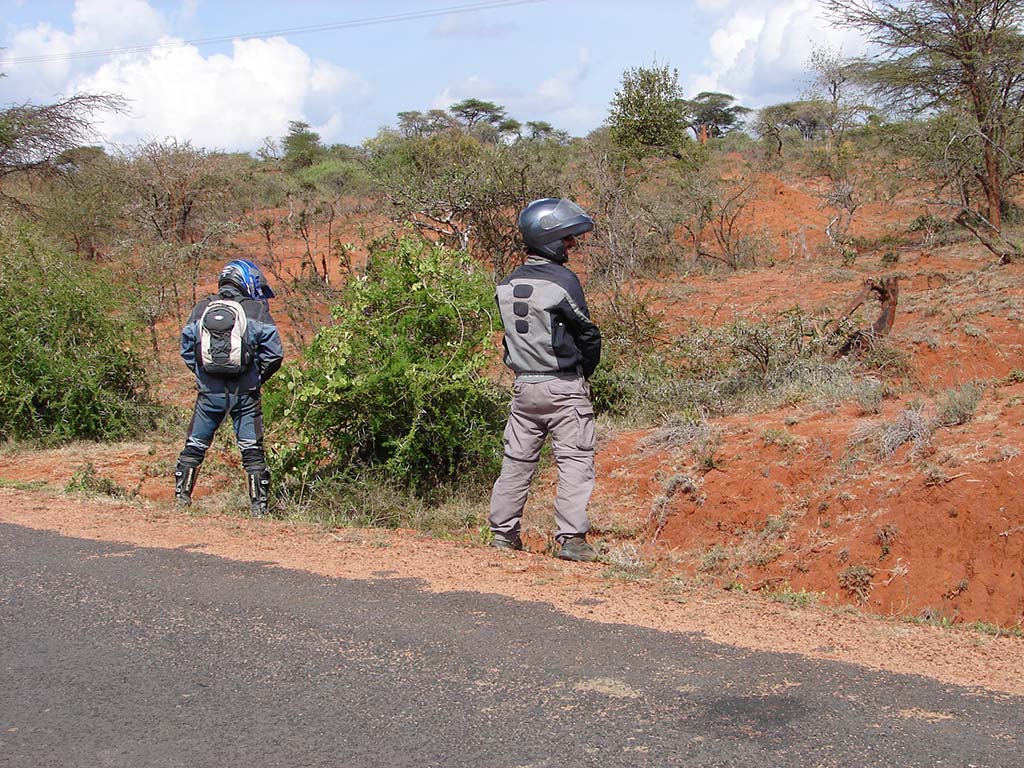 Change Of Pace
While up in the mountains, I spent a fair amount of time wandering alone in the hills while the others took wildlife walks. During this time it dawned on me that I was missing far too much of Africa. I was rushing my way through this trip that I'd worked so hard towards realising. On the journey back to Gondar I made up my mind to leave my companions and really slow down my trip. Why was I rushing? When would I ever come back to these fantastic places again? Probably never!
Back at the hostel, The Kiwis and Neil were packed up and set to leave within half an hour of our return. I came out of my room and told them I wasn't going to ride with them anymore. Although I felt apprehensive, I also felt that a huge weight had been lifted off my shoulders. I was now free to do whatever I wanted, whenever I wanted. I could lie in until midday or set off at dawn. As much as I enjoyed their company and valued their friendship, as I heard the sounds of their exhausts fade into the distance, I laid back on my bed with a huge smile on my face.
I wasn't completely alone in Ethiopia just yet though. Dave and Steph were still around, as were their now long-term companions, Matt and Kim. The Landrover was towing Kim's bike on a trailer until her broken wrist recovered. My final journey with these great guys was going to be a short 100-mile ride to the town of Bahir Dar, on the banks of the magnificent Lake Tana the following day. In no rush whatsoever – a welcome change – we travelled through the stunningly beautiful Ethiopian countryside.
Lush fields of grasses and crops spread out for miles between hills and mountains, only broken up by the mud huts scattered across the countryside which are home to the farmers and their families. Vehicles were few and far between and the only company was the children who seemed to appear from nowhere whenever we stopped for a picture or drink. These children obviously spoke no English apart from two frequent phrases: "Gimmi pen" or "Gimmi money". Evidence that sometimes people's generosity can have a negative impact on those its meant to help.
We found our way to a fairly touristy lakeside campsite in the town of Bahir Dar. Feeling frivolous with my new-found freedom, I booked myself a private room as the others set up camp. I wanted to pull myself away from the group collective as much as possible, to prevent myself being sucked into the security of it. I was determined to have some alone time in Africa.
I left the other guys huddled around the comfort of the Landrover and chilled out in my room with a bottle of terrible Ethiopian wine. Suddenly having no plans felt fantastic. I spread my maps out over my bed and decided that I would head to the capital, Addis Ababa, and see what was going on there, because I could. I knew there was a Dutch guy with a bar-cum-campsite in the city centre and it seemed like a cool place to hang out for a few days.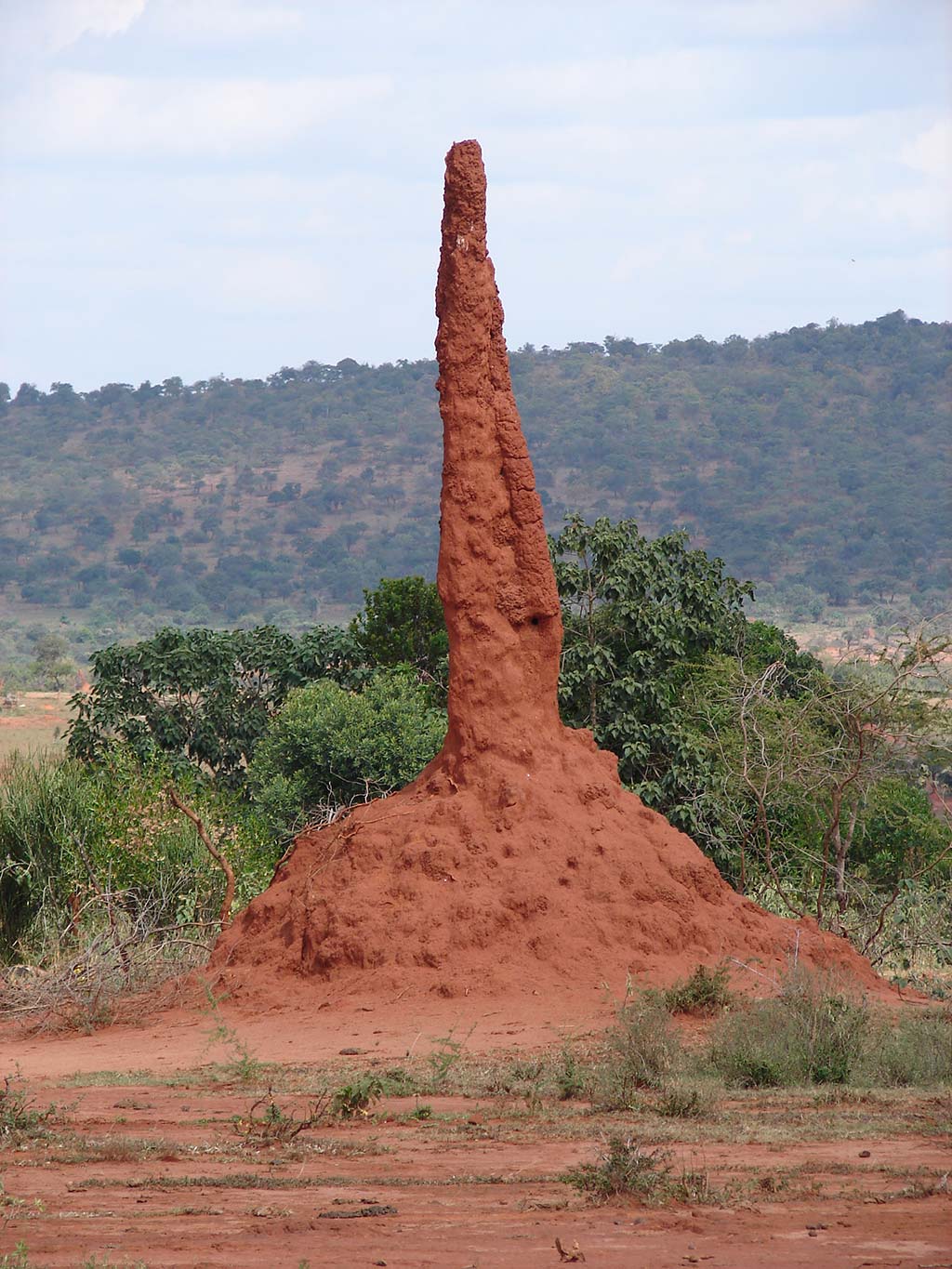 Ted Solo
For the first time in nearly two months I was travelling alone. I rode much of South America alone and never felt apprehensive so I'm not sure why I was so worried about Africa. All the scare stories had been rubbished long ago. There were no gangs of gun-wielding fanatics, wild lions chasing me down the road or dart-blowing tribes looking to put me in the pot for dinner. I sang to myself and waved at the children as I flew down through the country without a care in the world. Happy days indeed. Before I knew it, I was thrown into the bustling streets of Addis Ababa. With the GPS co-ordinates pulled off the internet, it didn't take me long to find Wim's Holland House in the centre of the city, tucked away privately behind the old grand railway station.
Wim is an old Dutch guy who moved out to Ethiopia many years ago. He set up a bar for the Dutch ex-pats out there and it quickly became a bit of a hub for travelers, especially overlanders. I think everyone plans to have a bar in a foreign country and he has made it a reality. With a constant stream of fresh faces coming through, it was definitely an interesting place. I knew I was going to enjoy it there so decided to get comfortable in this fabulously exciting city. Within a few hours I had made friends with a strange Israeli guy and an overexcitable younger Dutch man.
As capital cities go, Addis Ababa is a strange one. It's not very crowded, unlike most cities, and it has a good, friendly vibe to it. It's very laid back, too, but there's still plenty to do. Furthermore, it is a feast for historians and lovers of natural history with its fantastic museums and architecture.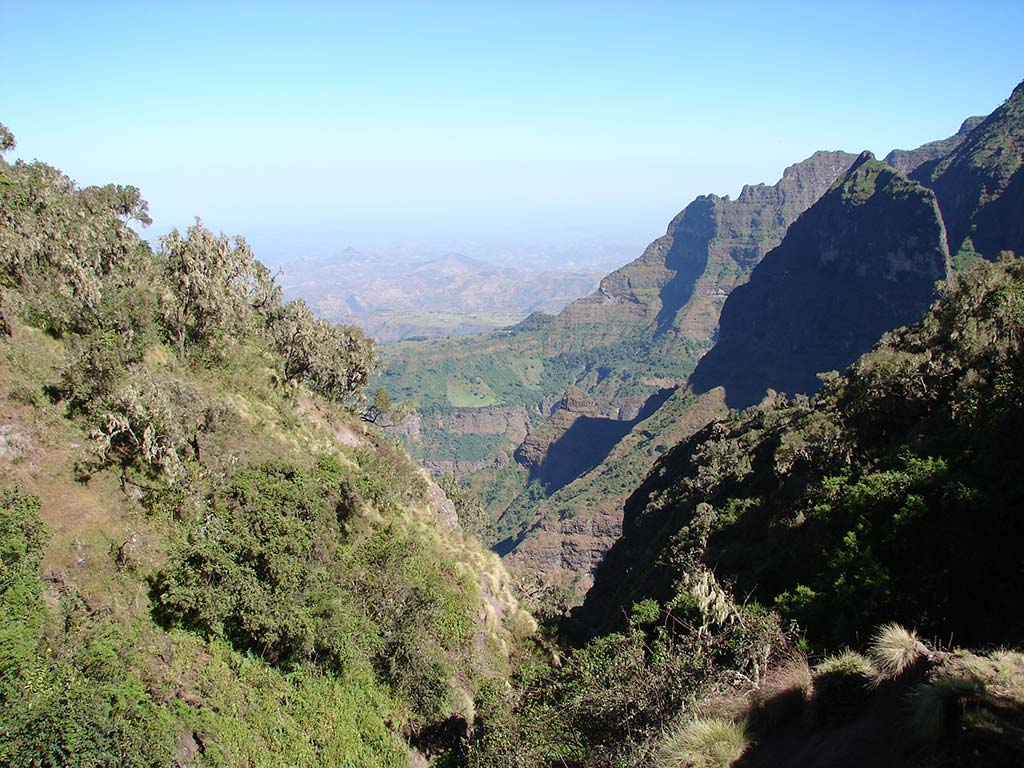 Bandit Highway
Low and behold, a few days later Dave, Steph, Matt and Kim all arrived together. As a melting pot on the way south, it was bound to happen, and it was nice to see familiar faces again. Not far behind them was James who I'd been conversing with via email. The next day, a German biker called Go-Go showed up, much to James' surprise as they'd travelled together through Sudan many weeks earlier. Wim's bar was a perfect place for a reunion and the bar got good business that night.
After sharing so many beers and stories with James and Go-Go we decided to ride on together, at least until Kenya where Go-Go would fly home. James was also keen on a slow and steady travel approach and as we got on well, I just went with the flow. So much for riding alone! However, as I knew I would have to conquer the infamous 'Bandit Highway' across Northern Kenya which is not a route to undertake solo, it made perfect sense.
It would take us quite a while to reach the southern border town of Moyale but there was plenty to see along the way. As we headed south, our senses were overwhelmed. At every small village or town that we stopped at; we were mobbed as though we were aliens from outer space. The people would always shake our hands or be keen to jump in on a photo with us, as long as we showed them the picture on our camera displays. It was obvious that most of these people had never seen themselves in a photograph before. The little things we take for granted seem almost magical for the people out in the countryside of Ethiopia.
As the nights approached, we would ride down the sand tracks and cliff faces to camp on the pristine lakeside beaches. Once our tents were pitched, there was little else to do but listen to the hippo's call in the distance and the birds chatter to each other. We would huddle around the camp stoves sharing cheap wine and anecdotes while feeling totally detached from the toils and trouble of our real lives back home.
Within a few days we were at the border of Kenya in the town of Moyale. Like all border towns, it's a little hectic but good fun is to be had with the local money changers and shop keepers. We were all very sad to be seeing the last of Ethiopia.
Leaving a country is usually a simple affair but unknown to us, we'd chosen a bank holiday to cross over. We had our passports stamped out at the immigration house but when we reached the customs office, it was closed. Another disaster! After a bit of head scratching and research we discovered that the customs officer was only up the road, enjoying a day's holiday with his family. Feeling very guilty for disturbing him on his day off, we persuaded the official to come into work for half an hour and after giving him a fee of $5 each, he was very happy to stamp our paperwork, and so we said our goodbyes to beautiful Ethiopia.
NEED-TO-KNOW – Ethiopia
›› With a population of 82 million, Ethiopia is the most inhabited landlocked country in the world, although due to its size, it really doesn't feel that way, even in the centre of its capital Addis Ababa
›› There are almost 80 different languages spoken in Ethiopia. The country boasts an ancient and diverse history reaching far back into the BCs. It's famous for being the place where 'Lucy', the world's most ancient humanoid remains were discovered and it's thought that Ethiopia is where man first ventured out of Africa, starting his colonisation of the world
›› Geographically, Ethiopia is blessed with a trove of natural wonders. It is home to some of Africa's most spectacular mountains, including Simien National Park's Ras Dashan Mountain, which at 4,620m is Africa's fourth highest peak, as well as a multitude of stunning waterfalls and fresh water lakes. It's also home to the Sof Omar Caves, Africa's largest cave system at 9.4 miles long – you wouldn't want to get lost down there!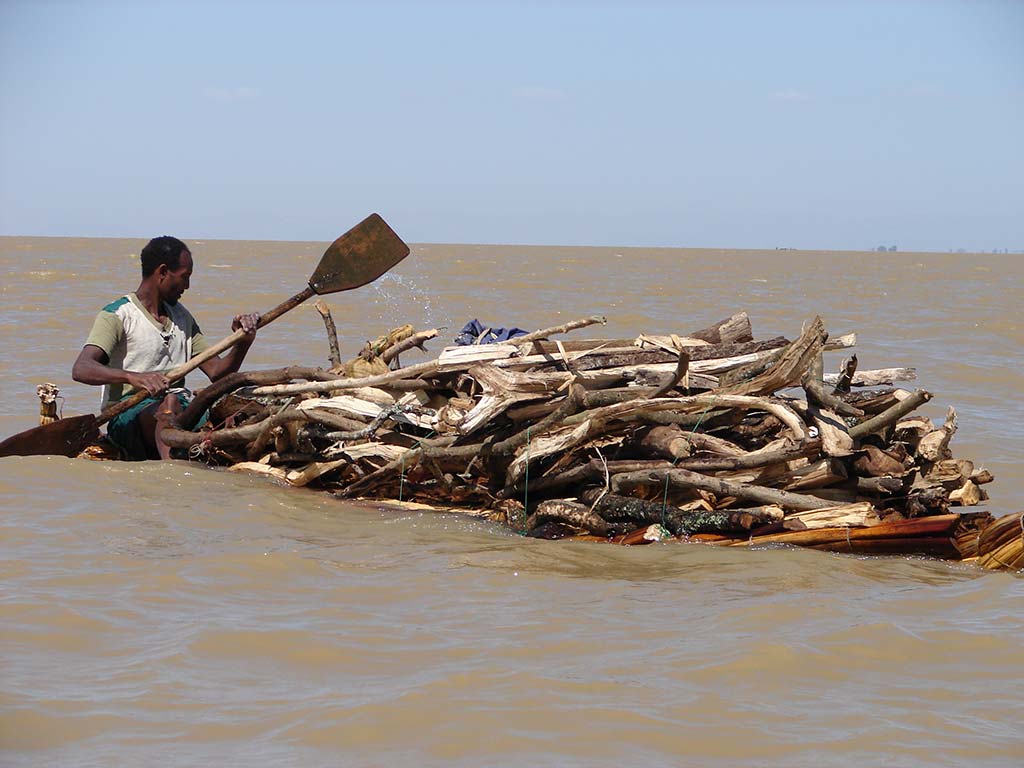 SIMIEN ESSENTIALS
ABR Mike Stevens, retail director of Cotswold Outdoor, has a BMW R1150 GS; here are his essential gear tips for camping in Simien National Park
Tent: Terra Nova Laser Photon 1, £380
A strong tent which weighs in at just 0.72Kg, and with a pack-size of only 35cmx10cm it's not going to take up too much space. Its comfortable for one and allegedly very cosy for two over short periods
Bag: Rab Neutrino 400, £285
An ultra-lightweight down bag that is comfortably good to below freezing. It's only 0.83kg but that goose down filling will keep you cosy without filling your pack. A great example of the warmth-to-weight ratio of down products
Mat: Thermarest Neo Air, £125
The world's lightest and most advanced three-season mat, according to Thermarest. It's only 20cm x10cm when packed, too. So that's your your tent, bag and mat sorted and weighing less than 2kg
Stove: Primus Ominfuel, £145
This stove allows you to share fuel with your bike; it's great at attitude and only weighs 440g including the pump. It will boil your meals or make a brew in no time
Cookware: MSR Titanium Kettle, £55
Use it as a kettle, mug or pan for cooking. Strong and only 118g
Food: Wayfarer Meals, from £4
Tasty, hearty meals that which can be cooked in and eaten from the bag. They're also well sealed, so the baboons will have to look elsewhere!
Snacks: Go Bars and Go Gels, from £1
Small bundles of energy that will keep you motivated when on the trail
Luxury item: GSI JAVA press, £30
For brewing up fresh local coffee in the wilderness!
SIMIEN MOUNTAINS
The Simien Mountain Massif is a UNESCO site and one of the major highlands of Africa. Although it's close to the equator, snow and ice are often found on its peaks and temperatures regularly drop below zero; if you're planning to camp here, come prepared for the cold!
The park was created primarily to protect the Walia Ibex, a type of wild goat, and it's estimated that over 1,000 now inhabit the park along with families of the Gelada Baboon and up to 50 species of bird. The park's also home to the rare Simien fox, which is hardly ever seen by visitors.
Access to the park is from Debark, 101km from Gonder, where transport hire and park guides can be arranged. See, www.tourismethiopia.org for more or contact Ethiopia Tourist Commission at [email protected]
With every mile the road climbed higher and got rougher until it turned into a rocky dirt track. This was proper o­ff-roading and I was glad I had my little DRZ400. I felt like I was taking Frodo's ring back into the fires of Mount Doom, minus the Orcs, of course.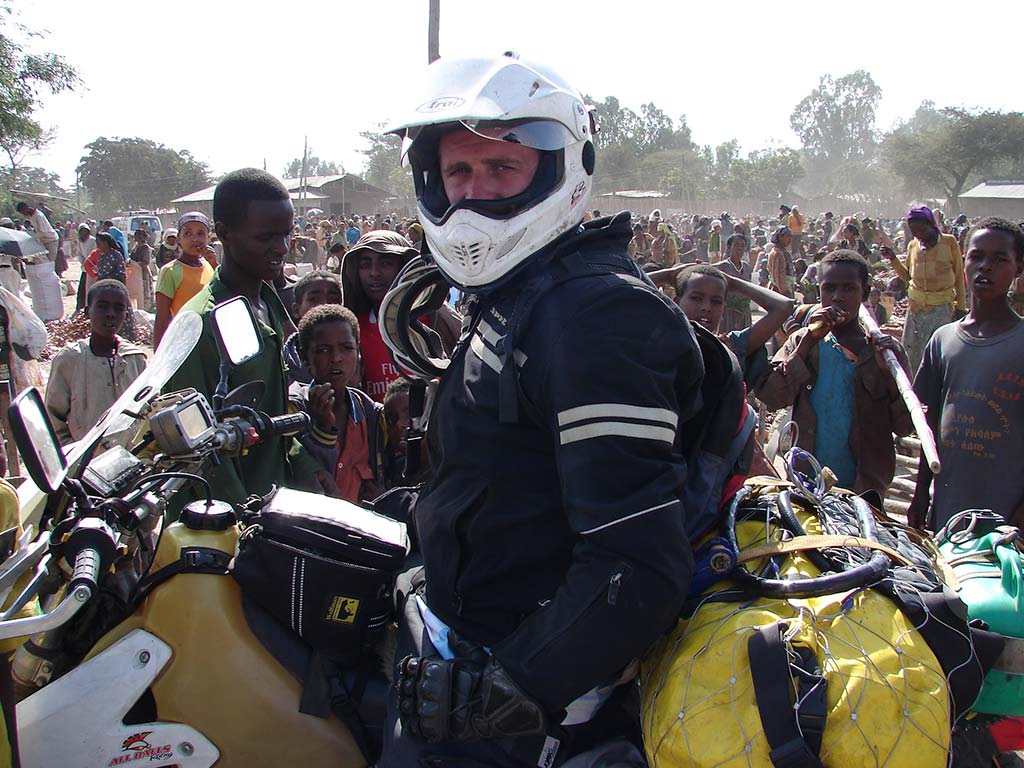 Who's riding?
TED As a part-time adventurer, Africa was my third continent to crack by bike. On my way down to Cape Town from my home in the UK, Ethiopia was just one of many fantastic countries that I would experience in Africa. Forever running away from work and responsibilities, I am always planning a new adventure. Where next?
NEIL Spanish-born but brought up in London, Neil is a man of many personalities. A fellow DRZ rider, he loves to ride and is also keen on camping stoves and his laptop. Neil loves to experiment with his facial hair and sported a 60's Teddy Boy look while in Africa, much to the amusement of everyone he met.
JAMES Keen mountaineer and seasoned traveller James set o­ff from the UK alone, looking for adventure. A great character and up for anything, he's an ace travel buddy. James could write a book on budgeting when it comes to saving money on the road and definitely helped to keep my bank account in check with his ruthless economizing.
CRAIG New Zealander Craig is a top bloke who's still fairly new to a riding non-agricultural machine. That didn't stop him wanting to conquer Africa on his new XT660Z though. Always up for a beer and a laugh, Craig is a fun travelling companion. He met his travel partner Cam back while studying in New Zealand.
CAM Craig's friend and riding partner, Cam brings calm and logic to the situation. As a keen engineer and cost cutter, he always has an idea about something or other. After living in the UK for a few years, this trip is his final blow-out before returning to New Zealand for a more civilized life with his girlfriend.
DAVE AND STEPH When not cruising the Mediterranean on a yacht or building houses for fun, Dave and Steph love to travel. They sold their house, packed a Landrover and disappeared into the sunset. Dave and Steph were always on hand with their fully equipped Landy to brew us up a cuppa or pull out a bottle of chilled water. Last I heard they were in Australia. Great stuff­!
MATT AND KIM On the first leg of their RTW, Africa was just one of the many continents the Londoners would travel. The pair remained undeterred after breakdowns of both bike and rider – even when Kim broke her wrist! They always find a way to keep going where many others would quit.
GO-GO Obviously not his real name, Jochen was our friendly neighbourhood German. A fantastic rider, he showed me what an overland bike can do with enough skill. He made me jealous the way he would race through sand, sliding his back wheel from side to side while making it look like child's play. An overworked electrician at home, northern Africa was his much-deserved break.
Photos: Ted Hely