This Issue: Soar y Mynydd, Mid Wales and Ughill Moor, South Yorkshire – Words and photos: Mike Beddows
77 – Soar y Mynydd, Mid Wales
This is a remote track but one definitely worth riding. The isolated nature of the trail is backed up by it being the location for the most remote hostel in Wales (see below) and at the far end where there is the most remote chapel in Wales.
The chapel is a really interesting building, dating back to 1822 and it was built to serve all the local sheep farms that were dotted around the area. Another plus point for this trail is its proximity to the legendary Strata Florida which is only four miles to the north (refer back to issue 12 where the Strata Florida trail was documented).
It really is a fantastic trail and one not to be missed if in the area. Soar y Mynydd is a tough trail, so not one for novices. I've been over this trail several times and, due to the recent grading, the last attempt was the toughest.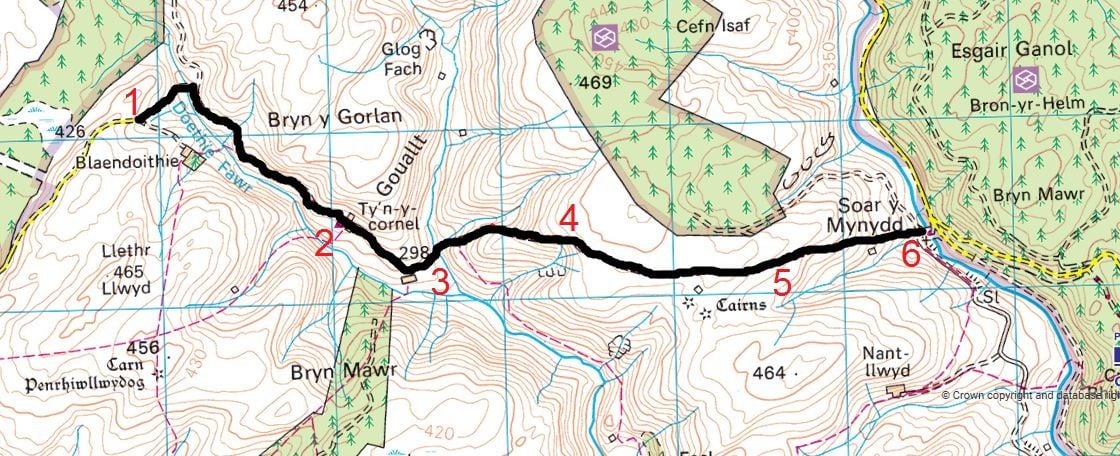 The Route
1-­2
After the seven miles of tarmac from Llanddewi Brefi (made famous in the TV show, Little Britain, as the home of Daffyd Thomas, 'the only gay in the village') the graded road starts.
It's about a mile to the hostel and this section, although not tarmac, can be driven by vans and cars if care is taken, so it is fairly straightforward for bikes.
There are a couple of gates before you pass Ty'n y Cornel hostel after approximately one mile.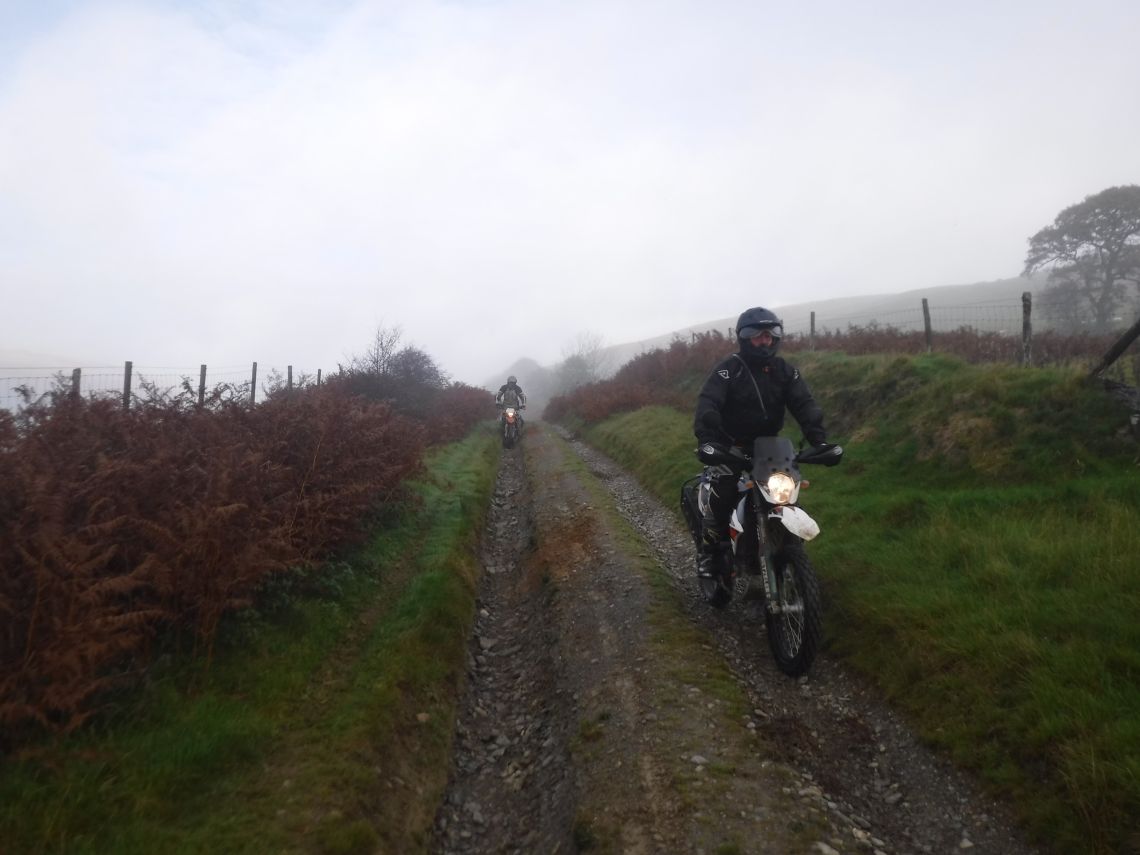 2­-3
You pass through another gate as you leave the hostel grounds and ride along a rutted farm track until you proceed downhill towards another gate. There may be the occasional deeper washed out rut on this section. Continue downhill until you reach the gate.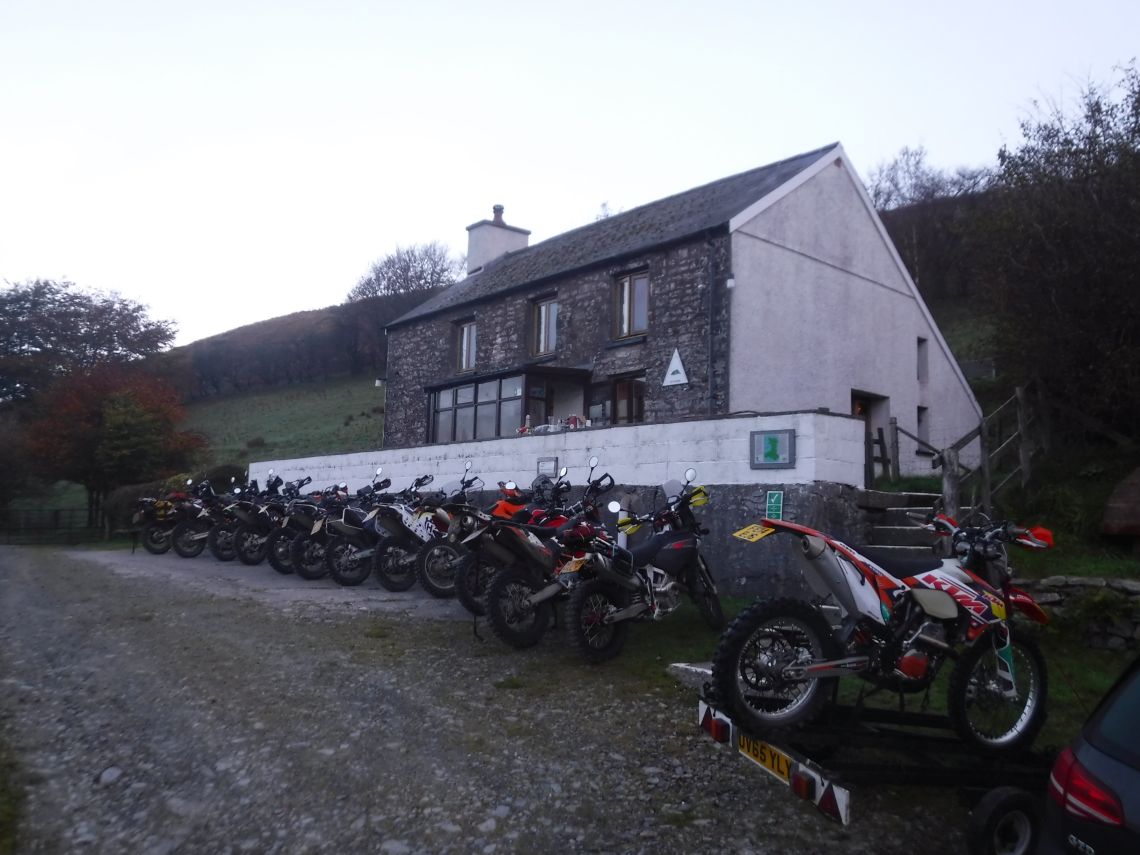 3-­4
Open the gate and ford the small stream beyond it. The track now heads uphill. I've ridden this trail a few times and the last time was the most difficult. This uphill section had been graded with lots of shale.
It really wasn't easy to keep momentum going and I witnessed lots of people getting stuck. As soon as momentum is lost, your tyres dig into the shale and it's hard to get traction.
The smaller bikes didn't seem to have too much trouble but anything from a 690 up was really struggling. It really has been graded with the wrong type of material. Far too soft for longevity.
The only tip I can give, as this section is likely to alter with traffic (especially four-wheel drives) and rain erosion, is to stay left as far as possible.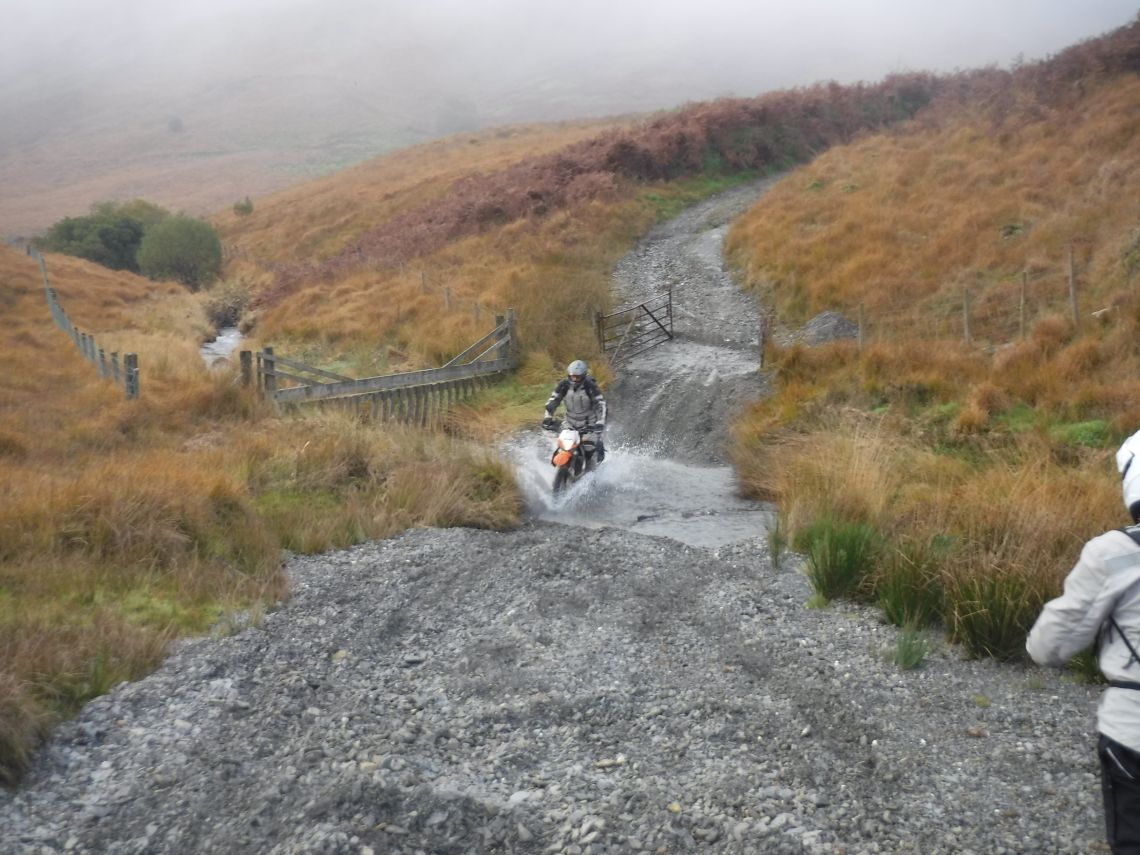 4­-5
Once at the highest point it is pleasant easy-going riding. You get a sense of real remoteness up here. Definitely not a place you want to be in bad weather as the top can be pretty exposed.
5-­6
You now descend towards the chapel at the bottom. It is fairly steep here so watch your front end doesn't wash out if you lock up. Again, there is more grading but due to the steepness, there is better grip as the graded material is just a small covering.
If doing the trail in reverse, I'd suggest staying right on the climb. It may look slightly steeper, but this is where the real grip is.
---
Elenydd Wilderness Hostels
There are two very unique hostels in Mid Wales and they are located pretty close to each other. The one on Soar y Mynydd trail is Ty'n y Cornel. The other, Dolgoch, being located virtually at the start of the Strata Florida trail. Both are as basic as they come for accommodation, but considering where they are located, it's to be expected.
Saying that they both have decent bunkroom sleeping areas, along with a fully functional kitchen and seating/dining areas and showers/washrooms. They really need to be experienced to be believed. I've stayed at Dolgoch four times previously and more recently organised a group to stay at Ty'n Y Cornel.
They were very accommodating for 16 motorbikes. A bonus for all you TET riders out there is that the Soar y Mynydd trail is only a short detour from the TET route, and Dolgoch is pretty much on the route, and with beds from £14 a night it beats camping hands down. I can't recommend these hostels enough.
---
78 – Ughill Moor, South Yorkshire
Ughill moor is on the edge of the Peak District so is an ideal trail to do on your way to, or when leaving, the UK's most accessible national park. It's a great short trail that isn't too difficult and is ideal for those that want to take the step from really easy basic trails to the next level.
It's not too far from Houndkirk Moor, where you'll find trails that were covered in issue 48, so tag these two trails together and you've got a great little route not too far away from the industrial city of Sheffield. The wild moorland scenery is fantastic. I always make a point of riding Ughill Moor when passing close by.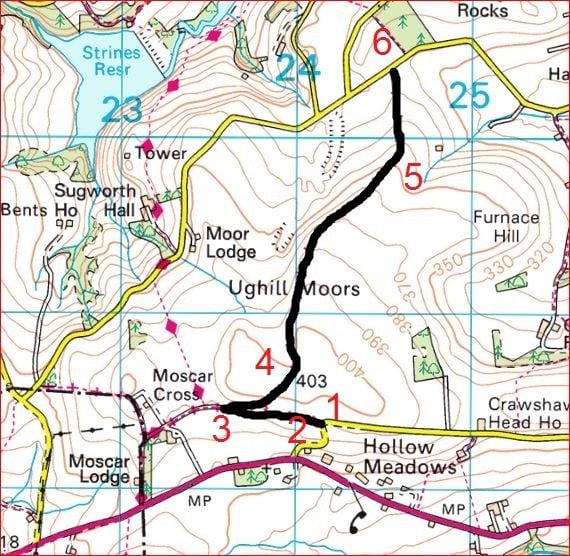 The Route
1-­2
The track is easily identifiable accessing at point one on the map, with a byway sign showing the way, which is nice to see. The track starts off as a wide solid based track with a few loose stones. After approximately 150m you reach a gate.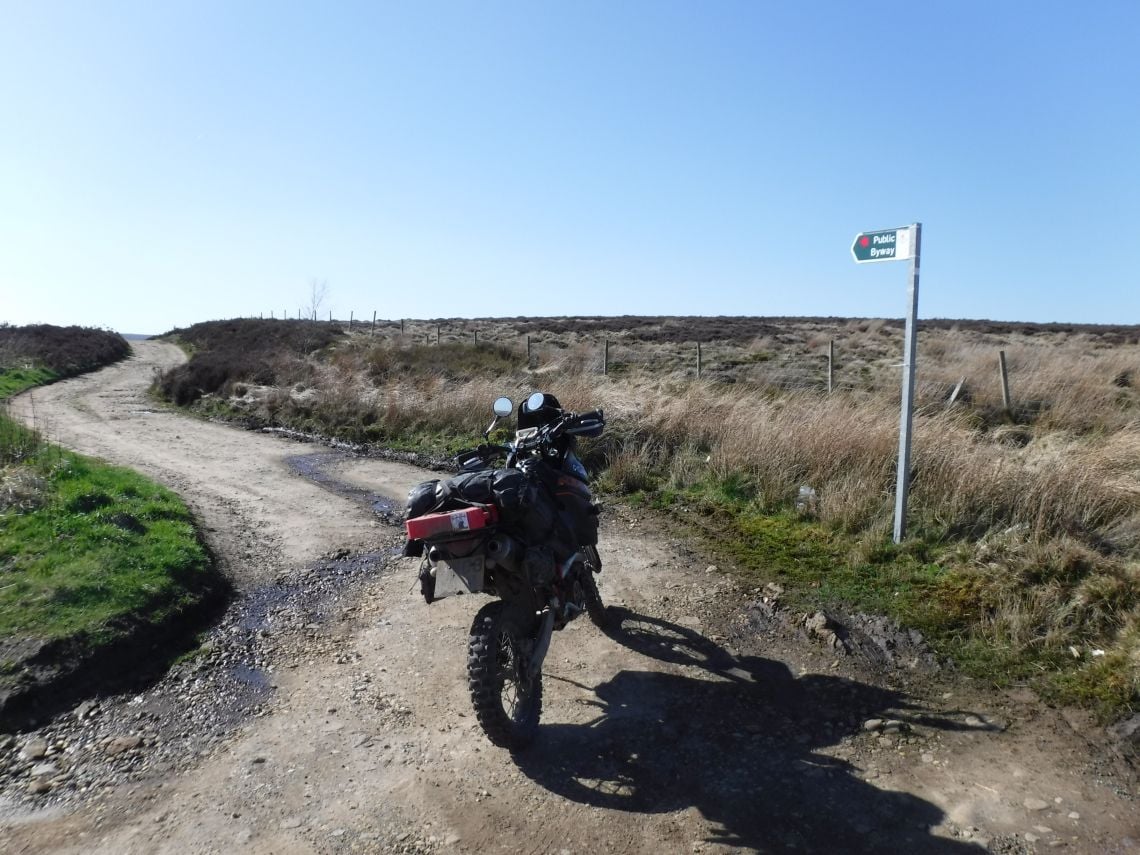 2-­3
Proceed through the gate and the track suddenly changes. It's now shallow ruts over grassy low-level moorland. There's a fairly solid base in the ruts and its pretty easy going if care is taken.
There's grass growing in the middle of the ruts but, as they are shallow and wide (think tractor ruts), it's easy enough to just ride in them. There are fantastic moorland views all around. There are sections that have had abuse from the farm vehicles and these can be pretty muddy especially after rainfall.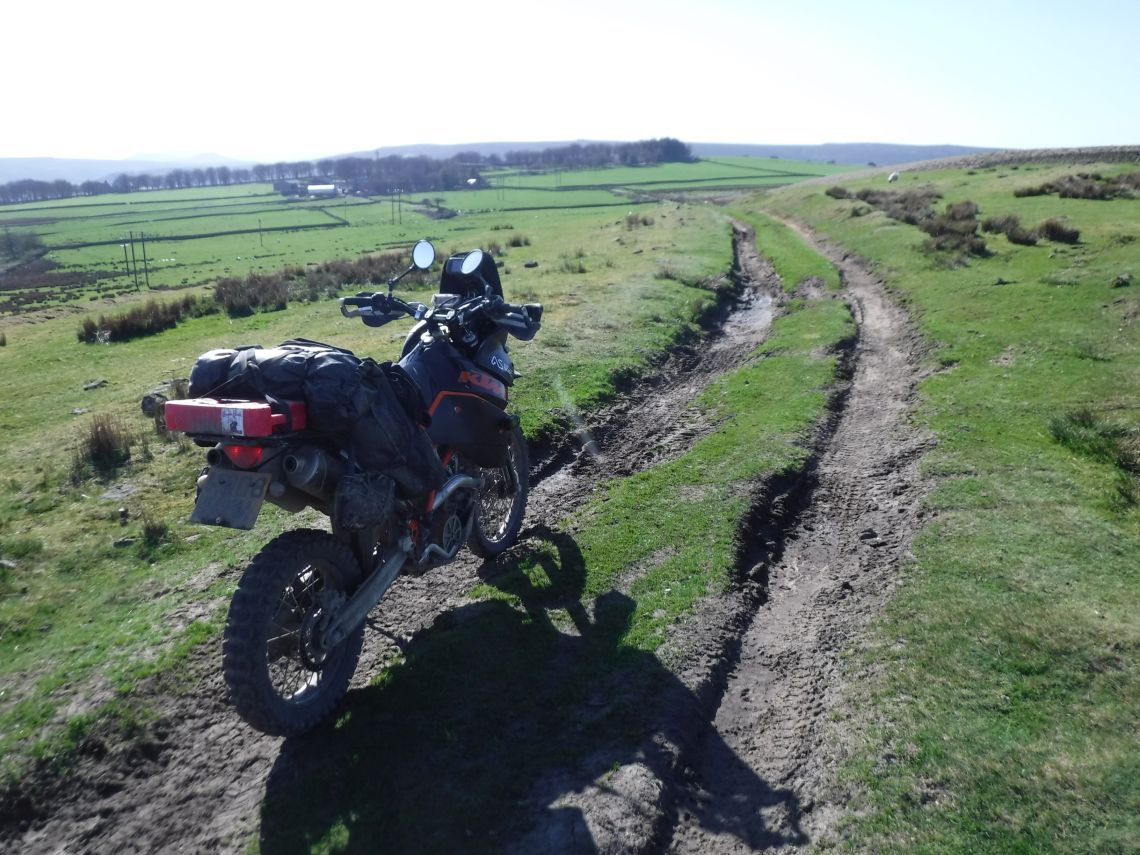 3­-4
You have a choice now, you can continue straight and exit at one of the two other available exits for this trail (see the map) or take a sharp right turn and head uphill. I always prefer to enter and exit the trail using the points described here, but feel free to use the others if you wish.
The track conditions are very similar to what you have just ridden. There is less mud as you are heading uphill and looser stones. At the top there's a gate. You are now at the highest point of 403m. It can get pretty bleak up here in bad weather conditions.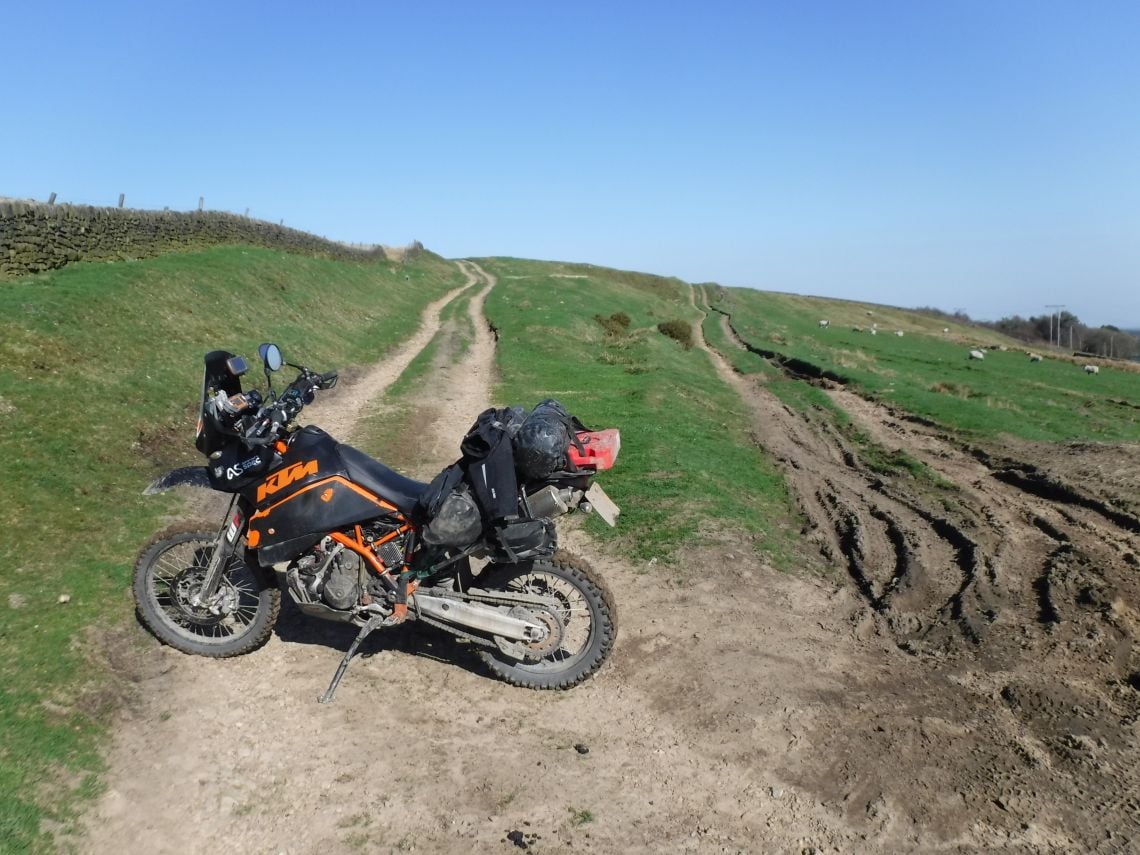 4-­5
The moor turns from low-level moorland grasslands to full-blown hilltop moors. It's all downhill from here following a shallow gradient in contour. There are virtually no ruts now. It's a solid hard packed track with occasional grassy bits growing in the middle.
There are a few shallow puddles but, for the most part, it's pretty easy going. There are excellent distant moorland views and it's easy to pick speed up, so take care.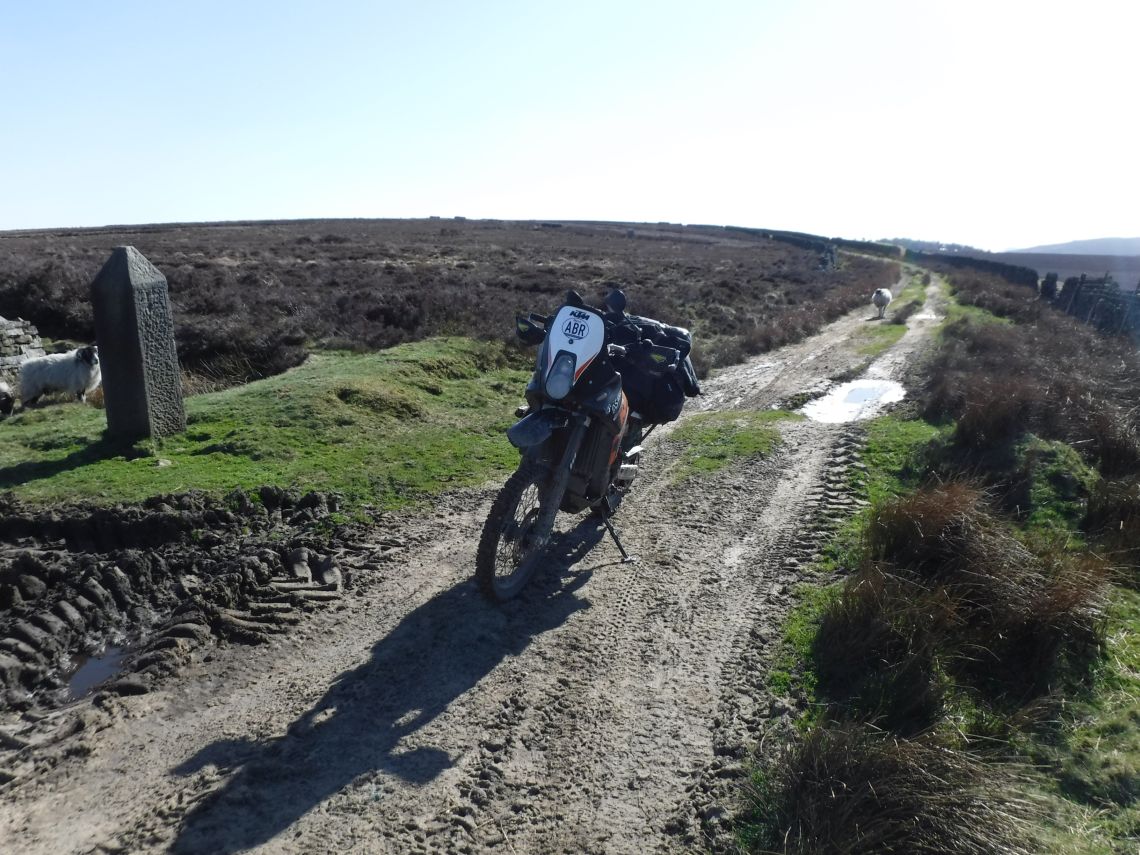 5­-6
You are off the high moors now and back to low-level moorland. There's more grass about and a proper wall on either side. It's still easy going with occasional trickier sections. Nothing too hard though. Proceed dead straight now with grassland fields to the right. The trail ends at the gate where the tarmac road is.