This Issue: Happy Valley and Mold Trails, North Wales; Words and photos: Mike Beddows
81 – Happy Valley, Northwest Wales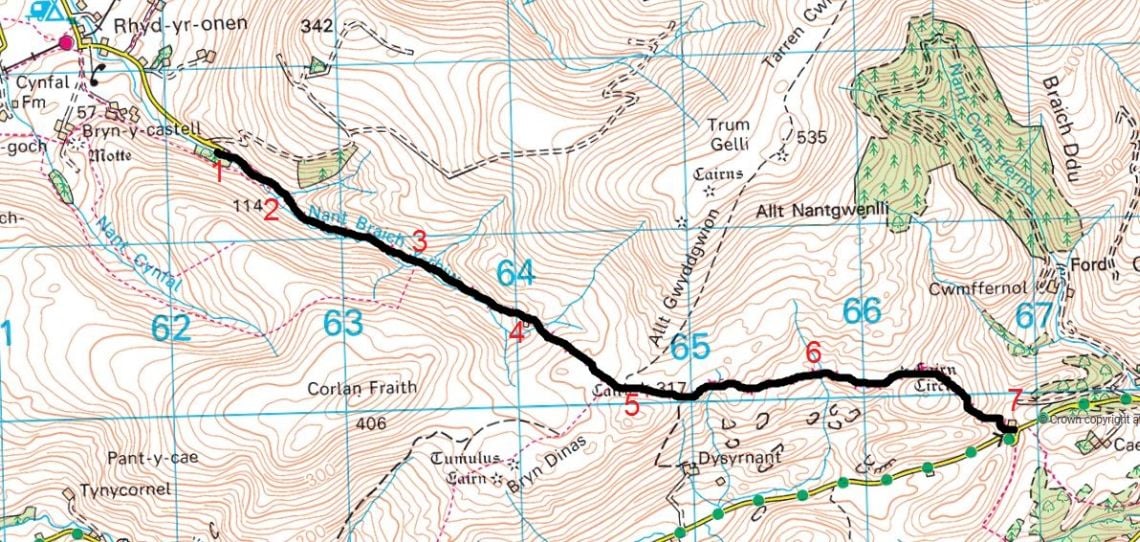 Someone once asked me what my favourite trail in the UK was. There are several that I'd put towards the top of my list, and Happy Valley, detailed here, is right up among them. It is simply a fantastic trail. Nice and remote, technical in places, the views are stunning, and you get a real sense of remoteness whilst riding.
The trail can be ridden in both directions, and I'd say it's slightly more difficult east to west, the opposite of what's described here. I detail this trail west to east as it flows nicely from Cadir Idris, which was detailed in the previous edition of ABR (issue 51). Add these two trails together and you really do have a couple of hours of fun.
The route described here may only be 3.3 miles, and this surprised me when I calculated it. It takes longer than you'd think to completely ride it.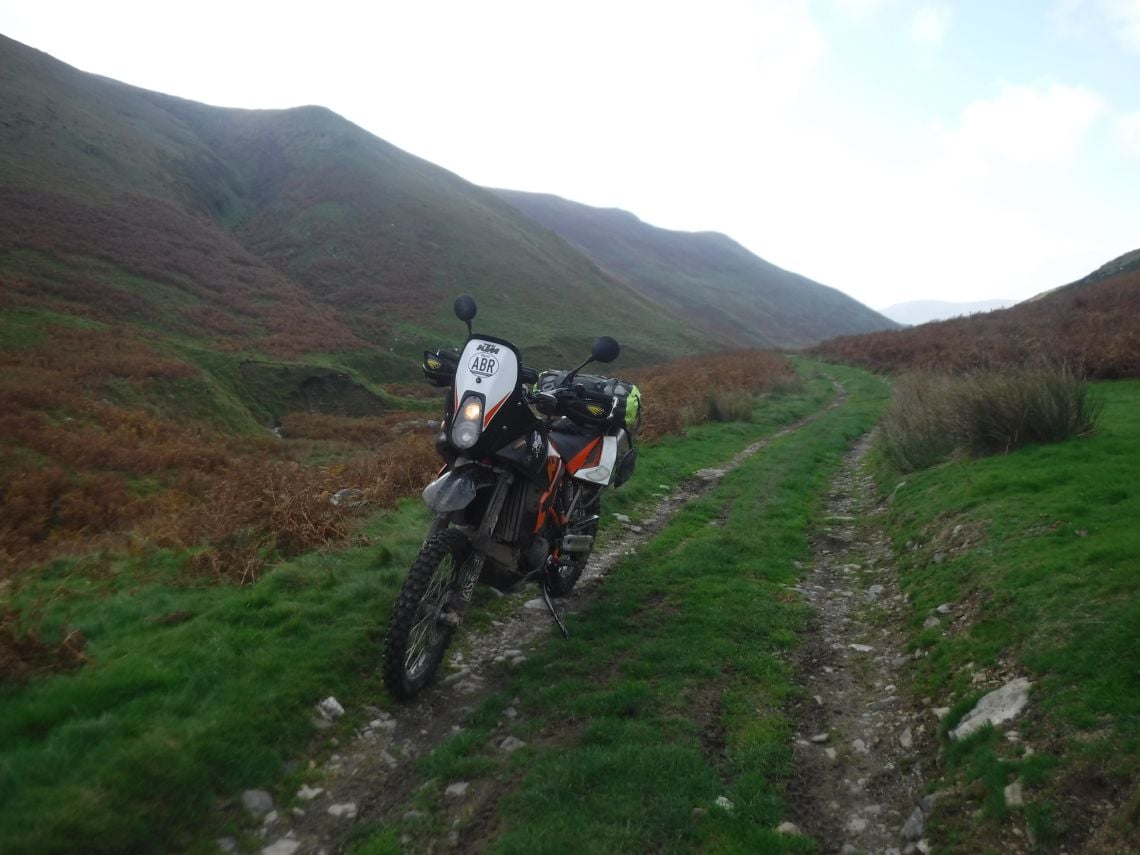 The Route
1­-2
Through the gate. Ride tarmac single track to the start of the trail. It's obvious where the trail starts as it's where the tarmac ends!
2-­3
Continue along the track. It starts as a typical four-wheel-drive track, hard based with grass in the middle. It winds along the valley ahead of you. There's a slight bank down to the right with a stream running at the bottom of it. Make sure you keep your eyes on the track so you don't venture over the side. The going is fairly easy and, for the most part, the track is flat. There are occasional puddles but nothing deep. Continue to gate.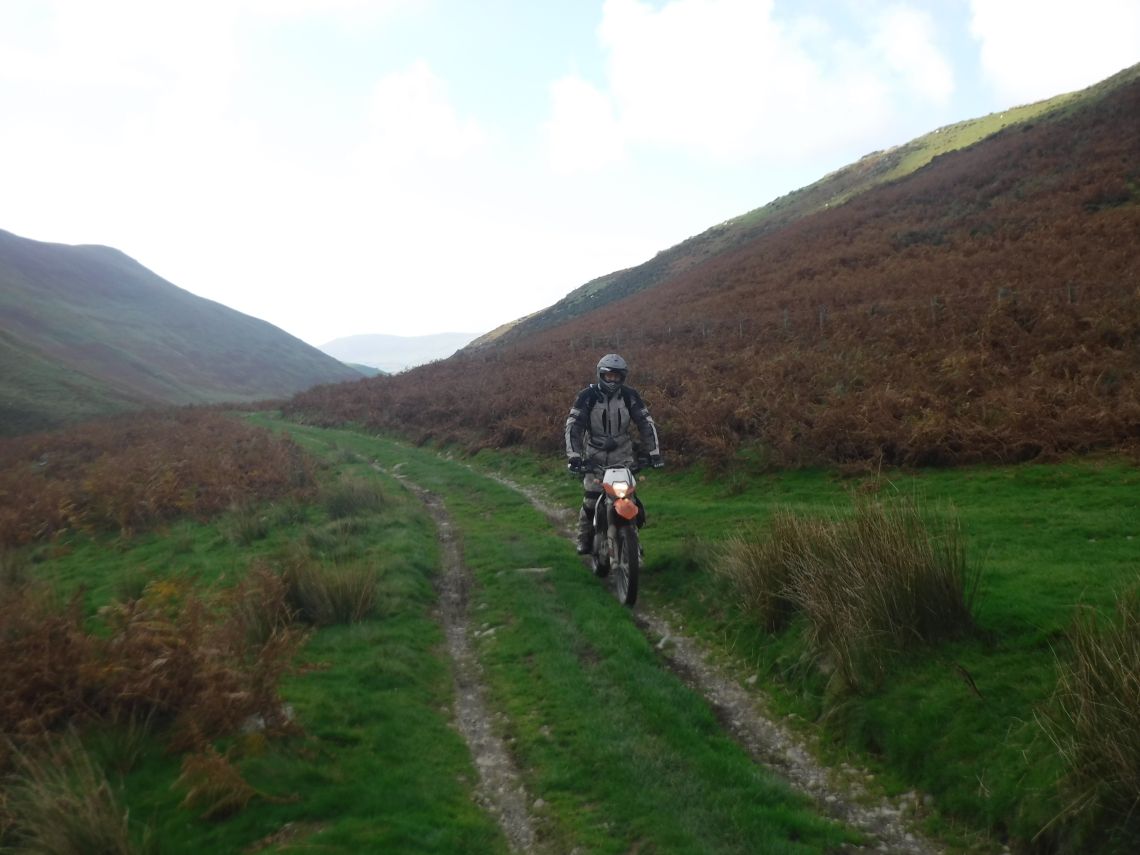 3­-4
This is where the track starts to get good. It's been pleasant riding so far, but from here on in it is simply amazing. Proceed through the gate and through a small ford. You now start climbing up the rocky track ahead. This is a typical mountain track. Small rocks scatter the trail and there are a lot of bedded in rocks to bounce over.
As you climb and go around a left-hand bend, the rocks ahead may come as a surprise. They're not difficult, but if you are not expecting them, they may slow you down. This would be a mistake. Keep going and ride straight up them. I hesitated and the inevitable happened. Down I went, and it needed two of us to lift the bike back up.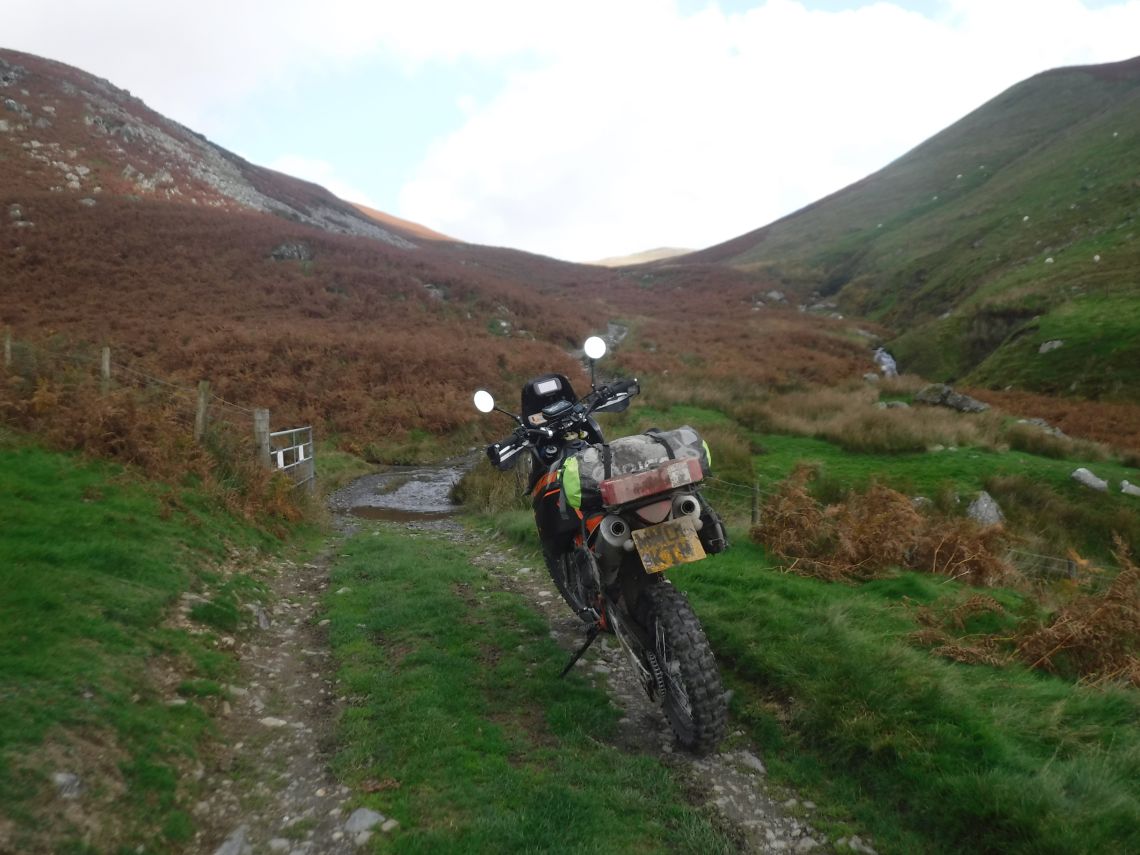 4-­5
Continue climbing up the rocky track. The riding gets even better the higher up you get. The remote views of hilly moorland around you are fantastic. It gets a bit wetter as you approach a gate, but the puddles are not deep, even though they may look it. Keep going, the track continues for a long way in front.
You can get a bit of speed up on this section as the visibility ahead is really good. Be warned. At this point on the map you will come across a puddle. It doesn't look too long, but there's a deep hole in the middle. Go through it, but just be aware. It's only about knee deep and shouldn't trouble as long as you are expecting it. I went in far too fast.
5­-6
Continue up the hill and through the next gate. It's fairly rocky here and washed out in places, though its soon sorts itself out and becomes a decent track. Proceed through the next gate. Continue heading over the moorland on a well-defined mountain track. You have reached the top now and the views down to the right are amazing.
Try not to get distracted as the scenery to the right is spectacular. It's definitely worth stopping to admire the views. The trail winds its way around the contours before descending down a rocky section. Take care here. Go through a gate and a small ford.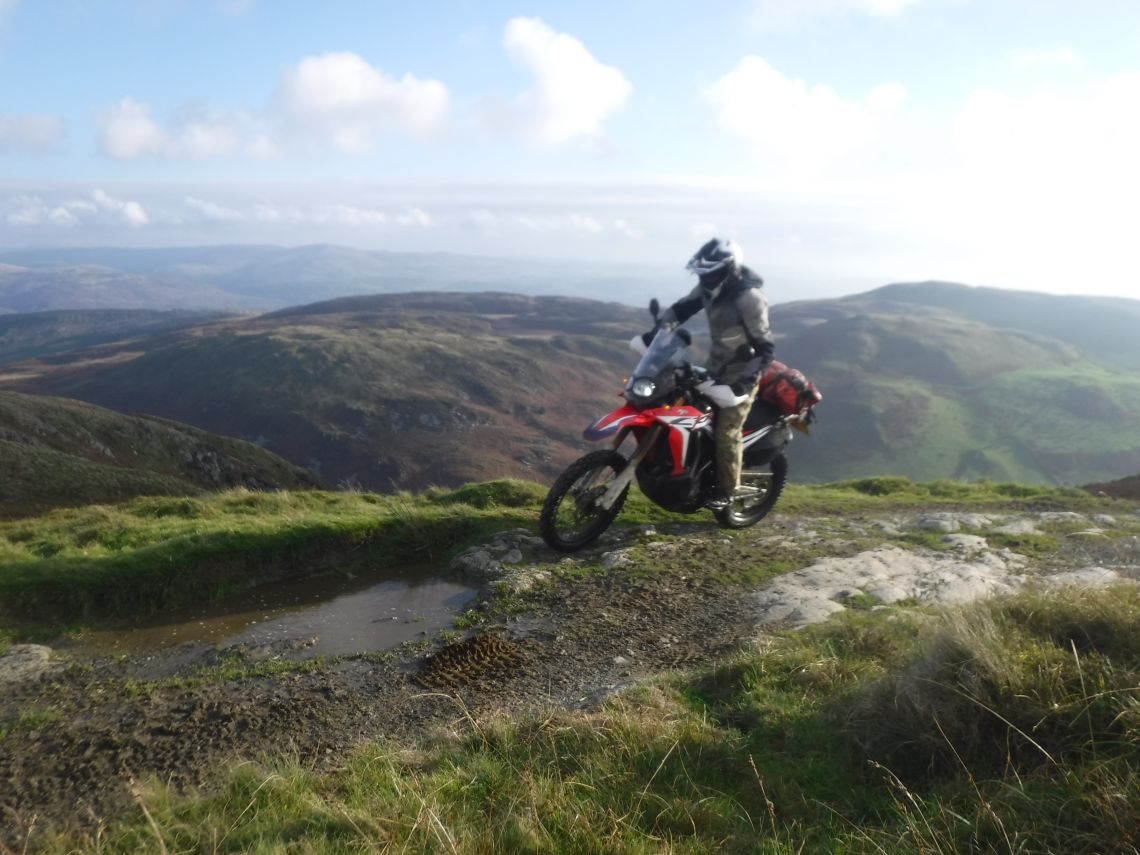 6­-7
The views open up to the right now across the valley. This is the last section, continue downhill and through a few more puddles which are not too deep. The track is pretty rocky in parts with lots of fist-sized rocks to bounce through.
There are a couple of tight downhill bends to negotiate, so take care. It gets steep in places. Through another gate. Towards the bottom, the track becomes graded and is easy going. Pass through the final gate and past the house on the right before reaching the tarmac.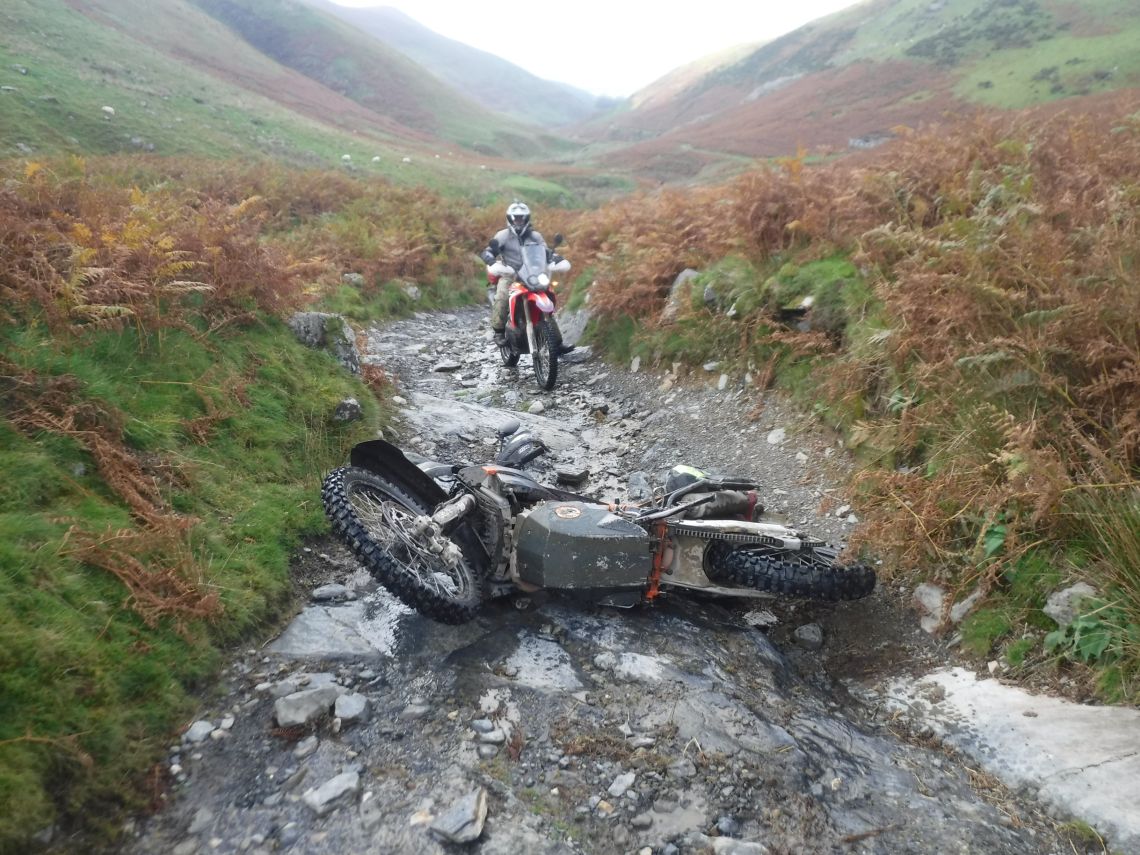 ---
82 – Mold Trails, North Wales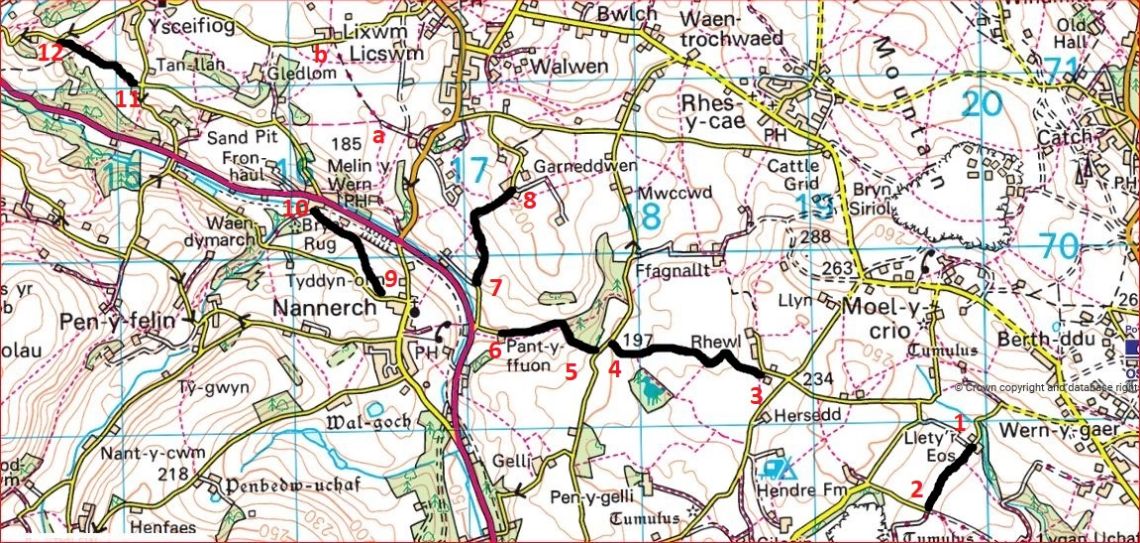 In this issue, we look at six short lanes in North Wales, near the town of Mold. As the trails aren't too far from the A55 coastal route, they're pretty accessible for anyone passing this way and can break up an otherwise boring dual carriageway journey. I know there are a lot of doom-mongers out there saying we have hardly any green lanes to legally ride anymore, but there's more out there than you realise, especially if you start to glance over OS maps.
That's what I did for these trails. These are within an hour of my home and I'd never ridden them before. If you make the effort, I bet there are trails local to you that you didn't know about. Grab an OS map and check, you may be surprised just like I was. The lanes are a tad 'bitty' and some are overgrown, but they are all legal to ride. There is nothing difficult on this route so in the dry, they could be attempted by anyone or virtually any bike if care is taken.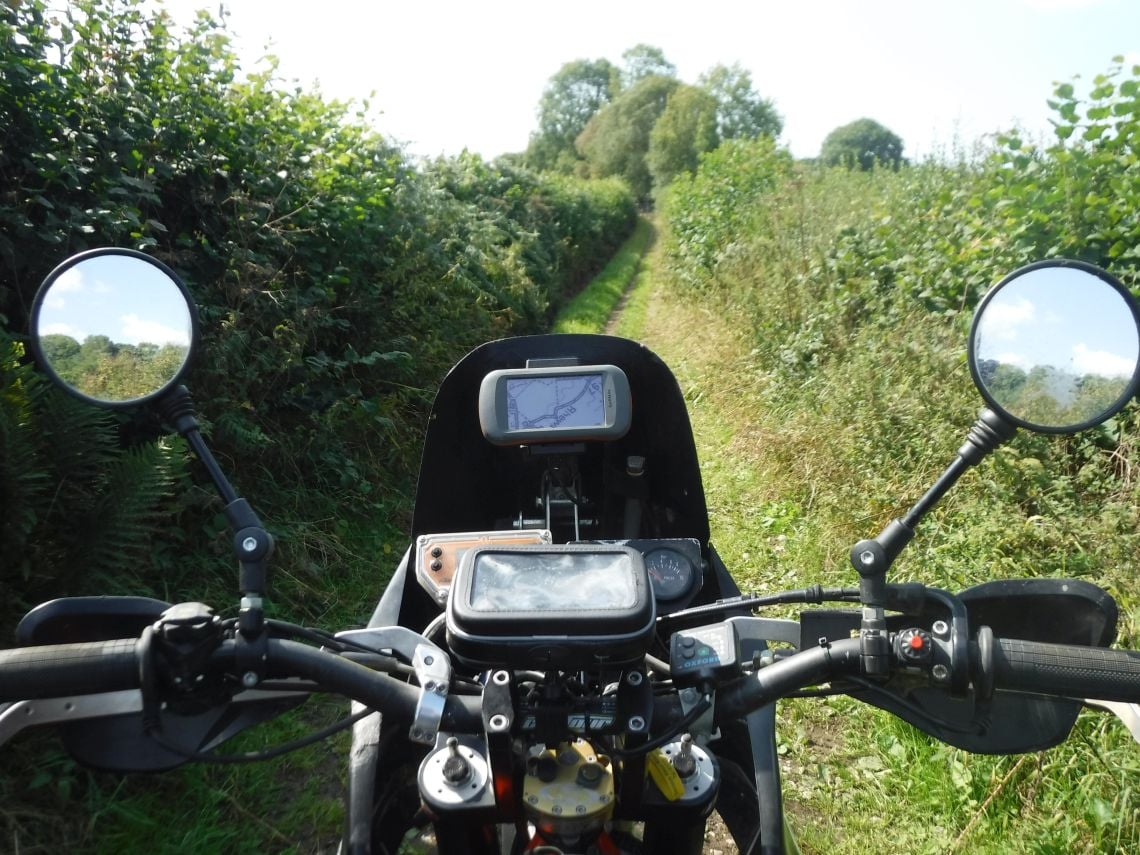 The Route
1­-2
As you approach the lane, riding down a small tarmac road, you may be mistaken for thinking this is someone's drive, especially when you get to the gates. Now, if the gates had been closed I'm not sure I would have proceeded, but as they were open I continued.
You pass houses on the left, and the lane is obvious straight ahead. It starts with a solid base and is well used by farm traffic. There are high hedges on either side with grass growing in the middle. It's easy-going all the way to the end.
2­-3
Tarmac section.
3­-4
The lane is tarmac until you reach the left turn just in front of the gated complex which is straight ahead. Although the lane appears to be well kept, I can't see it getting much farm traffic. It's too narrow for 4x4s due to overgrown hedges on either side. As you go to the right there's a gated field ahead, maybe this section is used to access the field, but not often.
Proceed slightly downhill, in one of three shallow ruts, with the middle being easiest due to vegetation on either side blocking the outer ones. The trail gets even more overgrown as you continue but still easily manageable. You will pass a few more gates to fields and the track then opens up as it's obvious this final bit gets more farm traffic.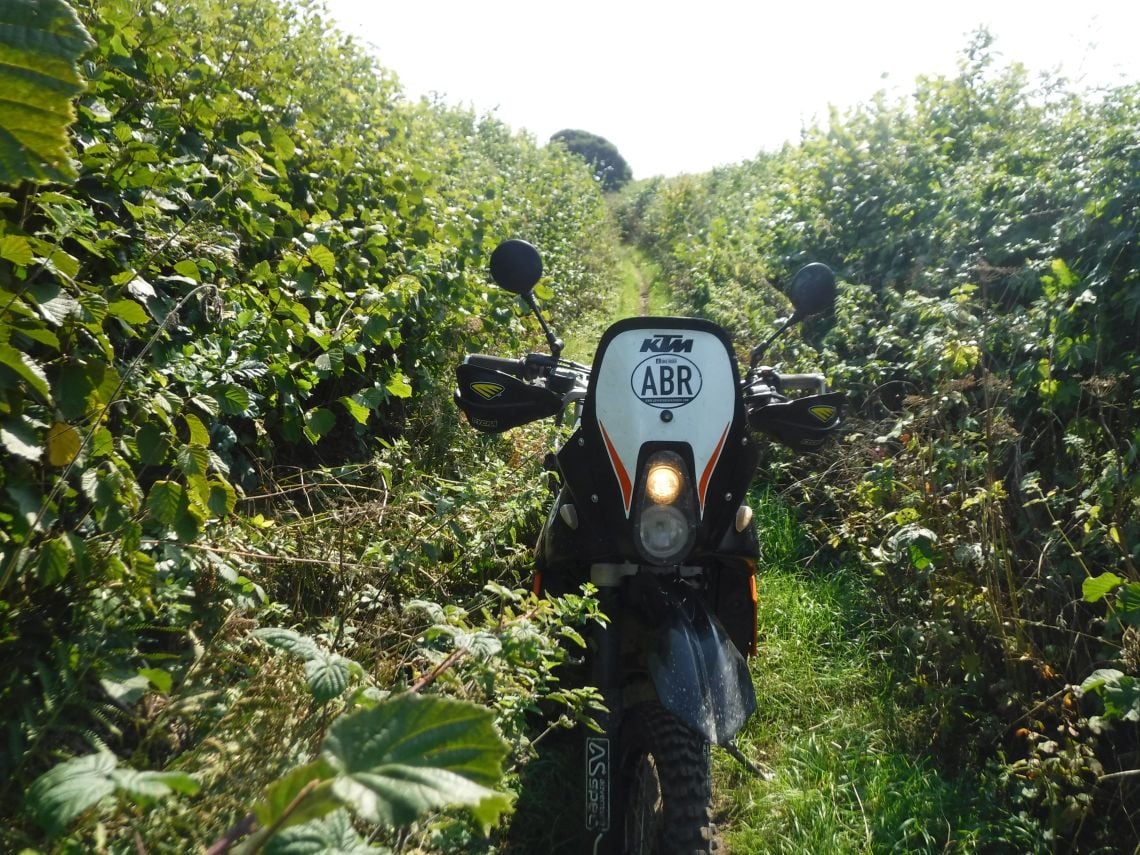 4-­5
Tarmac section.
5-­6
This is almost a continuation of the previous lane being virtually opposite it. It's a similar lane, with high hedges and trees on either side. There are no ruts or muddy bits and only a few loose stones to contend with. As you exit, there is evidence of ruts, and the trail turns left where it is a lot more overgrown and little used. It's a single track in the middle of the overgrown hedges. The track is overgrown all the way to the properties at the end of the lane where it meets the tarmac.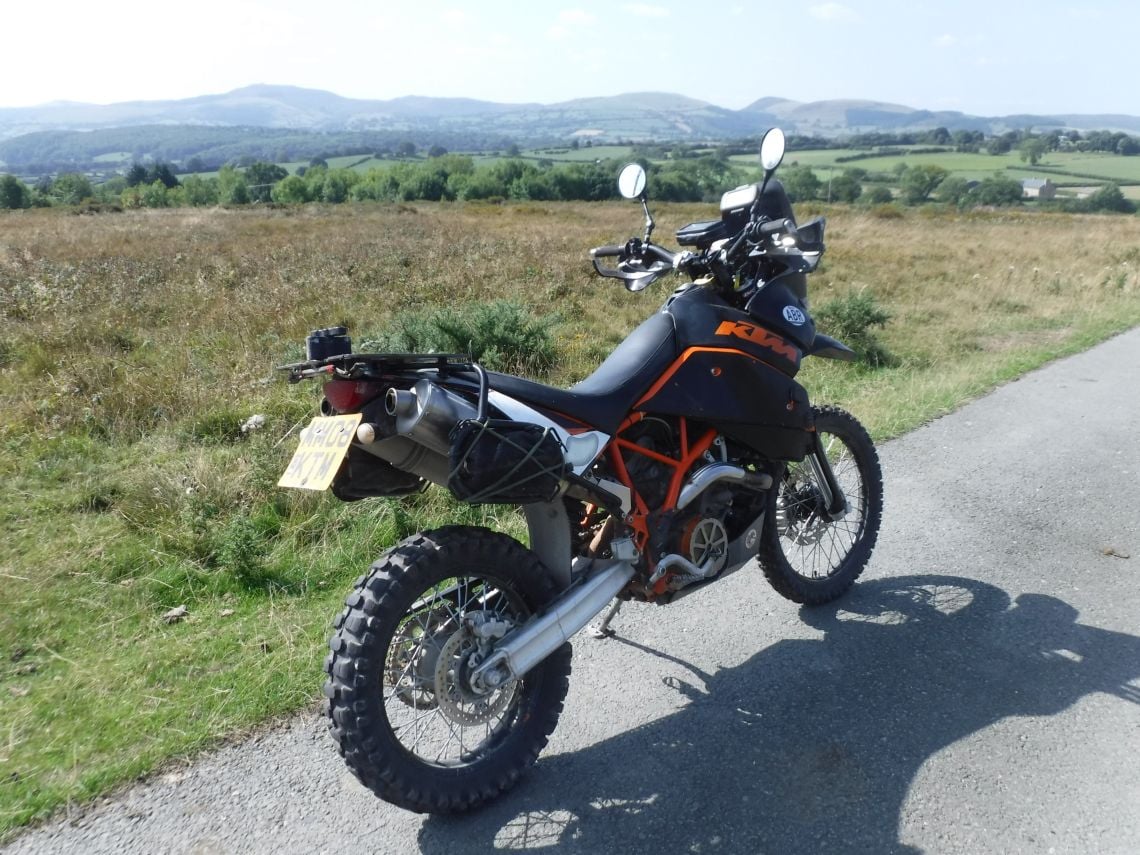 6-­7
Tarmac section.
7­-8
The lane is obvious when it starts. Head slightly uphill and again, it's pretty overgrown. It's easiest to stick to the middle rut that has a hard compact base. This is only a short lane and is easy all the way to the end.
A-­B
This used to be a cracking little lane, more like riding a footpath between walls but unfortunately, it has now had a TRO slapped on it. Do not use this lane, even if once you used to.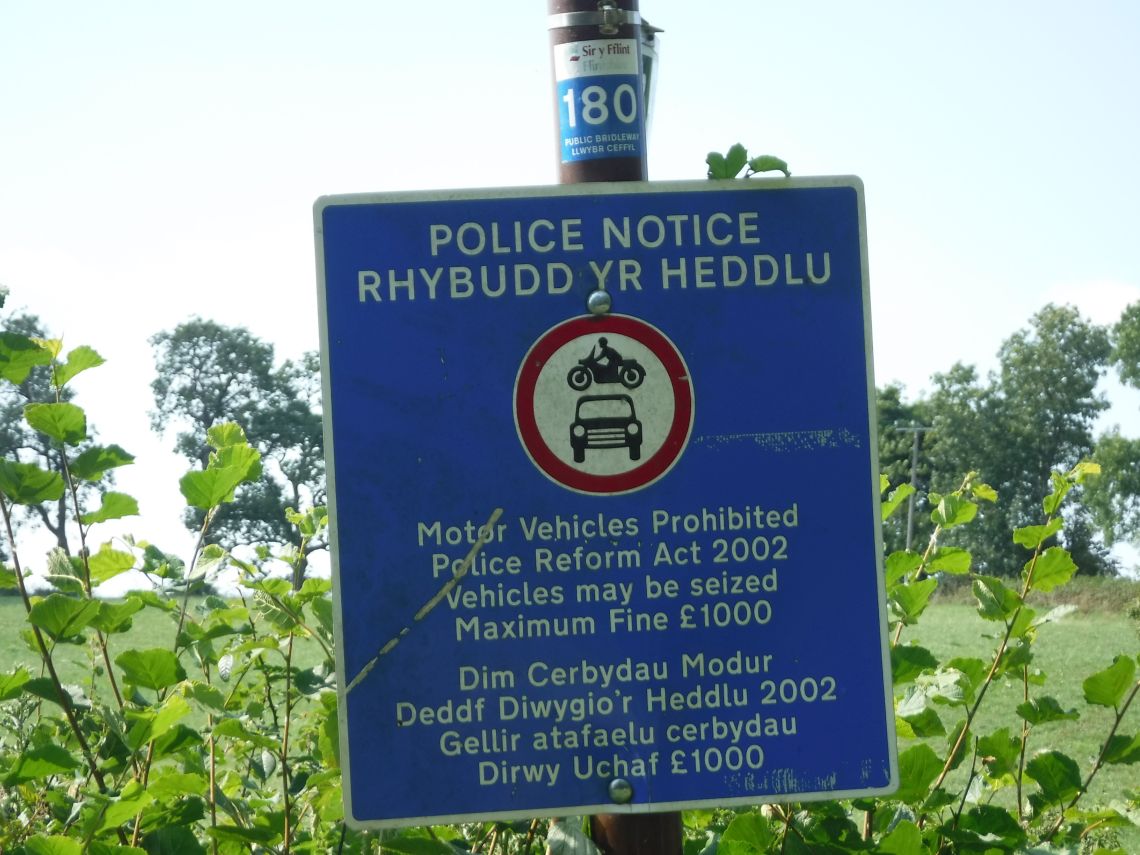 8­-9
Tarmac section.
9-10
This section is signposted as a byway but it's more like riding along a footpath. It's a single path in the middle of grassy sides between hedges. I'd be surprised if this byway gets any four-wheel-drive traffic, they would be scratched to bits if they did attempt it. The going is easy and it's pleasant riding with a few overgrown bits. Continue past the house and through some trees where conditions may be a tad muddier.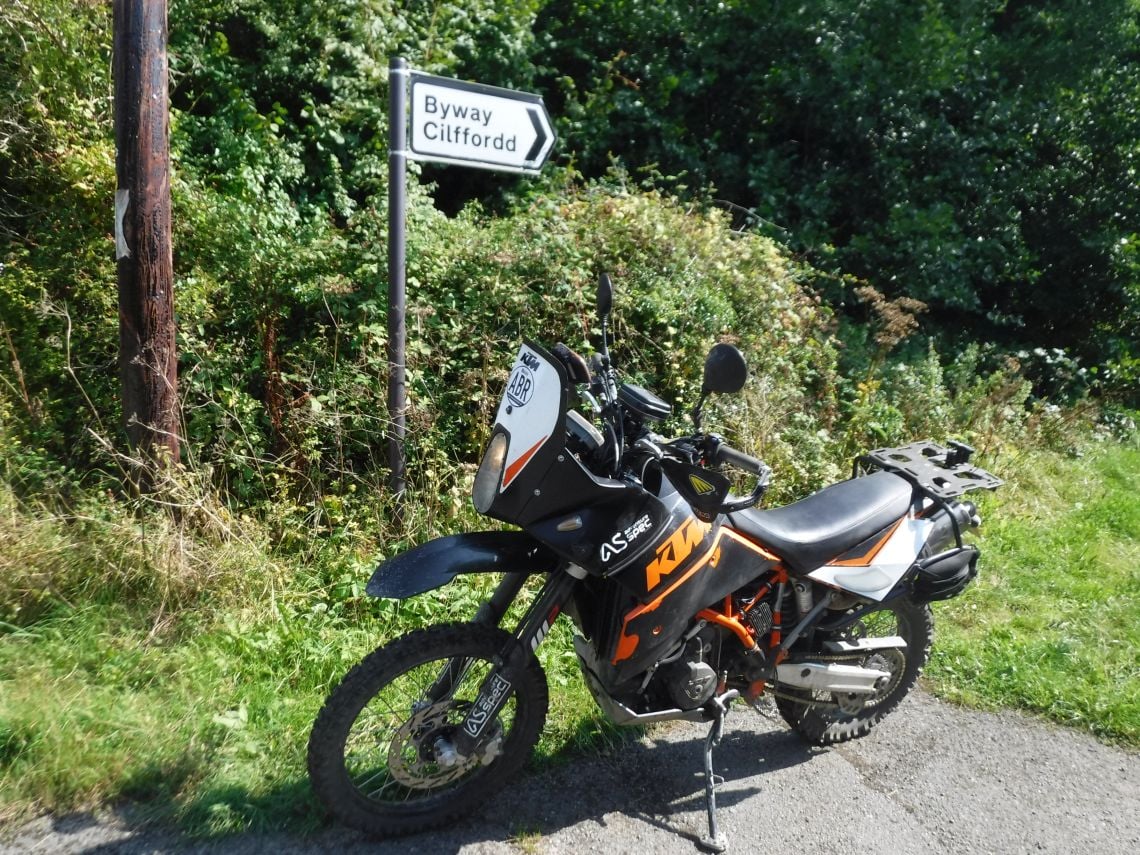 10­-11
Tarmac section.
11-­12
Pass the houses and the track continues straight ahead. See the gate in front and the track, which is more of a footpath, heads off to the right. It's single track, very overgrown with tight hedges. Towards the end, the track widens out as you go under trees. Pass a house on the right and the rest of the trail becomes their drive.