This issue: Longsleddale Pass and Gatescarth Pass, Lake District
Words and photos: Mike Beddows
113: Longsleddale Pass and Gatescarth Pass, The Lake District
For this issue of ABR, I've abandoned my usual practice of detailing two separate green lanes and instead described one longer one through Longsleddale Pass and Gatescarth Pass in the Lake District.
This is a challenging and remote trail that is definitely worth the six-mile ride up a single-track tarmac road to get to the start. It is one of my favourite rides in the Lake District, but be warned, the final descent into Sadgill is extremely steep and not for beginners. Once you start descending, you have to be committed. It takes a lot of bottle to actually ride this section, it really is that steep.
The next section can be split into two parts. The first is a fun rocky climb up the valley all the way to the locked gate. Again, this is not the easiest of trails. There are plenty of loose rocks, and after a gentle enough introduction along the valley floor, it becomes steep with fist-sized rocks littering the trail.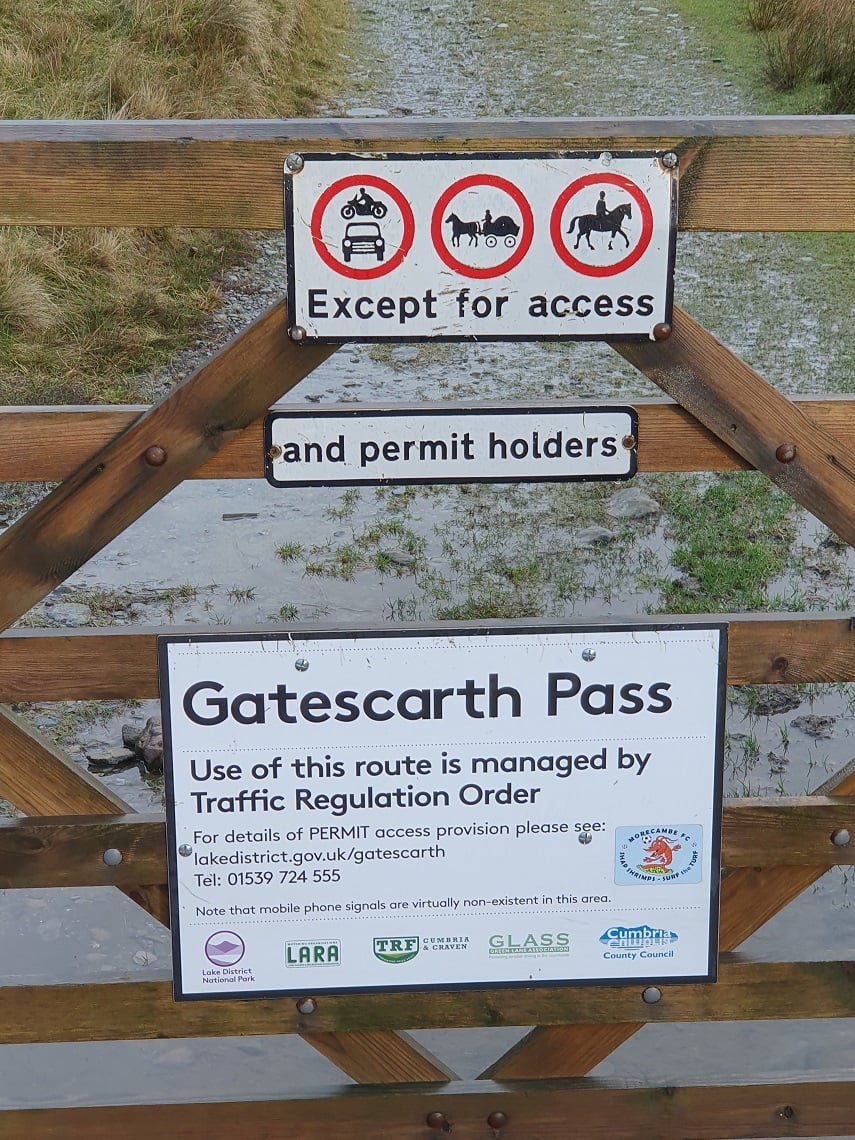 When you reach a locked gate, you hit the second part of this trail. You are now 423m up, but if you want to go higher, you will need to plan your ride in advance and obtain a permit from the Lake District National Park Authority.
Permits are restricted to just 12 days per year (one day per month), and there are 18 permits available for motorcyclists per legal riding day.
Permits are free but it does mean you have to plan ahead. It's also worth noting that solo riders are not allowed. You need a minimum of two riders and a maximum group of six per group.
Now, to the riding. This is a serious trail and not for the fainthearted. It's very steep, there are loose rocks in places, and plenty of switchbacks. I found it a struggle on my KTM 950 SE. At the summit, you are about 570m high and exposed to the elements so you can expect snow in the winter months.
The descent towards the remote Haweswater Reservoir was even steeper and more difficult than the climb.
At the bottom, we were supposed to turn around and ride the trail in reverse. I made the decision not to attempt it. There was no way I could have ridden this trail in reverse on the 950. Be warned.
Visit www.lakedistrict.gov.uk for more information on the permit scheme.
---
The Route
1-2
After a six-mile ride along a single-lane tarmac road winding its way up the valley, turn right and head onto the trail. It's an easy start along a wide solid track with occasional rocks. Pass through a gate.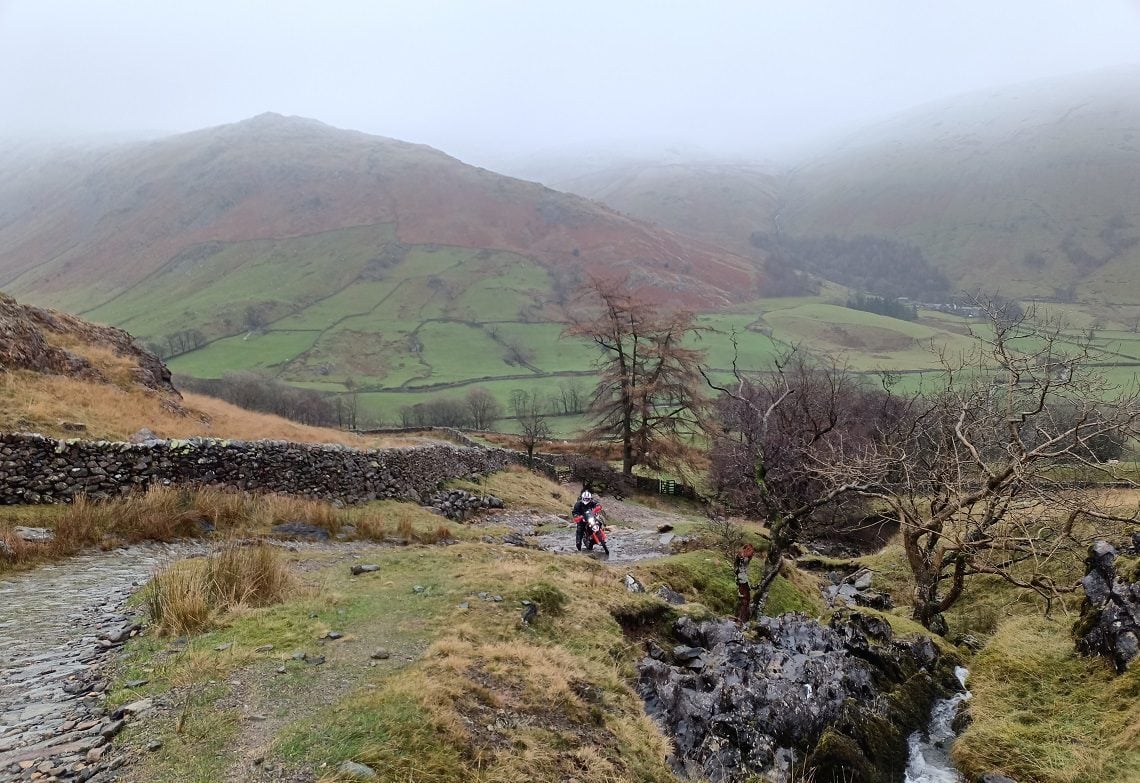 2-3
This next mile or so is my favourite of the entire route. It flows really well as you gain elevation and the track changes from easy sections to more challenging rocky areas, and a few jumps to keep things interesting. Pass through another couple of gates en-route.

3-4
As you crest the top of this section, you now have a short, steep descent. The route below looks terrifying with rocks everywhere. Take it steady, lean well back, and feather the brakes as you navigate the tight steep corners. Pass through the gate at the bottom and take a well-earned break.
4-5
Continue your decent all the way to the buildings at the bottom. It's easier riding now, but still challenging. Pass through a final gate at point 5.
5-6
Ride a short tarmac link across a bridge. Turn left, and this section joins Gatescarth Pass.
6-7
This is a great ride up the valley. There are some easy sections and some rocky not so easy areas.
If you can, take some time to enjoy the scenery, although this is remote riding so take care.
7-8
This is a steep rocky section and you need to commit to get up it in one go. Don't stop, it will be a nightmare to get going again. Go through a gate and onto the next locked gate. You now need a permit to continue.
8-9
Enjoy an easy start before you ride up steep terrain with switchbacks. There are lots of loose rocks so try and ensure there is a clear route in front as you won't want anyone else's mistakes to slow you down. Once moving, don't stop.
9-10
The trail gets easier as you approach the top of the pass. You are now at around 570m and very exposed. Be prepared for bad weather and possibly snow in the winter months.
10-11
Proceed through another gate and start a steep rocky descent. with switchbacks.
11-12
Ride a short easy section, then another steep rocky section to a locked gate.
12-13
Ride to the finish and the last gate.
Feel free to do the trail in reverse, or for a well-earned break, ride a few miles along the shores of Haweswater and stop for something to eat and drink.