This Issue: Ashley Down/Parnhold Wood, Hampshire& Lower Claerwen, Mid Wales
Ashley Down/Parnhold Wood, Hampshire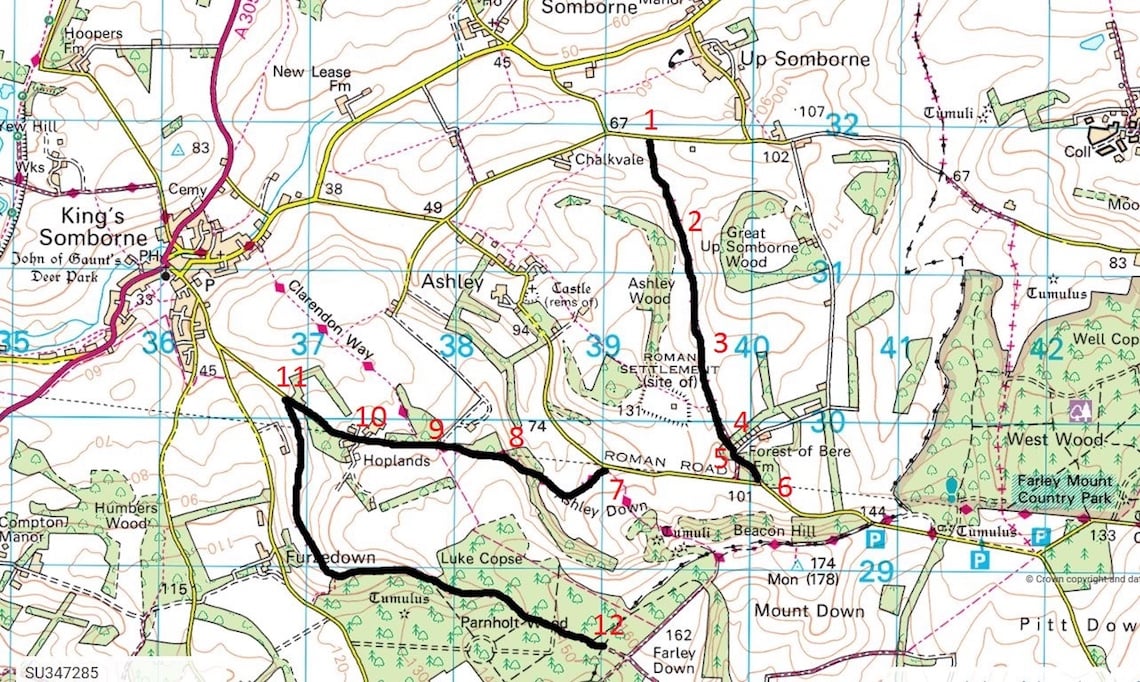 On a recent trip to an ABR organised meet in Salisbury, I decided to lengthen my time away and spend a day trail riding in the South Downs National Park. After a long journey down in my camper, I found a wild camping spot just west of Winchester and the trails started directly from here the following morning. There's a fantastic network of green lanes in the south and they are really easy to find using an OS map.
I didn't check the route I had planned on TrailWise, and bar a few TROs that were easily identifiable on the ground, the rest of the trails were OK and flowed really well. The main positive for me was that I didn't have to open a gate all day, a rarity as 'up north' there are gates everywhere.
The lanes marked up here are fairly straightforward and could be attempted by anyone on almost any bike. In dry conditions, I'd even say that road-based tyres would be a possibility with a bit of care.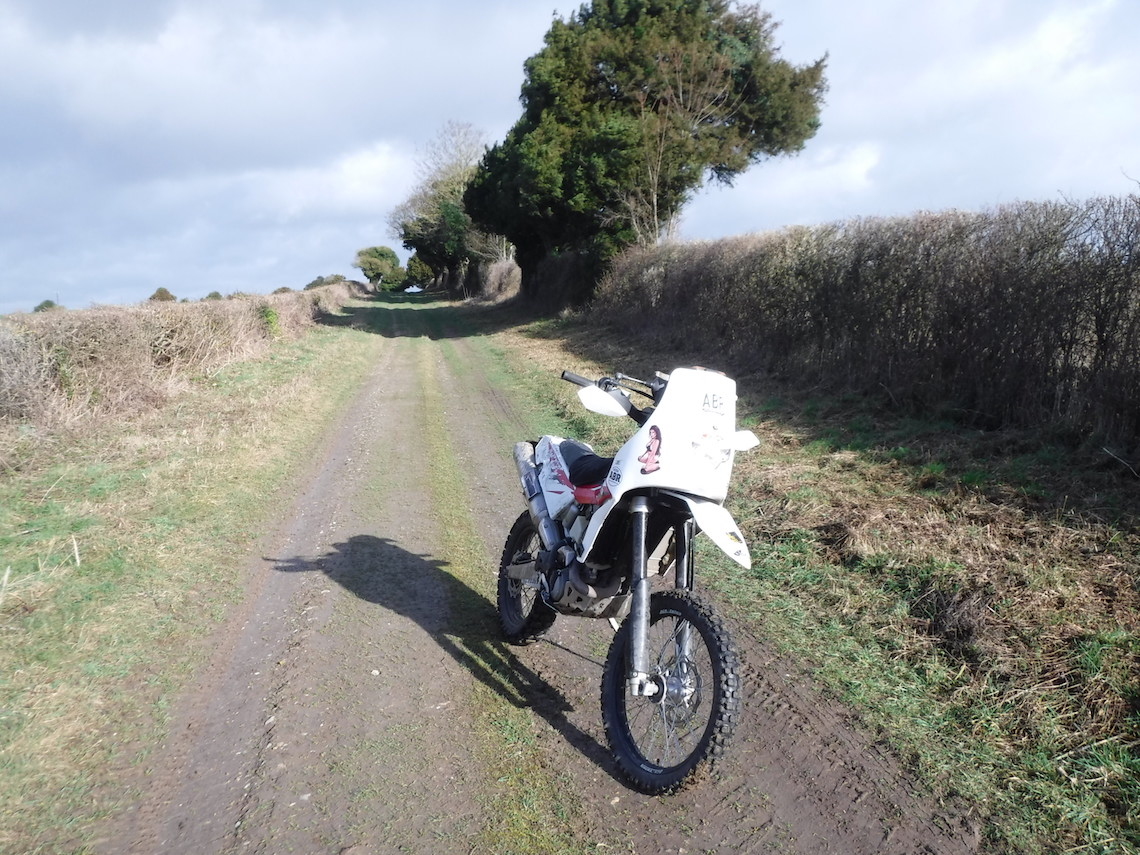 It's worth pointing out now that the last lane (points 11-12 on the map) goes to a dead end. So, to stay 100% legal, make sure you turn around at the point designated on the map. On the ground, the physical trail continues and there is no sign stating the legal route has come to an end. Just beware of this fact when riding it.
Personally, I think it's ridiculous that routes exist where their legal status changes along the way, but this isn't the first lane I've ridden like this. There are many dead-end routes throughout the UK. It's just another way of restricting use on a lane as if it goes nowhere then it's more unlikely for it to be ridden by many people.
The Route
1-2
The trail starts off as a wide farm track. The four-wheel-drive wide trail is bordered on both sides by a grass verge followed by bushes before the farmers' fields take over. It's a hard, compact base with shallow or no ruts. The riding is easy but pleasant as you proceed. Great views of rolling countryside lie ahead. There are a few puddles but it could be very slippery after a downpour. Head between the trees.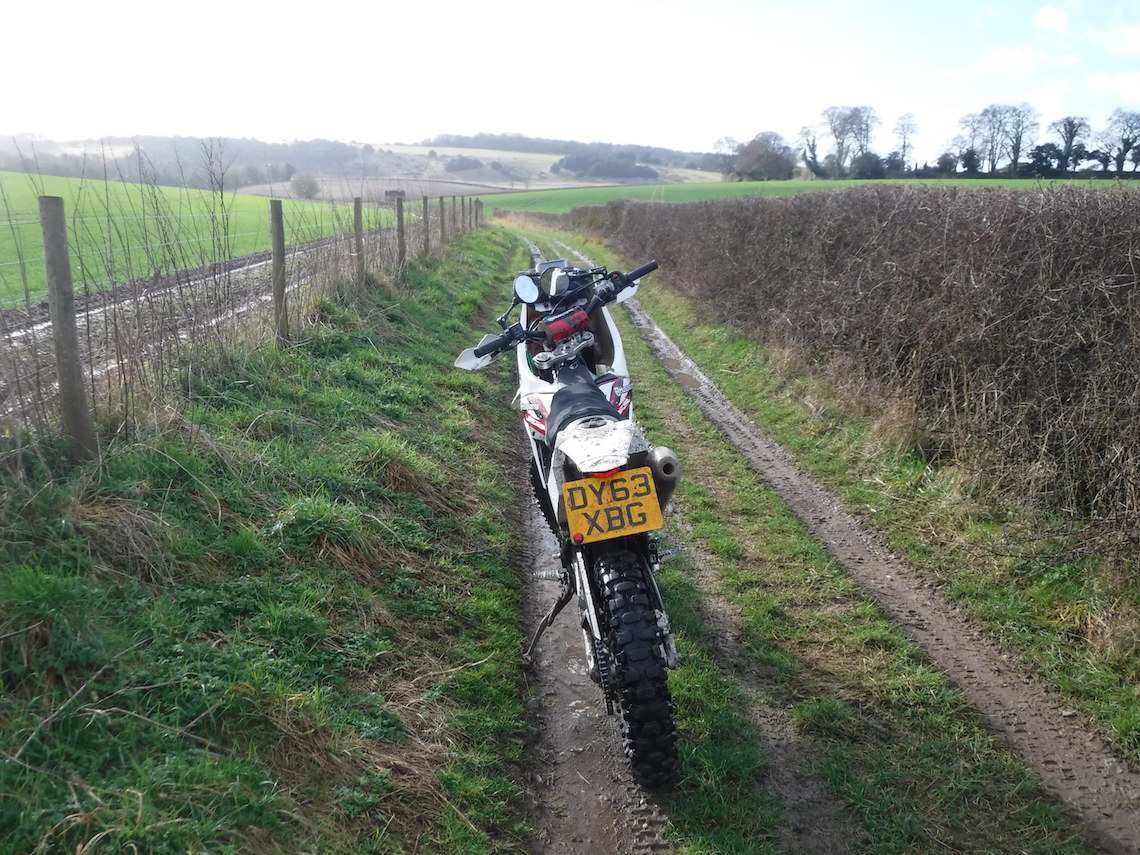 2-3
There was a large puddle here (and it hadn't rained for a while so the standing water was pretty old), and after a downpour, I'd expect this puddle to be even bigger. There's no point trying to go around. It's about knee-deep, so if you have any doubt, probe it with a stick first. Continues on much of the same terrain, nice and easy-going. There are lots of field entrances hence why the lane is in such good condition. Once out of trees the lane continues between hedgerows.
3-4
Heading slightly downhill now, the ruts are slightly deeper, but they are wide and can be ridden easily. There's grass growing in the middle and the hedgerows become more sporadic before they disappear completely leaving just a fence on the left. Then you proceed into the open fields on the right. Proceed to the tarmac.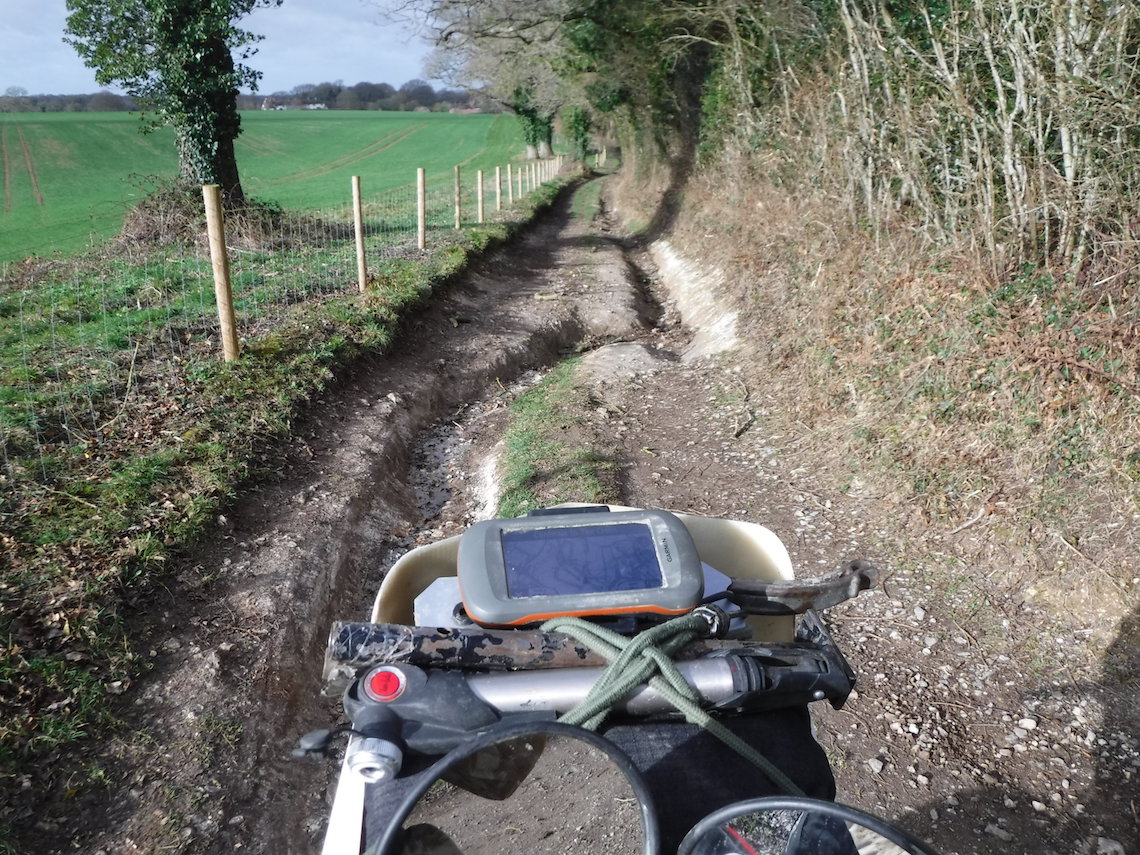 4-5
Short tarmac section
5-6
You will see the next short lane heading off to the left under the trees. It's an easy section that leads to the road.
6-7
Turn right onto the tarmac.
7-8
There's a right of way sign on the left. Head up a slight bump to start the lane, nothing difficult. It's a narrow lane but you could get a car down. Head round to the right, and the lane goes between open fields. There are ruts with grass in the middle. It's not hard as the ruts are wide.
8-9
The trail becomes a sunken lane between open trees. I like this bit as it feels like a true green lane. Proceed slightly uphill and out of the sunken lane. The track is a bit muddy in places and pretty slippery with a few puddles.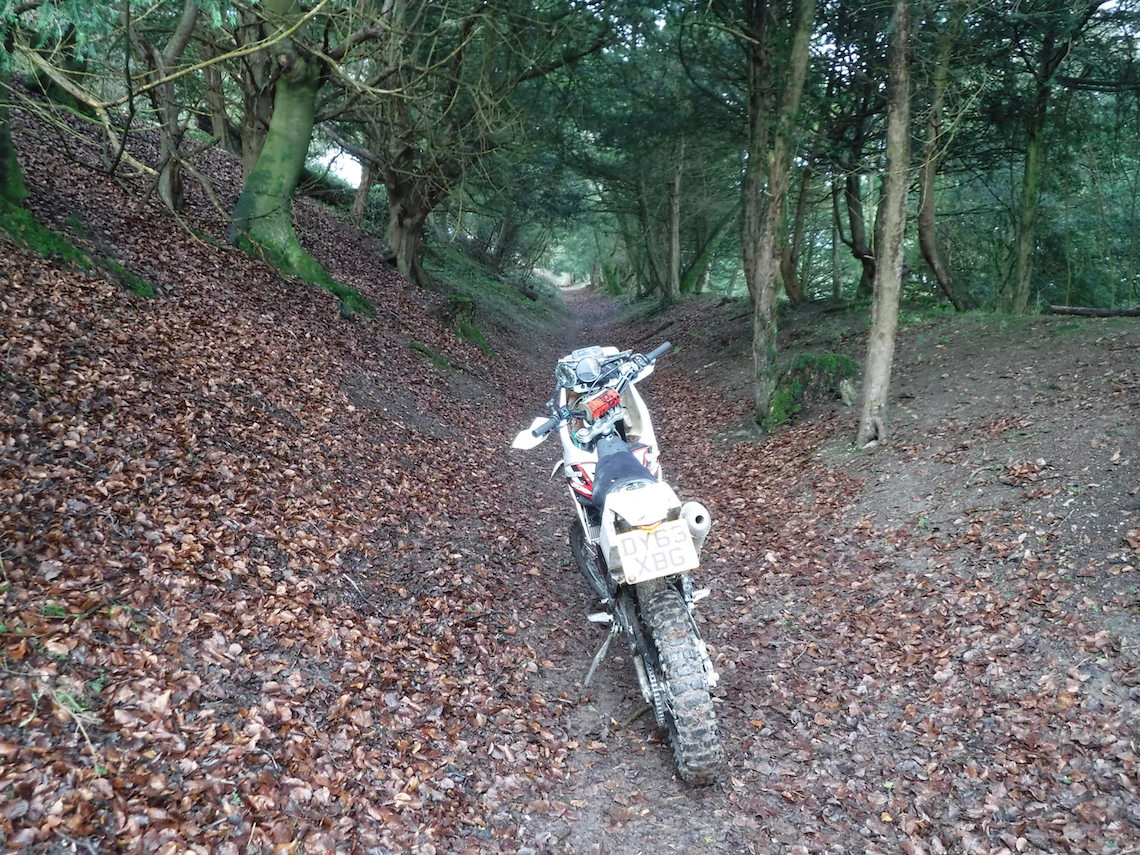 9-10
There's lots of erosion on the trail at this section. It's good fun and, if care is taken, it won't be difficult for novices. There's a deep rut to bounce over but stick to the left for an easy route. A big puddle appears spanning the trail. It's deeper in the right-hand rut, about knee-deep so stick to the left for a shallower route.
10-11
Turn right onto the tarmac.
11-12
You may wish to miss this section out as the legal part leads to nowhere. It starts as a hard, compact base with a few puddles. Head towards the trees and the trail turns into a forest track. It's not difficult. But at point 12 on the map, the legal section runs out.
To stay within the law, it's now time to turn around. Or, although I'm not sure on the legalities of this, but approx. 200m down the track to the right tarmac starts again, so a quick push of the bike to the tarmac should suffice.
---
Did you know…
I love fords. Always have, and always will. A mere 15 miles from this issue's trail is a village called Droxford that has a fantastic ford. I'm still unclear of its legal status. There are no signs on the ground stating if the ford is closed and there was evidence of tyre tracks heading into it when I was there.
I asked in a local garage and was told it wasn't ridable. I have checked TrailWise and it is unclear, but it is on the www.wetroads.co.uk website as a five-star ford. I did not ride it as it's 183 metres long and you basically ride down the river. I walked along the bank and it looks fantastic. I wouldn't recommend a solo trip down it, but it's worth knowing it's in the area.
---
Lower Claerwen, Mid-Wales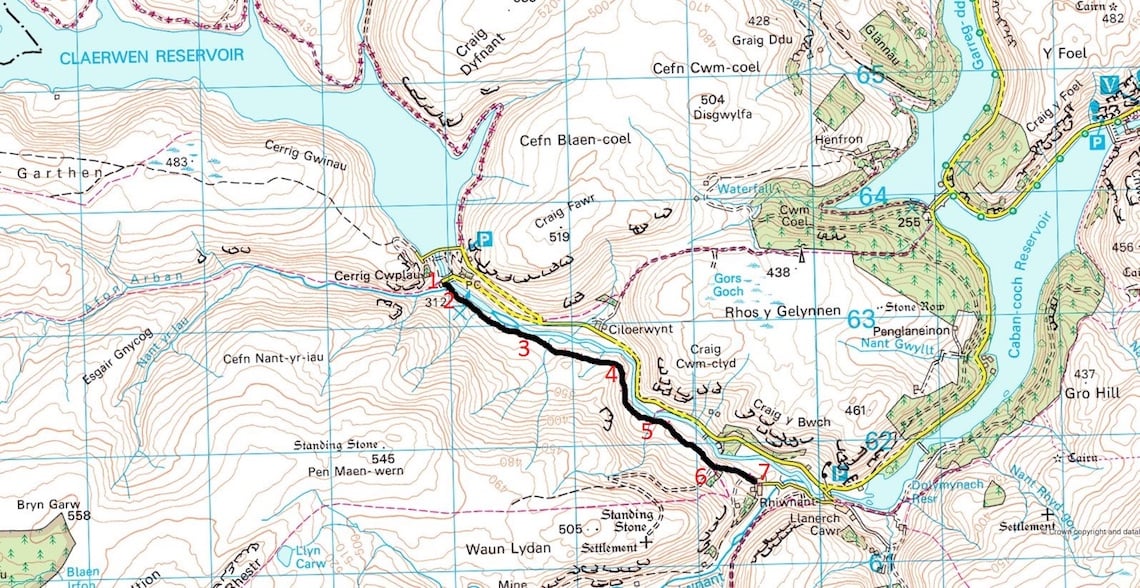 I'm often asked what the best trail I've ridden is. Well, there are lots of great green lanes in the UK but four really stand out for me, and the Lower Claerwen detailed in this issue is one of them (for reference the others are The Strata Florida in Mid Wales, Happy Valley in North West Wales and Parka- moor in the Lake District).
The Lower Claerwen is in a fantastic location, right at the base of the Claerwen reservoir dam wall. Some days the volume of water overspills and cascades down in a curtain of water. A fantastic sight to see.
The trail can be ridden in both directions, but I have started from the dam wall in this guide. This is so you can see if it's possible to cross the river before you start the trail. If you do it from the other end you will have to do the ford at the end of the trail. The water is crystal clear so you should be able to gauge the depth and flow easily. It really can vary so take care.
This trail, as with the others listed as my favourites, consists of a rocky, remote moorland track. There are lots of deep puddles on the route, and plenty of rocks and technical bits to keep it interesting, but not so difficult as to create any showstoppers.
At the end of the trail there used to be some rock steps (that were really challenging to do in the opposite direction) but on my last trip to this trail, I was disappointed to find the steps levelled out. It hasn't been graded so I'm not really sure what has happened to them.
Other local trails have been detailed in previous issues of ABR, namely Golf Links, Claerwen (although please be aware there is a short section in the middle that doesn't have vehicular rights) and the Strata Florida. Connect these together for a great morning's trail riding.
The Route
1-2
Before you actually get to the start of this trail you have to ride some fantastic tarmac around the local reservoirs. Head over the bridge below the Claerwen dam which offers a great view of the dam to the right. Proceed through the gate on left to start this trail. Ride down the track to the river. Before you can ford the river, you have to go through a gate.
The river here can get deep but it's normally crystal clear so you can use your judgement as to whether you think it is passable or not. Be warned, the bottom of the river is littered with rocks, big and small. The current could also be an issue after a downpour. Once through the river, there's another gate. Please remember to close both gates, both before and after the river.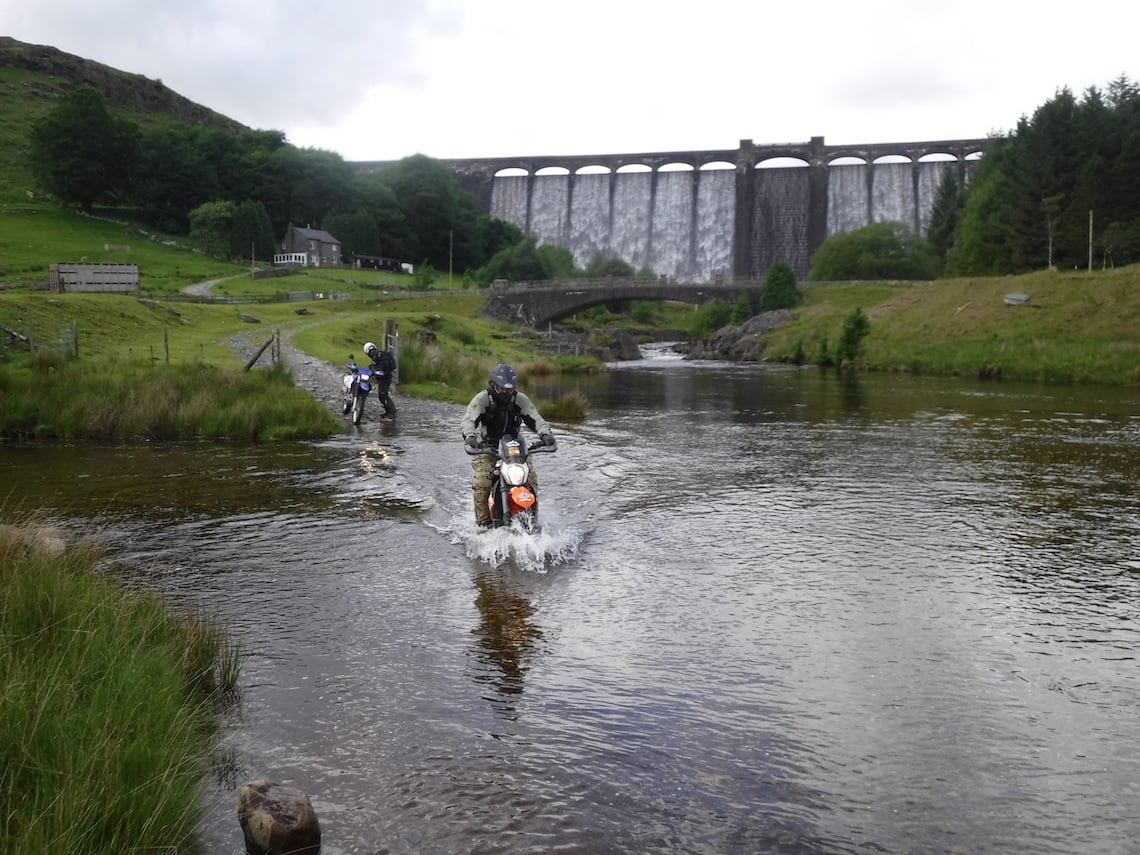 2-3
You are now on a rocky moorland type track. There's not much loose stuff to begin with, but it won't be long before you are bouncing on all sorts of different rock sizes. The trail follows the river which is on your left. There's a definite feeling of being very remote even though the main road to the area is just on the other side of the river.
The track is now hard and compact with grass growing in middle. You can see a trail stretching out in front of you. After fording a small stream, the track becomes very wet. A few bends further and some large puddles appear in-between high banks. These are about knee-deep with a very rocky uneven base. You have no option but to go through.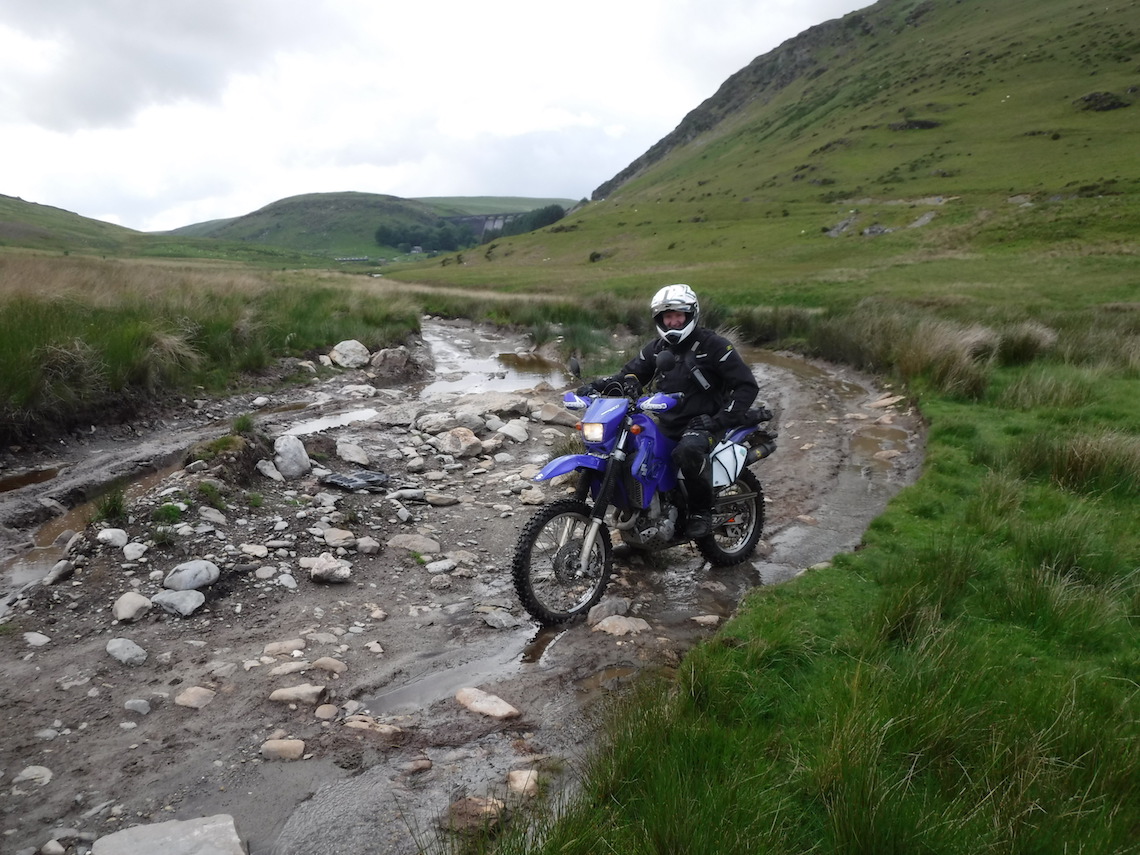 3-4
Everywhere you look offers cracking remote views across the moorland. More loose rocks and straight ahead into the next puddle. The trail changes now. Lots of loose rocks to bounce over, up to about fist size. There are also lots of small puddles. As you head around a corner the trail splits in two.
It used to be one track a few years back, and you had to encounter a large, very deep, long puddle that took some bottle to get through. The track to the right bypasses this, and the track to the left wasn't as I remember it and it's far easier now. I think there must have been some drainage work over the years.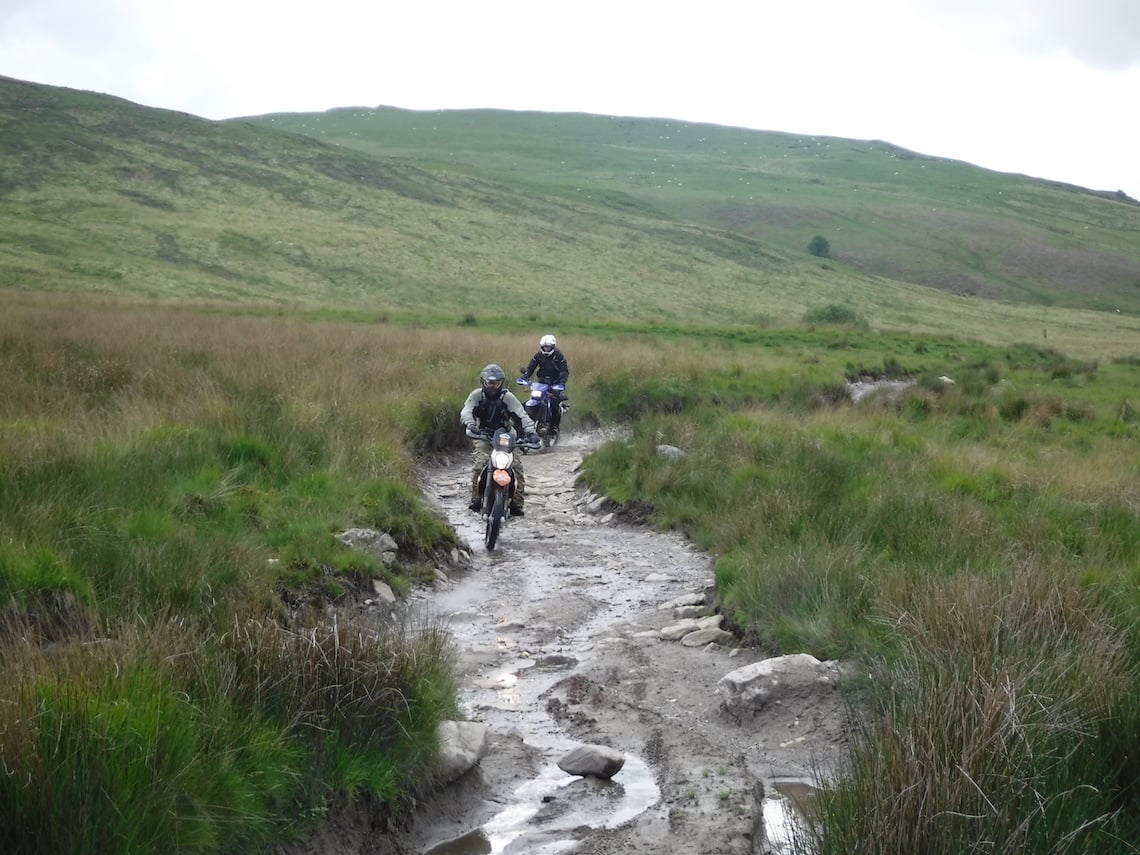 4-5
Continue along with more of the same. Another small stream to ford and fewer loose rocks now.
Plenty of puddles, but nothing too deep or serious to worry about.
Proceed for some time and through a gate, then through another gate and to what used to be some rocky steps which made this trail really challenging in reverse. But alas, no problems now. The rock steps seem to have disappeared which is a real shame.
5-6
Head around a bend, and through a small stream. Through a gate and up towards a lone tree then proceed along a long, rocky section.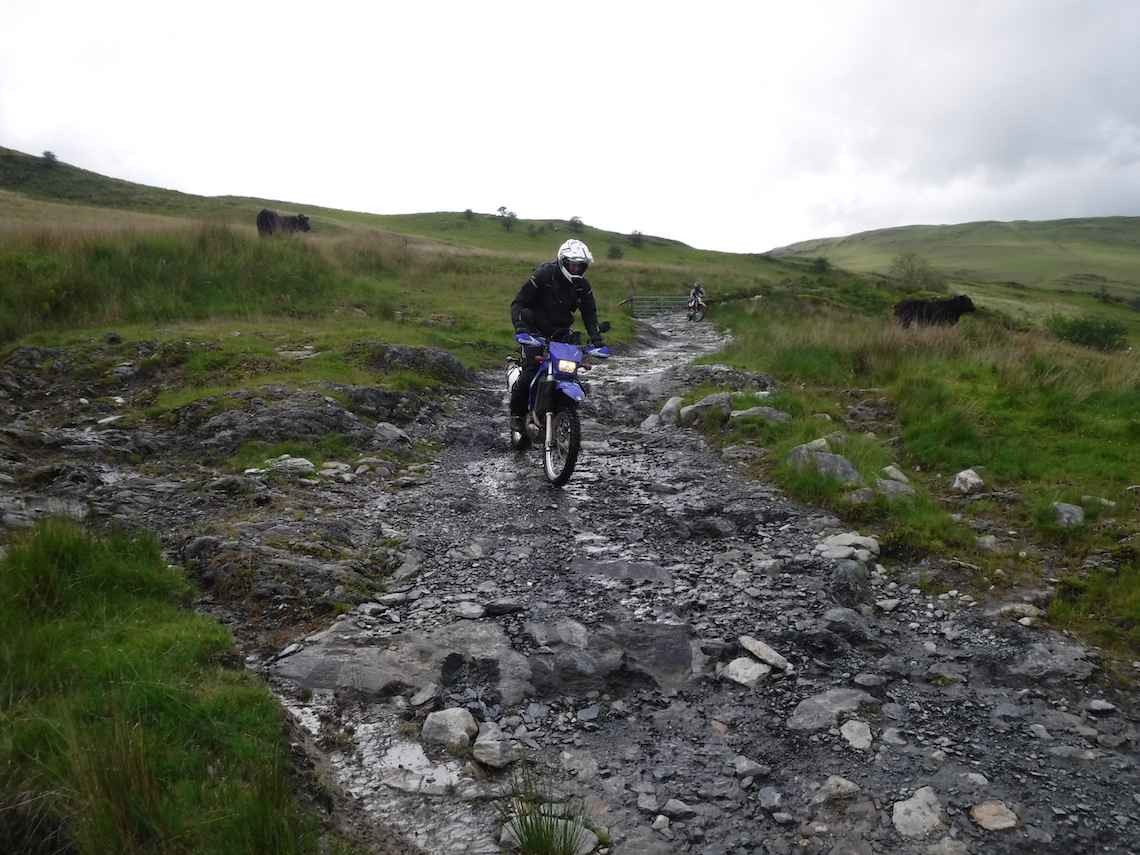 After the woods on the right, there's another gate and the going is easier now. Head through moorland fields rather than open moorland. After a track joins from the right there's another gate.
6-7
To the farm. Through gate onto the road.