ABR's resident green lane experts, Mike Beddows and Simon Newbank map out an exciting trail in Mid-Wales and a few beginner's lanes in Kent
29 – Golf links
3.5 miles 
Words and photos: Mike Beddows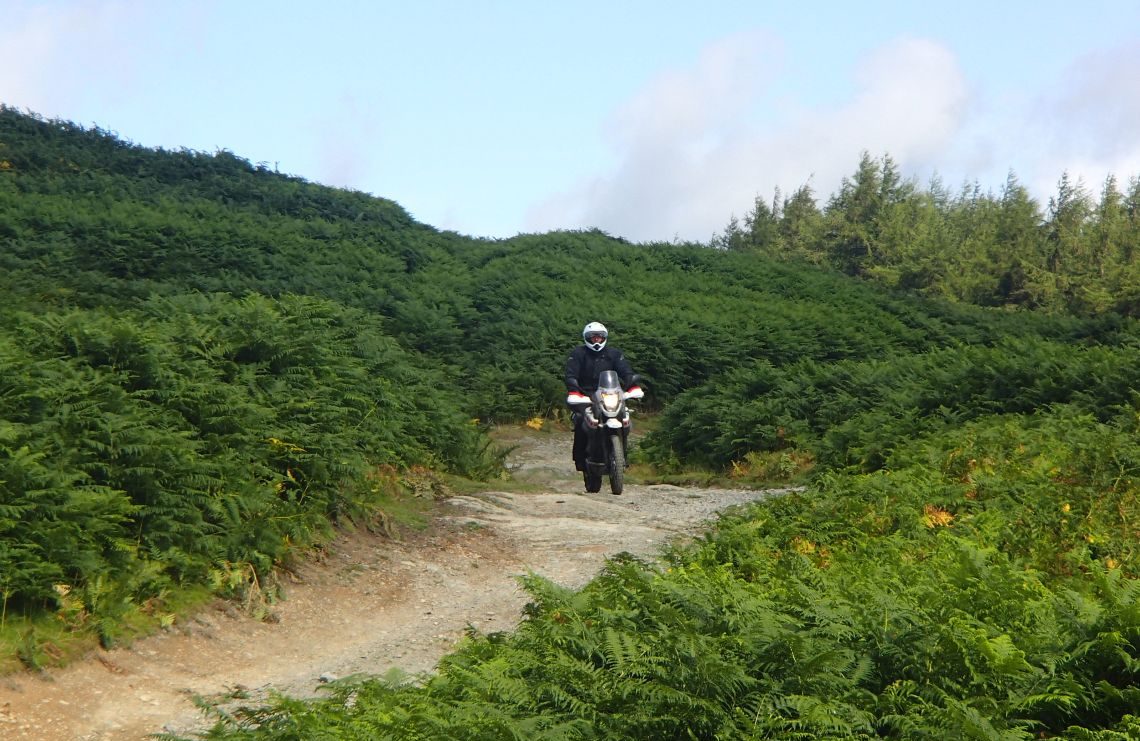 This is a fantastic 3.5-mile trail and is just over a mile away from the centre of Rhayader (Mid Wales). If you use this town as a base it is probable that this will be your first trail as you set out for the day (I can also recommend the Strata Florida which was detailed in ABR issue 12). The trail is fairly straightforward but due to a few rocky sections, I would not recommend it if you are a novice, hence why I have given it a difficulty rating of three.
The trail is good in both directions, but I prefer it south to north as I'd rather ride up rocks than down them. There are a lot of visible signs of previous off-piste activity in the area. Please stick to the track as this is a great trail and it will be a shame if it ever closes due to the inconsiderate nature of a few. The trail is good enough on its own without having to resort to riding off-piste. There is a sign at the start warning of this fact.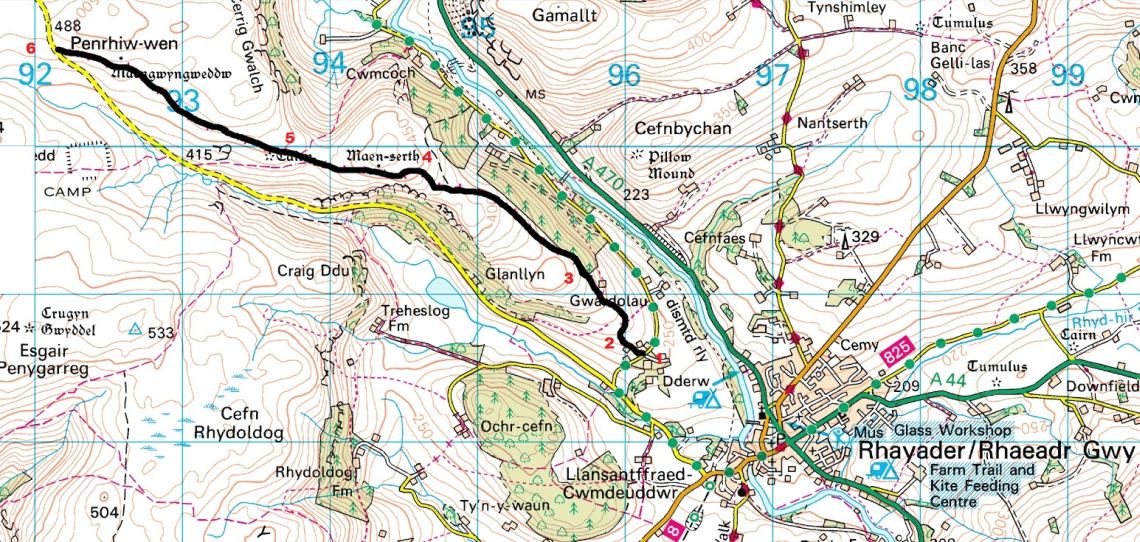 The Route
1-2
Proceed through the gate. There is a Byway sign and also a sign stating riders need to stay on the track. Continue up the hill and ride slowly past the house. The start of the byway serves two houses and no doubt they get a lot of 'off-road' traffic passing by so be considerate.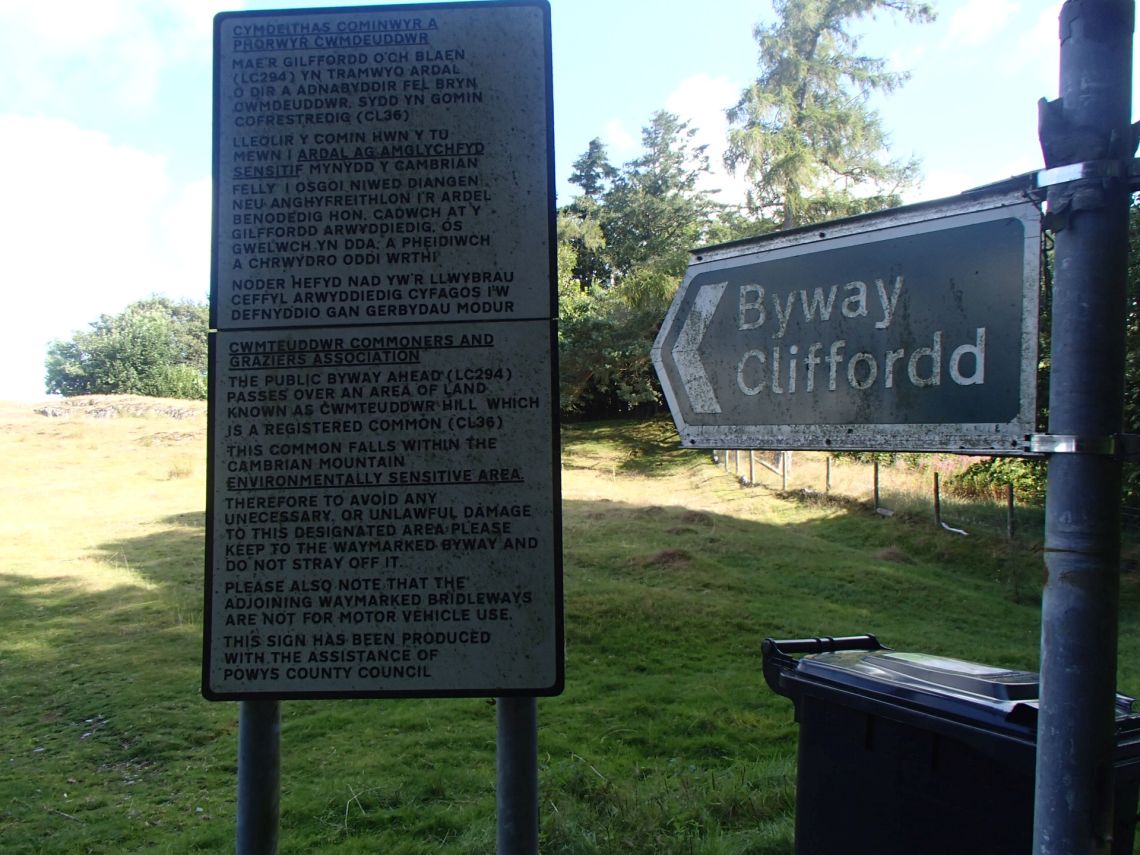 2-3
Go uphill round a couple of bends. You can see the scars from off-piste activity on the hillside in front. Follow the four-wheel-drive ruts as they go uphill round a few more bends. The ruts are too deep to get out of once in, but not too deep that riding is obstructed. As you go further uphill the rocks start to show and can be slippery in the wet. There are a few easy rock steps to bounce over.
At approximately a mile into the trail, there are some larger rock steps. As you approach and they come into view it will look like you can just simply ride up them, but as you get closer they will appear a lot bigger than you first thought.
At this point, if you are unsure it is best to stop and look at the easier route to the right. What you don't want to do is attempt this section without committing 100%. The chances are you will bounce up and be forced to apply the throttle. In the wet, the rock is very slippery and the obvious will happen and the back end will spin away. I've seen it happen far too many times on this section and in all cases, it has ended with the bike on the floor. Be warned.
3-4
It's now time to get your breath back and view the scenery which offers fantastic views looking south. Continue uphill and there are more semi-technical rocks to bounce up and over. Nothing too extreme, and in the dry, it's fairly easy.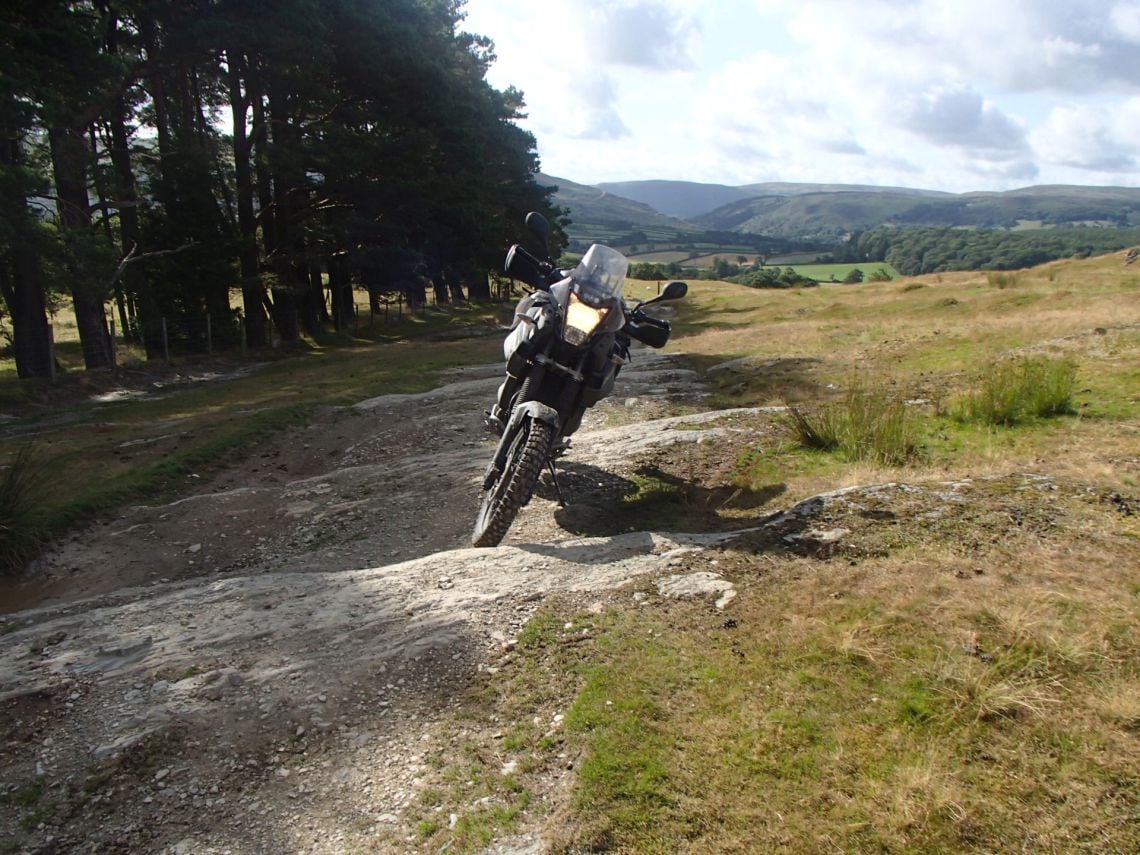 In the wet take care, although the rock is still pretty grippy. At the top the views are spectacular. The route once again turns into deep four-wheel-drive ruts and these are sometimes covered in puddles, nothing too deep and it's not worth going off-piste to get round. Just slowly ride through.
4-5
Proceed downhill and the trail can be seen heading off into the distance. Again it is fairly easy with a solid base, bar a few puddles that are not too deep
5-6
Continue over the next hill and the trail becomes more graded before finishing again with four-wheel drive ruts. Proceed and the trail ends at the road.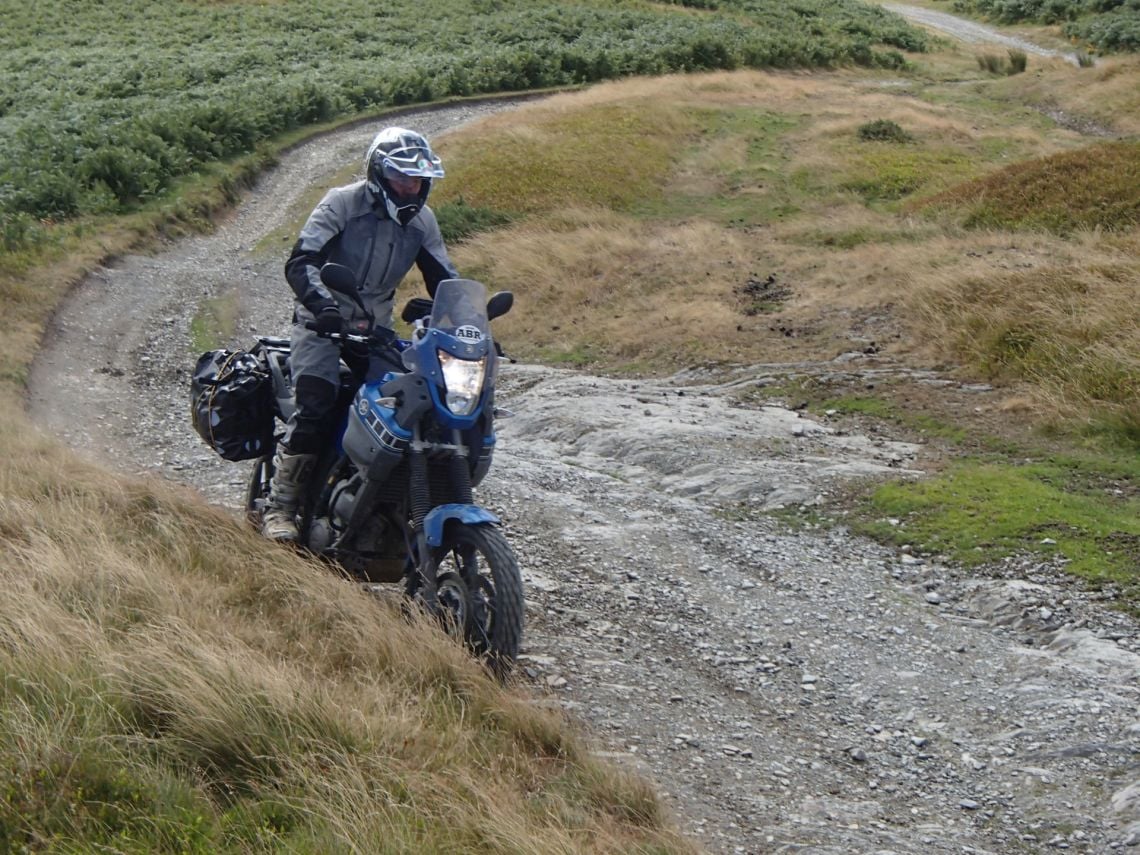 Did you know
Rhayader is situated at a natural crossroads between east, west, north and south, and has for centuries offered a welcome for travellers: from the Romans who had a stopover camp in the Elan Valley, monks journeying between the Abbeys of Strata Florida and Abbeycwmhir and Drovers taking their livestock to far off markets and returning with goods and news. The Elan Valley (Welsh: Cwm Elan) is a river valley situated to the west of Rhayader, in Powys, Wales, sometimes known as the 'Welsh lake District'. It covers 70 square miles of lake and countryside.
The valley contains the Elan Valley reservoirs and Elan Village, designed by architect Herbert Tudor Buckland. Elan Village is the only purpose-built arts and crafts "Model Village" in Wales.
It is also famous for its picturesque scenery. over 80% of the valley is designated as sites of special scientific interest, and a popular cycle trail, the Elan Valley trail, makes a loop from Rhayader around the reservoirs. Part of the trail overlaps with a spur of National cycle route 81 (Lon Cambria).
The facts:
| | |
| --- | --- |
| Distance: | 3.5 Miles |
| Nearest Town: | Rhayader |
| Start/End grid reference: | SN961686 / SN921707 |
| Difficulty Rating: | 3 |
| Wow Factor: | 4 |
| Other trails: |  Rhayader is a fantastic base to explore mid-Wales. there are some really good trails in the area including the claerwen Dam (ABR issue 22) and the strata Florida (ABR issue 12) |
30 – Four of North Kent's Byways
2.22 miles 
Words and photos: Simon Newbank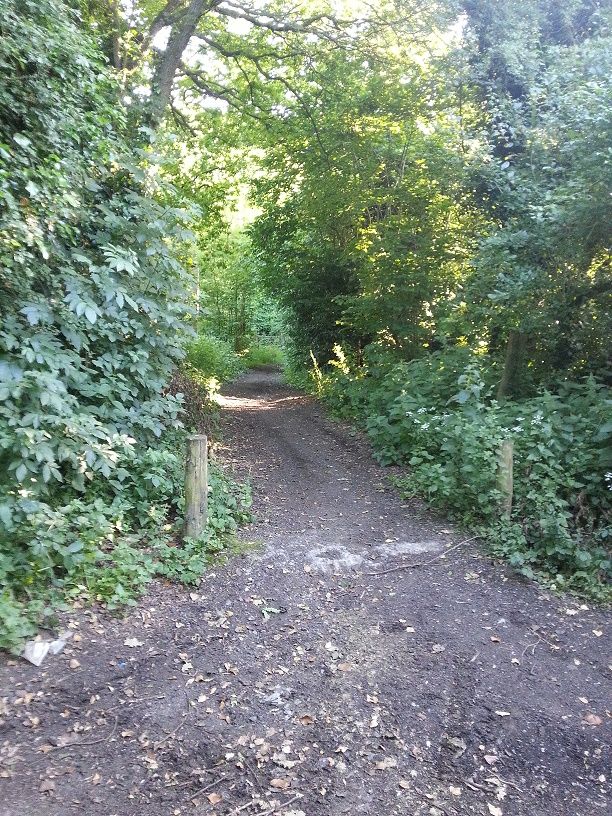 These lanes are all very easy and are ideal for beginners to get a gentle introduction to green laning while also offering a true taste of adventure bike riding. They're all located in the North Kent area and, as is the case with most of the county, there are road sections between them so I have strung the four lanes together. They are located between three small villages, Swanley, Horton Kirby and New Ash Green, although some people would class Swanley as part of London. All of these locations have some form of shop for refreshments and petrol.
The route starts near Ruxley garden centre in Sidcup and finishes at Meopham Green. There are three road sections between the byways but these are quiet country lanes so a nice ride can still be had. The total distance travelled is 13 miles with three and half of those off-road. It should take an average rider about an hour to complete the entire route.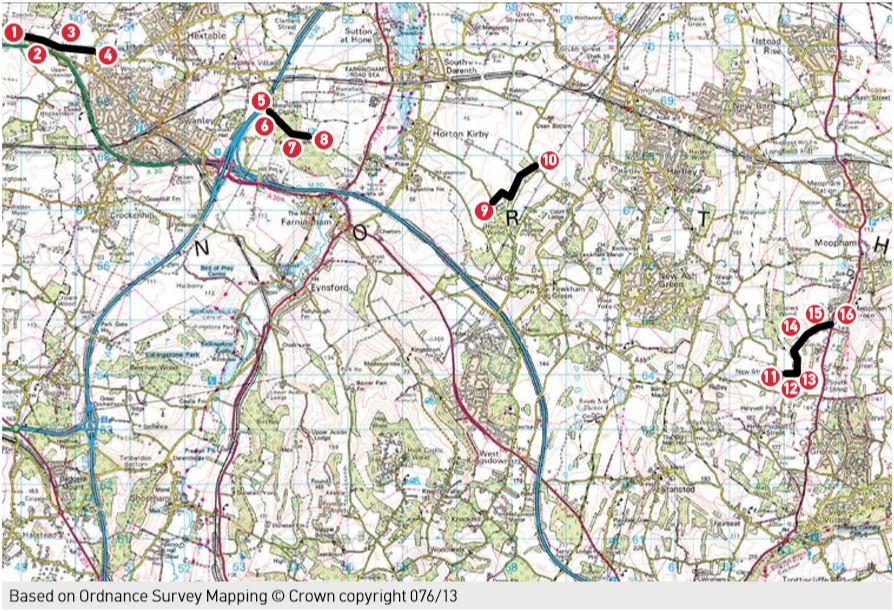 The Route:
Lane 1 – Swanley Byway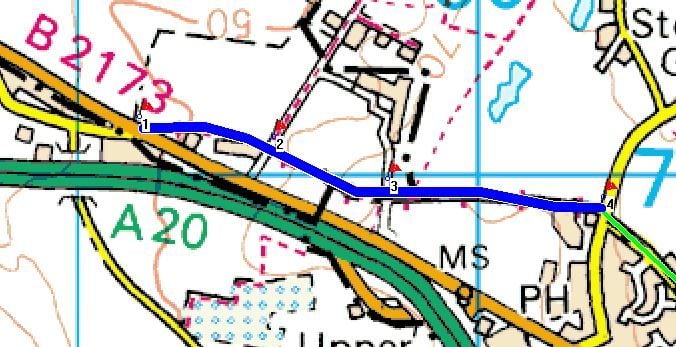 1-2
The entrance to the byway is off the B2173 and is directly opposite a McDonald's restaurant. The first section of this run is a narrow track that twists along the back of several houses on the right. It finishes at an intersecting road (beware of horse riders here).
2-3
Cross the road and proceed up the track, this section is wooded but it is still fairly wide, there is a small climb but it's fairly easy. In the wet, it can become a bit slippery but no real problems here. The section ends at another intersecting road.
3-4
Cross the road and proceed onto the track. This is very narrow and can become overgrown in the summer months. There are views to the right across fields, but again the riding is pretty easy. Towards the end the track turns into a defined four-wheel drive track with a grass centre section, though it is not heavily rutted. The byway ends on a gravel type road with bungalows to the right.
4-5
2.49-mile road section to Farningham Woods
Lane 2 – Farningham Woods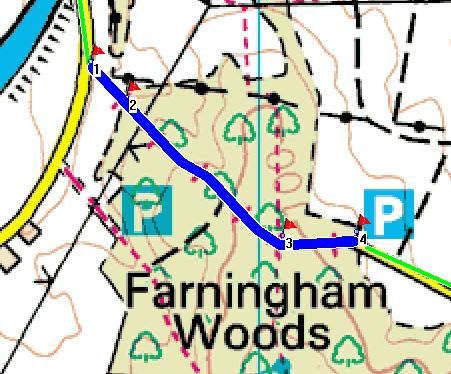 5-6
The first section is a very enclosed, winding uphill section, running parallel to a fence on the left, with Canada Heights beyond. This is very good fun in the wet but caution should be taken as there are always trees falling across this part of the byway and they can catch you out if you happen not to see them. At point six there is a width restriction across the byway and this needs to be taken in first gear with both feet down.
6-7
This section is a wooded one and is very twisty and undulating. At the start there is a boggy part so be wary of it. If you take a direct line straight up the trail at any speed you will suddenly come to an abrupt halt, getting stuck in the mud. We have had a fallen 1200 Tiger at this stage before. You can get past it either side as there is enough room, but again caution is needed if you are new to this trail. The rest is a pleasant ride through a forest. This time of year, the autumn, the fallen leaves make it very slippery so again, take your time.
7-8
This is a downhill section made up of very loose gravel and at the end, there is a width restriction bar crossing the byway. This can be passed by motorbikes to the right and is there to stop 4x4s entering. This leads into a car park.
8-9
2.95-mile road section to Horton Kirby.
Lane 3 – Horton Kirby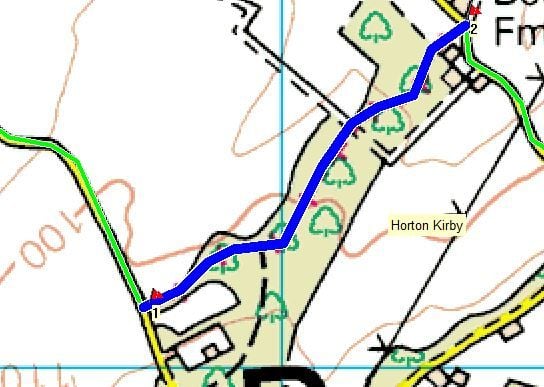 9-10
(Complete run) This is a very easy byway in the wet or dry and is ideal for beginners who have never ridden off-road before. It is through woods and it's a long twisting wide lane, in the autumn there is a good coverage of leaves, but nothing horrible lies underneath, apart from the odd small shallow puddle. The only word of caution is to keep an eye out for horses on this trail.
10-11
4.7 Mile road section to New Street
Lane 4 – New Street, Ifield Road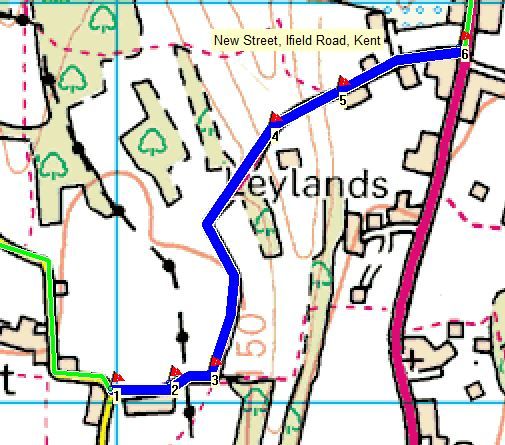 11-12
The entrance to the byway is from New Street Road. This first section is very short and is mainly a gravel section which is level, so no problem in the dry or wet.
12-13
This is where this section becomes challenging in the wet. The top end of this unclassified country road (UCR) is used by a farmer and therefore is very cut up, muddy and rutted. Not deep ruts, but enough to get your feet wet. The UCR here is more or less a car's width, but grip is something of the past. Just plough through it on bigger bikes and all should be OK.
13-14
Here you'll find a slow descent becoming steeper at the end. The UCR really narrows here and is very flinty and hard in the summer, but again very wet and muddy in the winter, making it interesting to say the least! It is all tree-covered and travels through fields on the right and left. No chance for a view in this section as real concentration is needed just to keep a bike upright. Mixed in between the flint sections there are also collections of grass and moss, making it very slippery in the wet.
Horseybike (Rich) dropped his KTM, riding this trail in reverse.
Just before point 14 on the map, you will be at the bottom of the valley on a deeper rutted track.
14-15
This section again John has dropped his bike on when his hand slipped off the clutch and did it too fast. It is a steep uphill trail, with some exposed chalk coming to the surface after rainfall, which makes it a tough ride. This again is taken best with a bit of speed and power as it's not the kind of climb you want to stall the bike on. The uphill section is about 200 yards in length and is pretty wide, but rutted. When you do finally reach the top the track flattens out.
15-16
You will find that you are at the top of the hill on a tarmacked, but un-kept road and this is a good time and place to stop and wait for anybody stuck on the hill. There are several large houses on either side of this road here so be aware of other road users. The UCR ends at the main road leading into Meopham Green (A227).
Did you know?
Canada Heights is owned and run by the Sidcup & District motorcycle club. The course at Swanley Kent acquired its name during the first World War when a large contingent of Canadian troops were camped there on the high ground. It has however been in regular use for off-road motorcycle sports for many years, hosting the fifth round of the MX championships this year.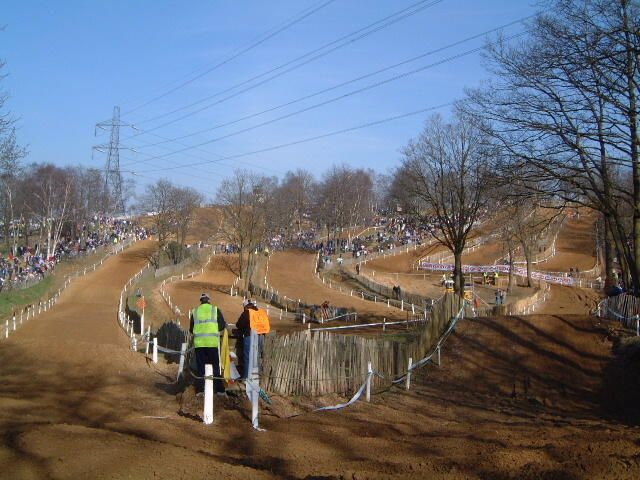 The facts:
| | |
| --- | --- |
| Distance: | 13 miles total with three and a half miles off-road |
| Nearest Town: |  Swanley |
| Start/End grid reference: | TQ4916970110 / TQ6388264870 |
| Difficulty Rating: | These lanes are all fairly easy and ideal for introducing yourself to green laning with lanes 1,2 and 3 earning a difficulty rating of 1. lane 4 is slightly harder and we'd rate it at a 2 in dry and 3 in wet conditions. |
| Wow Factor: | Lanes 1-3: 1, lane 4: 3 |
| Other trails: | The route described links up four trails in North Kent. in future issues of ABR we'll be exploring the area and mapping out a few more. |