Were The Stranglers right? Is it really nice in Nice? Stuart Barker attended the launch of the new Triumph Tiger Sport to find out
What makes an adventure bike? If we're all agreed that it needs to have at least minimal off-road capabilities, then Triumph's new Tiger Sport doesn't cut the mustard. So why include the launch of the new bike in ABR? Well, there are two answers to that.
One is that the firm itself refers to the bike as an adventure sportbike, the other is that the Tiger provides a near-perfect access route into the world of the more thoroughbred adventure bikes, and for that reason alone it deserves its place in these pages.
But there is one other salient fact that cannot be ignored: most owners of adventure bikes have no more intention of going off-road than the owner of a Harley Davidson full dresser. And if we accept this little truism, then the Tiger Sport suddenly becomes very relevant indeed. And that's why we attended the global launch of the bike just outside Nice in the south of France.
The new £10,300 Tiger is a bike that commands a loyal cult following.
Triumph says Tiger owners tend to be one-bike owners, use their steeds on a daily basis, and do more miles than those who own any of its other products. So any changes to the bike are eagerly awaited by this hardcore band of devotees, as well as those who are considering taking their first tentative steps into the world of adventure bike riding. And there are changes aplenty to report on the latest generation Tiger.
First released in 2007, the Tiger underwent a major overhaul and redesign in 2013 but the 2016 model is by far the most sophisticated Tiger of all. Ride-by-wire throttle, switchable rider modes, traction control, wheelie control, cruise control, adjustable screen, a new exhaust, and 104 changes to the sweet-sounding new generation 1050cc three-cylinder engine (which has been lifted – and slightly detuned – from the highly-rated Street Triple) are just some of the features that might tempt current owners to trade up to the new model.
But I sense there's another market that Triumph could be tapping into, and that's the 40-something sports bike owners who are craving a bit more practicality and comfort in their riding lives.
Sore wrists, aching backs, cramped legs – there's no denying that age takes its toll and that sports bikes don't help matters with their monkey-on-a-grey- hound riding positions. In its clever blend of practicality and performance, the Triumph Tiger Sport offers a solution.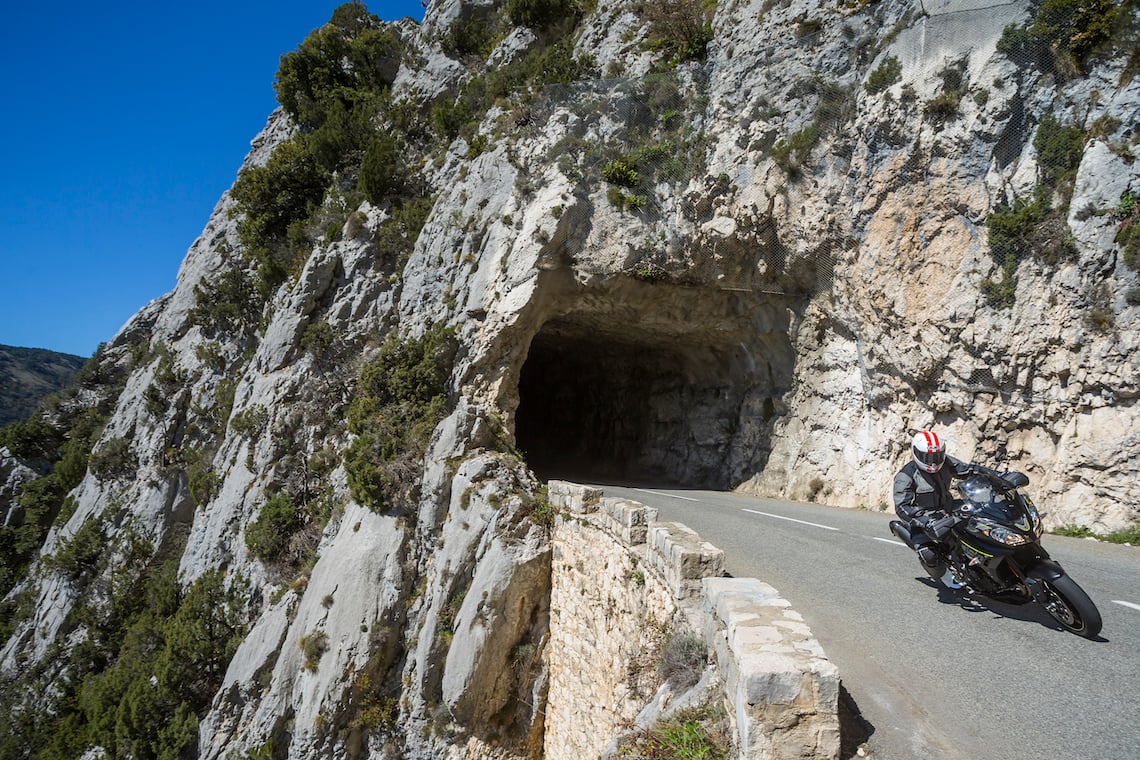 Sports bike riders are often discouraged from making the switch to adventure bikes because they're afraid they won't offer enough of a thrill. Heated grips are all very nice but they don't exactly get the heart racing (unless you wire them up wrong).
The good news is that this Tiger has enough of a roar to satisfy all but the most hardcore Sunday scratcher. The gorgeous-sounding 1050cc triple (is there a more addictive sound in motorcycling than a Hinckley triple on full chat?) pumps out 124bhp which, for real-world roads, is really all that most of us will ever need.
And thanks to the switchable rider modes you can enjoy it in three different guises. 'Rain' mode reduces the power output to 100bhp and ensures that the traction control is ramped up and on red alert for skids and slides. The 'Road' and 'Sport' modes both operate under full power but the levels of traction control and throttle response are different.
In Sport mode, the bike feels that much crisper – more responsive, more aggressive and, frankly, more fun. But it's nice to have the option and, although it never actually rained on our test, I'd have had no hesitation in using the Rain mode if there had been a downpour. There's no point trying to be a hero in shit conditions.
You can change modes on the go but this involves reaching out to the dashboard and pressing the mode button before whipping in the clutch and closing the throttle to activate your mode of choice. It's not a deal-breaker but having the mode button on the handlebar would have been nicer.
Of course, if you prefer to use the natural traction control that's built into your right wrist, you can switch the whole lot off.
Like most modern bikes, the bars are quite busy on the Tiger Sport. The left bar has your headlights, indicators, horn, and the info and scroll buttons for the onboard computer, while the right bar houses the kill switch, starter button, hazard lights and cruise control buttons.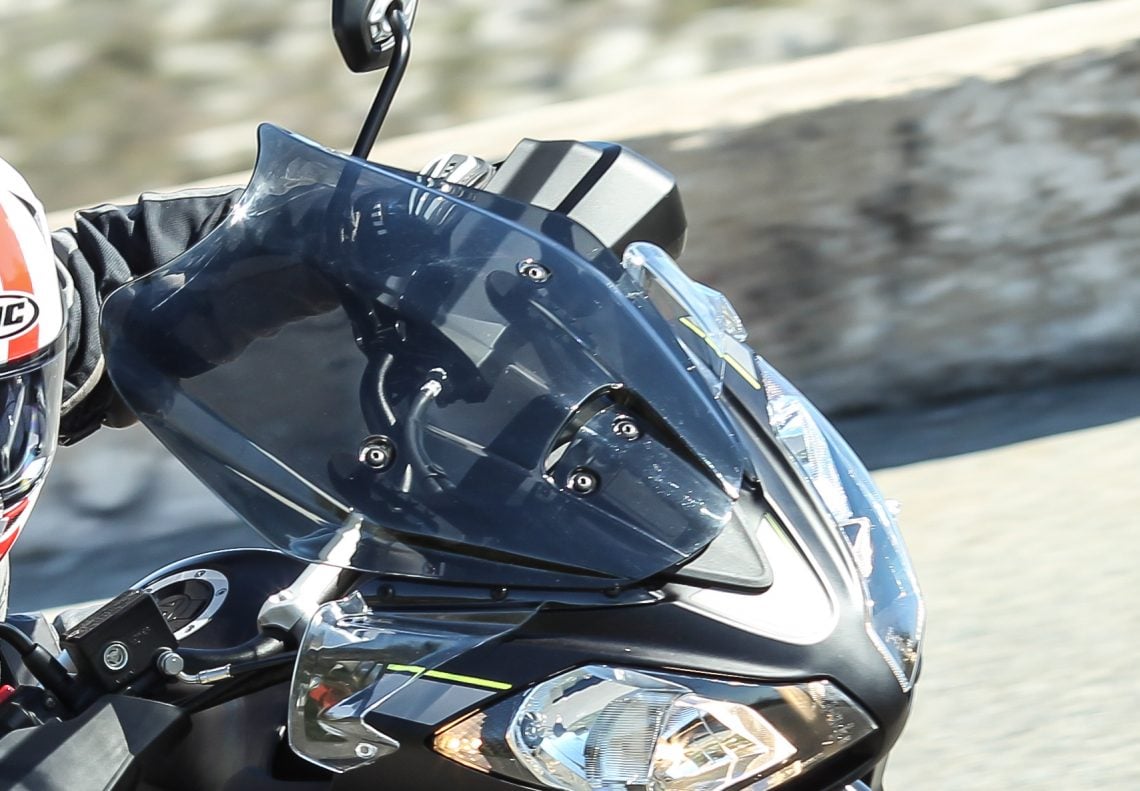 Triumph claims there's a 4-6% power increase between 5,000 and 7,000rpm and a corresponding 4% increase in torque in the midrange over the old model. While the engine might have been taken from the Speed Triple, it's been de-tuned to create a smoother torque curve. The airbox and exhaust have also been designed with this purpose in mind.
It's hard to catch the Tiger napping. Even dawdling along at 30mph in third gear, you can whack the throttle open and it'll pull without any juddering or labouring. And the bike is so torquey that first-gear hairpins can easily be taken in second with no fear of the bike labouring on the way out of the corner. This proved to be a very welcome discovery on the kind of mountainous hair- pin-littered roads we were riding on.
While the new bike is not leagues ahead of the old one in terms of performance, if you rode them back-to-back you might just be able to tell the difference. But the bike has power enough for everyday road use and the way that power is delivered is linear, smooth, torquey, and satisfying.
The sound it makes is satisfying too, thanks to a newly-designed and lighter exhaust that Triumph claims is 38% freer-flowing. And while we're on Triumph figures, the firm also claims that fuel economy has been improved by 8% so you should get more miles for your mullah (54mpg to be precise).
One very noticeable improvement to the bike is the torque-assist clutch which requires just half of the pressure from the rider to operate. With all the gear changes encountered in heavy traffic and on longer rides, this reduces the chances of a sore left hand and wrist. The brake lever also requires less pressure from the rider to create the same braking forces but this is not so noticeable in use.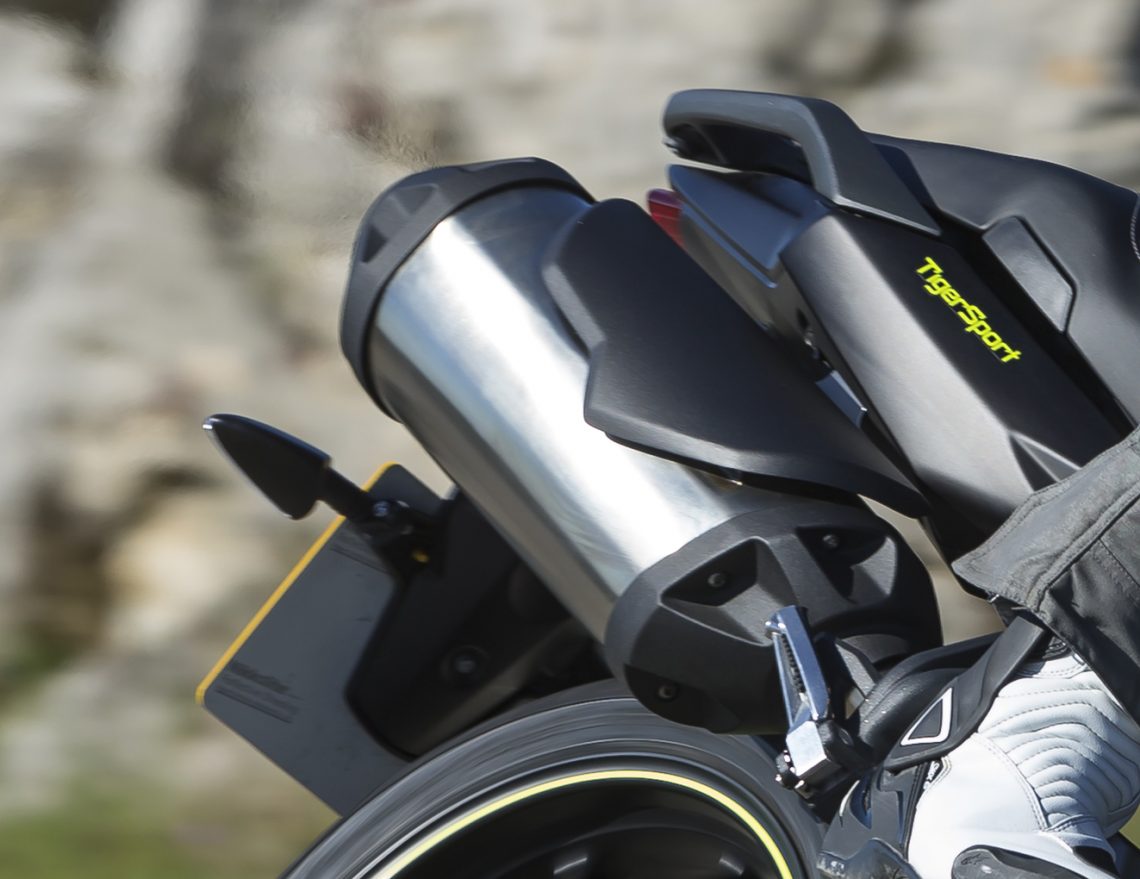 Triumph is aiming the Tiger Sport – which is in dealers now – at riders who own just one bike and, for that reason, they have made it as much of an all-rounder as possible. Commuting, touring, short sporty blasts and pillion-carrying all come easily and naturally to the Tiger. The Triumph boys aren't lying when they say the Tiger is a 'fun, practical bike you can ride every day.'
Some of those practicalities include self-cancelling indicators (which switch off after 8 seconds or 65 metres) should you choose to run them, though you can also switch this function off.
There's a 12v power socket and a USB port for all your charging needs and the bike even has cruise control, though I personally found it a pain in the arse to use and could never quite figure it out while we were on the go. Besides, I never understood the concept of cruise control on a motorcycle. I mean, why would you want to take your hands off the handlebars while you're riding? You won't be able to steer.
Unusually for a modern motorcycle, there's a actually a little bit of space under the seat. Not a lot, but enough for a wallet and passport, a mobile phone or, if you're still drawn to the dark side, a 20-pack of Lambert & Butlers.
One of the most useful, practical touches on the new Tiger is the adjustable screen. While it can be adjusted on the move by tugging it upwards, it does feel rather agricultural on a bike like this and I can't help thinking it should be electrically operated.
I for one would rather the budget went on this than on a cruise control I'm never going to use. But the screen, along with the new aerofoils on either side of it, does a good job in keeping the worst of the windblast off. Oh, and it's tinted too. Bonus, eh?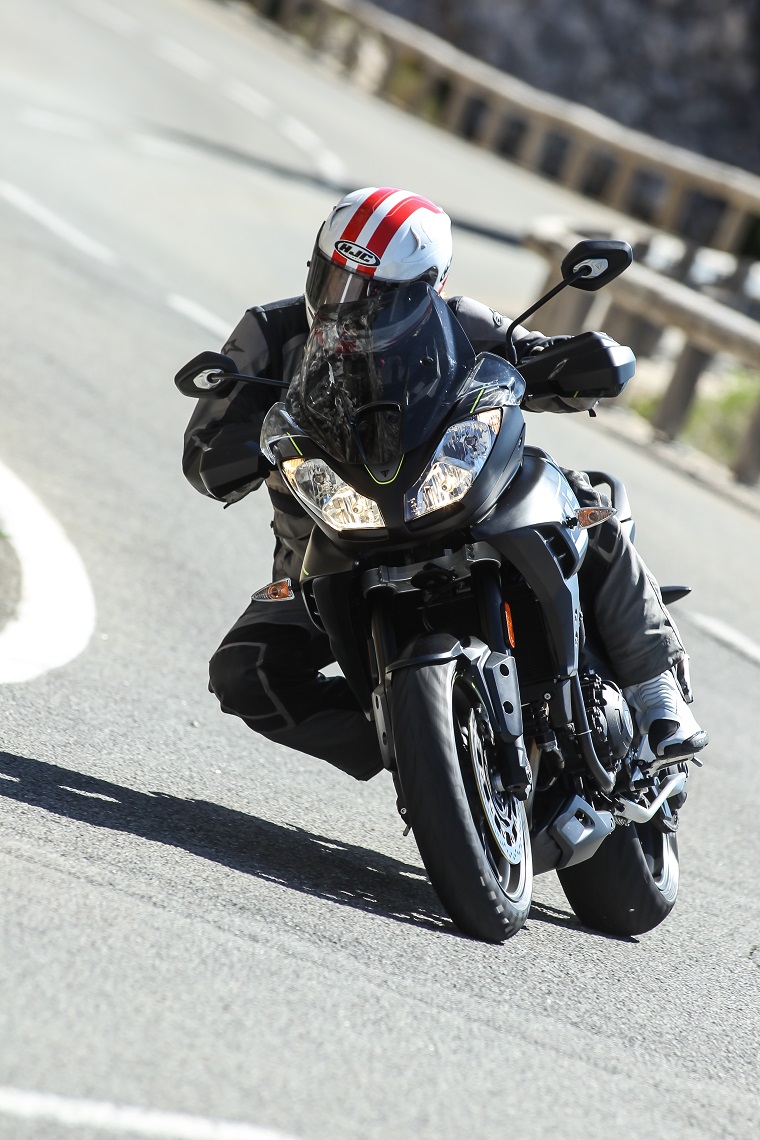 Handguards are another new addition, though given the bike's non-existent off-road abilities, they're more for show than practicality. They might do a little to keep icy winds off your hands but the first accessory I'd buy (since it's intended as an all-year, all-rounder) is heated grips. In fact, I can't think for the life of me why they're not standard on all motorcycles these days.
Handling is superb. While some may suggest that the bike is just a top-heavy Speed Triple, it sure doesn't feel like that on twisty roads. When the weight of a rider is on the bike, the centre of gravity is actually lower than you'd think and the Tiger sucks up corners like a rabid vacuum cleaner, the plush (not too firm, not too saggy) Showa adjustable 43mm forks and adjustable rear shock conspiring to make light work of even the bumpiest rural French roads.
The ABS braking system does everything you'd want it to do and never once did I get caught short, even on fast approaches to impossibly tight hairpin bends. The Pirelli Angel ST tyres have to take some of the credit for this too but, together, the whole package works beautifully and combines to make the Tiger one of the best-handling motorcycles of its kind.
Looks-wise, the Tiger has had a slight makeover with new handguards and tinted screen, new colourways (Matte Jet Black with neon accents and Aluminium Silver with red accents), and new badges and graphics being the order of the day.
There's currently 38 accessories available for the Sport – from sports tail packs to magnetic tank bags and heated grips to an Arrow exhaust – and since Triumph claims that 70% of Tiger owners fit accessories to their bikes, those owners will also be pleased to hear that most of the accessories (including luggage) can be fitted from the old model straight onto the new one so you won't have to fork out again.
There's also a 20mm lower (810mm) seat option available.
Triumph sees the Tiger's main competitors as being the Aprilia Caponord, the Kawasaki Versys 1000, and 'at a push', the Suzuki V-Strom 1000.
It's certainly capable of giving any of these bikes a real run for their money and the fact that it's actually built in Hinckley (and not in Thailand as some Triumphs are) is bound to appeal to some.
This is a practical motorcycle that's still got enough grunt to have fun on and you can't say that about too many bikes. It's also perfectly suited to longer adventures as long as you don't plan in doing any off-road sections. And, if we're totally honest about this, most of us don't take £10,000 bikes off-road anyway.
If you only own one bike and need it to do a bit of everything, the Triumph Tiger Sport shouldn't be too far off the top of your shopping list.
Oh, and The Stranglers were right – it really is nice in Nice.
---
ABR Verdict
As a commuter
Depends on your commute. The Tiger is a bit heavy and physically quite large for jinking between traffic on busy city streets but if your commute is more on open roads with a little bit of town work the you'll be absolutely fine.
As a weekend tourer
Just about perfect. There's plenty of poke to have fun when the sun's out and the roads are dry but it's also capable of munching bigger miles with ease. The Tiger has been designed as an all-rounder and weekend touring capabilities have been factored into it since birth. Good pillion seat, adjustable screen, 12v socket for a SatNav, various luggage options and enough power to easily haul two people and luggage anywhere you want in the country – or even further afield.
As an off-roader
Forget it. The bike was never intended or for off-road use, which is why Triumph refers to it as an adventure sportbike. It may have handguards but that's about the only nod to the mucky stuff and they're more for show than anything else.
As a continental road tourer
Longer journeys will present no significant problems for the Tiger Sport. You'll get around 54 miles to the gallon and can rest your weary right hand on Continental motorways thanks to the cruise control function. The adjustable screen and torque-assist clutch will reduce some of the strain associated with longer trips and the comfortable seat and riding position are as good as on any other bikes.
As an RTW Overlander
You could go round the world on the Tiger – but only if you plan your route to ensure there's absolutely no off-road sections involved. It's comfortable, can haul a decent amount of luggage, has cruise control (if you can work it) and little touches like a torque-assist clutch that help reduce the effort required to ride it. But given that most RTW trips will involve at least some off-roading, a full-on adventure bike is always going to be your best bet.
As a Pillion Carrier
Brilliant. The pillion seat offers lots of leg room, even for a six-footer like me and there's integrated grab rails on either side. The stepped all-in-one seat is super comfy too and means you're not perched upon a measly little pad on top of the tail unit.