After clocking up 10,000 miles on the Triumph Tiger 800 XCx, James Oxley finds himself smitten with the mid-size adventure bike.
The odometer on my Triumph Tiger 800 XCx long-term test bike rolled over 10,000 miles during the making of this issue of ABR. Reaching this milestone provided the perfect opportunity to reflect on how the bike has performed since I was first handed the keys nine months ago. 
Our time together began back in February with a 500-mile round trip to the Lake District in Cumbria. It was a wet and windy, winter ride through the magnificent scenery and twisting lanes of the Lakes, sandwiched between two long stints on the motorway to get there and back. 
The Tiger was sure-footed and fun to ride throughout, but I wasn't 100% sold. I found I was reaching further forward for the handlebars than I would have liked, the seat made my bum ache, and I spent far too much time fumbling around for the annoyingly discreet heated grips button. When asked what I thought about the bike back then, my response was usually "I like it, but I don't love it". 
However, as winter turned to spring, and we clocked up more miles together, my feelings towards the Tiger began to warm. I found a quick adjustment of the seat to its lowest setting tweaked my body position enough to vanquish my bum ache. This combined with the bike's cruise control, ample adjustable screen, and that beautifully smooth triple engine, meant I found myself eagerly looking forward to long-distance journeys together.  
However, it wasn't until I rode the Tiger to Wales that our relationship really began to blossom. ABR Editor Bryn had concocted a peach of a route for the magazine's Bridgestone Coast-to-Coast series that saw us scratching along fast-paced A-roads, twisting our way through remote country lanes, and exploring off the beaten path along stunning green lanes. 
What struck me during that ride was how good the Tiger was at doing everything. It effortlessly switched from being plunged into deep water-crossings and climbing up rocky inclines off-road, to whipping along country roads, and then cruising along motorways for hours on end. And, being a mid-sized bike with a relatively low seat height, it proved incredibly adept at manoeuvering around at low speeds, especially on uneven surfaces. 
A little like suddenly realising you fancy a friend you've known for ages, I found myself absolutely smitten with the Tiger, and in particular, it's sublime WP suspension that soaked up every rock, bump and kerbstone it came across, on and off-road, with ease. As summer turned to autumn, the bike's all-rounder credentials were heightened further when my wife gave it an enthusiastic thumbs up from the pillion seat after a cross-country journey.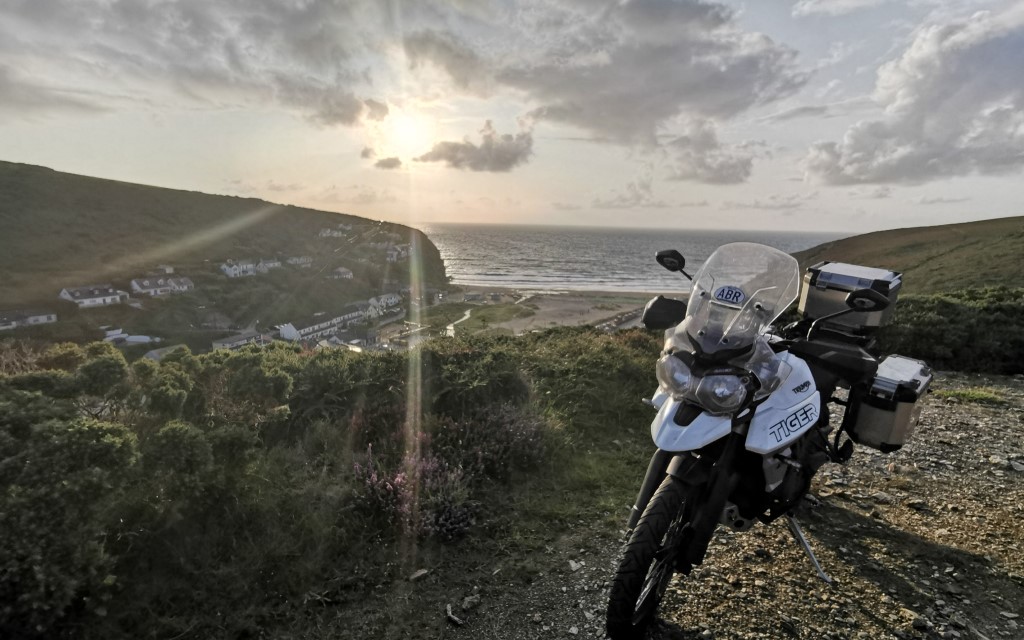 After riding 10,000 miles on the Tiger, I'd like to be able to give you a list of things that went wrong and fixes I've made, but the truth is, there aren't any. Despite being caked in mud and winter road salt, ridden plenty of times in the rain, and generally given a pretty tough life, it looks in damn good condition whenever I give it a clean. 
The bike had two services and the chain has been tightened, that's it. Nothing has rusted, broken, or stopped working of its own accord. It has been dropped off-road twice, the only damage being a tiny crack in the fairing. We did snap off a rear indicator after it was accidentally kicked in the confines of the ABR garage, but we can chalk that issue up to user error.
So, there you have it. A bike that I struggled to like initially has become one of my absolute favourites. Yes, there are faster, more powerful, comfier and better-equipped bikes out there, but even knowing this, I wouldn't hesitate to spend my own hard-earned cash on buying a Triumph Tiger 800 XCx.