With winter on its way Bryn Davies discusses the Triumph Tiger 800 XCx's useful features for cold, dark nights
We've had our Triumph Tiger 800 XCx for 10 months now, and boy does time fly when you're having fun. In the time that we've been riding it we've taken it all over the UK on a variety of roads and lanes, from gentle gravel trails, to the gnarly rutted tracks of Wiltshire, to long old motorway slogs up to the Lakes and Scotland.
We've said the same thing on many occasions now, but as a do-it-all adventure bike, the XCx takes some beating.
With the days drawing in and the temperature starting to drop (admittedly not by much at the time of writing), we're starting to appreciate certain features of the XCx even more.
I tend to suffer from cold hand syndrome when I'm riding, even in the summer, so when I had the chance to use the Tiger's heated grips in conjunction with the brilliantly placed and sized handguards I was surprised at how effective the combination was.
The handguards provide a great amount of protection from windchill and the heated grips have a nice amount of heat output, and they're simple to operate via a slightly oversized button on the handlebars.
The headlight, too, offers a good amount of brightness and a wide beam spread that makes riding in dark autumn nights that little bit less worrying. I remember the first bike I rode, a Yamaha TTR600, and the headlight on that thing was dangerous, I could barely see the white lines on the road.
With the Tiger's headlights on full beam, you get a safe, bright view of the road ahead, and other road users are more likely to pay attention to you.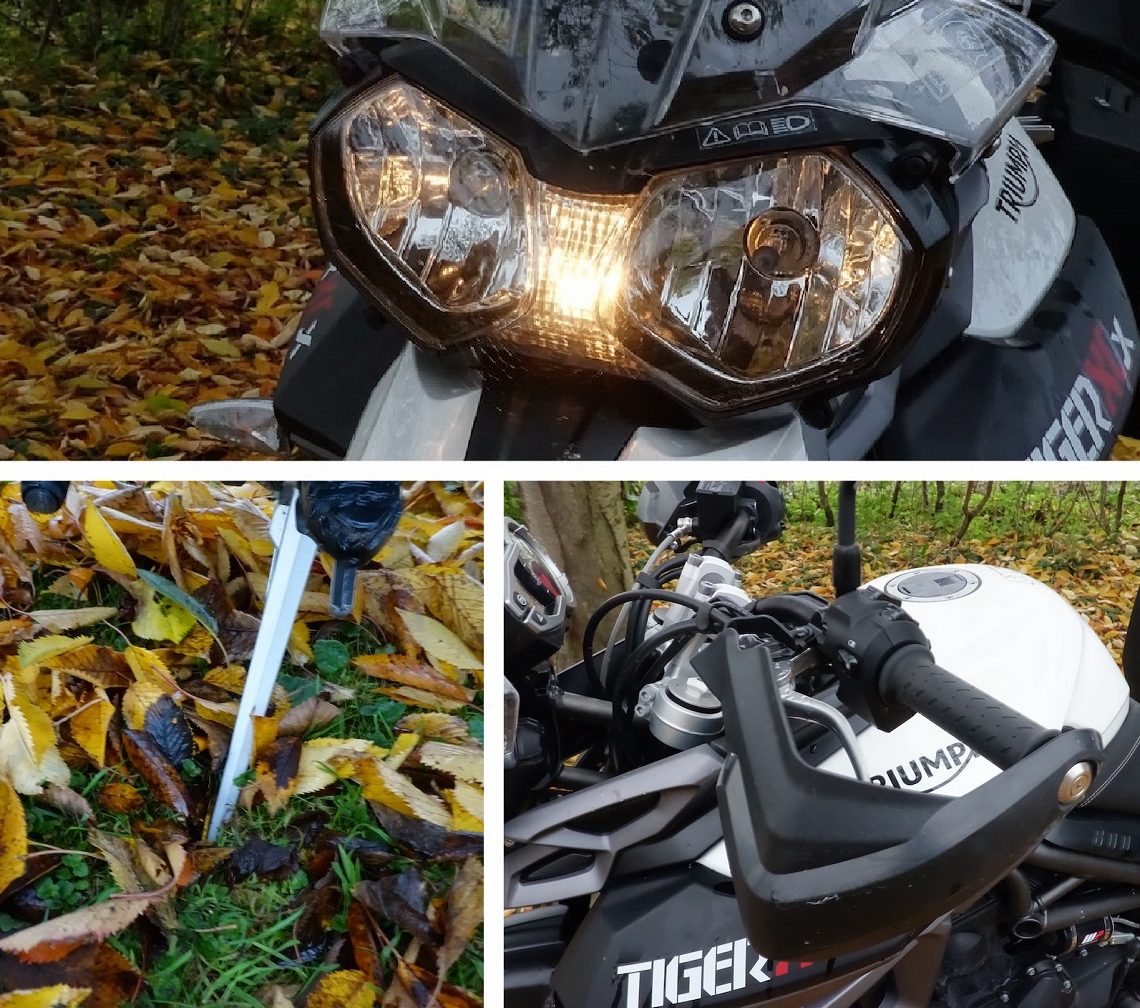 I have noticed, however, that the sidestand on the XCx (which, may I remind you, is supposed to be the more off-road biased of the Tigers') has a habit of sinking into soft ground. More so than you'd hope.
On a recent bimble around the lanes of Warwickshire, I parked the Tiger up to answer the call of nature and was stunned when I turned around to see the sidestand buried halfway into the turf and the Tiger attempting to limbo.
If you're planning on camping on sodden ground, then I'd make sure you take a puck or fit a wider foot!
I know I'm scraping the barrel with that last point, but I guess I'm just enjoying the Tiger so much that it's going to be tough to have to give it back.