Adam Child takes us on a tour of his playground, the stunning beauty of North Yorkshire and the North York Moors – Images: Lee Davis/ Peter Shaw.
Being Yorkshire born 'n bred and proud to call Yorkshire home I'm obviously biased, but to me there isn't a better county in England for riding. I grew up exploring these roads, and honestly, I was spoilt for choice when deciding upon a route for this TomTom Discovery Route. You could spend every weekend riding around York
shire, finding little-known gems either high on the moors or along Yorkshire's dramatic Jurassic coastline and you wouldn't ride the same road twice. In summer, Yorkshire is a biking mecca, but due to its size it can take the influx of bikers, you're not tripping over each other or stuck behind endless caravans and tourists. And best of all, you'll always be made to feel welcome.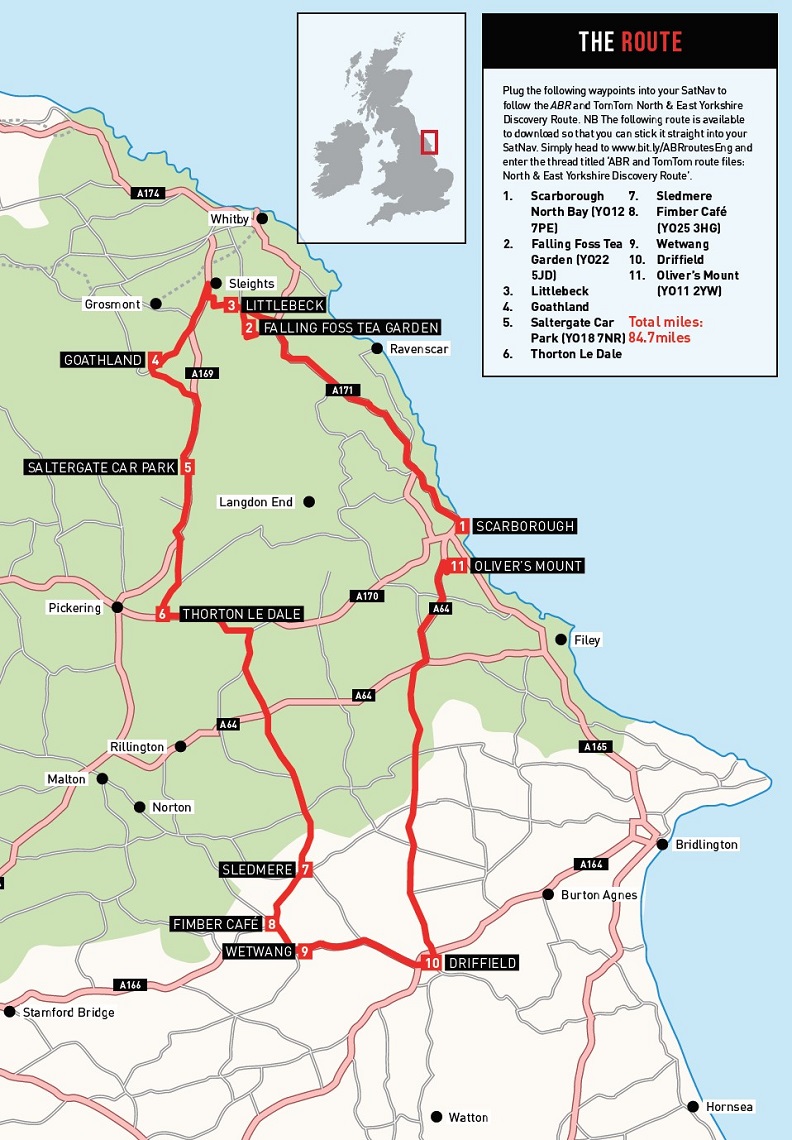 With this route, I wanted to give you a real flavour of Yorkshire and the challenging roads the landscape provides, from fast, open A-roads, to small unclassified steep descents only the locals know about. The route starts in Scarborough, it had to.
It's the UK's oldest seaside resort and home to Oliver's Mount; the last surviving road race track in England. If you're making it a weekend visit, due to the road racing, you'll find biker friendly hotels and parking. It's like a mini Isle of Man, where bikers are made welcome.
After a tour of Scarborough, we will head into the dramatic landscape of the North York Moors. Within a few miles of Scarborough, you're blessed with the excellent A171, which runs all the way up the coast, past Robin Hood's Bay, to Whitby.
But we're going to venture off early, cutting across west, calling at Falling Foss, I told you this would be a little different. After a short break at Falling Foss we continue deep into the moors, dipping down into Littlebeck, which is regularly cut off in winter.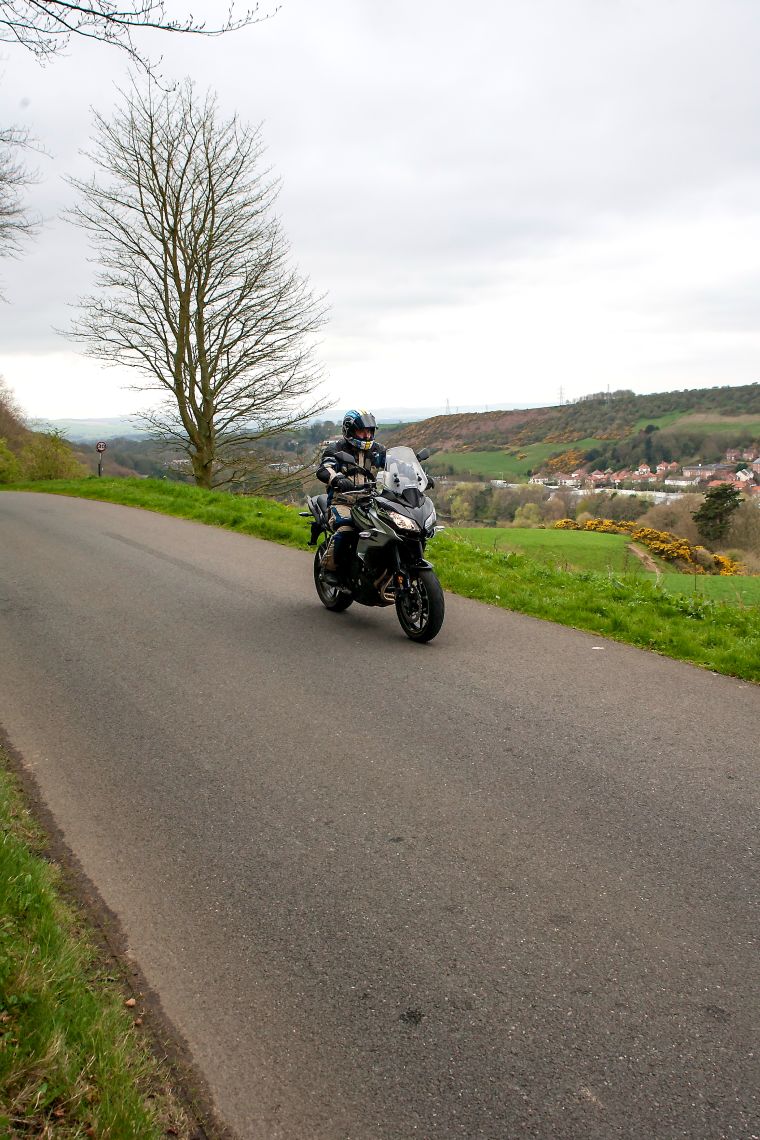 Next stop is Goathland, which is popular with tourists and also very biker friendly. We then join the A167 which is fast and flowing; motorcycling heaven.
On the moors it's hard not to stop every few miles to take pictures, but I'll show you where the most scenic spots are and, after visiting Sledmere, we pop to Fimbers Café in the woods and Wetwang, yes, an actual place.
We'll end back at Scarborough, at Oliver's Mount. The run from Wetwang, to Driffield, then to Scarborough is another road of undulating brilliance, with Staxton Hill thrown in, just to keep you on your toes.
1 – Scarborough
Scarborough became Britain's first seaside resort after a natural spring was discovered there in 1650. A plaque commemorating this can be found on the steps down to the beach in front of Scarborough's Spa, in South Bay. However, we've chosen to start our journey at Scarborough's North Bay in the shadows of Scarborough Castle, which was built in the 11th century.
It's a steep hike up the hill to the castle, but worth a visit. North Bay is always busy with bikers; both of the sea-front cafés, the Watermark and Oasis, have bike parks right outside. The Watermark is a cosy hideaway in winter with a log fire, whereas the Oasis is more of a traditional 'chippy'.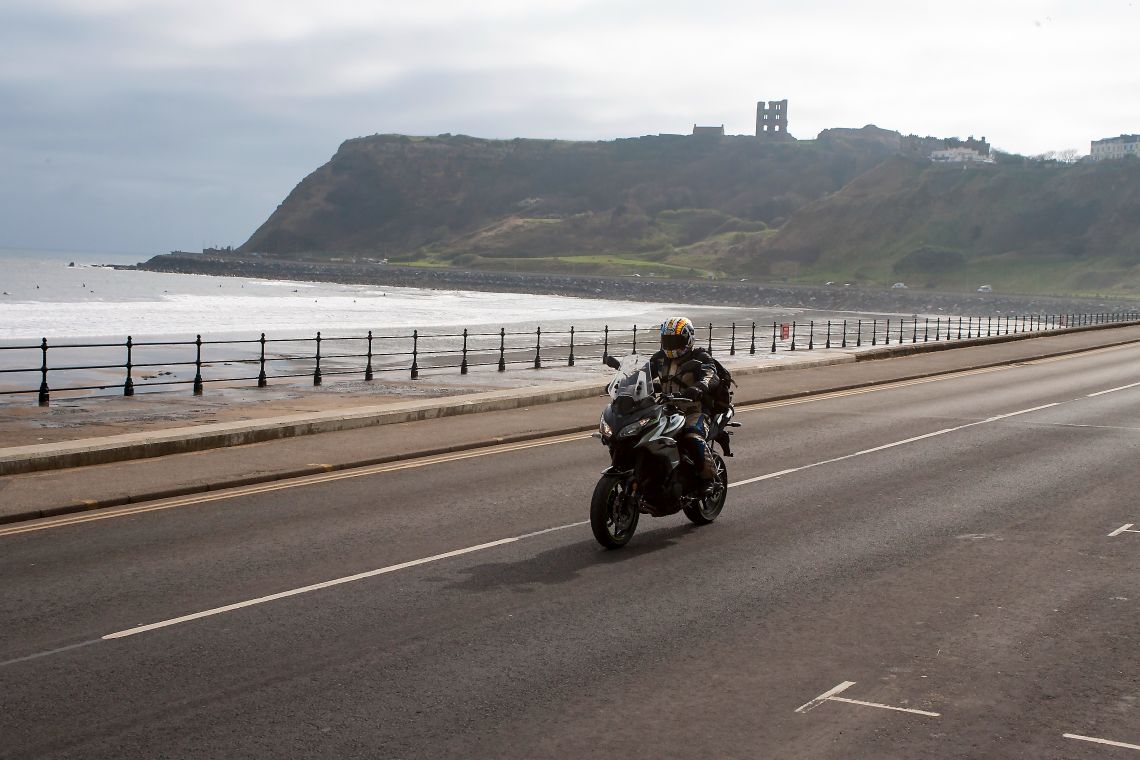 2 – Falling Foss
Leaving Scarborough behind, you'll start to enjoy the undulations and dramatic views along the A171 to Whitby; welcome to the moors. The A171 is very popular, a classic biking route, impossible not to enjoy. But before Robin Hood's Bay, take the B1416 west. On a right-hand bend, you'll see a sign for Falling Foss Tea Garden, a little secret of mine.
The road is steep and single track, but at the end is a tranquil, idyllic tea garden with dramatic views over the Falling Foss waterfall. It's a steep three-minute walk to Midge Hill, a tiny cottage/coffee shop, but well worth it. Just don't tell everyone as this is a little gem of a spot I only discovered a few years back.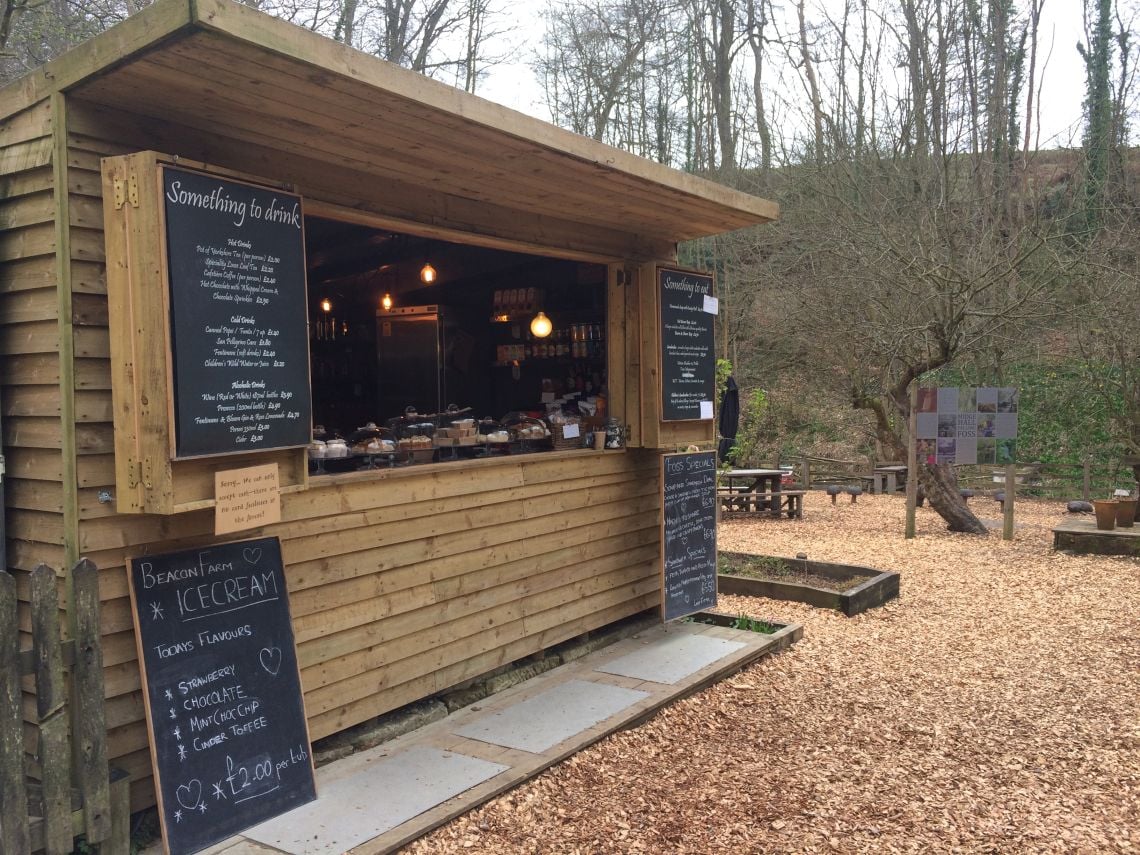 3 -Littlebeck
Once full of cake, leave Falling Foss and follow your TomTom to Littlebeck. The road is single track, with the odd bit of grass poking through just to keep you on your toes. The approach is steep, there are two tight hairpins at the bottom just before the ford.
After heavy rain the river runs across the road. It's a beautiful picturesque spot that's popular with walkers. If you thought the descent was hairy, wait until you see the ascent; steep and poorly surfaced. First or second gear crawling up at 20-30mph around a few tight hairpins, always fun; you won't find many sports bikes around these parts.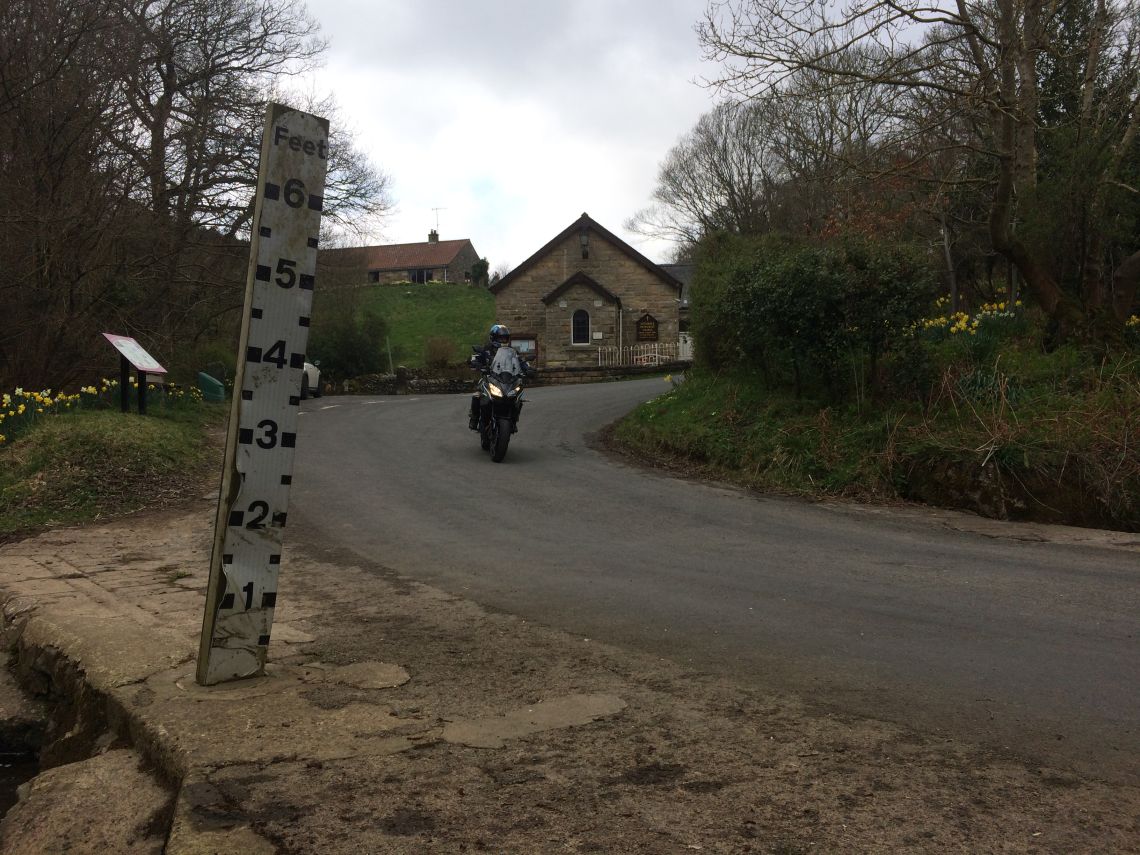 4- Goathland
When you emerge out of the valley, you need to turn left onto the A169. But before you do, look right. On a clear day, you can make out Whitby Abbey. Follow the signs and your TomTom to Goathland, but once you're over the cattle grid be aware of sheep, the moors are famous for free grazing sheep.
Visiting Goathand is like stepping back in time, and the place was famously the set of the television series Heartbeat. The garage, the stores and even some of the cars used in the series remain in the village. The traditional railway station is popular with steam train enthusiasts, and was also a backdrop in Harry Potter, being Hogsmeade station.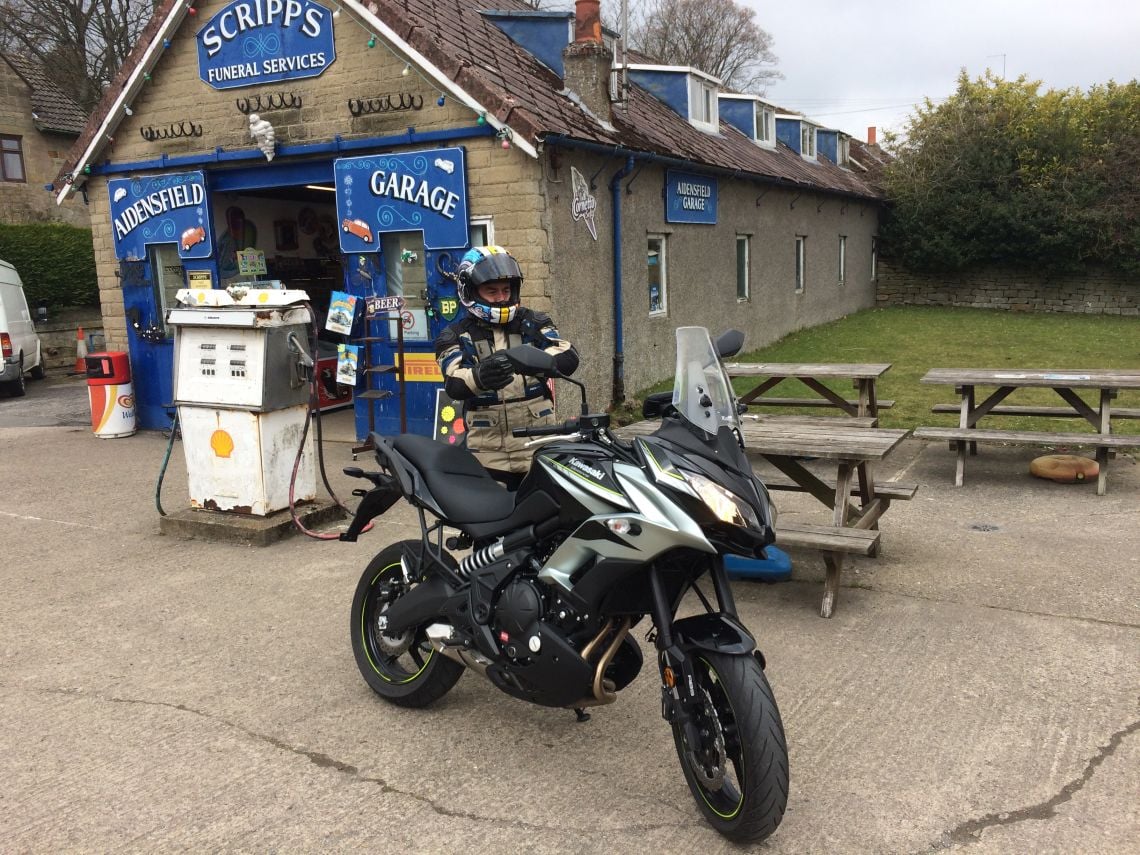 5 – Railway viewing
The North York Moors Railway, built by George Stephenson in 1835, runs from Grosomont, through Goathland to Pickering, along the valley bottom. Everyone heads to one of these three stations, but my tip is to head south out of Goathland, back towards the main road.
After 15 minutes, you'll go under the railway, then over a stream, park up in the many laybys on the steep ascent leaving the stream. For me, this gives a perfect panoramic view of the trains in action under full steam. Check the timetables online, time it right, and hey presto!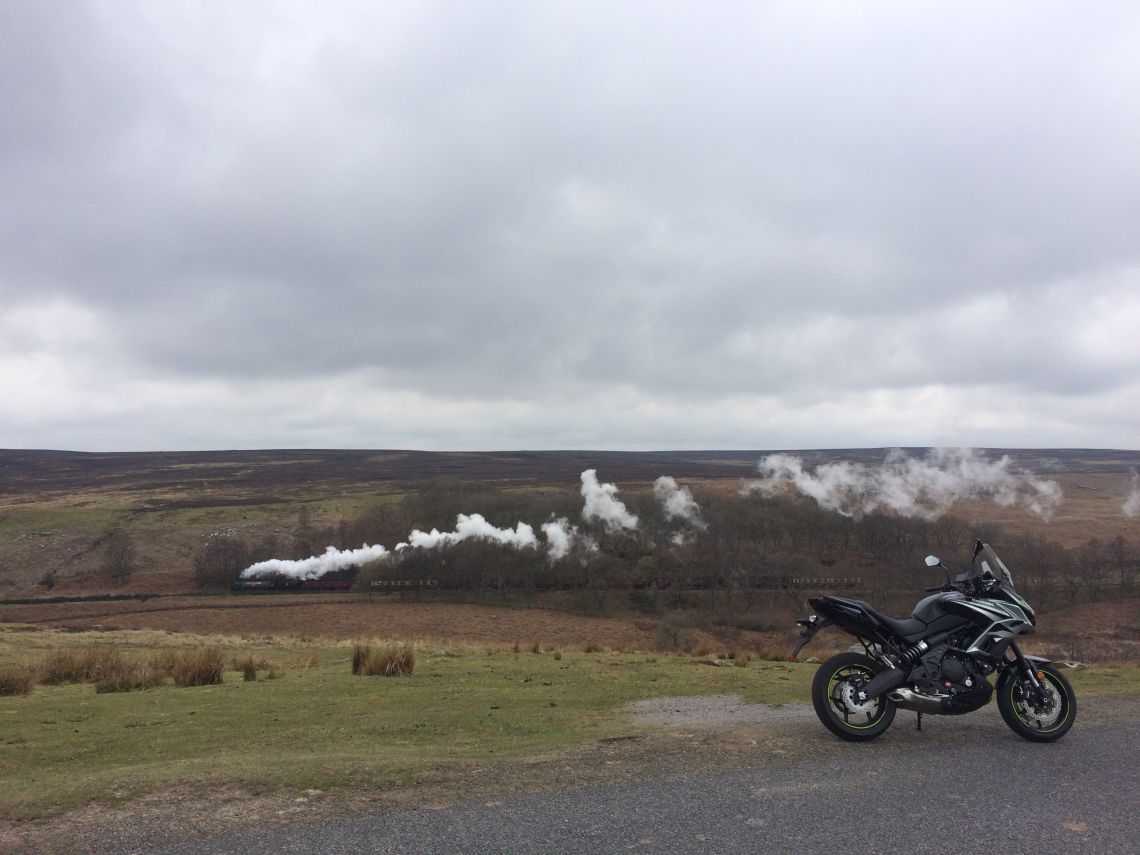 6 -Hole of Horcum
The Saltergate car park is adjacent to the Hole of Horcum, the perfect spot to take pictures. As children, we always used to stop here and we were told it was the Devil's Punchbowl, created by a giant who scooped up the earth with his hands and threw it, creating the surrounding hill. It's actually a 400m deep hollow, nearly a mile across, but I prefer the story my dad told me, and I tell the same story to my son.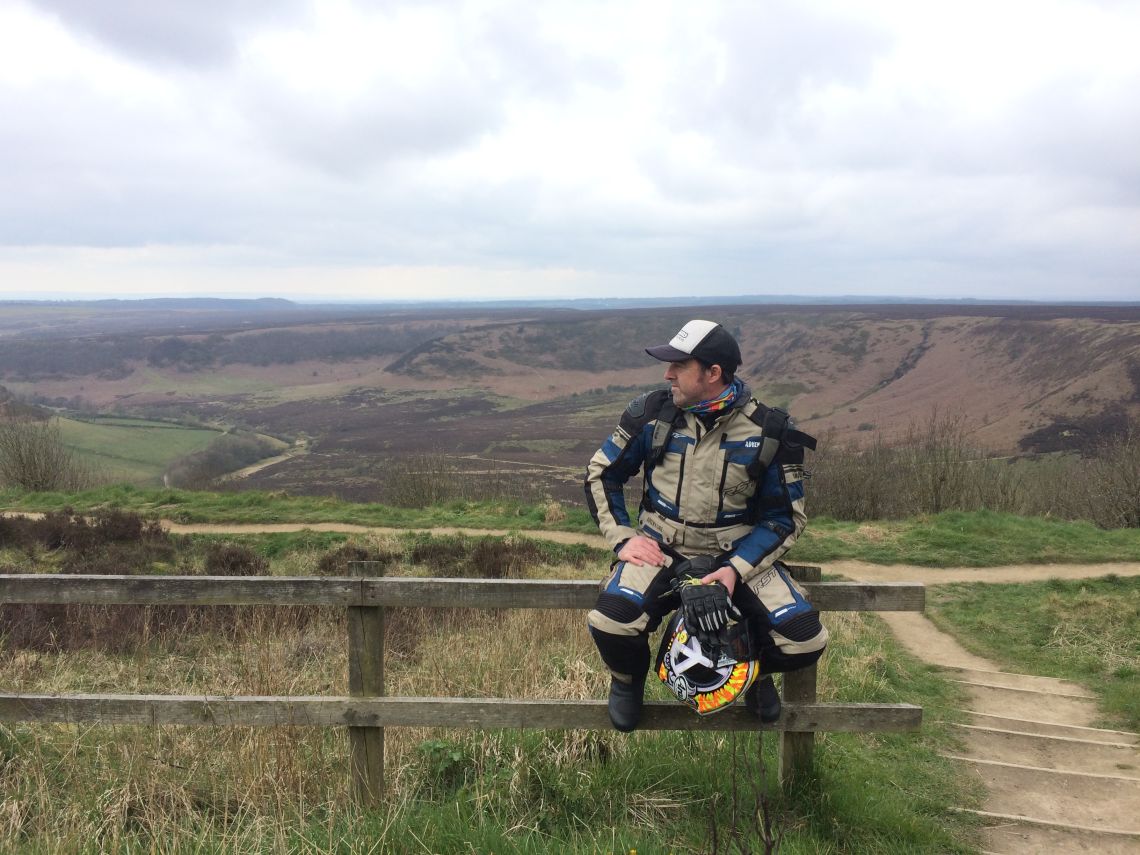 7 – Thornton Le Dale
Back on the fast and flowing A169 you're looking out for a pub on your left called the Fox and Rabbit, turn immediately left and head to Thornton-Le-Dale clipping the edges of Dalby Forest. It's a little busier than some villages as it's on the main road, but it's certainly worth a visit.
If you have time you can dip your toes in the nearby stream, which runs alongside the road or pop into the privately-owned motor museum, there's only a £2 entry fee to the small but quaint museum.
8 – Sledmere
With the river on your right-hand side, leave Thornton Le Dale, over the bridge and follow your TomTom to Sledmere. This road is usually quiet, it's been recently re-surfaced and offers beautiful views across Yorkshire.
On the approach you'll see Sledmere Cross, it dominates its surroundings and stands proudly in the village, there's a small, free carpark opposite if you wish to stop and take pictures. In the centre, you can't miss Sledmere House, built-in 1751. I always find Sledmere unusual, as it's draped in stunning architecture, yet it's in the middle of nowhere.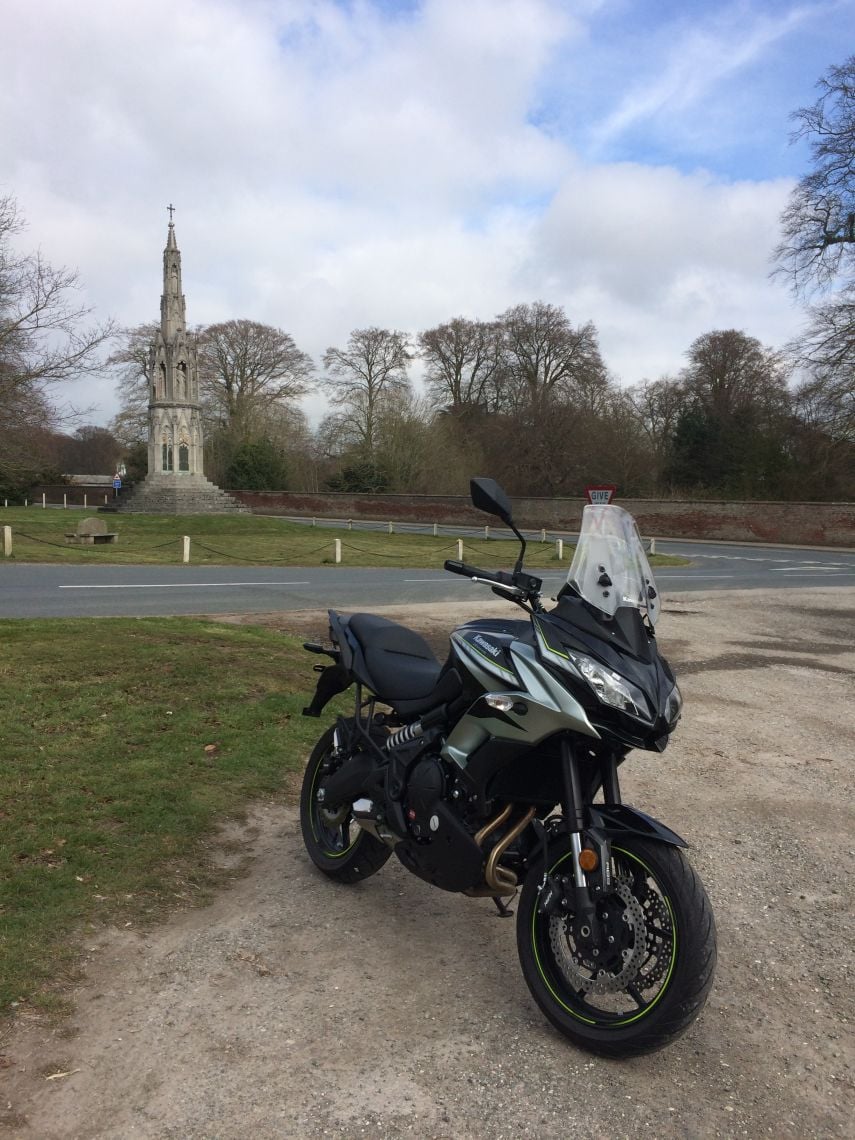 9 – Fimber Café in the woods
The B1251 from Sledmere to Fimber is so much fun, it's worth turning around and repeating a few times. This little wooded café is nestled in the trees and serves coffee, tea and homemade cake, it's very popular with friendly bikers. There's the old disused Fimber railway station across the road if you care to take a short walk.
Leaving Fimber Café head to Wetwang, yes, an actual place. Years ago, we'd always look out for Richard Whiteley, remember the old Countdown presenter, he was the honorary Mayor of Wetwang. And if you want a giggle, check out what the 'Meaning of Liff ' refers to Wetwang as.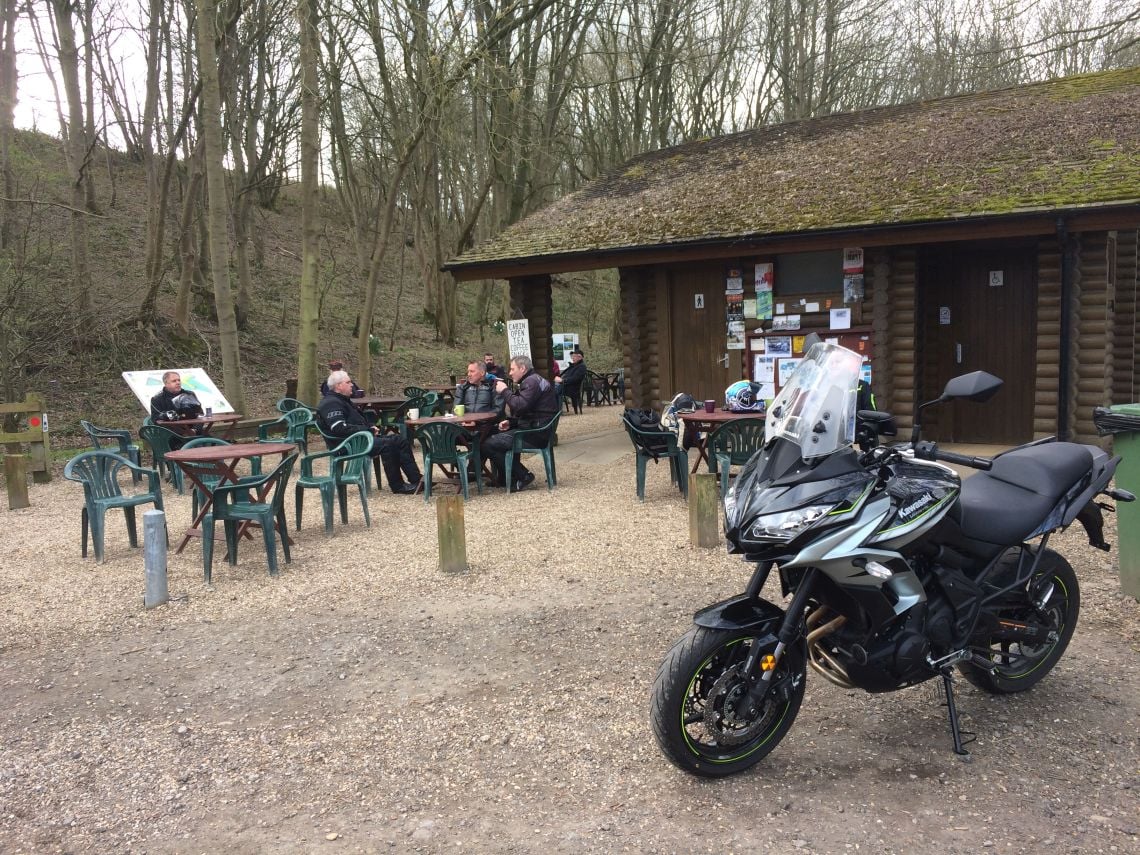 10 – Oliver's Mount
You can't visit Scarborough without riding around Oliver's Mount, the last surviving road race track in England. All the greats have ridden here; Agustini, Duke, Surtees, all the Dunlops, from Joey to nephew Michael, even Barry Sheene, who wasn't synonymous with road racing, loved Oliver's Mount.
The 2.43-mile hill-top track overlooks Scarborough and is a public road, which you're free to ride around. Blue kerbing clearly marks the corners and the start grid is painted onto the road adjacent to the race control tower. Even if you're not a race fan, it's worth visiting the track for the view across Scarborough from the war memorial, the highest point on the course. In the evening light, the views are stunning.