THRILLS & HILLS
Brian Clarke is tackling South Dakota's Black Hills, home of Mt Rushmore, Crazy Horse and a whole lot of bison
On my continuing RTW ride, I found myself heading for South Dakota, or to be more precise, Rapid City. I'd lined up a place to stay with a female host on www.couchsurfing.org, an international website set up to put people in touch with people who are up for having travellers kip on their couch and the possibility of making new friends in the process.
I'd used this site many times and met some amazing people all over the world. My original plan was to see the touristy hot spots; Mt Rushmore, Crazy Horse and Badlands, but due to my Terry-Thomas charm and Terry and June humour, my two-night stay became two weeks and I saw a whole lot more than I bargained for (insert double entendre here).
Iron Mountain
The Black Hills are on the Western border of this sparsely populated state. South Dakota and its surrounding states are as flat as glass, but the Black Hills stick up like a nipple in an Arctic wet t-shirt contest. They rise up to over 2,200m at Harney Peak. Your eyes may be glazing over at this brief geography lesson, but you'll perk up again when you understand that this all makes for some salacious bikery. My first ride began at Mount Rushmore.
If you like your monuments big, rocky, facial and carved out of granite you can't go far wrong here. In fact you get four for the price of one. Todd the park ranger is a biker and warned me about all the suicidal wildlife that loves to step out in front of a Pirelli on the 'Iron Mountain' road. Not so bad if it's a prairie dog but a bison wouldn't even notice the Yamaha embedded in its hefty rump. After dodging all the motorhomes, coaches and overweight camera-wielding natives, I made my way out and got onto Ranger Todd's recommended road.
I wasn't expecting this scenic road to be so 'scenicy'. It was a scorching hot day, the tarmac was tacky and I had this desolate, curving, sweeping masterpiece all to myself. It was great to be riding without full luggage and taking advantage of 'The Bike With No Name's' lightened handling. This was as good a bike as any for these type of roads.
Confidence builds quickly but can be taken away even faster. I had been told about the 'pig-tail' bridges but had completely forgotten about them in my daze of riding pleasure. The first one came at me way too fast. It was obviously the bridge's fault for not being further away, rather than my speedy, cocksure riding style.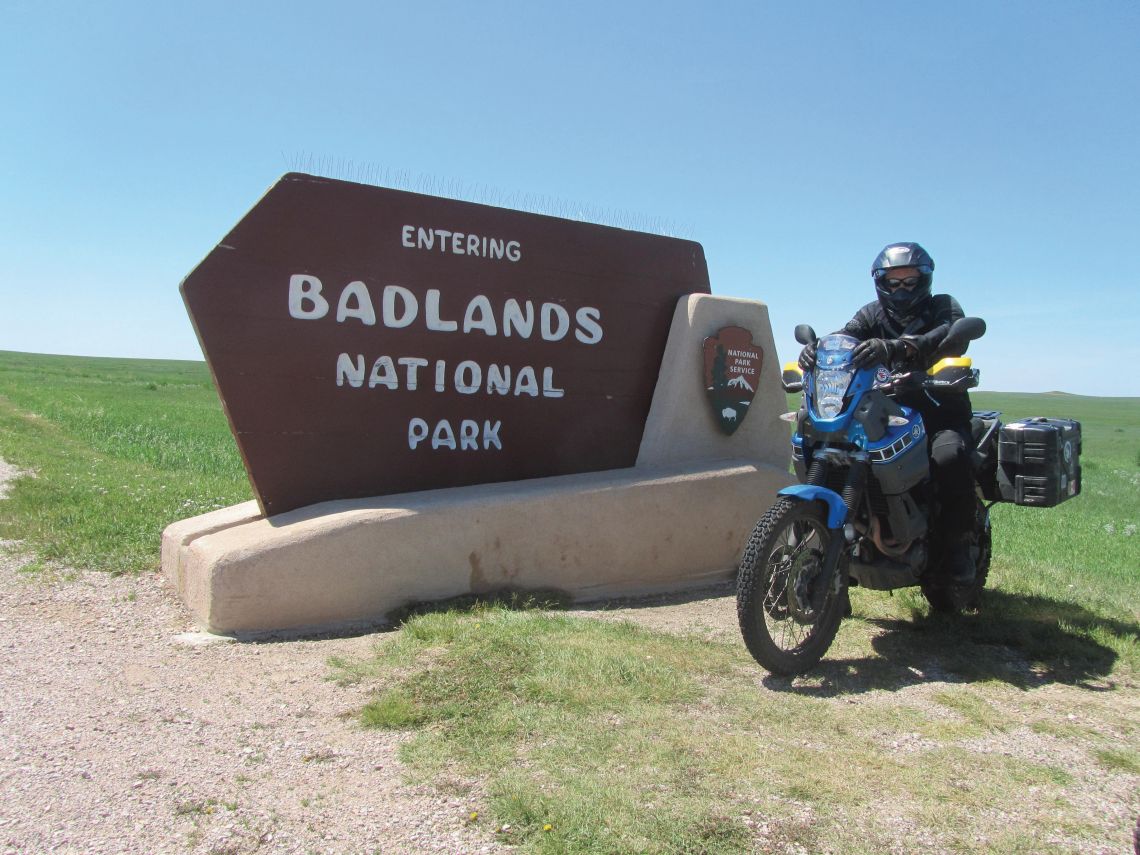 I executed the advanced emergency braking procedure with finesse and grace. Grabbing the front break with the force of the jaws of life, the bike stood up, my legs splayed out like cans hanging off the back of a wedding car, and I slid on the gravel at the edge of the road until I came to a long-overdue stop by the barrier without so much as a hair out of place. If I had any dignity it would have been humiliating.
After checking the surrounding area to make sure no spectators had seen my show without paying, I gingerly spiralled my way off the bridge. Paying more attention to the scenery and not my rev limiter, I could now appreciate the beauty of this ride. With a honk of the horn, I approached the single-lane tunnel carved out of the rock, and parked up to take a photo of Mt Rushmore framed by the granite square.
This road was built as a scenic drive and the tunnels align for a view of the four former presidents. If I hadn't been told that, I'd probably have ridden right past without even noticing. Halfway through, the road turns into a single lane, which reduces the risk of being mowed down by a cowboy-controlled pick-up. Grinning like the Joker and feeling like Valentino Rossi, I leant the XT over as far as my sphincter would allow.
Bruce Lee's words were running over and over in my head, "don't think, feeeeeeeeeel". After flying through a couple more tunnels and around the last pig-tail bridge, I continued onto the Wildlife Loop. This road in the South of Custer State Park allows you to get close to the native wildlife, too close at times.
The area then opens up into an expansive prairie and after seeing what seemed like a thousand Buffalo (Bison, actually, as I kept trying to educate our American chums) I imagined seeing Kevin Costner doing the boogie with some wolves, which almost wouldn't be so unbelievable as he lives in the nearby city of Lead.
Meeting Gandalf
The Needles Highway finishes off the loop at this southeast corner of the hills. The granite 'Needles' thrust skyward right in front of me as I cornered the switchback. A mountain goat that looked a lot like Gandalf was perched on an impossibly small edge overlooking the Eye of the Needle tunnel. Cars had started to jam up the road to get the perfect photo. I could see the look of disgust in the goat's eyes. Believe me, I know when a goat looks disgusted.
Managing to squeeze past the hoarding masses I made it to the other side of the tunnel for a breather. After a while, the traffic had cleared and some headlights appeared at the other end of the tunnel. A small group of onlookers gathered as we all knew this on-coming sideshow could result in some You've Been Framed money. It looked like the mountain was giving birth to a coach. It took about 10 minutes for the massive vehicle to ease its way through with barely a Rizla paper's width either side. We gave the sweating, relieved driver a round of applause as he exited without a scratch.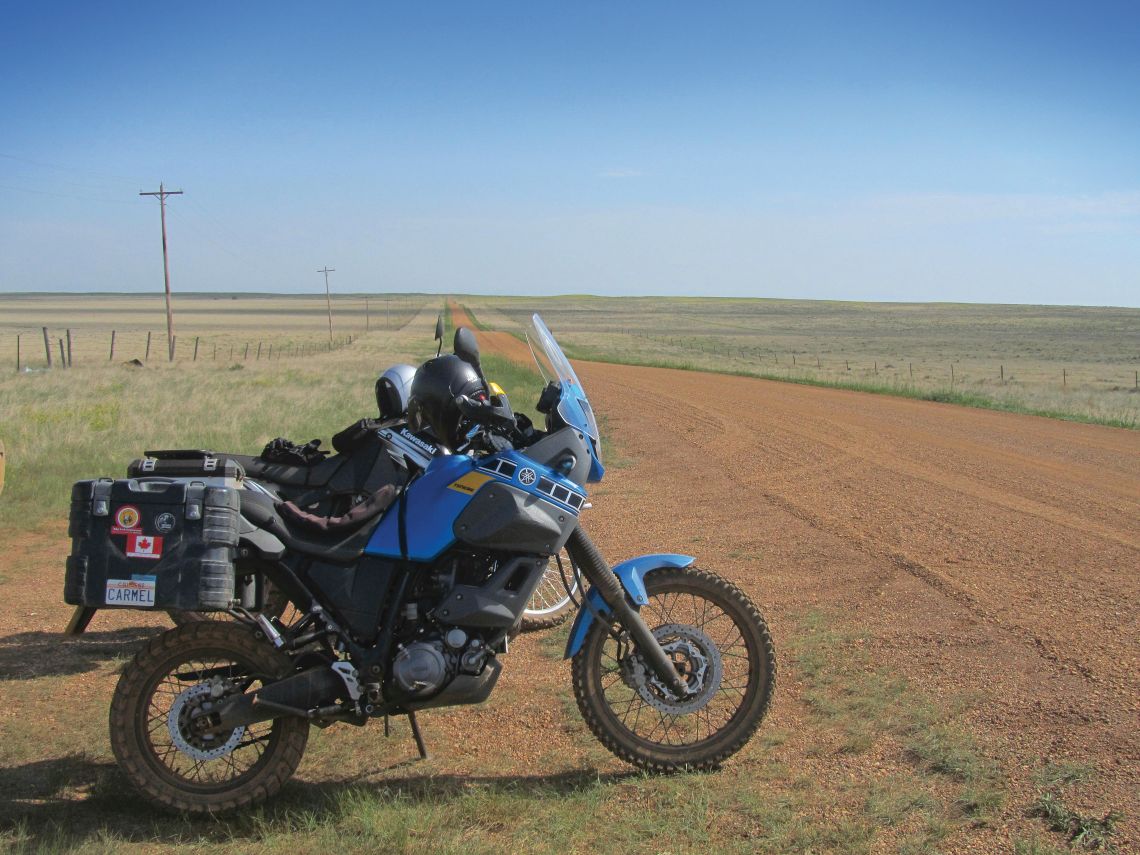 A short break for a coffee beside the shimmering Lake Sylvan finished off the loop for me, but not the day, as I turned onto the 385 South making my way to Crazy Horse. If there's a spare piece of mountain out here they just love to chisel a face in it. This one has been going since 1948; it's the world's largest and it isn't even finished. Luckily there's no deadline. As an ABR there are two things you have to keep full; your petrol tank and your stomach.
My belly required some premium lubricant so I rode back into town and spent a fun-packed night in Rapid City. Michelle, my host, and I visited various establishments and finished the night eating and drinking in the Firehouse Brewing Company with a funky jazz band playing in the background.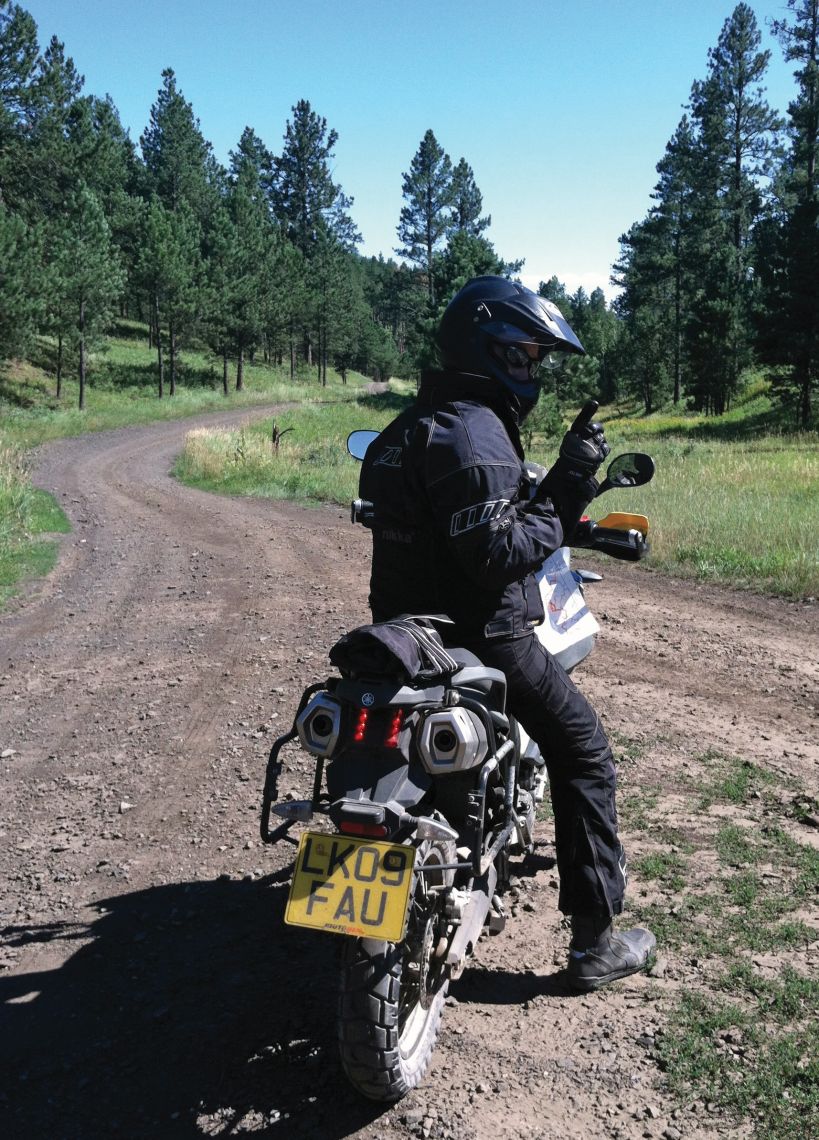 A huge electrical storm rolled in over the hills, which is a common occurrence here. I stayed outside open-mouthed in amazement as everyone ran for cover. Nobody else seemed that impressed with the ground-shaking claps of thunder and the consistent fork lightning smashing into the hills. You just don't get storms like this in Sussex.
Mercifully, I woke the next day without a hangover. It was early, hot and sunny so The Bike With No Name was calling me. We rode northwest onto Nemo Road, another quiet, scenic ride winding its way through the trees. I stopped off at Big Mama's bar to say hello and have a quick drink.
It was nice sitting out back, warming my bones in the sun like a reptile. I could hear 'Big Mama' in the background, shouting and swearing like a docker and telling her funny stories to anyone in vocal range. The road split off North into Vanocker Canyon, yet another great road only the locals seem to ride. Eagles were swooping low and following me on my apex-hugging route.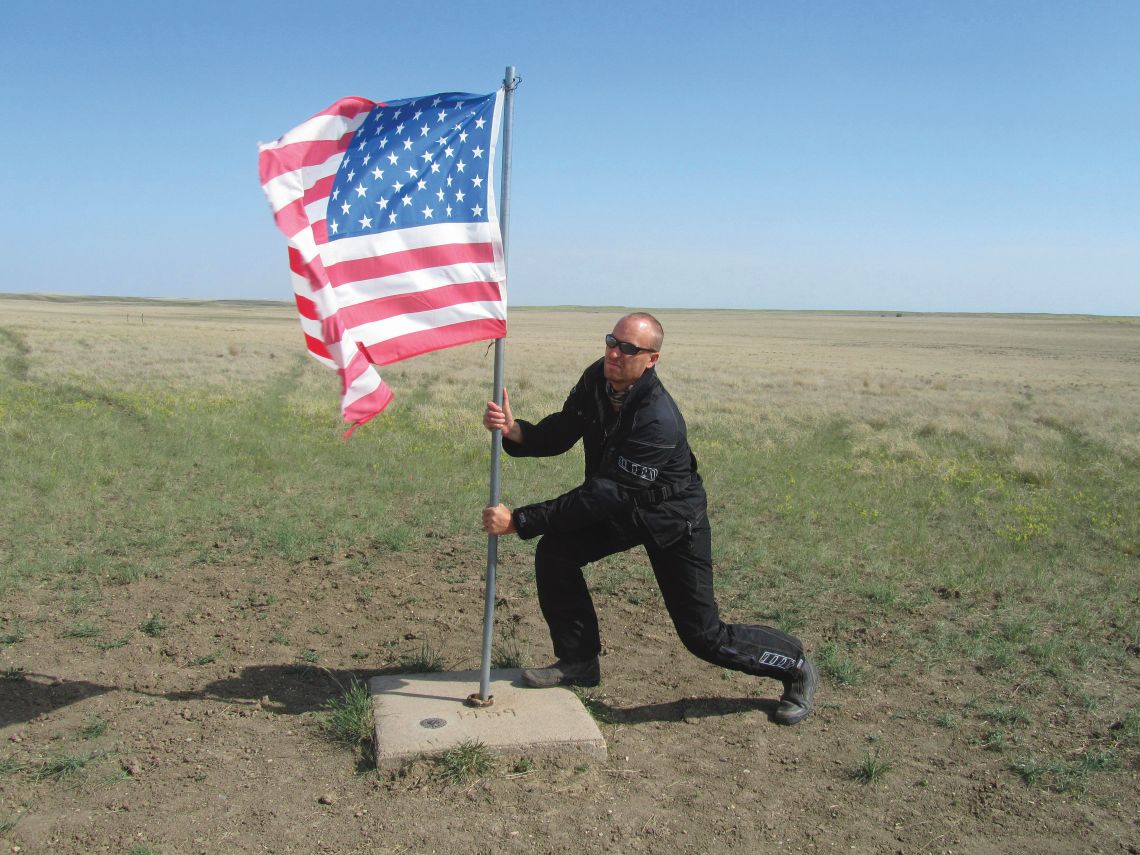 The world-famous Sturgis is at the end of this route and an ice cream at Tillys Deli seemed appropriate as it was so hot. After a quick look around the motorcycle museum, I cruised through Boulder Canyon and on to Deadwood, an old Western town synonymous with names like Wild Bill Hickock and Calamity Jane. I'm not really into Gambling and tourist tat so my visit was a flying one.
Carrying on through Lead (home of the aforementioned Mr Costner) on the 14A saw me into Spearfish Canyon. The Black Hills are full of scenic byways and this one is fantastic. The sheer yellow rock canyon enveloped me with its 300m limestone pinnacles. Massive log cabin houses hid themselves in among the trees and rocks. The road encouraged me to get braver and braver as it swept me along, but it ended far too quickly as it's only a 20-mile stretch. You can't have it all, though. I mean, where would you put it?
Run, forest, run
The day was still young so after opening up the XT down Interstate 90, I grabbed a late lunch back in Rapid. I needed a Forest Service Road map for my off-road requirements so stopped off at South Dakota Game Fish and Parks along Highway 16. The back roads coarse through the hills like veins and entering into them without a map or knowledge of the forest will guarantee being lost for a while, which is fine by me.
Michelle wanted to come out and play on her KLR 650, so we looked over the map and found a nice forest road that would pass some lakes and get us deep into the 'cuds'. It's always good fun to dump the luggage, strap on a tool kit and hit the gravel. The weather was playing ball too; no wind and clear blue skies making for perfect riding conditions.
The forest roads are loose gravel and mostly in good shape – great for sliding the bike around. We tried to pay attention to the map but couldn't help getting lost as the rare signposts and map contradicted each other. We carried on regardless as we were having such a blast. Riding out here on the isolated forest roads definitely made me happy in the face.
The track undulated and bent its way for miles over the Teletubby Land backdrop, reminding me of a mini Kazak Steppe (not that I've been to either Kazakhstan or Teletubby Land, but that's how I imagined it).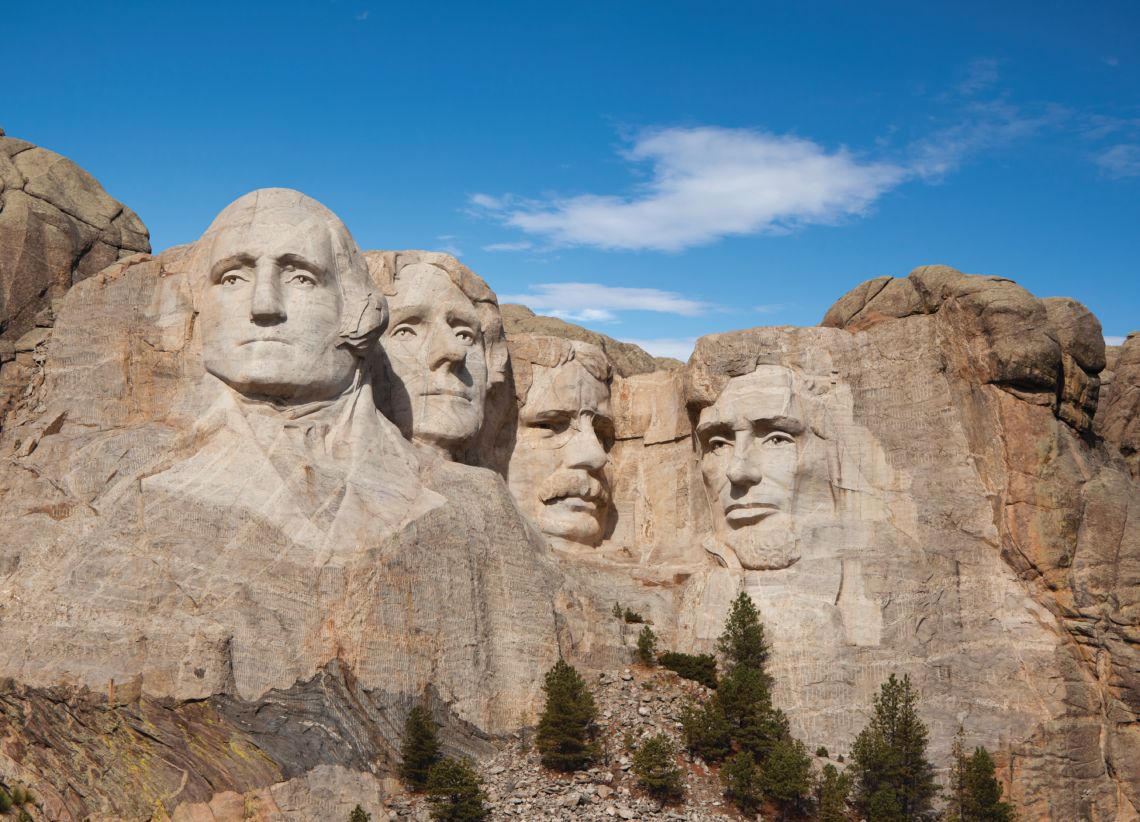 The only sound apart from the thumping thumpers was my dried-up seizing chain. It had been on its way out for a few thousand miles now and along with my loose rear spokes, I was getting worried that something was going to give. Getting a chain and sprockets in this part of the world is no problem, but I'd been waiting a couple of weeks for my new spokes to arrive from Germany.
Sometimes having a bike that isn't made in North America can be a real ball-ache. It does have great advantages when travelling solo though. If I ever needed a chat all I had to do was pull over, get a map out and wait five minutes. Someone would always ask where my number plate was from or start telling me that 'they' had just started selling this bike 'over here'.
It got pretty tedious telling people that this was not the new 1200 Super Tenere but the 660. This was always followed by disgust at it not being sold this side of the pond. Wish I was on commission from Yamaha, I could have sold hundreds in the last year.
The goodtime gravel carried on for another hour or so with both of us staying upright, which is always a bonus. I'm sure getting a couple of hours' practice on the loose stuff will pay dividends in the future. We passed a few gigantic isolated log cabins until the service road spat us back out onto Highway 385.
Nosebag
It was time for some 'nosebag' so we stopped at Boondocks for some genuine all-American cuisine. Yep, you guessed it, a big fat greasy cheese-coated heart-attack-inducing burger, with fries, of course. Now I'm a mechanic so am used to having my hands coated in oil but didn't realise a piece of food could contain so much semi-synthetic. Maybe they had a side business of doing Harley Davidson oil changes outback and kept the old stuff for the deep-fat fryer?
While we were smothering ourselves in Swarfega, the guy behind the counter said, "I couldn't help notice you two have different accents, how'd that happen?" Being British, I'm a massive fan of sarcasm but just before I could rip into him with my rapier wit, Michelle told him the truth, much to my disappointment.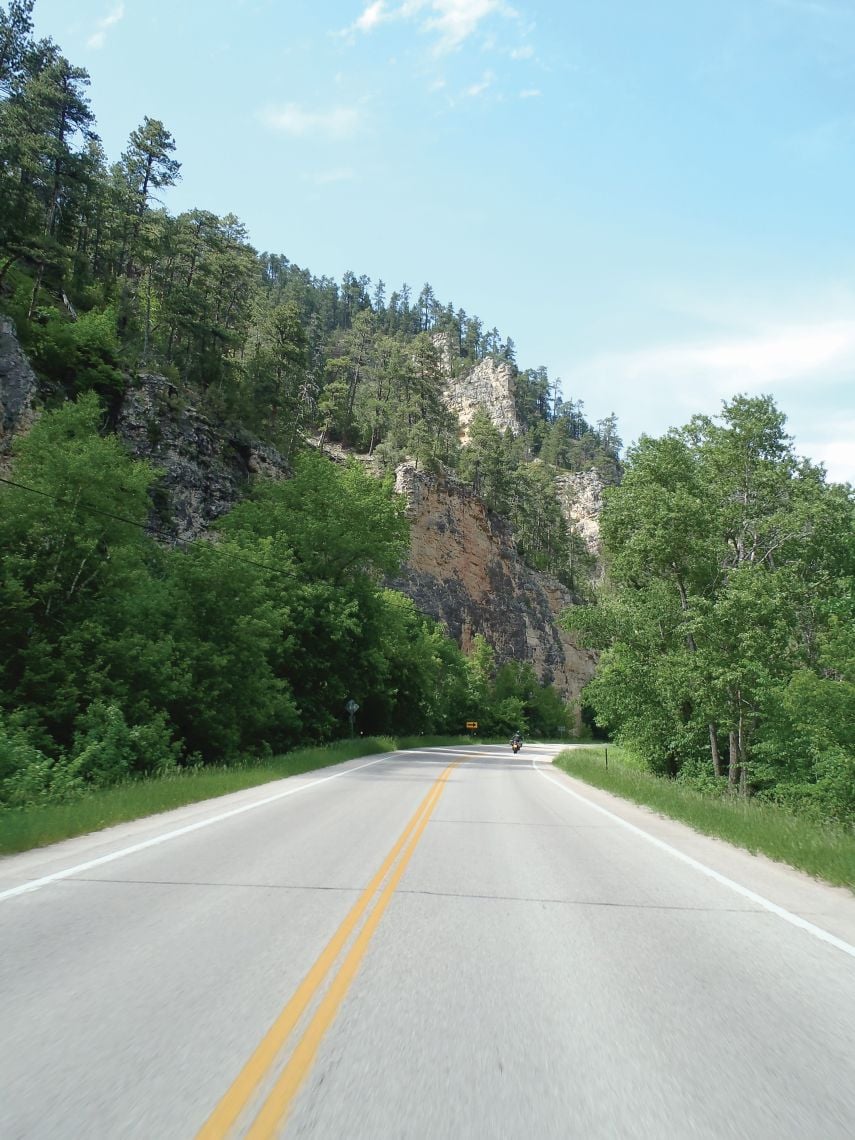 Another guy overhearing that I was British pointed to a picture of The Beatles and said, "Ever heard of these guys?" They say you regret the things you don't do and not the things you do. One of mine is saying 'yes' to this question.
Seeing the reaction on his face alone if I'd said no would have made the whole trip worth it. Waddling outside, we saddled up. With the extra burger kilos, The Bike With No Name was expressing its discomfort like an overladen pack mule all the way home.
This visit to South Dakota was just two weeks and I spent the rest of time riding around the other famous places such as Badlands, Wind Cave and just over the border to Devils Tower, Wyoming. On and off I spent around six months there and feel I haven't yet scratched the surface.
There is always another new place to ride or another sight to see, but best of all are the people: generous, funny, warm, welcoming and, my own personal favourite, eccentric. If there's one thing a Brit loves it's a bit of eccentricity.
The Bike
Being a mechanic and an avid follower of physics and science, I see little point in naming an inanimate object. But being a huge Clint Eastwood fan, I couldn't help myself, so my 2009 Yamaha XT 660 Z Tenere is called 'The Bike With No Name'. I've had it since new and have covered nearly 50,000 miles on it. It's perfect for solo ABR-ing.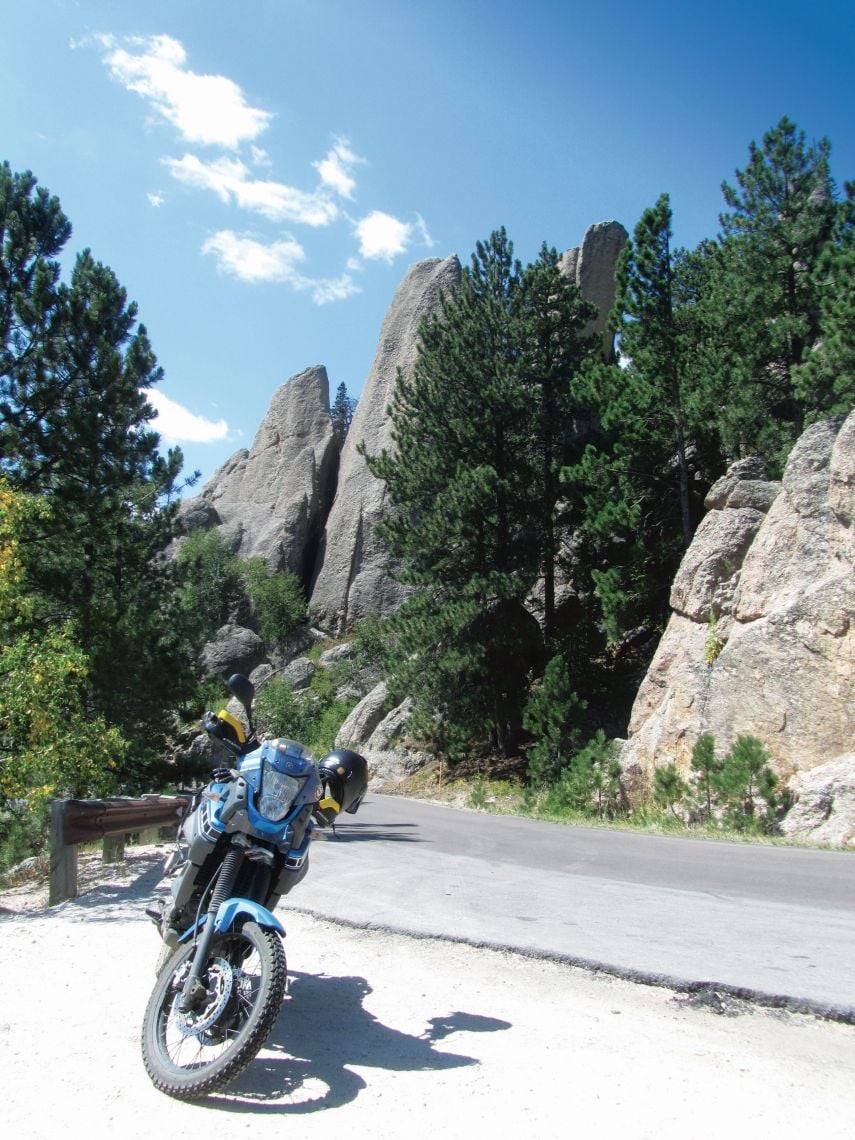 Six things you never knew about South Dakota
The climate in South Dakota is one of the extremes. It only really has two seasons: summer and winter, and both are harsh. The summer can be well over 40˚c and the winters below -20˚c; once, a temperature of -50˚c was even recorded. The locals call the two seasons 'winter' and 'construction'. The state is also part of 'Tornado Alley' but it's in the lower-risk area.
The Black Hills are being ravaged by the mountain pine beetle, a 5mm-long bark-munching menace that's responsible for the destruction of millions of trees across North America, leaving a trail of bare, brown skeletons in its wake.
There is no crash-helmet law in South Dakota and you'll often see half-naked people riding around on their Harleys. But you know the mantra: ATT, ATT. (All the Togs, All the Time!).
At 2200m, Harney Peak is the highest point between the Rockies and the French Alps.
The Black Hills Motor Classic, more commonly called the Sturgis Motorcycle Rally, can attract up to 700,000 attendees. In fact it often gets so busy that residents rent out their own houses and leave town for the duration. This year, the 73rd annual event will take place 5-11 August. See www.sturgismotorcyclerally.com for more.
The famous Mt Rushmore memorial is located 23 miles southwest of Rapid City. The granite faces of George Washington, Thomas Jefferson, Teddy Roosevelt and Abraham Lincoln were sculpted by Danish American artist Gutzon Borglum and took 14 years to complete. Each one is as tall as a six-story building, and if these heads were real, their owners would stand 140m tall.
Want to do this?
How long does it take?
You could easily cover all the scenic highways, national parks and monuments in this area in two weeks. If you have more time to spare, you could go further afield to Devils Tower and even Yellowstone.
When to go?
Any time between May-October is okay, depending on your preferred temperature. The height of summer can be extremely hot. In August, the Sturgis Motorcycle Rally is also a consideration as all the accommodation, even in that in Rapid City, will be full. Return flights from Heathrow to Rapid City via Chicago Start from around £669. Prices dependent on the time of year and are cheaper the earlier you book.
Fly or hire?
This depends on the length of the tour. If you're going for three weeks or less, it's probably wise to rent a bike. A BMW R 1200 GS can be hired for around $150 (£98) a day from Hitching Post Motorsports (www.hponline.com) in Minneapolis, then ridden the 600 miles to Rapid City. James Cargo can fly a GS to the nearest major airport in Denver, Colorado for £1,195. Sadly, it'll be £2,195 to fly it back again.
Accommodation:
Brian used www.couchsurfing.org, which he says is fantastic for meeting locals and getting under the skin of a state. Camping in this area is a great option during the summer months. Campsites are plentiful and range from primitive to luxury starting at around $10 (£6.50) a night, see www.fs.fed.us for more. Rapid City, Deadwood and Sturgis are great central locations and are brimming with hotels and motels.
Paperwork for you:
UK residents don't need a visa or a special licence to ride in the US, but getting an International licence is always recommended as they are cheap and easy to obtain from the post office. A passport and a credit card will get you a hire bike. Make sure you apply for your online ESTA (Electronic System for Travel Authorisation) (https://esta.cbp.dhs.gov/esta) well before you leave. Don't forget your travel insurance, too, and make sure it covers riding large-cc motorcycles.
Paperwork for your bike:
You don't need a carnet, but you will need to obtain prior approval from the US Environmental Protection Agency (www.epa.gov). Regarding insurance, some UK insurance policies won't cover North America. Brian used Motorcycle Express (www.motorcycleexpress.com)
Is it for you?
America has a massive biking culture so you're never short of a conversation or friend if travelling solo. Yes, the interstates are generally long, straight and boring but turn off and discover the real USA. The people are super friendly, the weather fantastic and the roads smooth as a cashmere codpiece. The exchange rate has been stable for a while and fuel is half the price of the UK, so what you waiting for?
Photos: Brian Clarke