After visiting India Bike Week, Sushanth Shetty gets away from the tourist trap of Goa and heads into the beautiful and majestic Western Ghats
In November 2014, on the back of an attempt to ride a Hayabusa from London to Bangalore (southern India) faster than it had ever been done, I found myself in the financial capital of Mumbai. I was really looking forward to riding a big bike through some of the fantastic landscapes that India has to offer, but I was greatly pressed for time.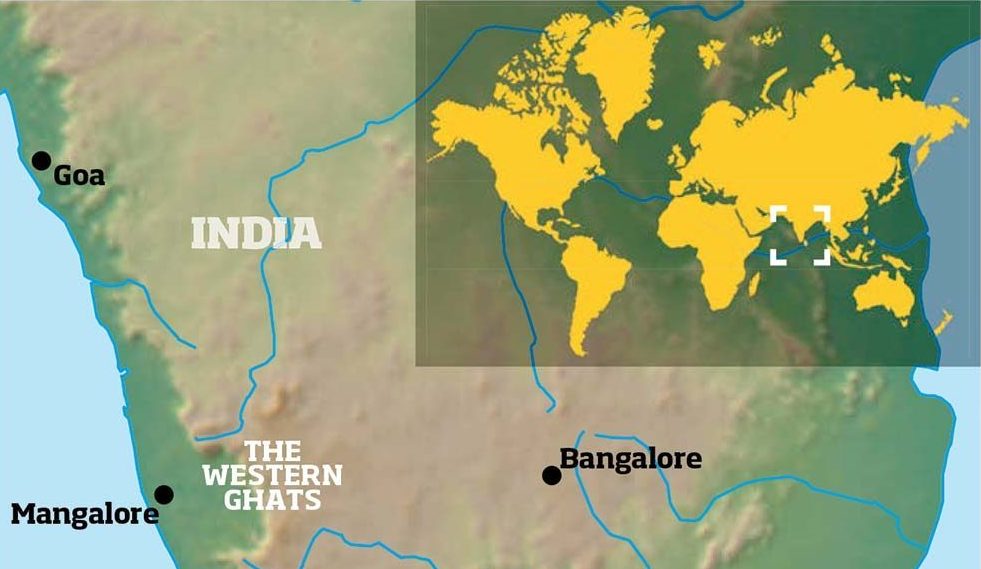 All I had to look forward to instead, was a one thousand kilometre, overnight ride to my parents' home in Bangalore through the National Highway 47, which is part of India's Golden Quadrilateral – a network of highways connecting the nation's biggest cities, and is riddled with truckers driving with their high beams on!
A few months later, with the 'Busa still in India, I was invited to speak at the India Bike Week (IBW) – India's biggest motorcycle show, in the tourist hub of Goa. The IBW which also doubles as a music festival hosts thousands of riders who ride in on an assortment of bikes – from 50cc mopeds to highly customised choppers – from every corner of the country.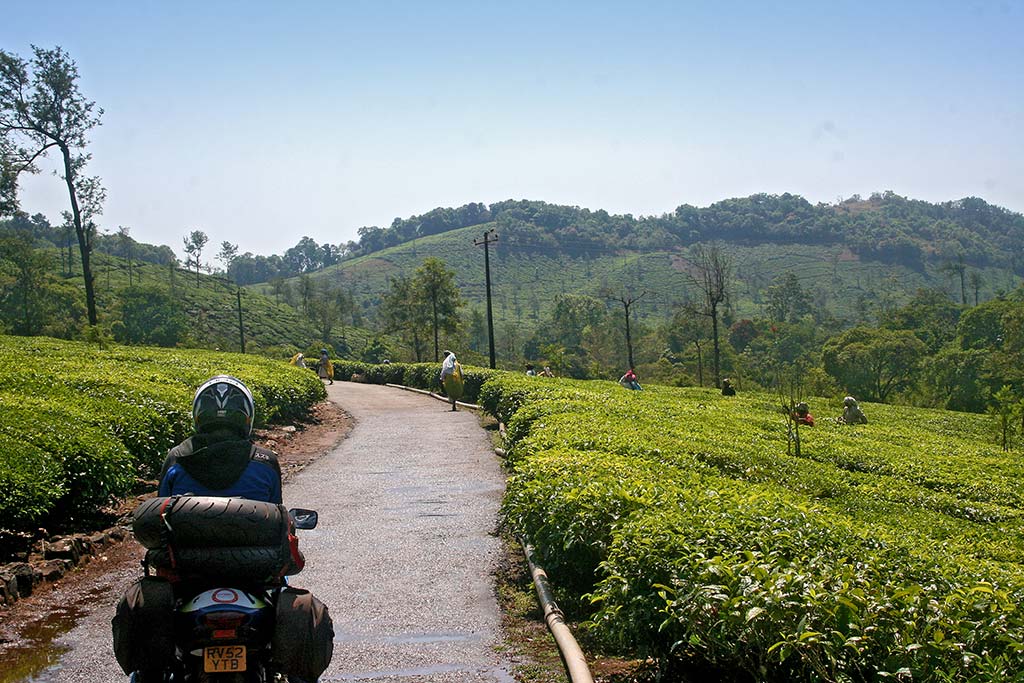 In addition to a colourful display of bikes, it even features 'Dyno Wars' – where two bikes are simultaneously strapped to a 'two bike dyno' and a winner is identified, a stunt show, a drag strip, and the Motorcycle Travellers' Meet (MTM) arena – where over the course of two days, over a dozen speakers including the likes of Grant and Susan Johnson (of the Horizons Unlimited fame) take to the stage.
Now, Goa is a great place to go, but it is indeed very touristy! That being said, it is also a very easy place to hire motorbikes in which is quite handy considering it is, apart from its crowded beaches, also home to a part of India's Western Ghats. Running parallel to the nation's western coast, the Western Ghats are a beautiful mountain range that originates in the state of Maharashtra, span six states, and stretch 1,600 kilometres all the way to the southern tip of India in Kanyakumari. As one of thirty-three ecologically sensitive regions in the world, the area is home to dozens of national parks, wildlife sanctuaries and reserve forests which make it a fantastic playground for bikes.
After two days of being cooked in a set of leathers in Goa's thirty-two degree Celsius heat, I headed south to the coastal city of Mangalore, 360 kilometres away. My grandparents come from villages just on the outskirts, where I have fond memories of spending many a hot and humid summer. Notably, those which involved practising for rally raid events through red stone quarry roads.
From Goa, the ride to Mangalore takes you through the famous tourist destination of Gokarna – home to two well-kept beaches, and backpackers of questionable body odour. You also ride through Murudeshwar, a small beach town famous for the world's second-tallest lord Shiva – known in Hindu mythology as 'the Destroyer'. For the most part, you ride along with the coast on one side (without actually seeing much of it!) and the Western Ghats on the other. There is also a short stretch where the Arabian Sea on your right is accompanied by the tributary of a small river to your left – and this makes for a great setting.
In Mangalore, it's considered a sin to not visit Pabbas – a chain of ice cream parlours – to eat Gadbad – a local speciality consisting of ice cream, fruit, and dried nuts (for 60p!). Mangalore is also famous for its local cuisine. Do not miss the Kori Rotti (Mangalorean chicken curry with dried rice bread), and Bangude Fry (mackerel fried in a special sauce). Spice level – Iron Fist.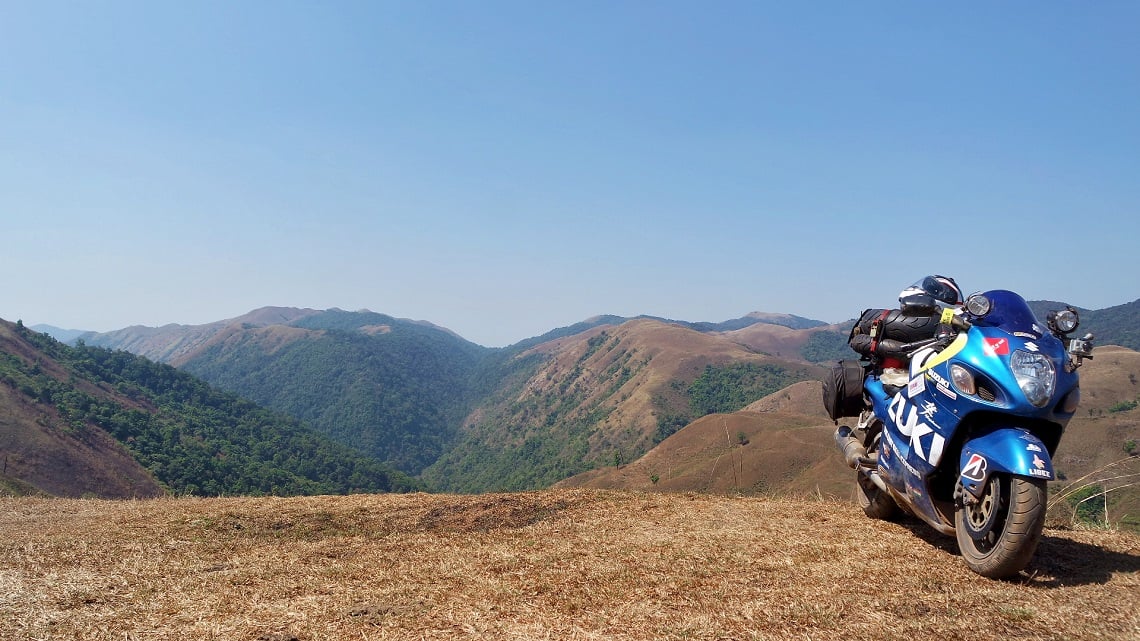 As for me, I was just about to enjoy one of the highlights of my riding career, riding the 'Busa across my old gravelly rally raid practice roads that were riddled with ruts and boulders. But many an unnerving moment later, the bike held it together like a dream! After a night in the house where my grandparents lived, I was off into the thick of the Western Ghats. There are five Ghats (loosely meaning passes) in the state of Karnataka which run parallel to each other and I rode through two of the best.
The first, Agumbe, made of twenty-two hairpins, has exotic views of the area and is 150 kilometres from India's second-highest waterfalls – the Jog Falls (drop height of 335m). As you scale up the hairpins, it is wise to be cautious as oncoming traffic, especially local buses, tends to choose an unreasonably wide line around corners! It is not possible to stop along this stretch, but you can park at the top and walk to strategically located 'viewing points'.
Less than 50 kilometres from the top of Agumbe, you begin to enter the Kudremukh National Park which houses fantastic roads, a great many species of birds and mammals, and an old and now decrepit mining town. Now, there is something about this area that makes it very special. It is no doubt beautiful, but there is much more to it. I'm not sure if it's the tree-lined serpentine roads, the occasional sighting of wildlife, the little nondescript villages, the friendly people, or just how the whole place smells, but it certainly is one of my favourite places in the world to ride a bike.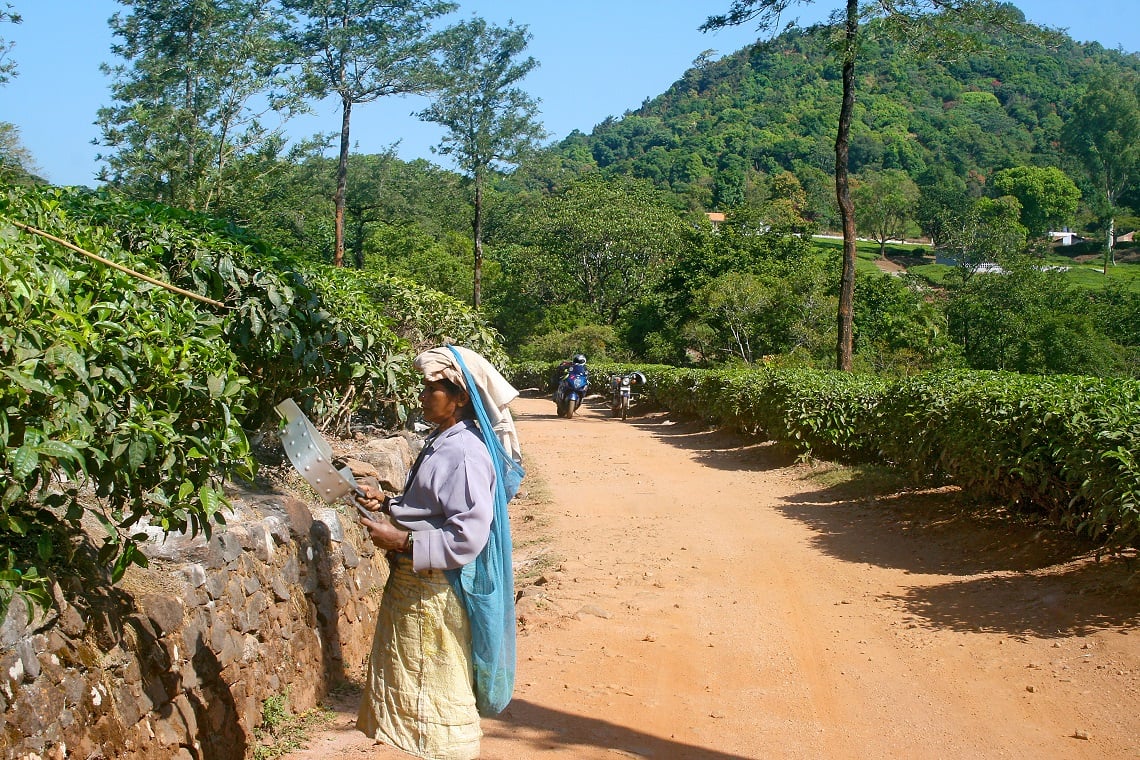 If you're planning to spend a night, I would recommend the Forest Guest House which is run by the Government's Forest Department and offers basic, but comfortable and inexpensive accommodation (less than 10 GBP for a cottage that sleeps four) right in the middle of the National Park. Home Stays, a system where locals rent out separate sections of their homes to visitors, are also growing increasingly popular in the Western Ghats, and information can easily be found online.
The entire area is also home to a number of beautiful temples with a fascinating history – notably Horanadu, Kalasa and Sringeri. The roads are generally in a great state, but extremely narrow. There is very little traffic in this area, but push at your own peril! You will often exit a blind corner to find yourself in the direct path of a bus! Also, it is illegal to use your horn – something that contradicts everything you've heard about riding in India!
My plan for the evening was to spend the night with an old friend, Ajith, in a town called Sakleshpur – a hundred kilometres away. The ride takes you through another beautiful district, Chikmaglur, famous for amongst other things its exquisite pork curry (spice level – Inferno!). Chikmaglur is one of the largest coffee-producing areas of the country and houses Mullayanagiri which at 1,930m is Karnataka's highest peak within the Western Ghats.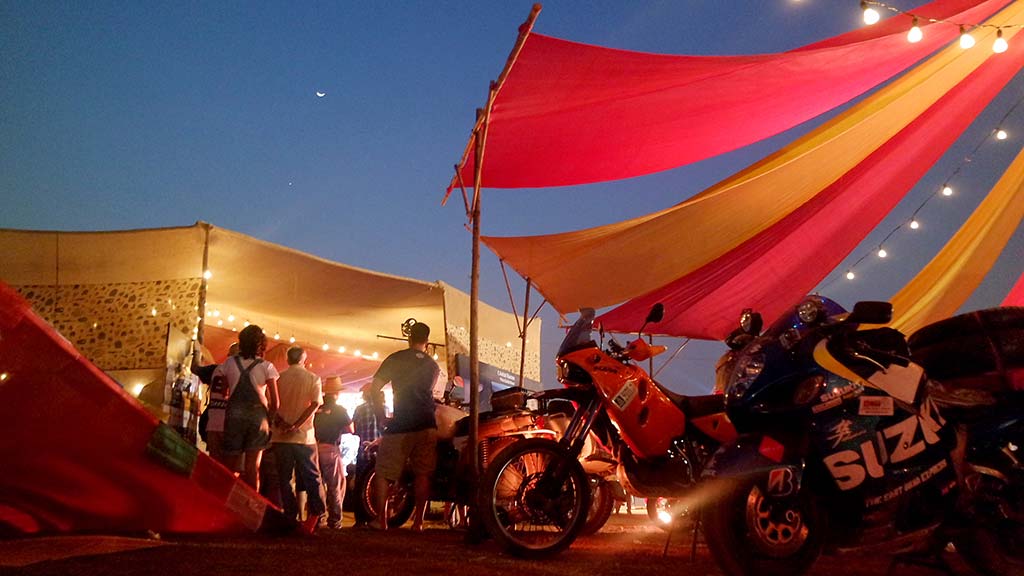 Sakleshpur is a town surrounded by beautiful hills where affluent planters grow coffee, cardamom, pepper and areca. The surrounding hills house jungle roads which host 4X4 events, and extreme treks. The treks are only for the highly experienced locals, as the jungles are known to have claimed many a life. I first visited Sakleshpur in 2007 for a 4X4 event, and instantly fell in love with the place and its hospitable people. Ajith lives in a beautiful house where he grows coffee, pepper and exotic flowers across over a hundred acres and often goes out on these extreme treks.
The town has a small railway station from where it is possible to travel to Mangalore, and this route cuts right through the thick of the ghats, making it one of the most scenic train journeys in India. Until a few years ago, this train route remained unused and if you were brave, you could ride a bike through most of it!
Twenty kilometres from Sakleshpur is Kadamane Estates, a seventeen thousand-acre tea plantation which was once a hunting ground for the Earl of Warwick. Within its confines, Kadamane has a great variety of landscapes to offer, but the one that takes the cake is an area known as 'Five Acres', which offers breathtaking views of the region, access to it is via a three-kilometre stretch of road riddled with boulders.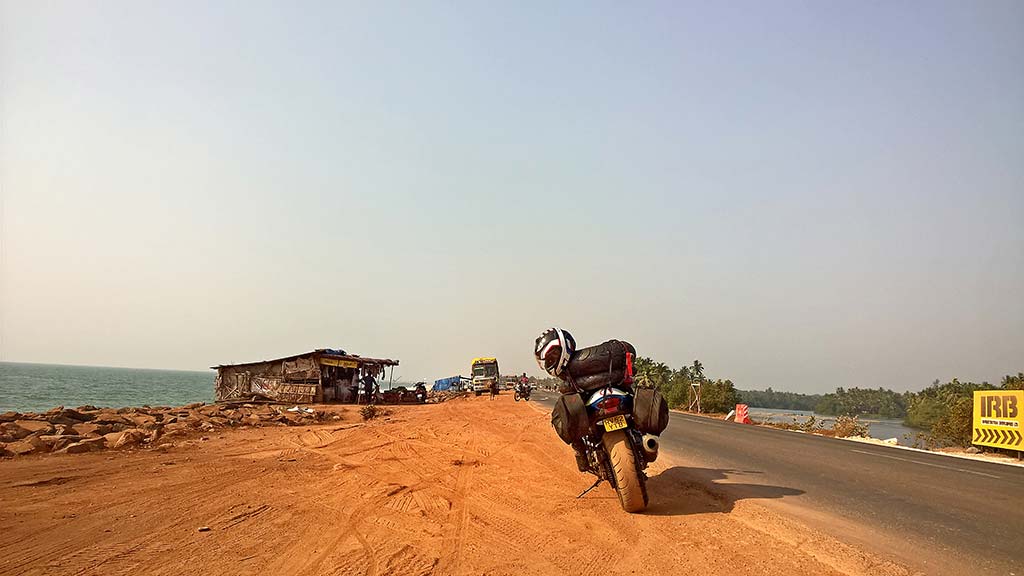 The 'Busa had been fairing brilliantly so far, and was still on the same set of Bridgestone ST30s on which it left London, 11,000 kilometres ago! It had been ridden off-road and had done well, but it was time to push it! The road to Five Acres is often only covered by 4X4s, or now, a Gen 1 Suzuki Hayabusa! It is possible to hire one of the Victorian guest houses in Kadamane Estates which costs about 25 GBP per person per night and includes three sumptuous meals of local cuisine. Spice levels can be tailored!
This, sadly, marked the end of the Western Ghats for me as it was time to head east, back to my parents' home in Bangalore – two hundred and fifty kilometres away. But I would recommend riding further south and riding through another very scenic ghat called Bisle, at which point you could loop back into the district of Kodagu (or Coorg as it is also known). Kodagu, like its neighbouring districts, has a very rich cultural history, and the locals, known as Kodavas, are a warrior community. Famous for coffee, hills, and beautiful roads, it is also where the Kaveri (a river very special to south India) originates.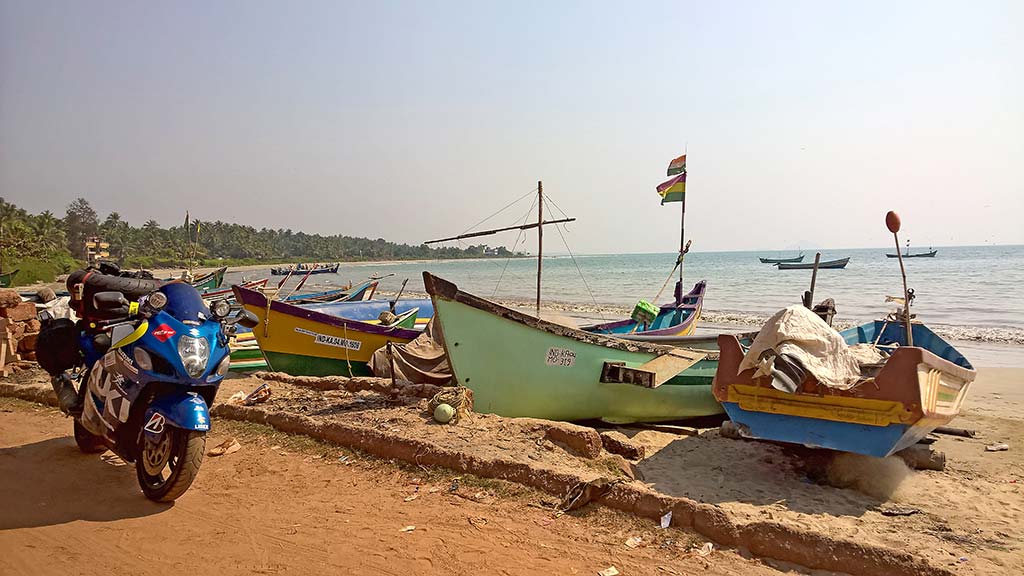 A word on the coffee, it is almost always mixed with a bit of chicory. If you enjoy your coffee black, you will find the local filter coffee disappointing. Give it a bash the way it's served, and you will love it. Also, unless you ask for it to be sugarless, it will most often be served with three tablespoons of love.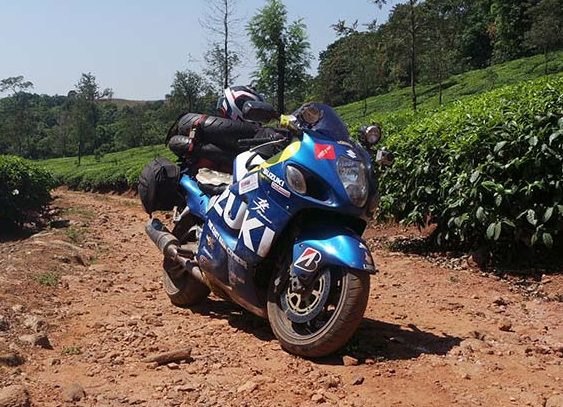 Alternatively, you can ride through the Shiradi Ghat, which to me is a particularly special route with fantastic corners thrown in for good measure. This ghat connects Bangalore and Mangalore and is closed off for a few months once every few years to be resurfaced. From the bottom of Shiradi, you can ride to the temple towns of Subramanya and Dharmastala, from where the Charmadi Ghat, possibly the most scenic of them all, begins.
Fifty kilometres from the top of Charmadi is Belur, home to eleventh Century temples with facades of intricate sculptures. Bangalore, arguably the motorcycle capital of India is only two hours from here, and if you've been riding a Royal Enfield, you will no doubt need to call in for parts!
Bangalore's worth visiting, especially if it's your first time in India. Not only is it a fantastic city, but it's a great place to get accustomed to riding with your thumb planted firmly into the horn button. A skill-set you will benefit from if you ride through another major city in India.
From Bangalore, you can follow the Golden Quadrilateral into the famous temples in Hampi, from where there are some great routes back to Goa, through the forests of Dandeli.
It must be noted that if you're purely in pursuit of the sun, the thick of the Western Ghats might not be your ideal motorcycle holiday destination. It's hard to put a number on the temperature, but it is very unlikely to be less than 10 degrees during wintery nights. The Indian monsoon –between June and September – on the other hand, is worth bearing in mind as it can easily destroy windshield wipers on a calm day.
---
About IBW
The India Bike Week, which first took place in 2014, runs for two days and is the country's biggest motorcycle show. Set minutes away from Vagator beach in north Goa, IBW is more like a festival and comes together as its own. It hosts custom bike builders, mainstream manufacturers and a host of Harleys trying to be loud.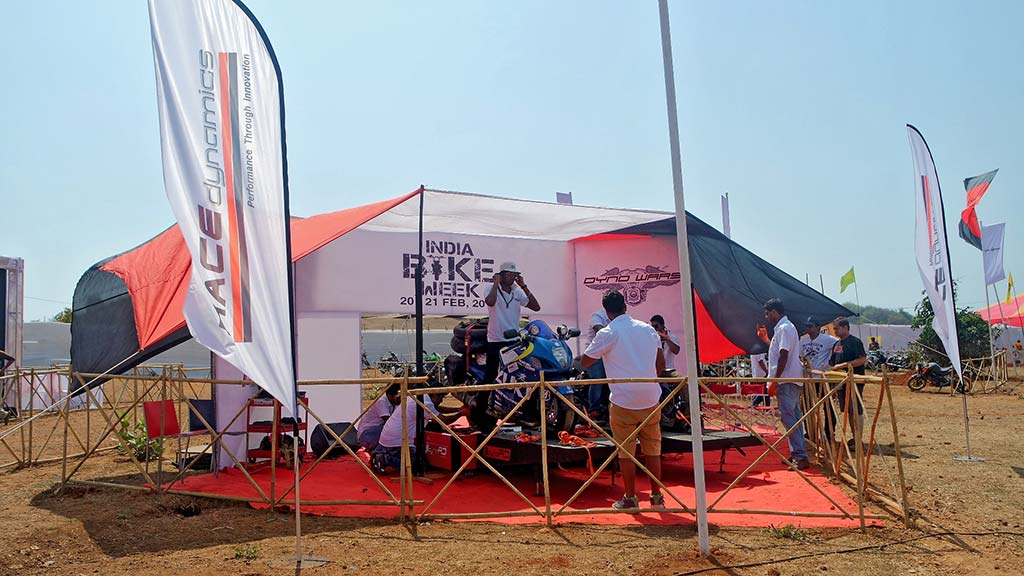 ---
Want To Do What Sushanth Did?
Here's how you can…
The Western Ghats – especially in Karnataka remains a charming area relatively unexploited by tourism. The unique pattern of hills in the Western Ghats has created a beautiful tapestry of technically challenging roads which have given birth to some of the country's most successful rally drivers! It is also very conveniently located – you can get to an International Airport or the coast within a few hours.
There are plenty of places to hire bikes from in Goa, just make sure you have an International Driving Permit before you do. If you want to use your own machine and you don't want to ride the whole way over there, like Sushanth did, then Moto Freight offers either air or sea freight at reasonable costs.
Airfreight from Heathrow to Mumbai starts from £1,025 and sea freight costs from £745 for a BMW R1200GS size motorcycle. Check www.motofreight.com for more details. In terms of when to go, October – November is a great time to ride the Western Ghats; the weather is relatively mild, and the streams keep flowing.